Orlando, Florida is a fantastic place to live—not just because of the warm weather and the dozens of theme parks. There's also an emerging art and culture scene, a lot of great restaurants and entertainment venues, and access to natural spaces for outdoor recreation.
Over 5 million visitors come to Orlando every year, but more and more people are deciding to stay. The population of the city has grown to 322,644, making it the fourth largest city in the state of Florida.
Retiring in Orlando makes sense for active adults who want a low cost of living and diverse housing options. There are numerous 55+ communities within the city limits and in the surrounding suburbs.
Located right off Interstate 4 and the Florida Turnpike, Orlando is a great starting point for anyone who wants to explore the rest of the state or travel even further. Two airports can be found in Orlando, it's on Amtrak's southern route, and the Port Canaveral Cruise terminal is less than an hour away.
Orlando residents love where they live, and we're taking a look at some of the reasons why.
Orlando Cost of Living and Retirement Costs
Housing prices are rising all over the country, and Orlando is no different. But the market is more accessible than other cities along the east coast, especially when you compare it to other Florida cities like Miami and Tampa. The median home price in Orlando is in the high $300s.
Grocery prices are close to the national average and utility costs vary by season. There won't be any heating bills to worry about in the winter, but those summer electric bills are likely to spike with air conditioning units working overtime.
Public transportation isn't popular in Orlando, but it's available. For the most economic travel, the LYNX bus system has stations throughout the city. The Sunrail, which opened in 2014, is a commuter rail system with 16 stations that run through Downtown Orlando and into Volusia County and Osceola County. A round-trip ticket ranges from $1.75 to $9.75, depending on distance and whether the rider qualifies for a reduced fare. Riders 65 years of age and older receive a 50% discount.
For drivers, traffic can be a challenge, especially on Interstate 4 during rush hour. The city is still working to increase its capacity for vehicular traffic as it continues to grow.
During the high tourist seasons, everything gets busier. And from October to April, Orlando has an influx of part-time residents, known locally as "snowbirds."
Orlando is great for residents who don't want to pay a state income tax. Florida doesn't have one, which means any income, including retirement income and social security benefits, is left alone. Residents only have to pay federal income taxes. There's also no estate tax or inheritance tax in Florida.
Property taxes in Orlando and Orange County are calculated with a specific formula, unlike the flat rate that's used by other Florida counties. The median property tax paid by residents is around $2,152 per year or 0.94% of a property's value, according to Jerry Insurance Agency.
Orlando Climate and Weather
Orlando can get a bit hotter than the coastal parts of the state. There's no sea breeze, and the humidity tends to hover, which can get pretty uncomfortable in the height of the summer. Those summer temperatures climb into the 90s on average, especially July through September. In the evenings, the average temperatures are in the 70s, but the humidity lingers.
Winters are hard to complain about. There's no snow, and the days are still warm enough to enjoy outdoor activities and al fresco dining. Average temperatures between December and March are in the 70s during the day and drop to the 50s at night.
Sometimes, a surprise cold front will wander through Central Florida, leaving the temperatures close to freezing. There's rarely a deep freeze, however, and homeowners will cover their outdoor plants but not necessarily turn on the heat indoors.
It's hard to notice when the seasons turn to autumn or spring. In Orlando, there's the hot season and the warm season. There's also the rainy season. Summers are wet and afternoon thunderstorms should be expected almost daily.
Orlando is not on the coast, so it's unlikely that a major storm will impact the area. However, tropical weather often travels across the state. Recently, storms like Hurricane Irma and Hurricane Matthew did do some damage in the area. Mostly, it's flooding and high winds that will visit Orlando.
Storm windows and doors that can absorb the impact of hurricane-force winds are recommended and becoming more common in homes.
Orlando Outdoor Recreation
Orlando is a great place for outdoor recreation, thanks to the year-round sunshine and the abundance of golf courses, parks, hiking trails, and greenspaces. The city is often the site of outdoor concerts, festivals, and events.
Golfers will enjoy playing at championship courses such as Shingle Creek Golf Club, Arnold Palmer's Bay Hill Club & Lodge, and Celebration Golf Club.
Hikers, bikers, campers, and wildlife enthusiasts will enjoy exploring Orlando Wetlands Park, where alligators can be seen nesting while waterbirds poke around for food and hawks and harriers soar overhead. Wekiwa Springs State Park offers swimming in a natural spring that's 72 degrees year-round. There's also the Orlando Urban Trail and the Disney Wilderness Preserve. Fishing, kayaking, and paddleboarding as well as boating can be done at Lake Eola, Clear Lake, Lake Virginia, and Lake Conway.
Orlando Culture and Entertainment
At one point, entertainment in Orlando was strictly Disney-oriented with theme parks and amusement centers really the only option. All those theme parks are still in Orlando, but there are far more options when it comes to art, entertainment, and culture.
Orlando is a fun place to eat. Some favorites among locals include Dragonfly for sushi and craft cocktails, Hunger Street Tacos for something casual and outdoors (try the brisket taco—it's outrageous), and The Ravenous Pig or Chez Vincent if you want something trendy and delicious that everyone in Orlando is talking about.
Also, Disney Springs has Wolfgang Puck's and celebrity chef Art Smith's Homecomin', which is famous for its fried chicken.
Anyone looking for a walkable entertainment district in the area will enjoy Pointe Orlando, an outdoor collection of bars, breweries, shops, and entertainment opportunities. It's a great place to catch live music, as is ICON Park on International Drive, where there's also a wax museum and an aquarium.
Bob Carr Theater and Dr. Phillips Center for the Performing Arts are intimate venues for plays, musicals, and concerts.
Orlando Healthy and Active
The Orlando Farmers Market in Lake Eola Park is where Orlando residents go for farm-fresh produce and eggs as well as locally grown herbs, plants, fruits, and products. There's also the Audubon Park Community Market and Freshfields Farm for healthy, local food that doesn't come from a large grocery store. 
Sustainable eating is more than just a trend in Orlando. The vegan scene is pretty hot, with plant-based restaurants and markets like Market on South and Leguminati gaining a devoted following of customers.
For residents seeking healthy activities, goat yoga has become popular in some of Orlando's outdoor parks. Also, runners have marathons and 5k races happening throughout the autumn and winter, such as the Florida Run at Lake Louisa State Park every November and the Orlando half marathon every December.
Orlando Health has been rated the best hospital system in Central Florida by the Centers for Medicare and Medicaid Services (CMS). The health system includes 16 hospitals as well as separate emergency departments, cancer institutes, heart institutes, laboratory services and imaging, as well as rehabilitation services. 
AdventHealth, formerly Florida Hospital, has also been highly rated by U.S. News and World Report. It's a well-respected health system in Orlando, with specialty areas focused on cancer, diabetes, cardiovascular health, wound care, and senior care.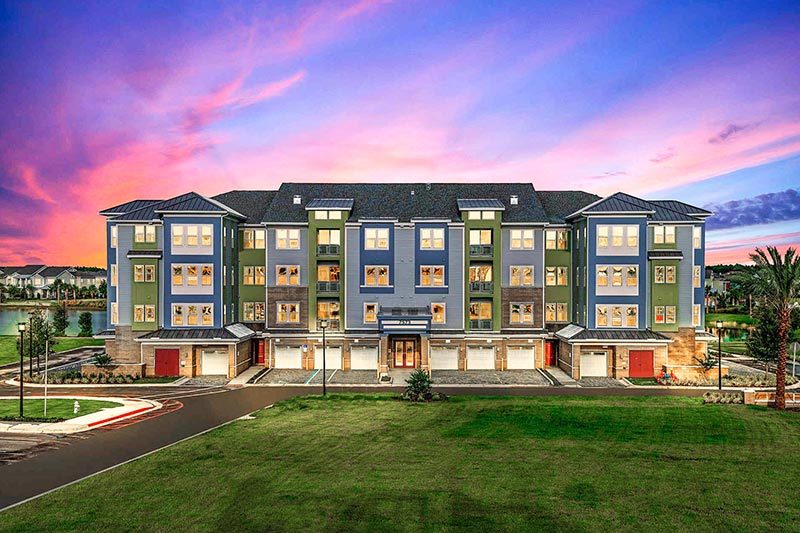 Active lifestyle communities in Orlando have grown in popularity. The 55+ communities in and around Orlando offer a variety of housing options, including single-family homes, condos, and attached villas.
More importantly, these communities provide a social network for residents. Homeowners have opportunities to make new friends, participate in fun activities, and join the clubs or groups that are so frequently found in these neighborhoods. 
Low-maintenance condo living is available at Gatherings of Lake Nona, a 55+ community in the desirable Lake Nona master-planned community. Here, active adults enjoy amenities such as a clubhouse with a lounge, a demonstration kitchen, a fitness center, and multipurpose rooms. There's also a pool, a fire pit, bocce and pickleball courts, and a dog park.
Homes are in mid-rise buildings with elevators and garages. Condos have two or three bedrooms and open floor plans.
VillageWalk at Lake Nona is also inside the Lake Nona master-planned community, but there are no age restrictions, making it attractive to multigenerational families. Instead of condos, there are single-family homes and attached villas. Models have three to five bedrooms, three to four bathrooms, and spacious floor plans with 1,941 to 4,036 square feet.
Amenities include a Town Center with a spa, a deli, a fitness center, a business center, a library, and a pet boutique. Outside, there are pools, tennis courts, and lots of scenic trails and paths for walking or biking.
Half an hour away from Orlando is Four Seasons at Orlando, a gated 55+ community of single-family homes. It's an ideal place for golfers, with the Mystic Dunes Resort and Golf Club offering residents 18 holes of championship golf and a putting green. Other amenities include a clubhouse with a fitness center and a movement center, a pool with cabanas, and tennis, pickleball, and bocce courts.
Homes are mostly new construction, with 11 two- and three-bedroom models.
St. Cloud is a growing suburb just south of Orlando. Del Webb Sunbridge is a 55+ community with 1,300 single-family homes and attached villas in more than a dozen models. Homes are spacious and well-designed, but for many residents, the amenities are the best reason to live at Del Webb Sunbridge. There's a clubhouse with a fitness center, a movement center, a zero-entry pool, a heated spa, and an event lawn. The Health & Wellness Center hosts events and activities to keep residents active and healthy.
Orlando Is a Great Place to Live
Orlando is an ideal place to live for people who enjoy sunshine, entertainment, and outdoor adventures all year long.
If you're looking for a home in Orlando, check out all the resources provided by 55places.com. We're here with regional information and practical advice, helping active adults find the home that best fits their budget, lifestyle, and plans for the future. At 55places.com, you can even find active listings in some of the most popular 55+ communities. Explore what we've provided, and contact us with any questions or feedback—we'd love to hear from you.