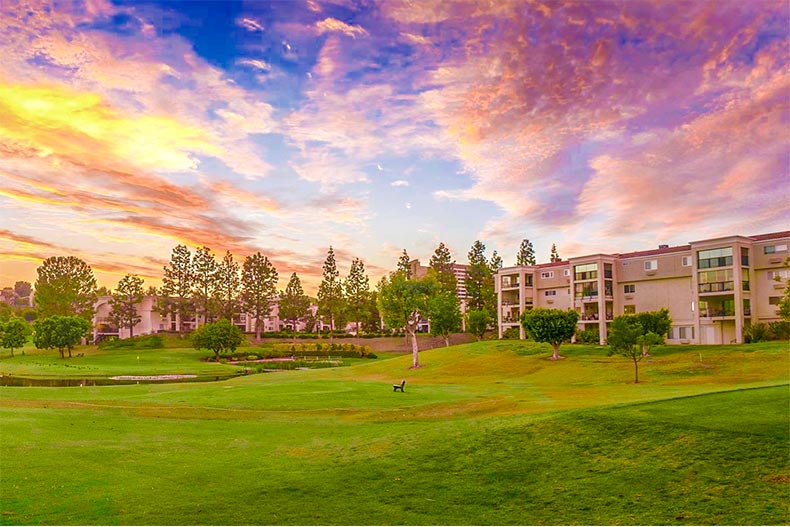 Among the leading active adult communities in Orange County, California are Leisure World Seal Beach and Laguna Woods Village. Both were developed by Ross Cortese and his Rossmoor company more than a half-century ago.
Today, Leisure World Seal Beach is home to more than 6,000 units, with 9,000 residents, who live along the coast of the west county. Laguna Woods Village is double that size in both units and residents, who reside inland on a mostly hilly stretch of the south county. The Village adopted its current name after separation from the Cortese family and the formation of the city of Laguna Woods.
For prospective residents, here's some guidance in comparing and contrasting the choice of lifestyles at these two popular active adult destinations.
Cost Comparisons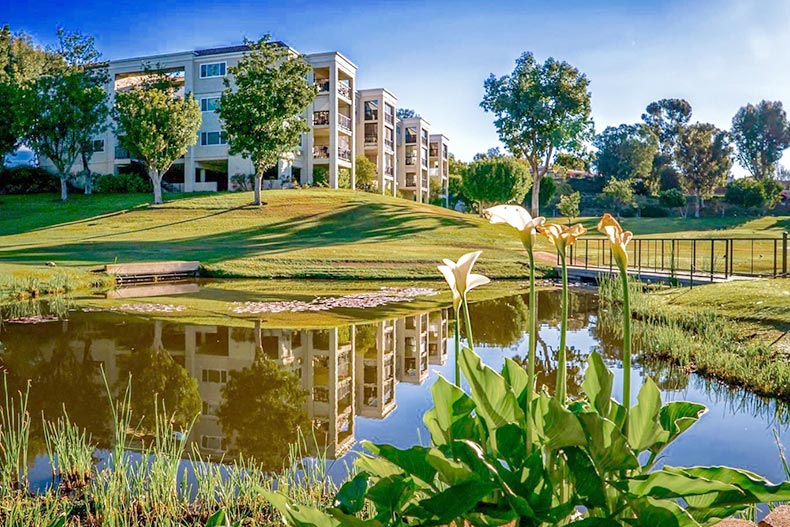 At Laguna Woods Village, prices vary from the mid $100s to the mid $1Ms.
At Laguna Woods Village, prices vary widely, from the mid $100s to the mid $1Ms. With a range about half that size, Leisure World Seal Beach offers more affordable options with home prices starting in the mid $100s and going up to the high $500s.
The Rossmoor Corporation began construction on Leisure World Seal Beach in 1960, and since then, the community has grown to over 6,600 homes and 17 neighborhoods. There are ten floor plans that range from 550 to 1,540 square feet and feature one to two bedrooms, one to two bathrooms, and a carport. The homeowners' association (HOA) fee covers exterior maintenance, landscaping, common area upkeep, recreational activities, and security.
There's a vast array of architectural diversity at Laguna Woods Village. There are 94 floor plans, ranging from 675 to nearly 2,600 square feet. This 55+ community is made up of three housing corporations known as Mutuals. The Third Mutual offers everything from single-family homes to one- to three-bedroom condos, United Mutual offers condo living with the benefit of exterior and interior maintenance, and United Mutual housing options include one- to two-bedroom co-ops with green belt and Aliso Creek views. Association fees vary but include exterior maintenance, landscaping, security patrol, and amenities.
Contrasting Amenities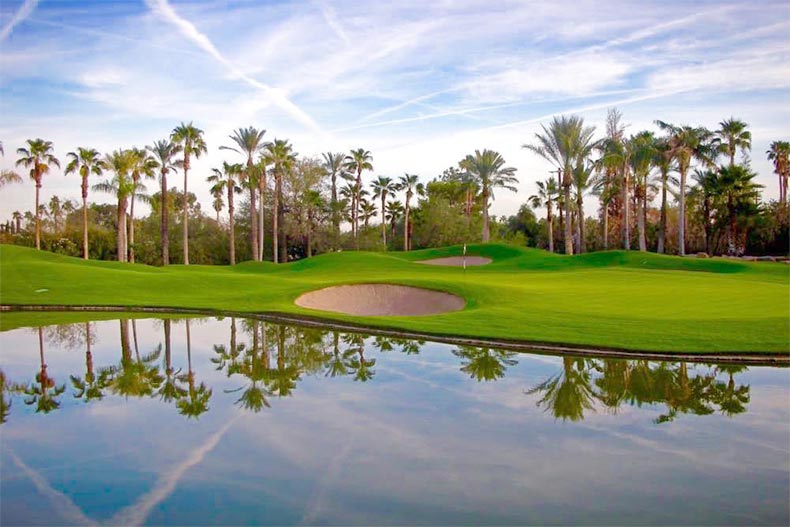 Homeowner' association (HOA) fees are substantial in both communities because they fund maintenance, landscaping, and extremely costly amenities such as bus services, multiple golf and other recreational venues, arts and crafts facilities, and around-the-clock security, all of which result in multimillion-dollar operating and development budgets. The contrast in HOA fees between Leisure World and Laguna Woods Village is a function of the amenities offered by each community, and the differences in perks can be decisive for many prospective residents.
Recreation such as golf, swimming, indoor and outdoor games as well as arts and crafts facilities and a variety of social clubs can be found at both communities. But there are significant differences in the details. For example, golf at Leisure World means one nine-hole course. The Village has a pro-level course with 27-holes laid out in alternating circuits as well as a separate nine-hole course. Swimming is offered at one pool at Leisure World while there are five at The Village. Similarly, more classes, studios, and game courts are found in Laguna Woods Village.
There are a couple of other significant differences in amenities. Leisure World has an on-site health care center. The Village does not. The Village hosts horse stables where owners can board their mounts and novices can learn to ride. Leisure World does not.
Both communities provide a daily bus service with multiple routes covering the community, with stops at nearby shopping, financial, and medical facilities. The Village buses also connect with OC public transit at a county terminal. And, only the Village also offers a Plan-a-Ride program for service by reservation.
Setting and Climate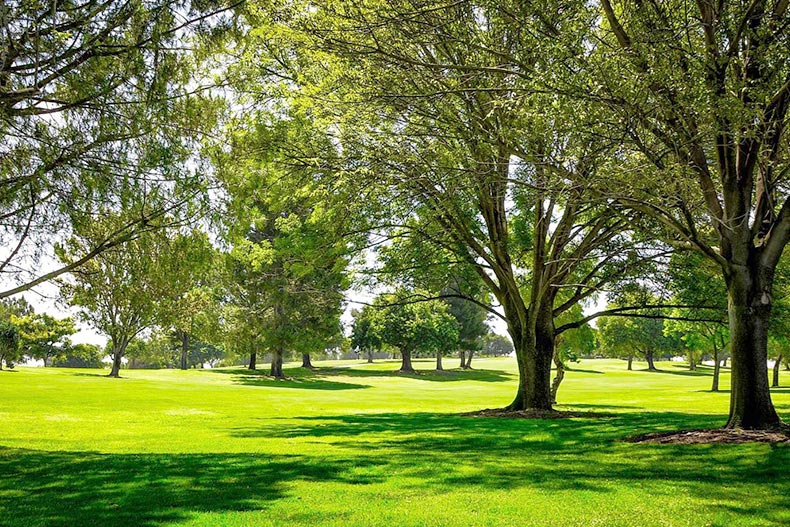 Visitors to Southern California tend to see a monotonous sameness to the climate and landscape and scoff at suggestions otherwise. But even these two locales, so close in so many other ways, demonstrate distinct differences from season to season.
Leisure World is situated on an open coastal plain—along the San Gabriel River—about two miles upstream (when it's flowing in wet years) from the river mouth on the Pacific. The protected Bolsa Chica wetlands are just to the south. For much of the year, night and early morning hours bring in the marine layer of low clouds, fog, and moisture that keep the coast damp and cool until midday when the sun burns it off. Proximity to the ocean keeps temperatures 10 to 15 degrees cooler than a few miles inland in the summer, and in the winter, keeps nighttime temps milder than inland.
Laguna Woods Village, while only 10 to 12 miles from the beach, is different. The low coastal hills of south Orange County tend to insulate the community from the marine influence. Winter nights can be colder than the coast, summer daytime temps are closer to hotter inland norms, and the air is drier as Santa Ana winds blow down nearby canyons from the desert.
Location and Quality of Life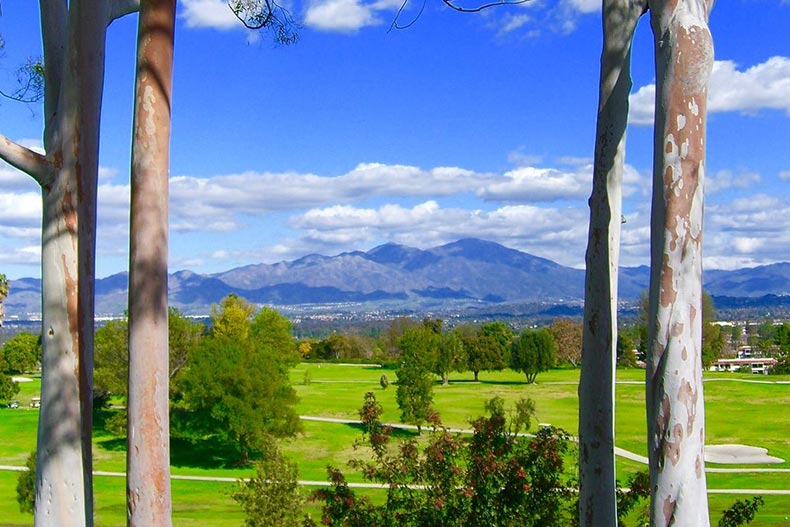 Laguna Woods Village is situated in the southern reaches of the county.
The different locales of these two communities can be a consideration when it comes to the relative quality of outside activities and services.
Leisure World is on the western edge of Orange County, adjacent to Los Angeles County, and among its neighbors are the cities of Long Beach, Cerritos, and Seal Beach. Long Beach in particular is a far more urban environment than the smaller suburban towns of Orange County, with a more diverse range of attractions and quality of life.
Laguna Woods Village is situated in the southern reaches of the county, surrounded by newer suburbs and adjacent to the master-planned city of Irvine and the upscale resort communities of Laguna Beach and Newport Beach. The quality of shopping, commercial and financial services, medical facilities, the arts and entertainment, all reflect the character of the regions which respectively host Leisure World Seal Beach and Laguna Woods Village.
Here's the bottom line: How you rank these comparisons when considering your homebuying needs and desires may help determine the right active adult community for you.
Request more information about Leisure World Seal Beach.