Plenty of active adults already know that they want to retire in Florida, but deciding on their next hometown is another story. Between the Gulf Coast and the Atlantic Coast, from big cities to small towns, active adults have plenty of options when choosing where to retire in The Sunshine State.
One increasingly popular destination is Melbourne, a mid-sized coastal town on the South Atlantic Coast. Located along the Space Coast area, Melbourne is just 40 minutes south of Cape Canaveral, home of the Kennedy Space Center. The city attracts active adults, snowbirds, and retirees for a number of reasons, including amiable weather, abundant outdoor recreation, and an affordable cost of living.
Discover what you need to know to make the move to Melbourne.
Retiring to Melbourne: Pros and Cons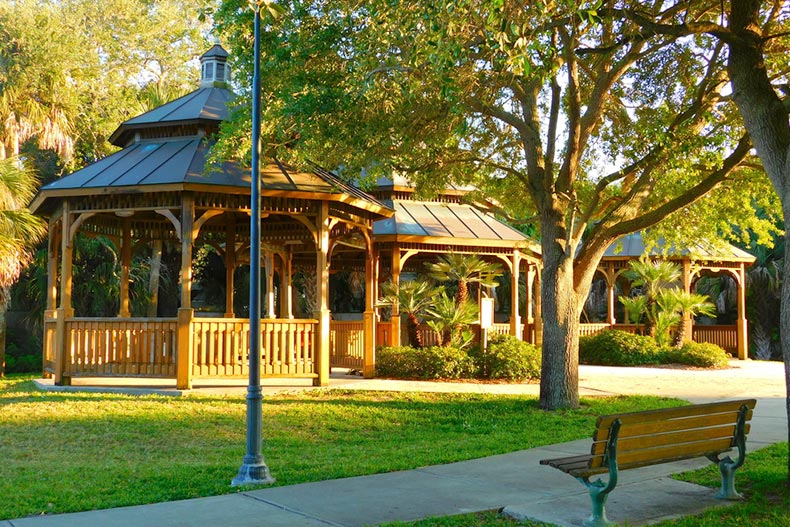 PROS
A coastal lifestyle: Melbourne is located directly on the Atlantic Coast, providing access to miles of sandy beaches and balmy waters. Living near the ocean promises plenty of days spent at the beach and enjoying fresh seafood at local restaurants.
Plenty of outdoor recreation: In addition to the ocean, residents can get their feet (or kayaks) wet in the Indian River that runs through the city or the nearby St. Johns River. Plenty of scenic nature preserves and parks are also available to residents, like River Lakes Conservation Area and Crane Creek Reserve.
Sunny weather: Year-round sunshine means getting out of the house more and exploring surrounding areas all year long. There are plenty of things to do in Melbourne, FL, and active adults can enjoy a variety of activities without worrying about the cold ruining the fun.
Affordability: Melbourne's cost of living is lower than national averages across the board, making it an affordable place to settle down. The lower taxes and tax breaks for seniors also make the city attractive to active adults.
CONS
Muggy and buggy summers: While the sunny weather is a blessing in the colder months, the Florida summers are known for their humidity. This kind of weather attracts plenty of creepy crawlies to the dismay of those not fond of bugs.
Small-town atmosphere: With a population close to 85,000, Melbourne is a mid-sized town. It might not have the world-class attractions or entertainment as some of the Sunshine State's largest cities, but it has more of a small-town atmosphere.
Hurricanes: The possibility of hurricanes is present in any coastal city, although there have only been five major storms to hit Melbourne since 1950. Being within range of hurricanes may increase the cost of home insurance and may include vigilantly following the weather reports during hurricane season.
Melbourne Climate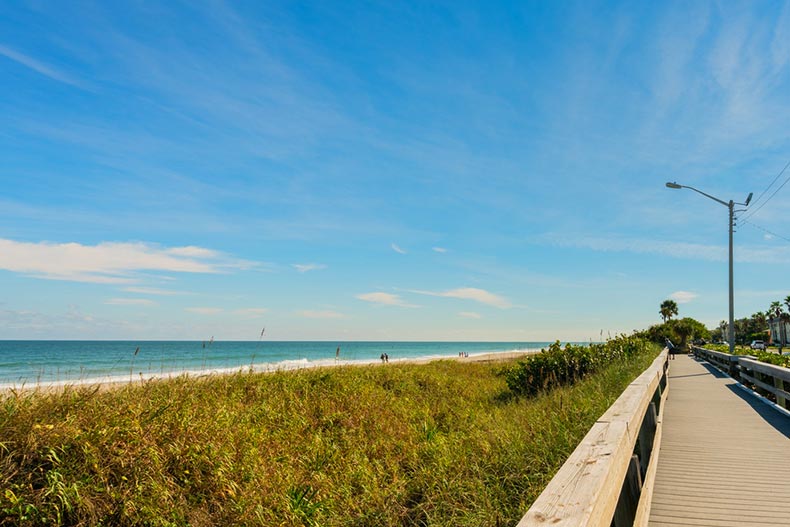 Residents of Melbourne can expect year-round sunshine and warmth. Not only is Melbourne located within the Sunshine State, but the oceanfront town enjoys a coastal climate.
According to WeatherSpark, Melbourne has an average temperature of about 86°F in the warm months (June to October) and an average of about 75°F in the colder months (November to May).
During the warmer months, residents of Melbourne can expect high humidity and regular rainfall. The humidity drops off in the colder months, providing year-round opportunities to spend time outdoors.
Popular outdoor activities in the pleasant climate of Melbourne include kayaking or fishing in the Indian River, playing golf on one of many courses nearby, or visiting the scenic beaches of the South Atlantic Coast.
Melbourne Taxes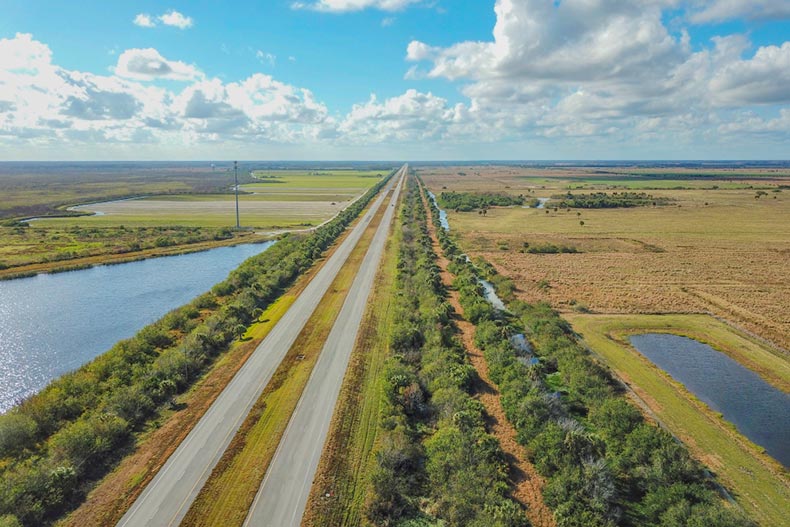 Melbourne offers attractive tax rates to retirees and active adults looking to get the most bang for their buck on the Space Coast. The sales tax in Melbourne is lower than 87% of other Florida localities, according to SalesTaxHandbook. Combining that with the fact that Florida has no income tax, Melbourne's cost of living is respectably low. With more disposable income, active adults can invest in new hobbies, fun experiences, or travels.
Melbourne Property Taxes
Homeowners in Melbourne can take advantage of lower-than-average property taxes. While the national average property tax rate is currently 1.07%, the property taxes in Melbourne stand at 0.86%, according to SmartAsset. This closely aligns with the state of Florida's average property tax rate of 0.83%. Further, the median annual property tax bills for Melbourne residents fall more than $400 below the national median.
Melbourne Retirement Income Taxes
The state of Florida is well-known to retirees for having no state income tax, estate tax, or inheritance tax that would impact Social Security benefits, pensions, or other retirement savings. To enjoy these tax breaks, active adults must claim Florida as their state of primary residence and live there more than half of the year. Residents must still file their federal taxes.
Melbourne Tax Exemptions for Seniors
According to the Brevard County Property Appraiser, seniors in Melbourne qualify for two major tax breaks. The Homestead Exemption provides a $25,000 deduction from a property's value, which helps reduce tax expenses. To qualify, the property must be listed as the owner's permanent residence since January 1 of the tax year.
The Limited-Income Seniors Exemption provides another tax exemption for 65+ residents of Brevard County who fall below a state-mandated household income (in 2021, the maximum adjusted gross income was $32,561). Homeowners must qualify for the Homestead Exemption to apply for the Limited-Income Seniors Exemption.
Melbourne Health Care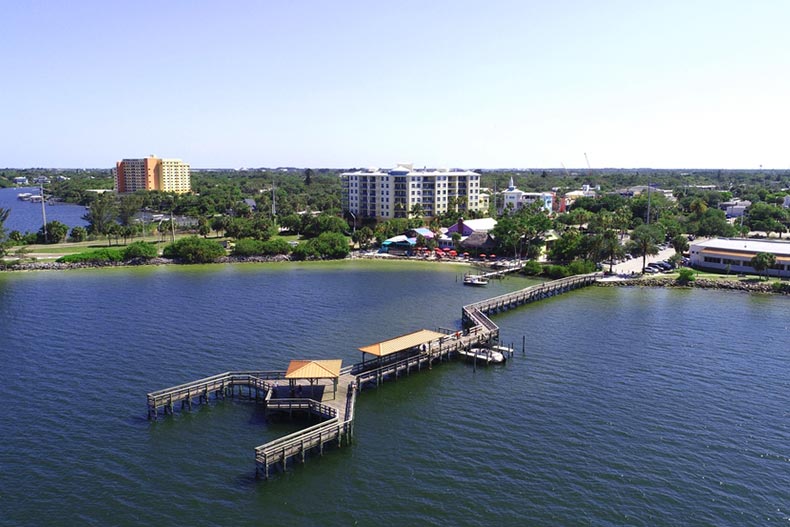 Throughout Melbourne, active adults can find a plethora of options for health care. The city is home to several highly reviewed hospitals and medical centers, ensuring that active adults are never too far away from the care that they need.
The top hospital in the area, according to U.S. News & World Report, is Holmes Regional Medical Center, located in the heart of the downtown area. As the only Level II trauma center in Brevard and Indian River Counties, the hospital performs more cardiac procedures than any other facility in the county. With more than 500 medical staff, Holmes Regional Medical Center provides individualized and special attention to each of its patients.
Another accredited medical facility within the city is the Melbourne Regional Medical Center. Similar to the Holmes Regional Medical Center, Melbourne Regional has state-of-the-art medical technology and highly trained staff. The hospital has earned a Leapfrog Hospital Safety Grade of "A," which is one of the nation's top distinctions for patient safety and care. The hospital features 119 private rooms for patient care and comfort.
Where to Live in Melbourne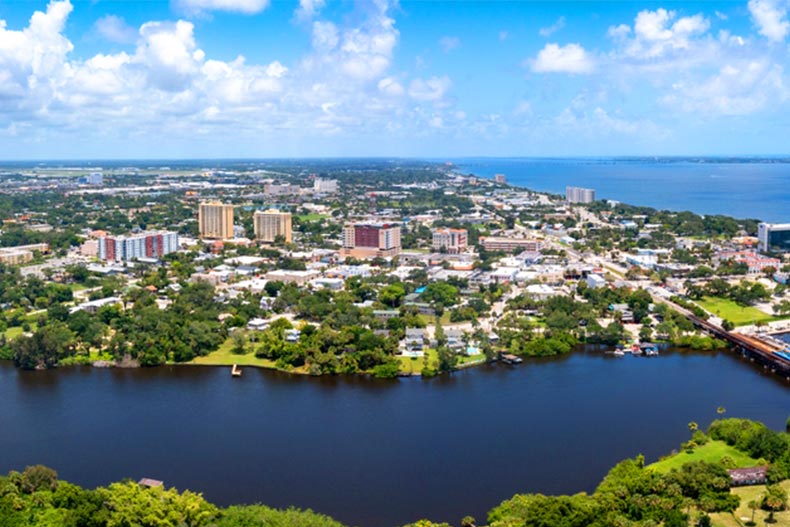 Living in Melbourne promises a range of opportunities to enjoy an active physical and social lifestyle. Residents can be as active or carefree as they want to be, whether they want to spend the whole day soaking in the sun on a sandy beach, shopping downtown, or visiting local attractions.
For a day out on the town, residents can park in Melbourne and peruse the walkable city streets lined with shops, restaurants, and attractions, such as the Henegar Center for the Arts. Active adults can also check out one of the local museums or visit the Brevard Zoo which features a unique opportunity to kayak through the African exhibit.
For a day trip out of the city, active adults can visit destinations like the Air Force Space and Missile Museum of Cape Canaveral or reach Orlando and Disney World within 70 minutes.
The city also offers access to the Atlantic Ocean and sandy beaches like Melbourne Beach, Indian Harbour Beach, and Satellite Beach. Residents looking to stay dry while they spend time outdoors can visit the nearby River Lakes Conservation Area, which features 782,033 acres of land, as well as local parks like Wickham Park and Crane Creek Preserve.
55+ Communities Near Melbourne
There are currently eight 55+ active adult communities near Melbourne. These communities offer an age-restricted lifestyle with access to amenities, social activities, and low-maintenance homes.
Popular 55+ communities include Pine Creek, which features 190 single-family homes, and Alamanda Key, with 300 single-family and attached homes. Another community, Indian River Colony Club, sits north of Melbourne and includes a sizable number of 777 single-family and attached homes.
West Melbourne
In West Melbourne, active adults can find two smaller 55+ communities: The Savannahs and Compass Pointe. These small age-restricted communities feature low-maintenance homes as well as amenities and activities that encourage neighbors to meet each other.
North of Melbourne
Just north of Melbourne, residents can reach the master-planned community of Viera, which includes three active adult communities: Grand Isle, Bridgewater at Viera, and Del Webb at Viera.
While Grand Isle is already well-established, Bridgewater at Viera and Del Webb at Viera are both currently under construction. Del Webb at Viera is a highly anticipated community that will include 1,300 single-family and attached homes upon completion, providing ample opportunities for active adults interested in owning a home in Melbourne.
Ready to Make the Move? 55places Can Help.
To discover more exciting 55+ communities in Melbourne, we invite you to contact us at 800-928-2055 or visit 55places.com. Our experienced team of real estate experts will guide you through the top options in your area and help you make a seamless transition from your current home to a 55+ community. We look forward to helping you make your next move the best one yet!