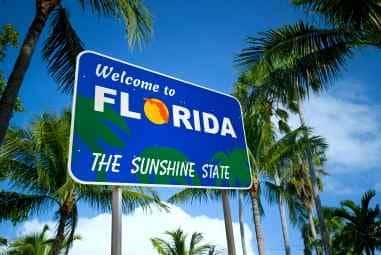 While you may have dreamed of retiring to Florida for many years, choosing the best place to relocate can be a bit of a challenge. Do you want the more gentle surf of the West Coast or the East Coast's spectacular sunrises? Are you looking for a tranquil town or a more active environment? Southern Florida has something for everyone, but you need to find the area that has the best setting for you.
In Southern Florida, both the East Coast and West Coast have their own particular charm. Both have sunny skies and sandy beaches, as well as golf courses, shopping centers and a wide range of restaurants. Both areas also share some of the same coastal concerns, such as hurricanes, tropical storms, and occasional sharks. Yet there are some basic differences to consider.
East Coast
Southeastern Florida includes popular retirement areas such as Palm Beach, Boca Raton, Boynton Beach, Lake Worth, and Delray Beach. Farther south, it also features urban attractions with cities including Miami and Fort Lauderdale.
Those who live on the East Coast often say that it offers a more active nightlife and a wider range of adult attractions, although it depends largely on the specific area where you choose to settle. Locals also say that the sea breeze off of the Atlantic Ocean helps the East Coast stay cooler and more comfortable during the heat of summer.
West Coast
Also known as the Gulf Coast, Southwestern Florida features retirement areas such as Tampa Bay, Naples, Pelican Bay, Bonita Springs, Venice, Port Charlotte, and Fort Myers. Locals who prefer to live on the Gulf of Mexico often say that the beaches have softer sand and more gentle waves than the shores of the East Coast.
While the East Coast boasts larger cities like Miami, West Coast areas like Tampa Bay also provide a wide range of attractions that appeal to active adult retirees. Yet summers in the West Coast may be more oppressive without the constant ocean breeze.
Visit Before You Choose
When it comes to choosing between Southwestern Florida's East and West Coasts, it's best to visit both areas for yourself. Plan an extended vacation that splits your time between each coast or go back to visit multiple times. Be sure to visit during the height of summer, which is the hottest and most humid time in Florida. While you're visiting, be sure to tour some of the area's active adult communities.
Whether you choose a home on the East Coast or West Coast, it's easy to find beautiful retirement destinations in sunny Florida.