Think about moving or even just visiting Florida and some standard spots probably come to mind. There's Miami and Palm Beach to the southeast. Tampa and Sarasota are on the Gulf Coast, and inland Orlando is the theme park capital of the world. Jacksonville and St. Augustine in the northeast also draw their fair share of tourists and new residents.
The next big retirement destination in The Sunshine State, however, may be a surprise: the Florida Panhandle.
What makes this region the next big thing? Well, there are fewer crowds and less tourism, giving new residents and locals plenty of space to spread out. It's tucked into the northwestern part of the state, on the Gulf of Mexico where the water is calm and clean. The area is also a wilder, more natural part of Florida that requires some intentional searching to stumble upon it.
There's plenty of golf, entertainment, fine dining, and outdoor recreation in the vibrant cities of Destin, Pensacola, Panama City, and Panama City Beach. There are even a growing number of active lifestyle communities.
Let's take a closer look at why more and more people are adding the Florida Panhandle to their list of potential retirement destinations.
Florida Panhandle Climate, Economy, and Environment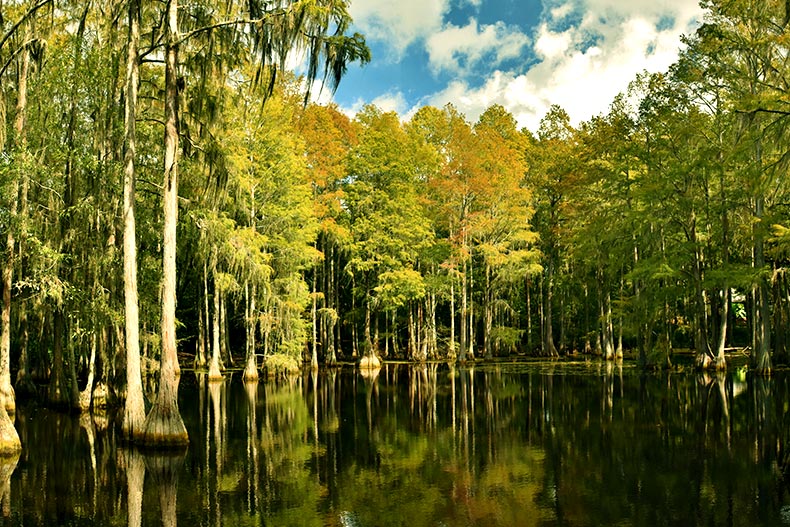 There's plenty of sunshine in the Panhandle. In fact, people who settle here get the same year-round warm weather that the rest of Florida receives. However, the area doesn't quite get as extremely hot. The summer months are predictably warm and humid. But the fall and winter months often see cool breezes and even frost.
Residents can expect a lot of rain in June and July, and hurricane and tropical storm season lasts throughout the summer and early fall. Otherwise, the average daily temperature is a pleasant 75 degrees.
Six military installations drive the economy in this part of Florida. It's a popular region for defense contractors, manufacturers, and high-tech industries. There are also land management and forestry organizations. The beaches and abundant wildlife attract environmentalists, hikers, camping enthusiasts, and fishers all year long. The area is home to multiple state parks, as well, including Henderson State Park.
Things to Do in the Florida Panhandle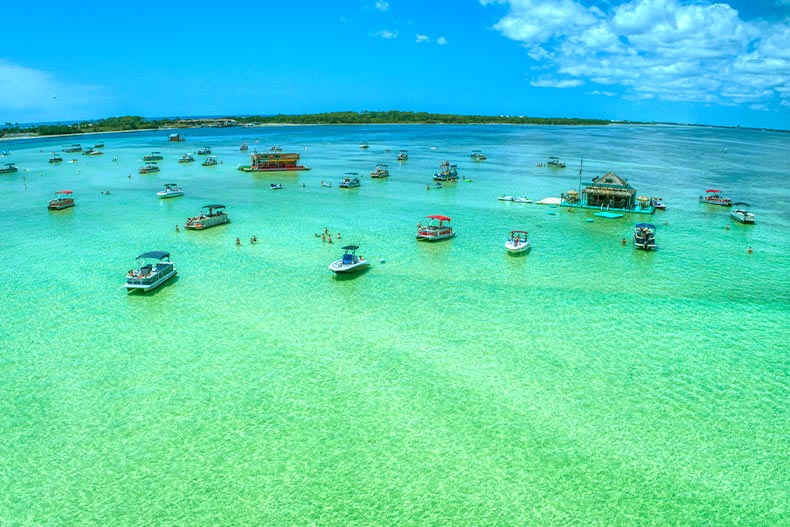 Over 200,000 acres of public lands are available in the Florida Panhandle. This provides for a lot of outdoor recreation, which is one of the preferred activities in this neck of the woods. Residents and visitors can explore areas such as the Naval Live Oaks Nature Preserve on the Gulf Islands National Seashore and the Apalachicola National Forest. The Choctawhatchee River includes over eight miles of the Florida Trail and has pine forest trails full of deer, gopher tortoises, foxes, and turkeys.
Shopping can be found in Destin and Panama City, in addition to their great food scene. Locals enjoy oysters, lobster, and other tasty seafood, as well as their own spin on barbecue. Bayou Joe's Marina and Grill is the place to visit in Panama City, and Uncle Ernie's can be found in a historic waterfront house. Visitors should also check out Boshamps Seafood and Oyster House in Destin as well as The Back Porch, which is on scenic Highway 98.
Golfers can also tee off at some of the best Panhandle courses, including The Pensacola Country Club and Signal Hill Golf Course in Panama City Beach. Art galleries, performing arts theaters, and boutiques can be found throughout the area, on and off the beaches.
Florida Panhandle Real Estate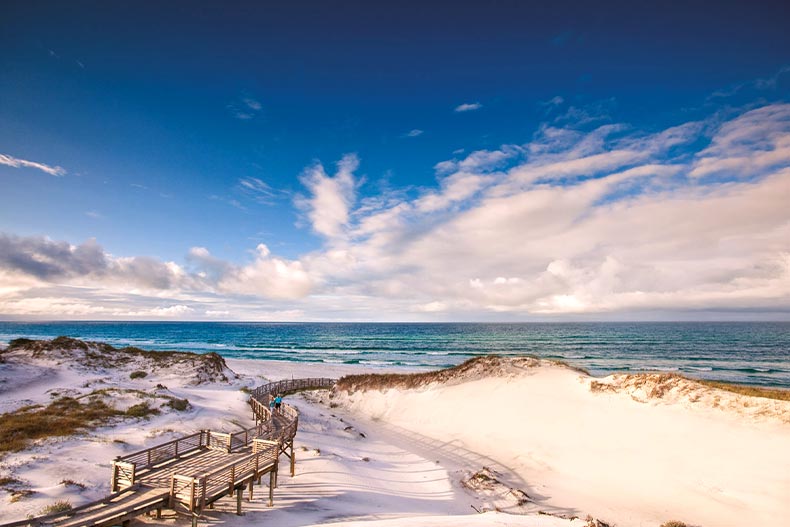 Both affordable and luxury homes are available to active adults looking at homes for sale in the Florida Panhandle. Here are a few communities that shouldn't be missed during your search for a perfect new home.
Mid $200s
Maybe you've heard of the Latitude Margaritaville community in Daytona Beach. It's wildly popular, and Latitude Margaritaville Watersound is getting a lot of attention as well. New construction single-family and attached homes are available in this 55+ community by Minto. Fans of Jimmy Buffett will appreciate the themed amenities like the Last Mango Theater and the Barkaritaville Pet Spa. There's a marina and a town center with a restaurant, fitness center, and pools. The Intracoastal Waterway runs behind the community and it's a short drive to Pensacola and Panama City.
Request more information about Latitude Margarita Watersound.
Low $600s – High $1Ms
New construction single-family homes are available at Watersound Origins, an active lifestyle community that offers both a golf course and private beach access. Residents may find there's no need to leave the community; there are eight different places to eat, several walking and biking trails, a day spa, and a marina and boat slips. Additional amenities include a clubhouse, a fitness center, and outdoor pools. Home models range from 1,750 to 2,948 square feet and include multiple options, upgrades, and extras.
Request more information about Watersound Origins.
High $200s – Low $500s
Firefly at Hammock Bay is an active lifestyle community in Freeport. New construction single-family homes in the master-planned community have six spacious models ranging from 1,566 to 2,018 square feet with three or four bedrooms, two bathrooms, and an attached two-car garage. Private community amenities include a clubhouse, a pool, tennis courts, and a fitness center, but residents also have access to the large range of amenities available throughout Hammock Bay.
Request more information about Firefly at Hammock Bay.
Mid $200s
Windsor Villas in Milton is an intimate 55+ community on the Florida Panhandle. The 92 villas range from 1,300 to 2,200 square feet with two to four bedrooms and two bathrooms. Each property comes with a private backyard, and many also feature screened patios. Amenities in this community include a clubhouse and a pool. Pensacola is about half an hour from Milton.