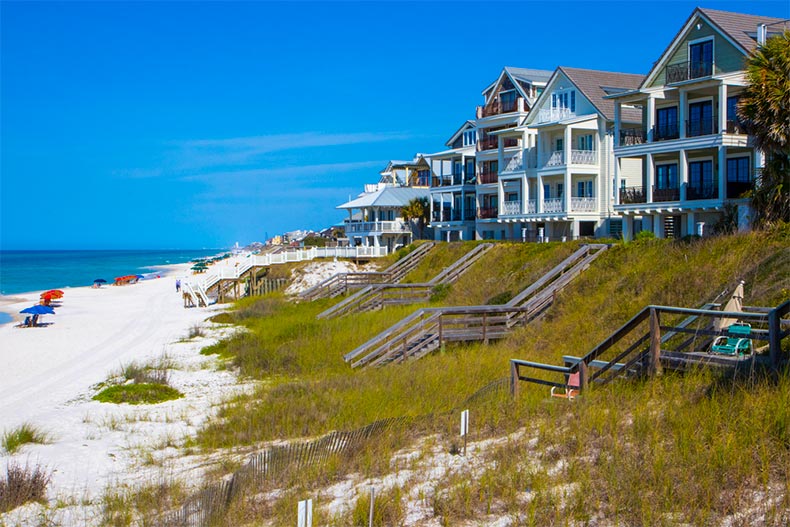 When it comes to the best place to retire in Florida, the only consensus seems to be that there is no consensus. We recently named the Tampa area and Sarasota area as the two best places to retire right now. Others swear by Palm Beach County and its many active adult communities. In recent years, places like Port St. Lucie and Daytona Beach have moved up the charts thanks to the arrival of new 55+ communities like PGA Village Verano and Latitude Margaritaville, respectively.
Just about the only region in Florida that no one mentioned as a retirement destination was the Panhandle. However, that, just like the greater Northwest Florida region, is about to change.
New Communities Coming Soon
Currently underway is Watersound Origins, an active-lifestyle community outside of Panama City whose first round of development will include 107 single-family homes with optional upgrades that include private outdoor pools and fire pits. Residents here have access to resort-style amenities that include a golf course, amenity center with cafe, and private beach access.
Soon to join it in the region will be Latitude Margaritaville Watersound, the third development in the popular brand of 55+ communities themed around the music and lifestyle of Jimmy Buffett. Details are scarce but the other two communities include amenities such as a town center with band shell, restaurant and bar, resort-style pool, and dog park. Latitude Margaritaville Watersound is currently scheduled to arrive in 2020.
What Makes the Panhandle Hot?
So what is it that has developers looking to the Panhandle after all this time? According to 55 Places Partner Agent Matt McGuire, it's hard to pin down just one reason.
"One thing that is a big draw about the Panhandle is the Southern culture and the Southern hospitality," says McGuire. "It really has a different culture and a different feel than the other parts of the state. We also have such accessibility to other large metropolitan areas. So, for people who like to travel and especially those that like to get to places easily by driving, we are so close to so many large areas like Nashville, Atlanta, Birmingham, New Orleans, and even kind of on the edge of Savannah."
If you'd rather fly to your destination, Northwest Florida Beaches International Airport in Panama City recently announced a major expansion, which means more options and more flights.
Panama City Beach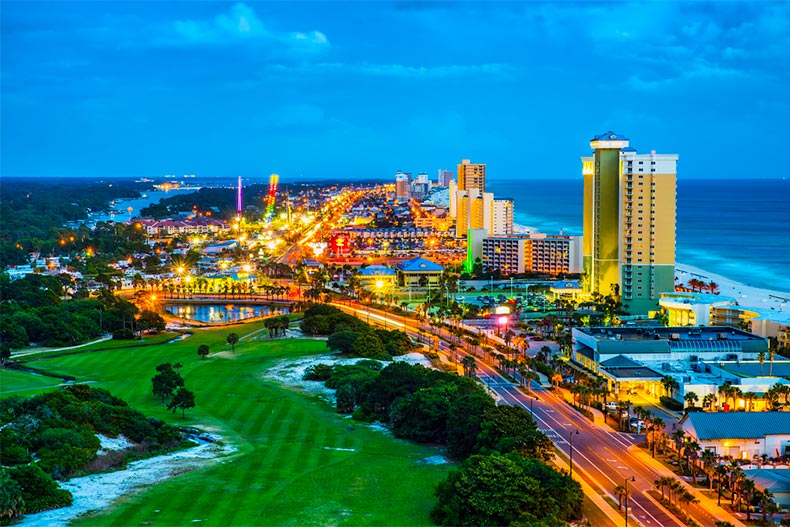 Panama City has become more than a spring break destination.
As for Panama City Beach, that Bay County city acts as the region's big cultural hub. Home of "The World's Most Beautiful Beaches," this city might be well known for spring breakers, but there's actually a lot going on here for active adults as well. Just some of the day trip destinations to be found here include the award-winning golf courses at Bay Point Golf Club at Sheraton Bay Point Resort, Gayle's Trails greenway system, Gulf World Marine Park, Panama City Beach Conservation Park, and the Camp Helen and St. Andrews state parks.
There are also plenty of restaurants, retail shops, and entertainment options to be found here. No wonder Margaritaville Holdings is also in the midst of opening a new Margaritaville Beach Resort there.
Plenty to Do & More Coming
Proximity to other areas is a great aspect of living in the Panhandle, but there are also plenty of great reasons to stay close to home.
"The beauty of this area too is something that is unique," says McGuire. "As far as Walton County goes, 40 percent of the area is state parks. We have so much designated area just for green space. For active individuals, you can bike and hike through miles of trails. We have state parks too that border the Gulf of Mexico."
McGuire also noted that the region is currently seeing an influx in strong health care options as well as new restaurants and retail options. "There's a lot more to do in this area even than when I first moved here about 15 years ago," he added.
Margaritaville in the Panhandle
All of this appears to be why developers have started taking notice of the Panhandle. The St. Joe Company has huge plans for Watersound Origins and Minto Communities is going to bring a lot of excitement and attention with them when Latitude Margaritaville Watersound eventually opens.
"The Panhandle is a unique market with a customer connection that extends much further west as compared to an east coast destination which attracts buyers along the eastern seaboard," says Bill Bullock, Minto's Latitude Margaritaville division president. "The scale of what we are proposing will offer the Latitude resident an incomparable lifestyle with access to beaches, Intracoastal waterways, eco-amenities, shopping and entertainment as well as a few other major perks which we will announce at the appropriate time."
Bullock adds that he sees Latitude's arrival as the start of a big retirement trend in the region. As the first 55+ community to call the area home, it's going to set the tone for what's to come.
The Origins of Everything
It's also going to be helpful that Watersound Origins has big plans to expand commercial and recreational opportunities in the region in order to keep up with the needs of all the new residents.
"They're going to be building another grocery store and they're working on securing some leases with some other national companies as well," says McGuire. "They've secured state funding for a tunnel that's going to go under Route 98, which will get people easier access to 30-A and also to public beach access. Those are some really big changes that we're going to see here in the very near future within Origins."
Given their timeline, we have to assume there will be updates on Latitude Margaritaville soon. Once that ball starts rolling, chances are that the interest and excitement about retirement in the Florida Panhandle aren't going to stop anytime soon.