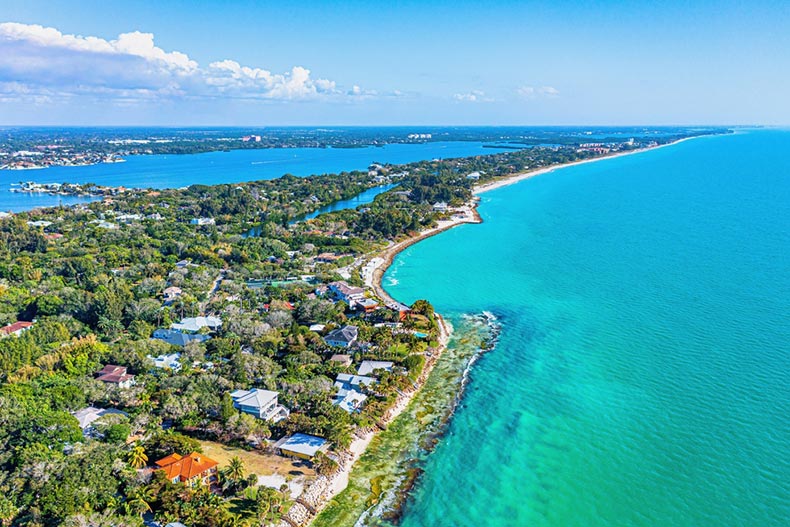 Anyone considering a Florida retirement along the Gulf of Mexico will likely look at two of the region's most popular cities. Both Sarasota and Fort Myers are found between Tampa and Miami. They're roughly the same size, and they enjoy similar climates.
There are nuances; however, and that's where decisions are made for active adults thinking about retirement. People retire in these areas because of the low taxes, high quality of life, and proximity to the water, golf, shopping, and recreation. The weather's hard to beat too.
Can't decide which city is best for you? Let's look at Sarasota vs. Fort Myers and how each measures up.
Geography and Population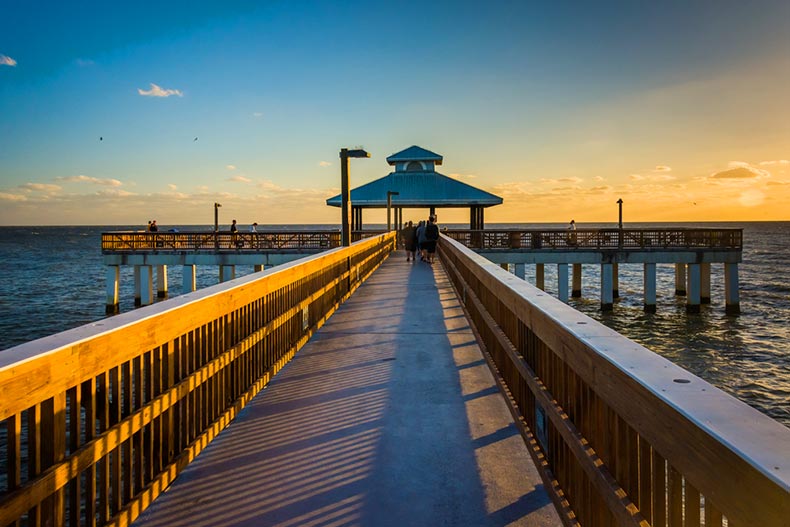 Sarasota and Fort Myers are both several miles from the coast.
About 82 miles separate Sarasota and Fort Myers. They are both several miles from the coast, but close to beaches. The Caloosahatchee River is a tidal river running through Fort Myers, and in Sarasota, the Myakka River runs mostly fresh but does have brackish areas. Fort Myers is about two hours from Tampa, while Sarasota is about an hour away from the Tampa area.
Fort Myers is slightly larger, with the latest census putting the population at around 80,000, while the population of Sarasota is around 57,000.
Climate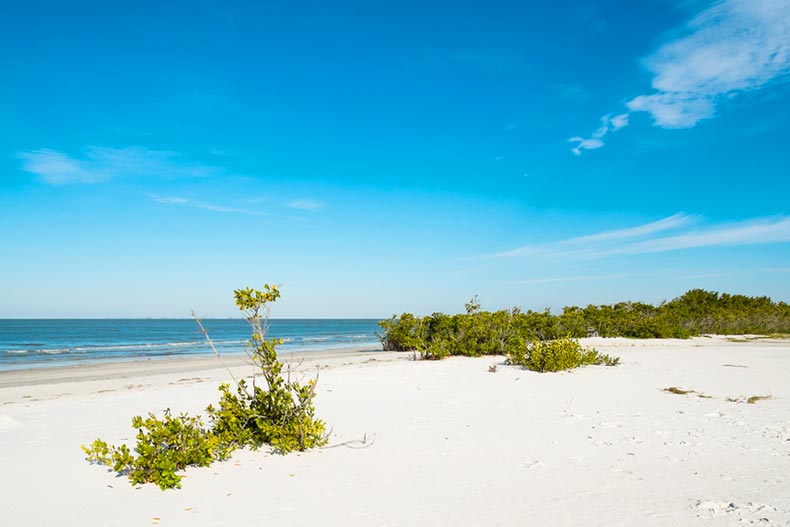 The humidity and threat of hurricanes aside, people love the Gulf Coast weather.
In the great Sarasota vs. Fort Myers debate, there's not much opportunity to choose a retirement destination based on weather. Average temperatures and weather patterns are about the same.
You can expect an active tropical season, with hurricanes and storms possible from June 1 to November 30 every year. Peak hurricane season in the Gulf is August and September. Outside of that, the weather is typically hot in the summer and pleasant in the winter.
Average February temperatures in both cities are a high of 74 degrees and a low of 55 degrees. In July, you can expect highs of around 90 degrees and lows of 75 degrees. Things get pretty humid, especially in the summer months.
The humidity and threat of hurricanes aside, people love the Gulf Coast weather. It means golf year-round, fishing without a bracing winter wind, and plenty of time to hike, camp, and enjoy boating, long walks, and dining al fresco.
Cost of Living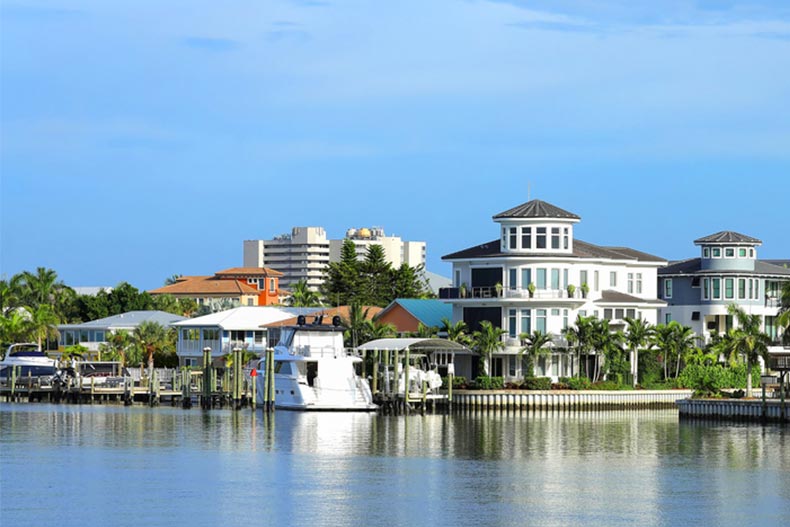 Fort Myers is far more affordable.
Expect to spend a bit more money in Sarasota. The cost of living is slightly higher than the national average, and the median home price is just over $500,000.
Fort Myers is far more affordable. In fact, it's not only lower than Florida's average cost of living, it's four percent lower than the national average. The average home price in Fort Myers for 2022 is about $369,000.
There's good news when it comes to taxes. Florida doesn't have a state income tax, which means all retirement income is untouched at the state level. Social Security benefits, pensions, IRAs, 401(k)s, and other sources of retirement income are only reported on federal returns. Florida also doesn't have an inheritance tax or an estate tax.
Property tax rates are about the same in both cities, but because Sarasota homes are often valued at higher prices, the property taxes in that area are likely to be higher. The sales tax in Florida is 6 percent. With additional local taxes, the sales tax in Sarasota is 7 percent, and in Fort Myers, it's 6.5 percent.
Utilities, food, and gas are priced similarly in both Sarasota and Fort Myers. Most people retire to the area from the north, where heating bills and other costs tend to be higher.
Culture and Entertainment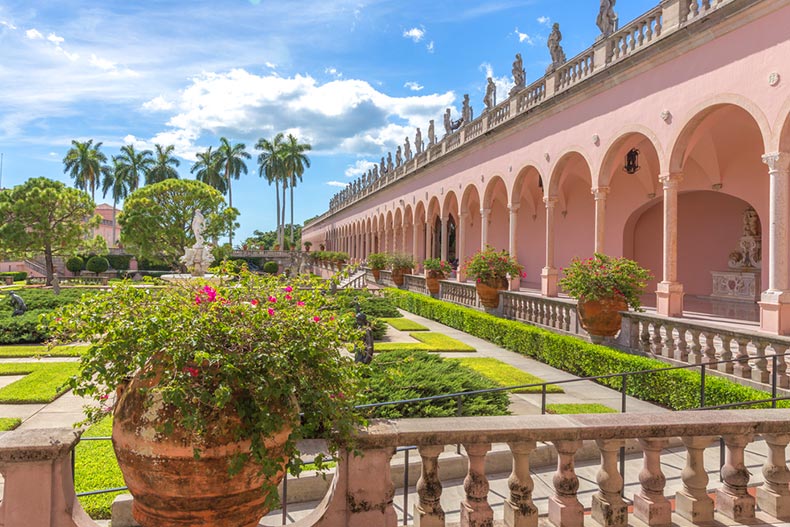 What To Do In Sarasota
If art and culture need to be part of your retirement, Sarasota might be the better choice. The city is known for its museums, performing arts, and iconic landmarks like The Sarasota National Cemetery as well as the Unconditional Surrender statue, which is in Bayfront Park and pays tribute to WWII veterans.
The best-known art gallery in Sarasota is The Ringling Museum of Art, a collection of work that rivals some of the best museums in Europe. It features 31 separate galleries and a sculpture garden and courtyard. The Marie Selby Botanical Gardens covers 15 acres and includes lakes and greenhouses. The Sarasota Art Museum features exhibits as well as classes.
A number of art galleries and studios of working artists can also be found throughout Sarasota. Some of the best to visit include Studio 41, Art Center Sarasota, and AlexArt International Art Gallery.
Plenty of shopping can be found in Sarasota. St. Armand's Circle is on an island, right off the beach and packed with boutiques, specialty shops, and local businesses. There's also The Shoppes at Sarasota Row and Sarasota Commons. Yoder's Amish Gift Shop is an interesting place to buy jams, candies, and other handcrafted gifts made by the local Amish.
For entertainment, Sarasota residents can be found at the Van Wezel Performing Arts Hall as well as The Players Centre for Performing Arts, a community theater showcasing local talent.
Myakka River State Park offers some of the best outdoor recreation in Sarasota, including fishing, kayaking, hiking, camping, and bike riding. There's lots of wildlife to see as well. Beachgoers will want to head to Siesta Key and its white sand and warm waters.
What To Do In Fort Myers
In Fort Myers, you'll find a lot of Native American history. The Museum of the Islands takes a look at what life was like when European settlers began arriving in Florida. There's a preserved Calusa Indian village nearby on the Calusa Heritage Trail on Pine Island. The Mound House on Fort Myers Beach is a unique archaeological site perched on a 2,000-year-old shell mound.
The Edison and Ford Winter Estates feature the homes of Thomas Edison and Henry Ford. They're well-preserved museums now, and there's also a large botanical garden on the property. The Sidney & Berne Davis Art Center in the Fort Myers historic River District provides performing arts opportunities as well as visual art exhibitions and community programming.
Shopping in the Fort Myers River District is a lot of fun, and there's usually entertainment and good food to be found as well. There are fountains, sculptures, farmers markets, wine bars, restaurants, and an array of shops and locally owned boutiques. For something resembling a more traditional mall or shopping center, The Shops at Village Walk are always busy, and there's Edison Mall and Bell Tower Shops.
Beaches, boating, fishing, and kayaking can all be found in Fort Myers. The Caloosahatchee River runs through the city and along several parks, including Centennial Park and Jaycee Park. There's also the Four Mile Cove Ecological Preserve and the Calusa Nature Center & Planetarium for those interested in wildlife and local flora. The best beaches in Fort Myers include Crescent Beach, Lani Kai Beach, and Lovers Key State Park. There are 43 golf courses in the city of Fort Myers alone.
Health Care and Education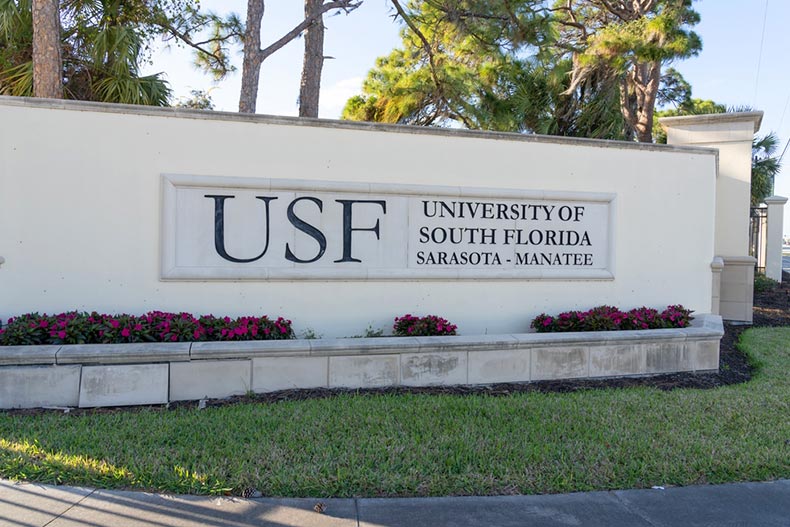 Finding primary and specialized health care is not a problem in Sarasota and Fort Myers. Something unique about these two cities is that in a state where a lot of hospitals have privatized and joined large networks, medical care is still fairly local along Florida's Gulf coasts, especially in Sarasota and Fort Myers.
Sarasota Memorial Hospital was ranked as one of the 50 Best Hospitals, according to U.S. News and World Report in 2021/2022, especially for patients recovering from debilitating illnesses and disease. The health care system is also a leader in heart health, memory care, and diabetes.
In Fort Myers, Lee Memorial Hospital has four acute care centers, including general medical and surgical facilities. The comprehensive inpatient rehabilitation center is well-known throughout Southwest Florida.
The University of South Florida (USF) has a campus in Sarasota, and Florida Gulf Coast University is located in Fort Myers. Both cities also have strong community colleges and in Sarasota, artists can attend the Ringling College of Art and Design.
55+ Communities in Sarasota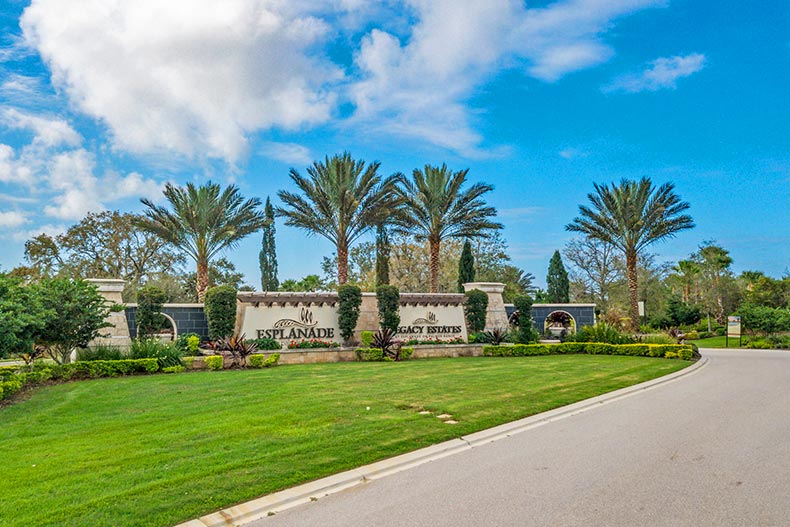 Low $400s - Mid $1M
New construction homes are available at Esplanade on Palmer Ranch, where there's a large amenity center that includes the Bahama Bar, pool, tennis, and pickleball as well as an event lawn. Buyers can select one of the 14 floor plans that feature low-maintenance living in single-family homes. A lifestyle manager will be employed on-site to help coordinate events and activities.
Request more information about Esplanade on Palmer Ranch.
Mid $300s - High $400s
Cascades at Sarasota is a gated 55+ community with 453 single-family homes. Buyers will find models with 1,429 to 2,489 square feet, two to four bedrooms, and two or three bathrooms. Amenities include a clubhouse, a fitness center, an indoor pool, tennis courts, and an arts and crafts room.
Request more information about Cascades at Sarasota.
Low $300s - Mid $500s
Golfers would be wise to consider Stoneybrook Golf & Country Club, an active adult community in Sarasota with an 18-hole, par 72 golf course, driving range, and six teeing grounds. Buying a home gives you a full equity golf membership, which is a huge benefit. There are also a variety of homes to choose from in this community, including single-family homes, villas, and condos.
Request more information about Stoneybrook Golf & Country Club.
High $200s - Mid $400s
Attached duplexes and villas as well as single-family homes are available at LakeRidge Falls, a 55+ community in Sarasota with 399 residences. Amenities include a clubhouse with lake views, a fitness center, a resort-style pool, and a yard chess set-up. Most homes have a water view or a view of serene wooded areas.
Request more information about LakeRidge Falls.
55+ Communities in Fort Myers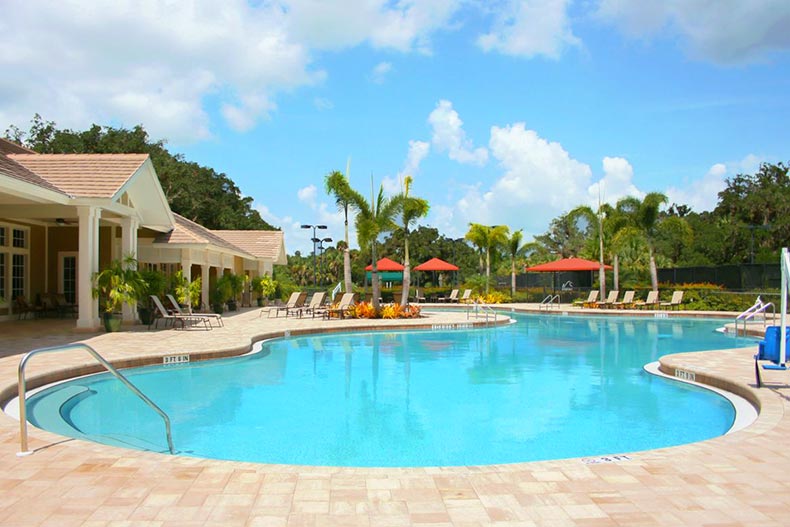 Mid $200s - High $400s
An attractive and gated golf community, Legends Golf and Country Club provides a ton of amenities and a diverse selection of homes. Buyers can choose from low-maintenance condos, attached villas, and single-family homes. Golf and social memberships are available at the country club, which includes 18 holes of golf and additional amenities.
Request more information about Legends Golf and Country Club.
Low $200s - Mid $2Ms
There's golf and tennis and also a marina and yacht basin at Gulf Harbour Yacht & Country Club. Located on the banks of the Caloosahatchee River, residents can use the boat slips and enjoy instant access to the Intracoastal Waterway and even the Gulf of Mexico. There's a spa, a fitness center, pools, a golf course, and an aquatic driving range. Attached villas, condos, and single-family homes in a variety of floor plans are available.
Request more information about Gulf Harbour Yacht & Country Club.
Low $300s - Mid $700s
One of the most popular 55+ communities in Fort Myers, Pelican Preserve offers a lot of amenities, beautifully maintained homes, and plenty of social opportunities. There's a clubhouse with a movie theater and a restaurant, and the golf club also offers its own amenities. Carriage homes, cottages, villas, condos, and single-family homes are available in diverse floor plans.
Request more information about Pelican Preserve.
Mid $200s - Mid $1Ms
New construction and resale homes are available at Verandah, a gated active lifestyle community. More than nine miles of walking trails are available in this community, which has focused on environmental preservation and sustainability. Attached and single-family homes are available and amenities include golf, pools, tennis, and a canoe and kayak launch onto the Orange River.