Pennsylvania has a rich cultural history, an affordable cost of living, low taxes, and a strong job market. Weather-wise, it experiences all four seasons. This is beneficial since there are rolling farmlands, lakes, rivers, parks, and outdoor trails to enjoy during warmer months, and picturesque fall foliage, ski mountains, and other winter activities to round out the rest of the year. Some of the best schools in the country are also found here, like the University of Pennsylvania, great for continuing education. Major cities like Philadelphia and Harrisburg offer urban adventures and top-drawer medical care, while small towns give residents plenty of quaint charms.
Here are five of the best areas to live in Pennsylvania.
1.

Mount Lebanon Township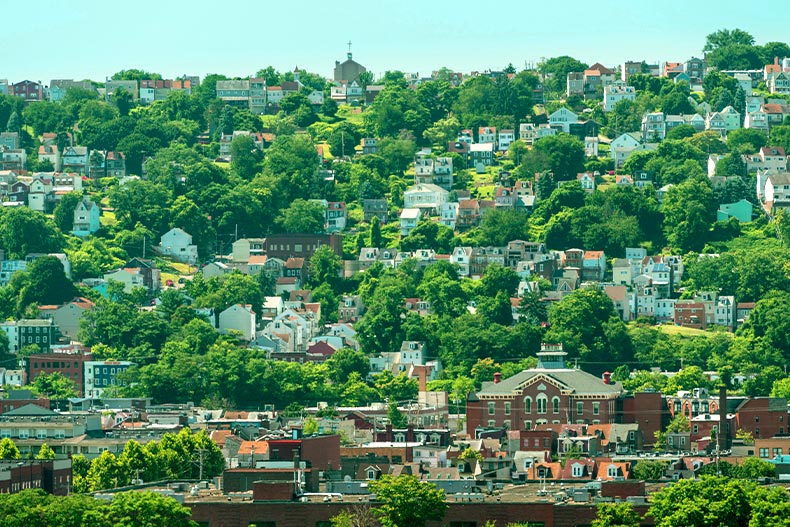 A suburb of Pittsburgh, Mount Lebanon sits about seven miles south of the city. Its population is close to 33,000 and it has an average home value of around $364,000. The history of this township dates back to the 1700s, and it's divided into several neighborhoods, each with its own unique character.
Mount Lebanon is home to the popular Mount Lebanon Swim Center, Golf Course, Tennis Center, and Public Library. There are also lovely gardens, mature trees, and nature trails throughout the neighborhoods, helping this township to earn a Tree City USA designation. Locals can take advantage of the easy-to-use light rail transit system and enjoy top-notch medical care from St. Clair Hospital and other Pittsburgh-area hospitals.
With energetic downtown areas at Castle Shannon Boulevard, Beverly Road, and the Galleria mall, Mount Lebanon has also been recognized by Main Street America.
55+ Communities Near Mount Lebanon
2. Ardmore
Travel eight miles northwest of Philadelphia and you'll run into Ardmore. This dynamic suburb of around 13,000 has average home VALUES
( near $415,000. It was settled in 1853 and later renamed after the Pennsylvania Railroad station in the town. It's part of Philly's Main Line area, which refers to a section of the city's western suburbs. The city's main street, Lancaster Avenue, features Ardmore Music Hall, trendy shops, and restaurants. Ardmore also features one of Pennsylvania's well-appointed shopping centers, Suburban Square.
Ardmore also offers a strong sense of community, diverse housing options, and farmers' markets. There are two nearby country clubs: Llanerch Country Club and Merion Golf Club. The closest hospital is Lankenau Medical Center, and there are numerous groceries, shops, and recreation areas throughout the city. Public transport in Ardmore is provided by Southeastern Pennsylvania Transportation Authority. This includes multiple bus routes, the high-speed line, and the regional rail.
55+ Communities Near Ardmore
3.

Lemont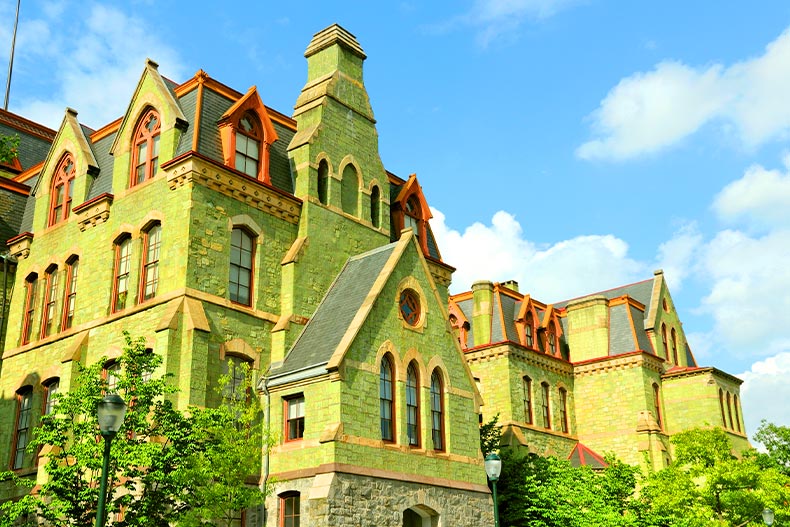 Lemont is the quintessential small town, with a population of just over 2,100 residents. It is close to the heart of Pennsylvania, near State College, and median home VALUES
( range around $240,000. It is surrounded by parks and recreation areas, like Mt. Nittany Conservancy, Millbrook Nature Center, and Centre Hills Country Club.
The town is listed on the National Register of Historic Places, partly because of its historic Granary. Built in 1885, this storehouse was used alongside the Pennsylvania Railroad to distribute grains. Now a community activity hub, it is used for holiday events, dinners, and more. The town's Village Green hosts festivals and concerts.
Pennsylvania State University is less than two miles away in State College, PA, a municipality that offers all of the amenities of a larger city. There are also some small shops in Lemont, and folks can head towards the Walmart Supercenter, Trader Joe's, international grocery stores, and other State College stores.
55+ Communities Near Lemont
4. Radnor Township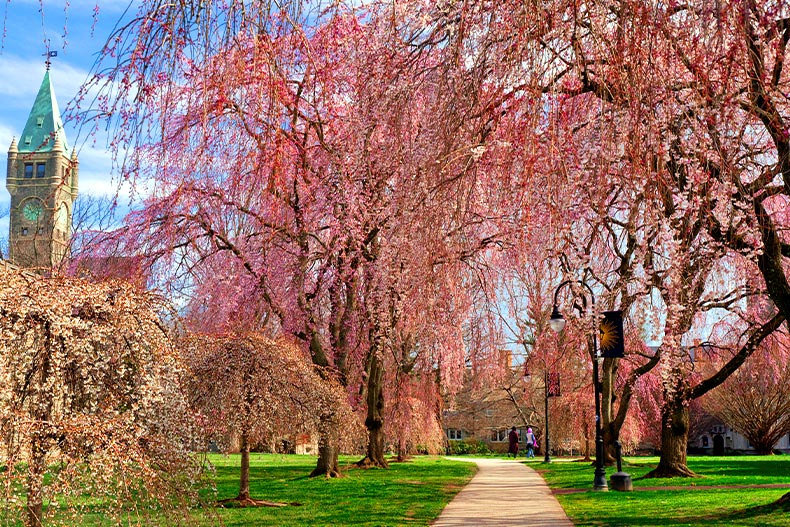 Radnor is another Philadelphia suburb that is also part of the Main Line, about a 40-minute drive from the City of Brotherly Love. With a population of around 32,000 and high property VALUES
(, this well-appointed town is desirable for home seekers of all ages. Community members are quite active, with many locals belonging to service organizations and clubs like the Radnor Conservancy.
The unincorporated communities of Wayne, Villanova, Rosemont, Garrett Hill, and parts of Newtown Square and Bryn Mawr are all contained in Radnor Township. Wayne is minutes from Radnor, and the two towns share events and activities. The area is also home to many attractions, including Valley Forge National Historical Park, King of Prussia Mall, and Villanova University.
55+ Communities Near Radnor
5.

Blue Bell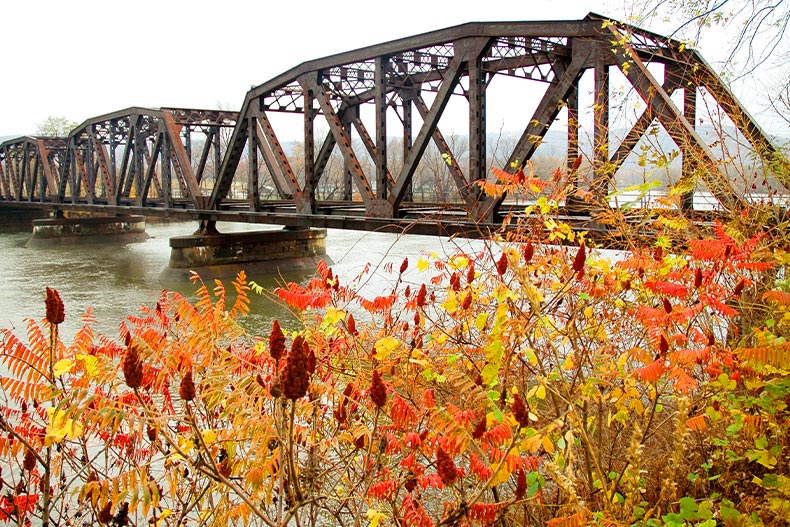 This well-to-do village of 6,250 residents is around 20 miles north of Philadelphia. It is part of Whitpain, one of Montgomery County's oldest townships. Whitpain was visited by George Washington and his troops during the Revolutionary War, giving the area a rich history. Nowadays, its parks & recreation department sponsors many activities, like yoga, workshops for adults, concerts, and trips to Washington, D.C. and New York City.
The two country clubs nearest Blue Bell are Bluestone Country Club and pristine Cedarbrook. In the area, there are also over half a dozen nature preserves, the Wissahickon Valley Public Library, shops, and restaurants. The well-respected Abington Health Center is right in Blue Bell, and other area medical centers include Suburban Community Hospital and Jefferson Surgical Center.
55+ Communities in Blue Bell