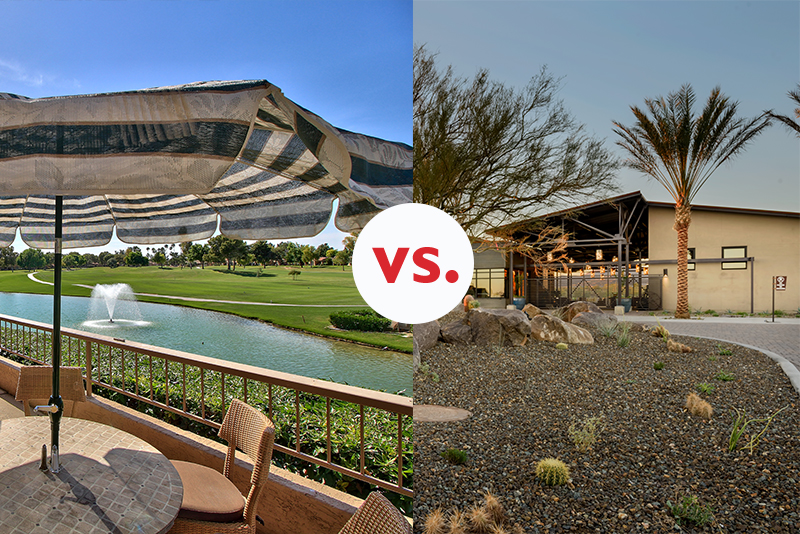 Trilogy at Vistancia and Westbrook Village are two large active adult communities in the city of Peoria, near Phoenix, Arizona. So, what are the differences between them and how do you choose?
Some basic differences might help you decide easily. If you're well under the age of 55, then you'll have to wait to move into Trilogy at Vistancia, which has a 55+ age restriction. For Westbrook Village you only have to be 40+. Trilogy at Vistancia is also a gated community but Westbrook Village isn't, if that's a concern for you. You can read more about the pros and cons of gated communities here.
Trilogy at Vistancia has 3,300 single-family homes, while Westbrook Village has 3,910 homes and offers attached homes and condos as well as single-family homes.
Location
Both communities are in the city of Peoria, which has a population of about 170,000 and dates back to the late 19th century. It has a number of historic buildings that are listed on the National Register of Historic Places, and is at the northwestern edge of the Phoenix Metropolitan Area.
The two communities are about 10 miles apart, with Westbrook Village being closer to Phoenix. From there it's about a 35-minute drive to Downtown Phoenix, and about 10 minutes more from Trilogy at Vistancia. Westbrook Village is only a 15-minute drive from downtown Peoria, but from Trilogy at Vistancia it's about 30 minutes.
On the other hand, Trilogy at Vistancia is at the very edge of the urban area, surrounded by desert, while Westbrook Village is very much in the heart of the built-up area.
Amenities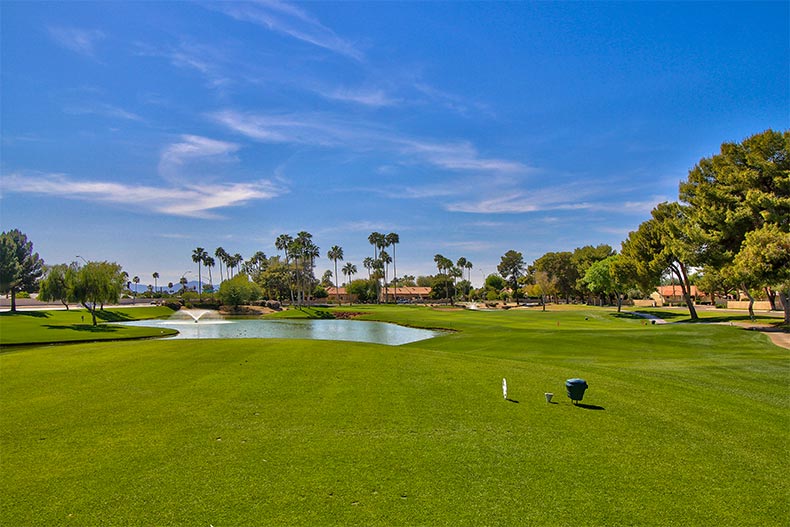 Westbrook Village has two 18-hole golf courses compared to Trilogy at Vistancia's one course.
As these are both large communities they both have impressive amenities for their residents. Golf enthusiasts might prefer the amenities in Westbrook Village, which has two 18-hole courses, both with pro shops and eating places. Trilogy at Vistancia has one 18-hole course with V's Taproom for drinking and dining.
For sports generally, both places have courts for tennis and pickleball, but Westbrook Village has bocce courts as well. Both have two outdoor pools but Trilogy at Vistancia also has an indoor lap pool. Trilogy at Vistancia also has two fitness centers compared to one for Westbrook Village.
When it comes to arts and crafts, Westbrook Village is better-equipped. It has dedicated studios for stained glass, woodwork, ceramics, sewing, and lapidary work. Trilogy at Vistancia's amenities include a ceramics studio and two studios for other arts and crafts.
Both communities have two main clubhouses, with Westbrook Village having an additional Fine Arts and Learning Center, which has meeting rooms, game rooms, an art studio, a photography studio, and a book and video library.
Lifestyle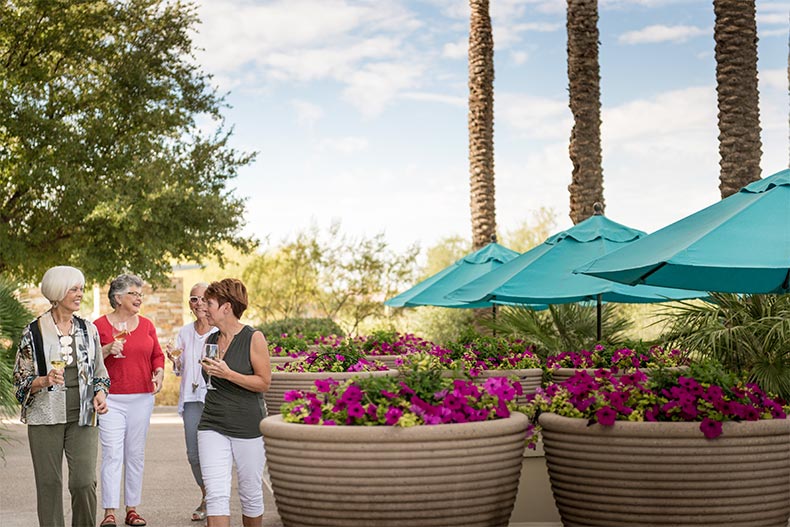 There's plenty of outdoor space for socializing with a glass of wine in Trilogy at Vistancia.
Residents in both communities have access to many groups, clubs, classes, and activities, but the larger community of Westbrook Village has more going on for residents. These include groups for dancing, yoga, Zumba, wine appreciation, photography, card and board games, and many more. Trilogy at Vistancia offers activities like a book club, a cigar club, a wine club, Spanish lessons, an oil painting group, and others.
Models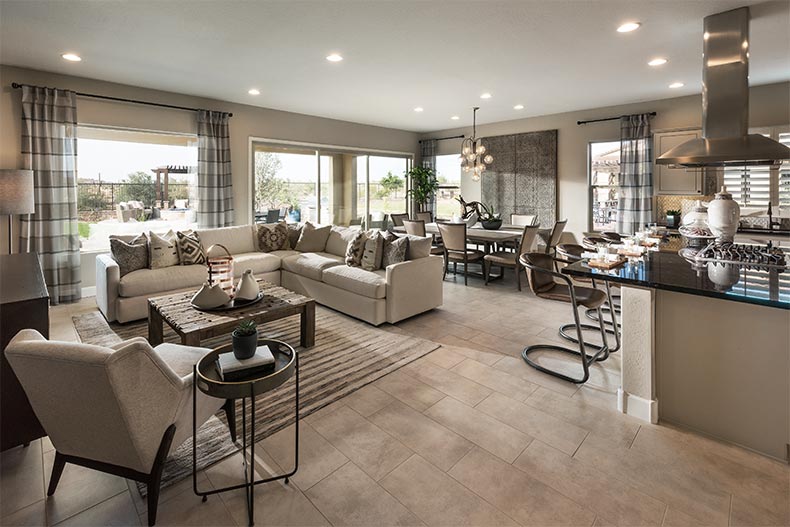 Both communities have a wide range of models available, with Westbrook Village offering condos if you're looking to downsize. These start at under 1,000 square feet, whereas the smallest homes at Trilogy at Vistancia are 1,218 square feet. If you're looking for as much space as possible, then Trilogy at Vistancia offers homes as big as 3,223 square feet. These provide four bedrooms plus a den, 4.5 bathrooms, and a three-car garage.
The largest homes at Westbrook Village are 2,578 square feet and have two bedrooms, a den/third bedroom, two bathrooms, and a three-car garage.
Prices
Prices for homes in Westbrook Village start lower, in the mid $100s for a one-bedroom, one-bathroom condo. Prices for the largest homes are in the low $500s. The entry-point prices for Trilogy at Vistancia are in the high $200s, while the largest homes are in the low $1Ms.
Be a Member for a Day
If you're still uncertain about choosing between Trilogy at Vistancia and Westbrook Village then Trilogy at Vistancia offers you the opportunity to be a member for a day. Once a month from 1:30pm to 7pm anyone can become a temporary resident and sample everything the community has to offer, such as using the fitness center, swimming in the pool, trying the cafr, talking to existing residents, using the driving range, and taking a lesson with a golf pro. The day winds up with a Member Happy Hour and some live music.
To secure an invitation fill in the details on this contact form.
You can learn more information about Trilogy at Vistancia here.
You can learn more information about Westbrook Village here.