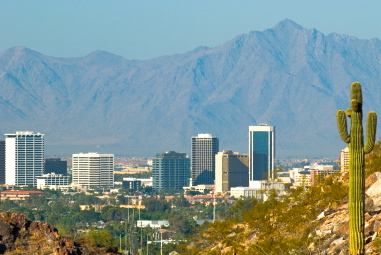 Although they are situated about 120 miles apart, the Arizona cities of Tucson and Phoenix each have their own distinctive characteristics. Many people who have lived in both areas tend to prefer one over the other, but the reasons behind the choice often come down to personal preferences. We're comparing Tucson and Phoenix to help you decide which retirement destination is best for you.
A Big Size Difference
Size, both in population and geography, is one of the more obvious distinctions between the cities of Tucson and Phoenix. Though these two cities are the largest in the state of Arizona, there is a vast size difference between the two. Sprawling over 475 square miles, Phoenix is more than double the land size of Tucson, which is reflected in the cities' population data.
According to the U.S. Census Bureau's 2006 estimate, the city of Tucson had a population of 518,956, while the city of Phoenix's population had climbed to 1,512,986. Both cities have grown since that time.
The Cost of Living in Tucson
The cost of living is an important factor when comparing cities for relocation. Overall, the cost of living in Tucson is 6 percent lower than the Arizona average. Health care and transportation costs are 2 to 3 percent below average, but housing is where residents really save the most money as housing costs in Tucson are 25 percent below the national average.
The Cost of Living in Phoenix
Compared to Tucson, the overall cost of living in Phoenix is 3 to 4 percent higher, but it is still below both the state and national averages. Though housing tends to cost more in Phoenix than in Tucson, it is still 1 to 2 percent below average for Arizona. Residents see the most savings in health care, which is 11 percent lower than the rest of the country.
Which City is "Cooler?"
When it comes to weather, both Tucson and Phoenix have arid, desert climates. However, Tucson's higher elevation makes it generally cooler than Phoenix. Tucson also receives more rainfall throughout the year. Both cities experience monsoon periods with more rainfall occurring from early July to mid-September. However, the rain in Phoenix is scarce in the earlier part of summer.
In Phoenix, residents can expect extremely hot summers and warm winters. Daytime summer temperatures are commonly over 100 degrees and they can easily exceed 110 degrees. Phoenix reached its record high of 122 degrees on June 26, 1990.
Comparatively, Tucson's summer temperatures also frequently exceed 100 degrees, but they do tend to be three to five degrees cooler than Phoenix.
There's Plenty to Do in Both Cities
From a recreational standpoint, each city offers many options. Tucson's downtown area is home to a small independent music scene, but Mariachi music remains popular as well. The city has many sporting events, including following the popular Arizona University Wildcats' various sports teams and watching NASCAR events at Tucson Raceway Park. Many annual events and festivals occur in Tucson, including the Tucson Gem and Mineral Show, the Fourth Avenue Street Fair, and the Tucson Rodeo.
In Phoenix, recreational facilities include performing arts centers, museums, and sports venues. Many popular musical artists and bands have performed in the city, as have touring theatre groups and special events. Phoenix is home to teams from many professional sports leagues, including the Phoenix Suns (NBA), the Arizona Cardinals (NFL), the Arizona Diamondbacks (MLB), and the Phoenix Coyotes (NHL). NASCAR races and other racing events are also held at The Phoenix International Raceway.
Active Adult Communities in Phoenix and Tucson
When it comes to finding active adult communities near each of these areas, the Phoenix area offers 60 age-restricted and active lifestyle communities. In fact, Phoenix was home to the first modern-day active adult community: Sun City by Del Webb. The largest active adult communities in the Phoenix area include Sun Lakes, Pebblecreek, and Trilogy at Vistancia.
The Tucson area also offers many beautiful active adult communities from which to choose, just on a smaller scale than Phoenix. The 14 active adult communities in the area include SaddleBrooke, Sun City Oro Valley, and The Highlands at Dove Mountain.
Which City Is Right for You?
Comparing Arizona's two largest cities turns up many similarities as well as a few differences. The cost of living may be less in Tucson, but Phoenix offers a more urban environment as well as a greater variety of recreational pursuits. Extended visits to each city at various times of the year is the best way to get a feel for whether Tucson or Phoenix is right for you.