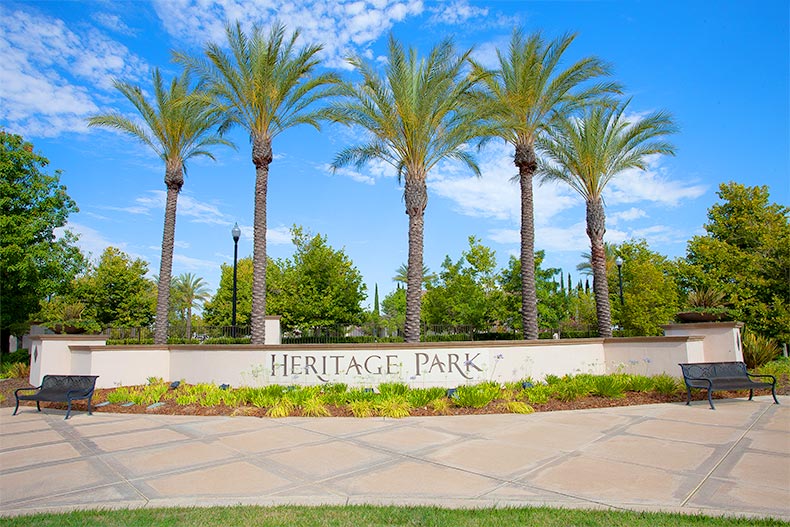 There are many advantages to living in a gated community. Residents enjoy privacy, security, reduced traffic, less solicitation, and an overall sense of community when they choose to live inside a gated community. If you're looking to purchase a home inside a gated 55+ community in Northern California, here are some popular communities to consider.
Rossmoor — Walnut Creek, CA
Rossmoor is a nationally recognized, gated 55+ community in the popular Bay Area suburb Walnut Creek, offering an abundance of resort-like amenities and numerous home styles. This active adult community started construction in 1963, and since then, it has continued to improve and grow. It now boasts 6,678 attached, condominium, and single-family homes.
Nestled in natural beauty among rolling hills, Rossmoor offers residents a peaceful location with close proximity to the vibrant Downtown Walnut Creek, which is full of popular dining and shopping locales. Onsite, Rossmoor offers plenty of diversions with multiple swimming pools, tennis courts, and clubhouses, as well as 27 holes of NCGA-rated golf, a 150-seat theater, and over 200 social clubs. This award-winning community even publishes its own weekly newspaper.
Homebuyers can choose from resale homes in a multitude of sizes and styles, ranging from 600 to 2,535 square feet with one to three bedrooms and one to three bathrooms. Most homes offer garages, while others include a carport or street parking.
Heritage Park — Sacramento, CA
The moderately priced Heritage Park in Sacramento offers residents an intimate and tranquil 55+ community within close proximity of shopping, dining, and entertainment options. Located only 15 minutes from Downtown Sacramento, the private and gated Heritage Park feels miles away from the fast pace of the city.
Built from 2003 to 2005, Heritage Park is comprised of 965 attached and single-family homes with 1,087 to 3,264 square feet of living space. Homes feature two to four bedrooms, one-and-a-half to three bathrooms, and a two- to three-car garage. These affordable, modern homes boast up-to-date features and finishes as well as low-maintenance landscaping.
Amenities include a 25,000-square-foot clubhouse with a fitness center, aerobics room, library, theater, and indoor swimming pool. Outside, beautiful fountains and gazebos decorate the grounds, and treelined walkways weave about the community. Tennis, basketball, and volleyball courts are also available for residents to enjoy.
Trilogy® at the Vineyards — Brentwood, CA
Tucked away in the quaint farming community of Brentwood, Trilogy at the Vineyards is an upscale 55+ community offering modern, high-end homes among beautiful vineyards with a stunning backdrop of Mount Diablo.
Construction of Trilogy at the Vineyards started in 2006 and continues today with a planned 1,100 single-family, one-story homes upon completion. Homes come in a wide range of sizes and floor plans, ranging from 1,465 to 2,843 square feet with two or three bedrooms, two to three-and-a-half bathrooms, and an attached two- or three-car garage.
An impressive 38,000-square-foot clubhouse houses a fitness center, an indoor pool, a full-service spa, a ballroom, an on-site cafe, a billiards room, hobby and game rooms, and more. Outdoors, residents enjoy two outdoor pools, cabanas, and barbecue grills, as well as four tennis courts, two bocce ball courts, and numerous walking and biking trails. Golf enthusiasts will appreciate the adjacent 27-hole championship course at the Brentwood Golf Club.
Trilogy at Rio Vista — Rio Vista, CA
In the East Bay delta region of Rio Vista, Trilogy at Rio Vista attracts active adults looking for moderate home prices in a friendly environment. This gated community stands out for its nationally recognized 18-hole golf course as well as its stylish, modern homes. Construction began at Trilogy in 1996, and developers continue to improve this 55+ community surrounded by the bucolic, rolling hills of the East Bay Area.
Trilogy at Rio Vista is comprised of 3,000 single-family resale homes, offering homebuyers a large variety of floor plans and home sizes. Home range from 976 to 2,507 square feet with two or three bedrooms, two to three-and-a-half baths, and two- or three-car garages.
Amenities include a 7,000-square-foot clubhouse with a fitness center, as well as an additional 27,000-square-foot clubhouse housing an Olympic-sized indoor pool and many other fitness and hobby-related amenities. Residents also enjoy the outdoor pool, spa, and patio, as well as the onsite cafe and restaurant.
The Villages Golf & Country Club — San Jose, CA
The Villages Golf & Country Club attracts active adults with a love of golf and an appreciation for nature. Tucked away in the peaceful rolling Evergreen foothills, this 55+ gated community feels worlds away from the noise of the nearby tech world. The Villages Golf & Country Club offers residents natural beauty in the form of over 500 acres of open space, hiking and horseback riding trails, and shimmering lakes.
Resale home styles at The Villages Golf & Country Club include condos, attached, and single-family homes built from 1967 to 2000. There are 2,309 condos and townhomes, and 227 single-family homes in this community. Most condos are two-bedroom and two-bathroom, although they range from 600 to 2,256 square feet with one or three bedrooms.
This large community offers many amenities and diversions, including a fitness center, a pool, an onsite restaurant, and multiple hobby and game rooms for photography buffs and woodworking aficionados. The impressive golf courses are, of course, one of the biggest draws at The Villages.