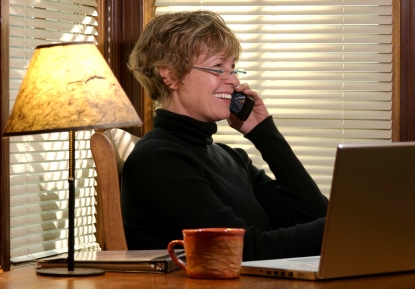 Between the difficulty of the current economic situation and the increasing ease of starting home-based businesses, many active adults have left their 9-to-5 jobs in favor of working from home. These newfound careers are greatly varied. Some jobs are within the same field as their previous careers, and other jobs lead active adults in a completely new direction.
Successfully Working from Home
Lyle Seales, who spent over 30 years working for a brokerage firm, is now one of the active adults who has found success working from home. After being downsized and having trouble finding a new job in his field, Lyle decided to get involved with a home-based business. The company where he now works is involved with providing home delivery of groceries. In his time working from home, Lyle has discovered that the arrangement brings many benefits.
He says, "working from home gives me more time to schedule different things. I don't have to postpone doctor or dentist appointments. I am also saving a lot of money and time on traveling back and forth to work." Additionally, Lyle's wife helps him create flyers and presentations, which gives them a chance to spend more time together.
Freelance Consulting Work At Home
Active adults who are looking for an at-home business will find that the Internet provides many career opportunities. Some active adults decide to launch their own consulting firms to make use of their years of prior career experience. By creating an account at a website like UpWork, professionals can easily find freelance work in a number of fields.
Creative Work At Home
Other active adults turn to their hobbies or creative talents to build new careers. Websites like Etsy and eBay make it possible to sell homemade items online, while sites like Zazzle and CafePress let you design and sell your own t-shirts, stationary, and more.
Photography Work At Home
As the prices of quality digital cameras become more affordable, active adults with photography experience can find opportunities to start their own at-home businesses. Wedding and special event photography can be a good business, as people always want to capture these memories. With the addition of a small home studio, a new photographer can also offer professional head shots and family portraits.
Writing Work At Home
Another way to make use of prior experience is to begin a freelance writing career. There are many online writing websites designed to help members develop their professional writing skills and find opportunities to sell their writing to publishers. Just a few of these writing sites include iWriter and Constant Content. Some active adults may choose to begin a career writing fiction with the goal of publishing books, short stories, or poems.
While many opportunities for home businesses exist, there are challenges to working from home. As Lyle found when he began his new career, "working from home is certainly not a walk in the park. You have to discipline yourself and continue to set obtainable goals. You have to keep increasing your knowledge about home based businesses."
For many active adults, a home-based business may be a viable possibility. Leaving a 9-to-5 in favor of working from home can be the beginning of a successful new career.