Sometimes it seems as though all retirement communities are designed specifically for couples, but here at 55places, we know this not to be true. To help out single active adults looking for neighborhoods in New Jersey, we looked at more than 29,000 areas in the U.S. that were designated by the most recent census data. We focused on major areas with a population under 20,000 and broke these down according to the numbers of single and married people within those groups.
We then added a median price-to-income ratio from that census data. This allowed us to target reasonably priced communities in areas with large populations of singles. And besides affordable price points, these ten NJ 55+ communities have amenities and lifestyle offerings that are designed to help residents socialize, meet new people and enjoy exciting, rewarding year-round activities.
Below $100k – Low $100s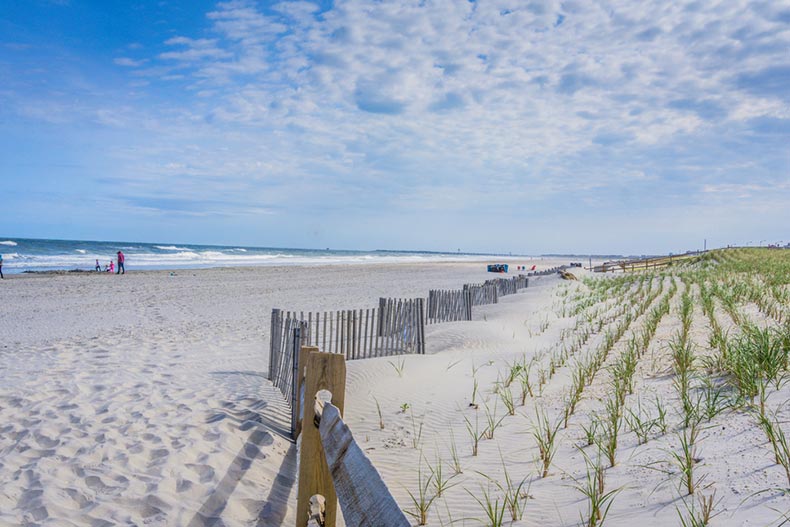 Located in sought-after Ocean County, Cedar Glen Lakes has 1,236 resale attached and single-family homes. It has a private clubhouse with meeting rooms, a second clubhouse with a ballroom and catering kitchen, plus a mini-golf course, bocce ball, shuffleboard, and scenic ponds on the grounds. Popular community activities include casino trips, the bowling league, movie nights, the Varsity Players, and the golf club.
The town of Whiting is less than 20 minutes from Toms River, which has restaurants, golf courses, and other attractions. It's also close to Central NJ beaches, and recreation areas like Double Trouble State Park and Brendan T. Byrne State Forest.
Cedar Glen Lakes' four attached floor plans are sized from 544 to 1,300 square feet, with two bedrooms, one bathroom, and driveway parking or attached one-car garages. The three single-family models range from 1,050 to 1,300 square feet, with one to two bedrooms, one bathroom, and attached one-car garages. Features include screened-in porches, dens, and eat-in kitchens.
Request more information about Cedar Glen Lakes.
Below $100k – Below $100k
Also in Ocean County, Crestwood Village is an established 55+ community of 1,016 resale co-op homes. It has its own nine-hole golf course and a welcoming clubhouse, Friendship Hall. Homeowners also have use of the bocce ball and shuffleboard courts, an exercise room, a library, and an outdoor barbecue and picnic area. There's also a community transit bus that travels to local shopping outlets. Crestwood Village also has activities for every interest, including Mahjong, yoga, golf club, ceramics, karaoke, and holiday parties.
The homes at Crestwood Village are co-ops and must be purchased with cash without any financing. The property has 355 buildings, with 202 duplexes and 153 quads. There are dozens of floor plans ranging from 537 to 1,826 square feet, with one to two bedrooms and bathrooms and assigned parking or one-car garages. Look for options like hardwood floors, stainless steel appliances, and sunrooms in these comfortable homes.
Request more information about Crestwood Village.
Below $100k – Below $100k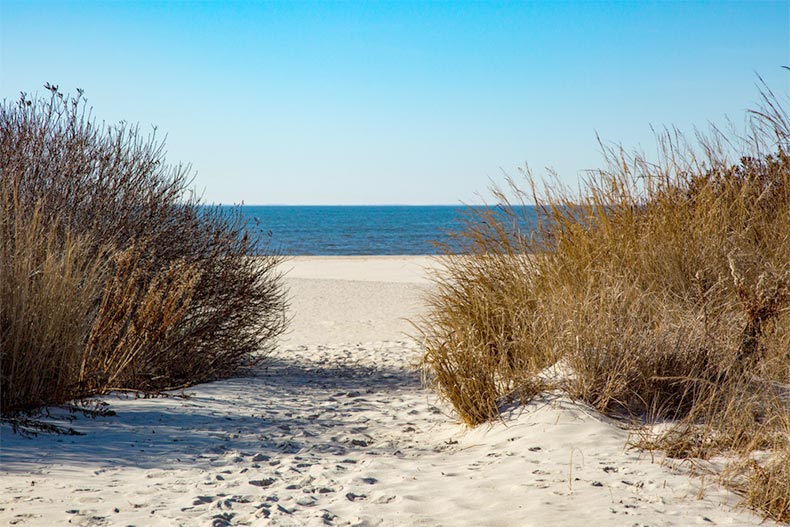 Our third Ocean County 55+ community geared for single living is Cedar Glen West. It's smaller though, with 575 resale attached and single-family homes. The lovely property has scenic ponds and plenty of natural space, giving it a relaxed atmosphere that you'll love coming home to. There's a private clubhouse too as well as a bus that goes to grocery stores, Costco, Target, and other shops.
The homes at this friendly community range from 700 to 1,100 square feet, with two bedrooms and one bathroom. Upgrades may include hardwood floors, new roofs, eat-in kitchens, and tile backsplashes. Like the other neighborhoods in this list, Cedar Glen West has an active homeowners' association (HOA) with fees that provide for things like lawn maintenance, trash pickup, and snow removal. Manchester is also close to Whiting and Toms River. It's also good to know that there's a community medical center, a Walmart, and grocery stores all just a short drive away.
Request more information about Cedar Glen West.
Below $100k – High $100s
Our second Manchester active adult neighborhood, Leisure Village West, is a gated property with 2,692 resale attached homes. It has two nine-hole golf courses to play on, but if you don't like to golf, don't worry. There are three clubhouses to enjoy. Altogether they include hobby studios, performance halls, gathering rooms, and a library. And that's just the inside. Outside, you'll find two outdoor pools, pickleball, bocce ball, a barbecue area, a greenhouse, and trails.
Leisure Village West also has a singles club, and community groups for folks interested in photography, fishing, nature, cards, investments, golf, you name it. You're sure to find several that pique your interest.
This gated 55+ community has more than 20 models sized from 737 to 2,013 square feet, with one to two bedrooms, one- to two-and-a-half baths, and garages or nearby parking. Look for desirable upgrades like French doors, sunrooms, hardwood floors, and new windows in these charming homes.
Request more information about Leisure Village West.
Below $100k – Mid $400s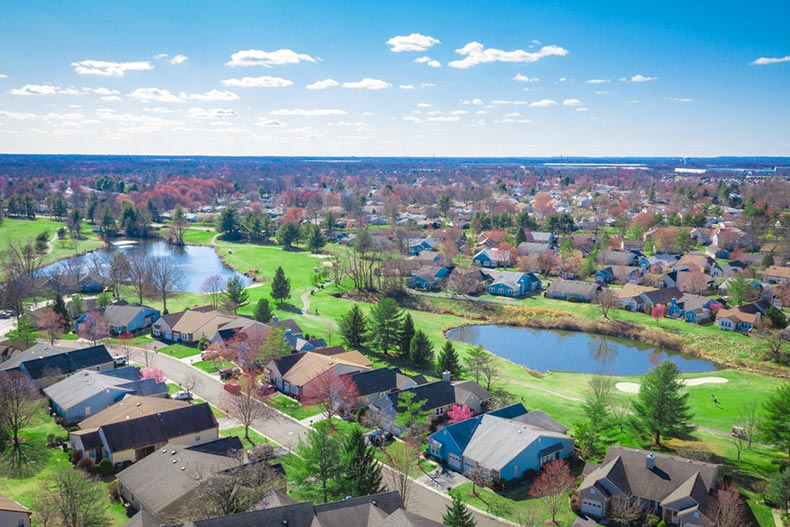 Moving north we come to Rossmoor Village in Middlesex County, a 55+ golf course community located about half an hour east of Princeton. This gated neighborhood was completed in 1991, with 2,303 resale condo, attached, and single-family homes.
The majority of Rossmoor Village's amenities are in and around the 30,000-square-foot clubhouse. Here, you'll find a lively fitness center with its own aerobics studio, along with two libraries, craft studios, and a ballroom. As for outdoor recreation, you have that golf course to play on, plus an outdoor pool and deck, tennis, and bocce ball. There are too many clubs and activities to list here, but rest assured, there will be things to choose from all throughout the year.
The condos and attached homes range from 590 to 2,063 square feet, and single-family homes are 1,200 to 2,259 square feet. Many have been recently renovated, and you can find upgrades like gourmet kitchens, new floors, and high-end appliances.
Rossmoor Village is about an hour from points of interest like Red Bank and Asbury Park, and closer to home, you'll find Freehold Raceway Mall, Thompson Park, grocery stores, home improvements stores, beauty salons, and restaurants.
Request more information about Rossmoor Village.
Below $100k – High $100s
Leisure Village East is also in Ocean County, but close to the shoreline. It's only 12 miles from Point Pleasant Beach, which has sandy beaches, rolling surf, and a great boardwalk. This established neighborhood offers 1,412 resale attached homes and a nine-hole golf course, plus other amenities and activities that make it easy to meet new people.
The main clubhouse offers a fitness center, gathering rooms, an auditorium, and a library. Outside perks include walking and biking trails, bocce ball, and a sparkling swimming pool. You'll also appreciate the array of lifestyle activities, like line dancing, ceramics classes, ladies' golf, men's club, and the Pine Cone Garden Club.
Leisure Village East is conveniently located close to a ShopRite, Trader Joe's CVS, and the Monmouth Medical Center. And since it's in central NJ, it's also easy for homeowners to get to New York City, Philadelphia, or Atlantic City.
Request more information about Leisure Village East.
Mid $100s – Mid $400s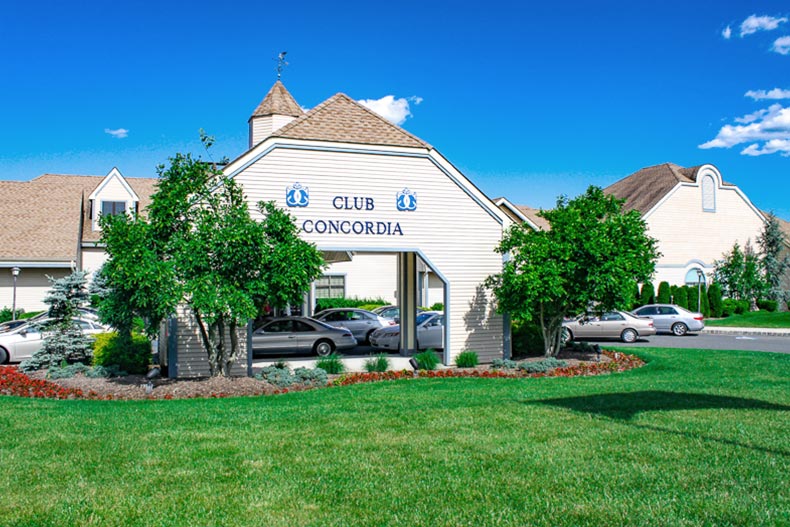 Heading back to Monroe, we find Concordia, which was built from 1982 to 2000 with 1,757 resale condo, attached, and single-family homes. It also has a golf club and an exclusive community center, Club Concordia. Homeowners can take advantage of the state-of-the-art fitness center, lighted tennis courts, outdoor pool, bocce ball courts, and computer room. The club serves as the meeting spot for exercise classes, free movies, ceramic workshops, and the social singles club. Concordia residents also have their own television station and keyed access to Concordia Shopping Center, which is right next door.
Concordia offers four condo models ranging from 951 to 1,650 square feet, six townhome models at 1,058 to 1,600 square feet, and four single-family homes from 1,500 to 1,700 square feet. They're the perfect spaces for singles or anyone else looking for a moderately-sized, comfortable home. Some also feature sunrooms, granite countertops, and renovated kitchens and bathrooms.
Request more information about Concordia.
High $100s – Mid $500s
If your heart is set on a single-family home, Leisure Knoll could be just what you have in mind. It has 1,626 resale single-family homes, which were built with more than 15 floor plans. The scenic grounds feature ponds, walking and biking trails, plus a picnic area and a gazebo. Leisure Knoll's private clubhouse has an outdoor pool, tennis, a fitness center, and indoor gathering and activity rooms. You can spend your leisure time here with the art appreciation club, at the pool parties and holiday parties, or playing canasta and learning ceramics.
Leisure Knoll's floor plans range from 980 to 1,728 square feet, with first-floor master suites, second bedrooms, one bath, and attached garages. Some of the homes for sale have upgrades like granite kitchen countertops, dens, screened-in porches, and newer siding.
Request more information about Leisure Knoll.
Below $100k – High $100s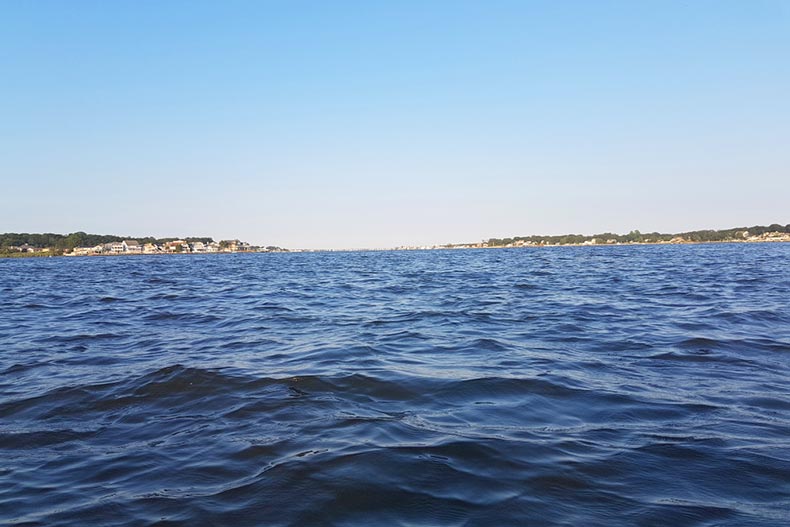 Not to be confused with Leisure Village East or Leisure Village West, Lakewood's Leisure Village offers 2,433 resale attached homes designed for homebuyers 55 and up. The impressive selection of indoor and outdoor amenities makes it easy to meet people with similar interests, whether you are into sports, enjoy music, or love to just sit and chat.
Some highlighted groups and activities include the singles group, Village Players Theater Group, yoga, country line dancing, the American Irish Club, the Italian American Social Club, and the pet club. You can also play golf at Leisure Village's pitch and putt golf course and spend quality time at the two clubhouses. These offer two outdoor pools, sports courts, fitness centers, and indoor hobby and gathering areas.
Request more information about Leisure Village.
Below $100k – Low $300s
With such a large population of active adults, Holiday City-Berkeley improves your chances of meeting people to connect with. This sprawling property has 10,636 resale single-family homes and is divided into separate subdivisions with their own amenities.
Each subdivision has its own outdoor pool and sports courts, and others also have auditoriums, hobby studios, and indoor activity rooms. As a homeowner, you're entitled to use all of the clubhouses, plus the community transit bus. Well-attended community activities include the bocce club, Zumba, chorus, art workshop, and the singles club.
The 20 floor plans range from 757 to 1,852 square feet and offer one to three bedrooms, one to two bathrooms, and one- or two-car garages. Larger models include sunrooms, breakfast nooks, and living room/dining room combos.