10 minute read
Phoenix is the capital and largest city in Arizona, with a population that's almost five times that of the state's second-largest city, Tucson. It's also part of a larger urban sprawl that merges into neighboring cities such as Scottsdale, Mesa, or Tempe, whereas in Tucson, you only have to drive a few miles to be out in the desert. Phoenix is a fast-paced metropolis, but Tucson has the feel of an oversized town with roots in the Old West.
It's these differences that tend to draw people to one city or the other, but there is one thing that unites them: that Arizona climate. Both cities revel in sunny days and mild winters, attracting people who enjoy a year-round active lifestyle.
Although the two cities are only a two-hour drive apart, they offer very different living experiences, so it's important to consider which is better for your retirement.
Geography and Population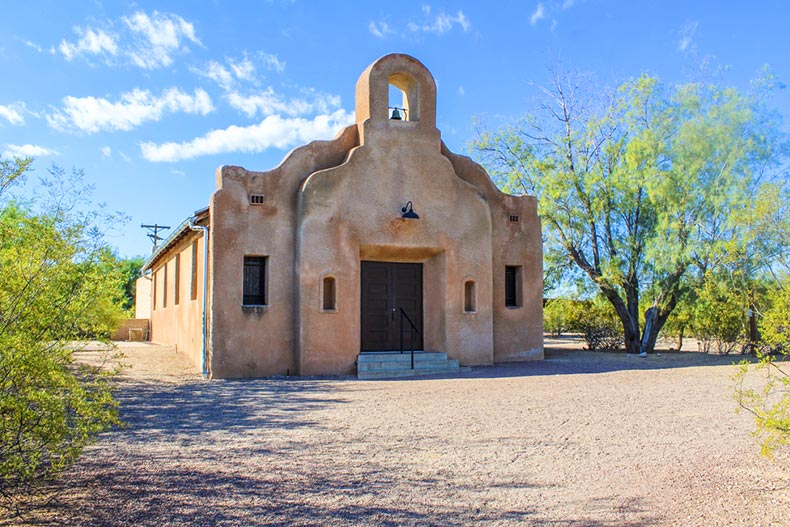 Phoenix stands at an elevation of just over 1,000 feet. Tucson, by comparison, is at 2,643 feet. In Phoenix, the mountains are mostly on the distant horizon, but in Tucson, you're surrounded by mountain ranges on all sides of the city. Tucson locals also say that the desert is on your doorstep, but in Phoenix, it's concrete on your doorstep.
Tucson has no other cities close by. When people talk about Phoenix, they tend to mean the metropolitan area and not just the city of Phoenix itself. Drive east from Downtown Phoenix and you drive straight into the city of Tempe, and beyond that is Mesa, the third-largest city in Arizona.
Phoenix has a population of about 1.6 million, while the metropolitan area is just under five million. In contrast, Tucson has just over one million people in its metropolitan area, with half of those living in the city itself.
Climate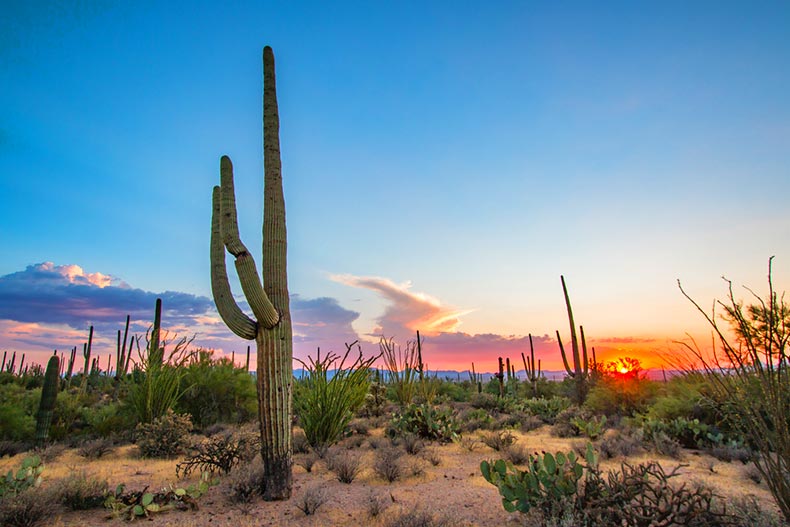 Both cities benefit from Arizona's hot summers and mild winters, but there are differences. Tucson is at a higher elevation and is generally a few degrees cooler than Phoenix. In June and July (the hottest months), the average temperature in Tucson is 86-88°F, while in Phoenix, it's 90-95°F. In December/January, the average in Phoenix is about 56°F, and in Tucson, it's 53°F.
In both cities, you'll experience summer temperatures of well over 100°F for days on end. Both cities also have their monsoon season from about June to late September, when thunderous storms and torrential rains happen (usually for comparatively brief periods in the afternoons and evenings).
Both cities enjoy almost 300 sunny days a year, which is one of the attractions if you enjoy outdoor sports like golf, tennis, and pickleball. Hiking and horse-riding are also popular pursuits.
Cost of Living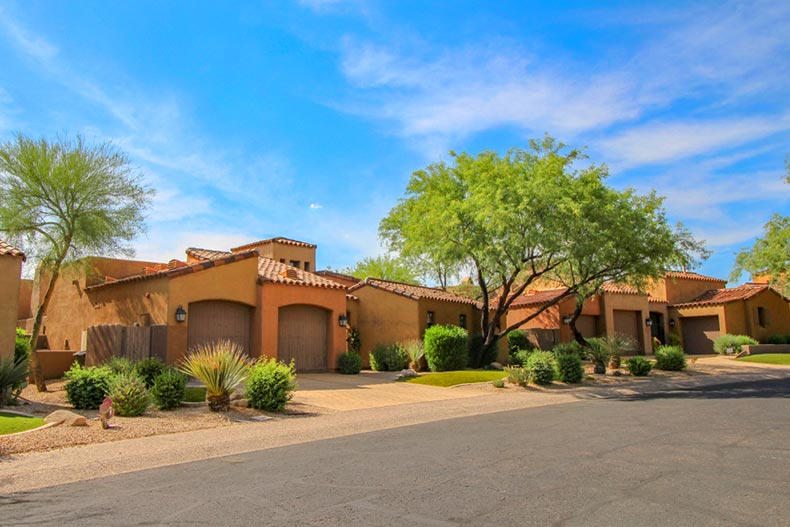 Because of its much larger size, you'll find a greater choice of housing in Phoenix, and the competition means home prices are slightly lower. If you simply want to be in an urban area, you'll find more options in Phoenix and therefore more chance of finding the ideal home.
That said, there are still plenty of communities to choose from in Tucson, and price differences aren't usually significant enough to be a major factor in choosing between the two.
Property Taxes
Arizona has tax benefits for retirees, including no inheritance tax and no tax on social security retirement benefits unless they come from out-of-state. One difference between the cities is property tax.
Phoenix is in Maricopa County, where the average property tax is 0.61%. This is lower than the Arizona average of 0.72% and about one-third lower than the national average. Tucson is in Pima County where the average property tax rate is 1.01%, so savings in Phoenix could be considerable on a larger property.
Sales Tax
The average sales tax rate in Pima County is 6.1%, though if you add city sales tax to this, then in Tucson, you'll be paying 8.7%. In Maricopa County, the average rate is slightly higher at 6.3%, and with city sales tax, the total is 8.6%, so it's marginally cheaper.
Utility Bills
One factor to take into account is how the climate affects your utility bills. There's a saving in winter when you won't be running your heating as often, but this is offset by the increased cost of running the air-conditioning, that's essential in the middle of summer. Because of the climate, Phoenix is going to be more expensive on utilities than Tucson.
Culture and Entertainment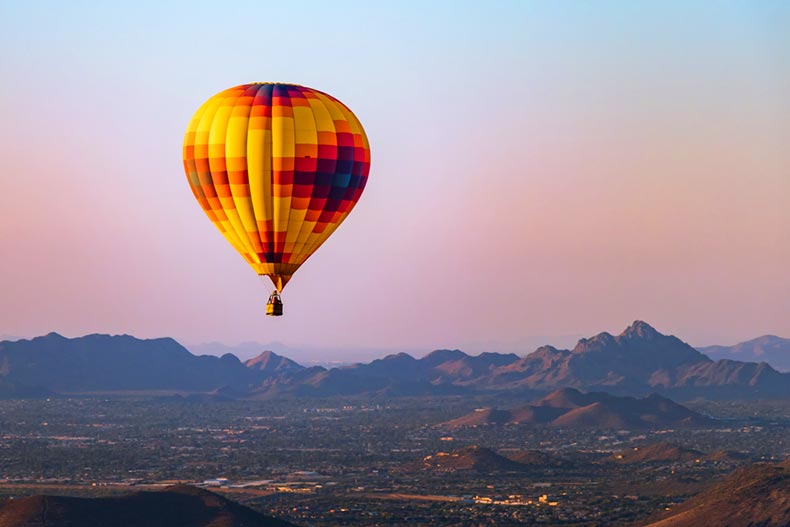 What To Do In Phoenix
Naturally, it's Downtown Phoenix where you'll find many of the city's attractions and striking buildings. It's here you can see the Chase Field, with its retractable roof and pitchside swimming pool. Also downtown, the neoclassical 10-story Luhrs Building was the city's first high-rise when it was built in 1924.
The Heard Museum is the country's leading museum of Native American culture. Downtown is where you'll also discover the Arizona Science Center and the Children's Museum of Phoenix.
The Biltmore Fashion Park is one of the best shopping malls in the city, with Arizona's only branch of Saks Fifth Avenue and plenty of local independent stores among the big chains. The Shops at Norterra is another eclectic mix of shops big and small, with plenty of eating options too.
The city isn't short of major entertainment venues. These include Chase Field for large concerts; the Phoenix Symphony Hall for the Phoenix Symphony Orchestra, the Arizona Opera, and Ballet Arizona; and the historic Orpheum Theater.
There are also plenty of outdoor options, without leaving the city's boundaries. These include South Mountain Park, which at 16,283 acres is the largest municipal park in the United States. Papago Park is another popular city park, with some Native American hieroglyphs to see. You can also explore Camelback Mountain or the Desert Botanical Gardens.
What To Do In Tucson
Many of Tucson's best landmarks aren't in the city itself but surrounding it. Sentinel Peak can be seen from downtown and in return offers great city views from the top. Further south is the Mission San Xavier del Bac, a striking 18th-century Spanish Catholic Mission. Downtown Tucson retains many historic buildings, like the 1919 Hotel Congress and the 1928 Pima County Courthouse, which now houses the tourist information center.
Tucson has a wide range of museums and galleries, ranging from the vast Pima Air and Space Museum to the unusual and fascinating Mini Time Machine Museum of Miniatures. The Fort Lowell Museum shares the area's old west history, while the University of Arizona Art Museum and the DeGrazia Gallery in the Sun Museum are the places to go for the best of western art.
For shopping, the Foothills Mall allows you to escape the heat and shop indoors with almost 100 outlets, a 15-screen theater, and plenty of eating options too. Park Place offers 130 shops plus eating options, and if you want local arts and crafts, go downtown to Old Town Artisans.
Downtown Tucson also has plenty of entertainment venues. These include the 1920 Rialto Theater, and the 1929 Fox Theater, while further east is the comparatively modern Gaslight Theater (opened in 1977). Ironically, the newer Gaslight Theater puts on old-fashioned saloon-style dinner shows, while the historic theaters showcase contemporary artists.
Lovers of the outdoors love Tucson for places like Sabino Canyon, the 9,159-foot Mount Lemmon, and the Saguaro National Park. The Arizona-Sonora Desert Museum houses desert animals in their natural habitat, while the Tucson Botanical Garden and Tohono Chul Park both provide natural escapes from the city streets.
Health Care and Education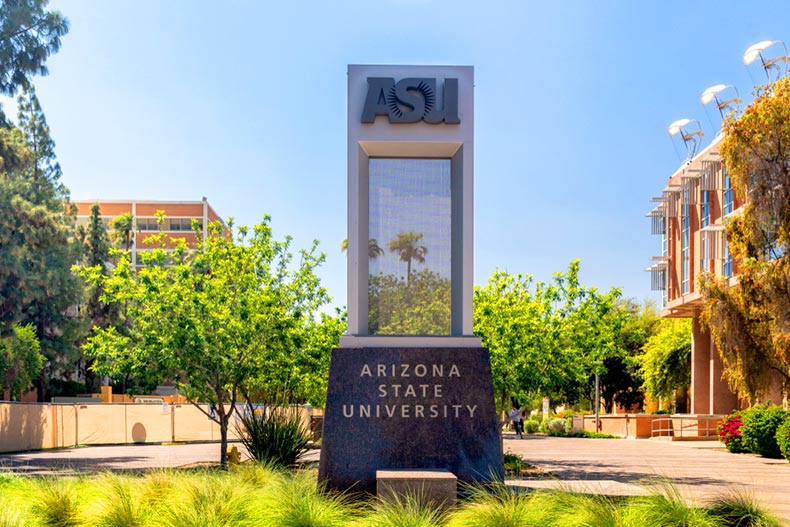 As Arizona is such a popular destination for people to retire too, health facilities are generally good. Here, Phoenix has the edge purely because of its size. If you can't find what you want in Phoenix itself, you only need to drive a few miles for access to services in neighboring cities such as Scottsdale, Glendale, Tempe, and Mesa.
Phoenix can boast the presence of the Mayo Clinic's Phoenix Campus, voted the best hospital in Arizona. It's also home to the Banner University Medical Center Phoenix, which is nationally ranked in three specialties. The Phoenix metropolitan area has almost 60 hospitals in total, and apart from Banner and the Mayo Clinic, these include St. Joseph's Hospital and Medical Center, John C. Lincoln North Mountain Hospital, the Arizona Heart Institute, and Barrow Neurological Institute.
That's not to say that Tucson has limited facilities. It has two Banner centers which are both highly ranked: Banner-University Medical Center Tucson and Banner-University Medical Center South. Also, TMC Healthcare Tucson is frequently ranked as the best hospital in the city.
Tucson is home to the University of Arizona, and for those wishing to continue their education or acquire new skills, the Pima Community College offers courses in numerous adult education disciplines. The Altura 55+ active adult community is home to the Arizona Senior Academy (ASA). Members have unlimited access to continuing education courses, computers, a library, a business center, and 175 events throughout the year.
In Phoenix, you'll find Arizona State University, Arizona Christian University, and the University of Phoenix. For furthering adult education, there are numerous places including the New Horizons Computer Learning Centers and Training to You. If you want a new career, there's even the Discovery Detective Academy.
55+ Communities in Phoenix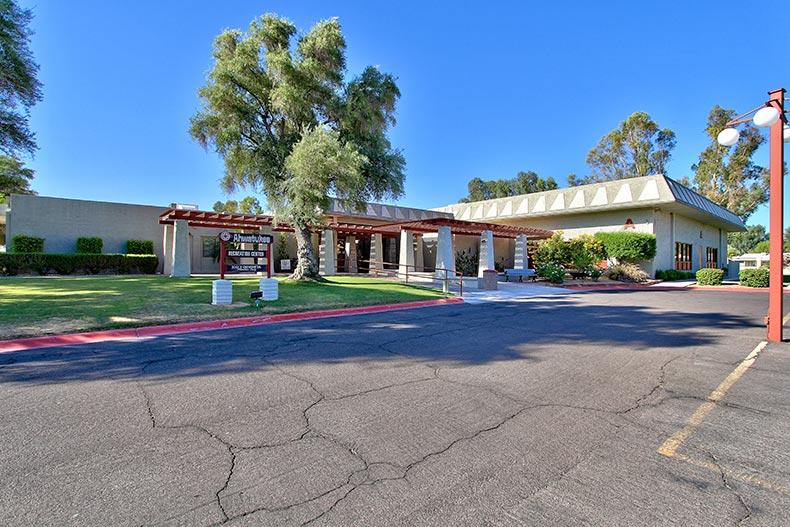 Low $300s – High $400s
Ahwatukee Retirement Village is a 20-minute drive from Downtown Phoenix and is a 55+ community with 1,686 attached and single-family homes. Amenities include an arts and crafts building as well as a health and wellness center with indoor and outdoor pools, a fitness center, an aerobics and dance studio, and courts for tennis, bocce, pickleball, and shuffleboard. There's also a library and a ballroom.
Request more information about Ahwatukee Retirement Village.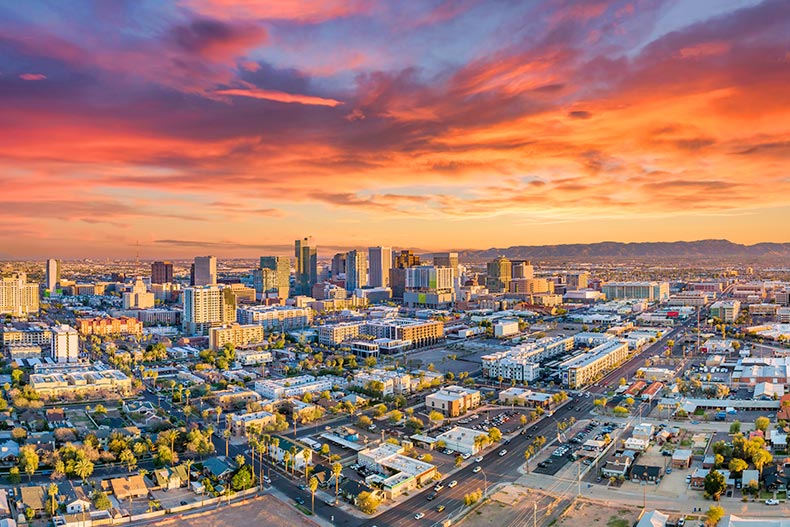 Phoenix Homebuying Guide
Want to retire in Phoenix, Arizona? Our guide can help you take the first step.
55+ Communities in Tucson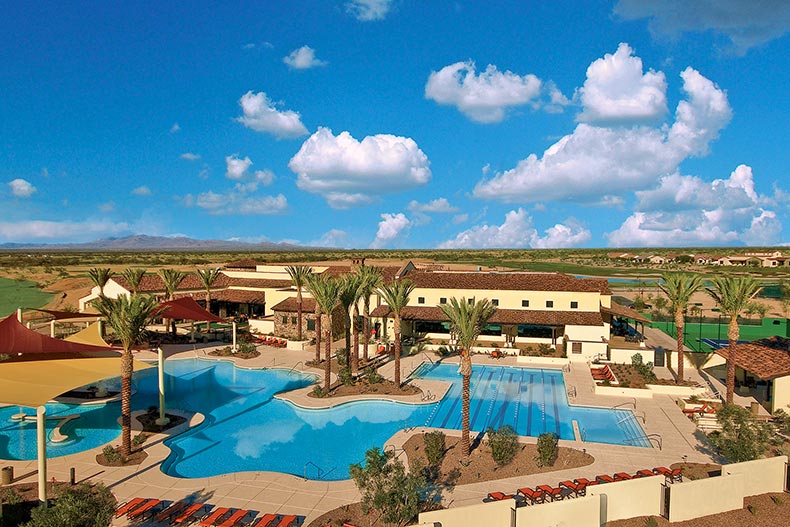 Low $400s – Low $1Ms
Saddlebrooke Ranch is a 50-minute drive north of Downtown Tucson and is a gated community with 1,500 single-family homes. Amenities include an 18-hole golf course with a driving range and a pro shop, tennis courts, 24 pickleball courts, a Creative Arts and Technology Center, indoor and outdoor pools, and a whirlpool spa.
Request more information about Saddlebrooke Ranch.
Mid $300s – Low $700s
Sun City Oro Valley is a 40-minute drive due north of Downtown Tucson in the foothills of the Santa Catalina Mountains. It's a 55+ community with 2,488 attached and single-family homes. Amenities include an 18-hole golf course with a driving range, a mini-golf course, an Artisan Center with several studios, a fitness center, two outdoor pools, and courts for tennis, pickleball, and bocce.
Request more information about Sun City Oro Valley.
Mid $400s – Mid $600s
Del Webb at Dove Mountain is a 55+ community that's a 30-minute drive north of Downtown Tucson and has 600 single-family homes. Amenities include two fitness centers, three outdoor pools, and courts for tennis, pickleball, volleyball, and basketball.