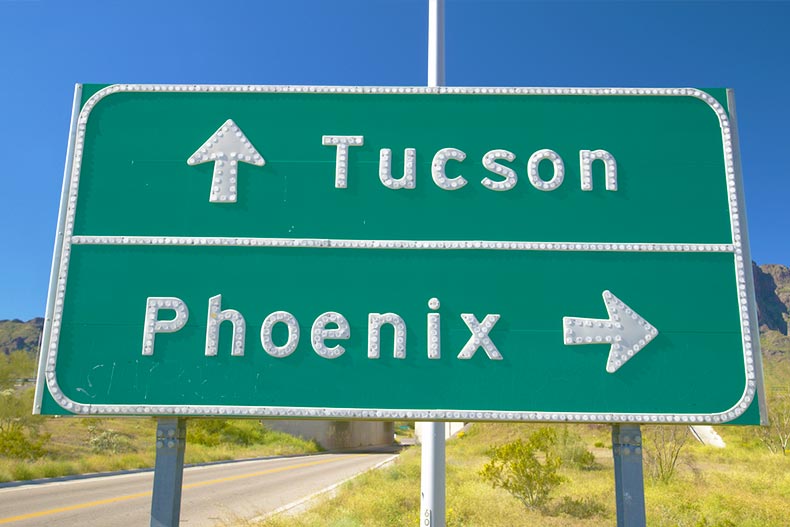 With only a two-hour drive separating these Arizona cities, active adults will find plenty to do in both Phoenix and Tucson. Each of these retirement-friendly cities offers sunny skies, beautiful scenery, exciting attractions, and amenity-rich communities. Yet there are some differences that are worth considering before relocating or planning a visit.
Geography
Though both cities have mountain views, Phoenix is a relatively flat area with rocky peaks rising in the distance. This gives the city plenty of space for a large grid of streets peppered with commercial and residential buildings. Phoenix is generally divided into distinct urban villages, each of which has their own distinct personalities and characteristics. This helps to balance housing, employment, retail, and services throughout the city.
Tucson is a smaller city that is ringed by five major mountain ranges. The Santa Catalina Mountains in the north, the Tucson Mountains in the west and the Rincon Mountains in the east are closest to the city. The Santa Rita Mountains are a bit further away in the south, while the Tortolita Mountains can be seen in the northwest. While Tucson does have an urban downtown area, the city has spread out into several distinct neighborhoods.
Climate
Both Phoenix and Tucson are located in the Sonoran desert, where summers are hot and winters are mild. Yet Tucson's higher elevation makes it generally cooler and wetter than Phoenix. In either area, residents can expect summer daytime temperatures to easily climb over 100 degrees. While summers are dry and sunny, there is a rainy period from July through September. Winters are lovely with daytime temperatures in the mid-60s to mid-70s.
Activities
When it comes to recreational and cultural attractions, Phoenix and Tucson each have much to offer, including several world-class golf courses. Phoenix is considered to be a larger, more metropolitan area with many performing arts centers, museums, and fine arts centers. The city also has several national sports teams, including the Arizona Suns (NBA), the Arizona Cardinals (NFL), the Arizona Diamondbacks (MLB) and the Phoenix Coyotes (NHL).
Tucson also boasts many urban recreational and cultural attractions, but it may be better known for its outdoor adventures and annual festivals. The surrounding mountains and clear skies are ideal for activities like hiking, biking, rock climbing, horseback riding, bird watching, and astronomy. Some of Tucson's most well-known annual festivals include the Tucson Gem and Mineral Show, the Fourth Avenue Street Fair and The Tucson Rodeo.
Communities
Those who plan to retire in Arizona will easily find numerous active adult communities. The Phoenix area is home to Del Webb's first age-restricted community, Sun City, as well as new developments like PebbleCreek and Sun City Festival. The Tucson area also offers similar, amenity-rich communities, such as SaddleBrooke Ranch and Sun City Oro Valley.
Whether considering retirement in Phoenix or Tucson, active adults should first plan to visit both areas. There are many benefits to living in either area, and the only way to see which feels right is to experience the regions firsthand.