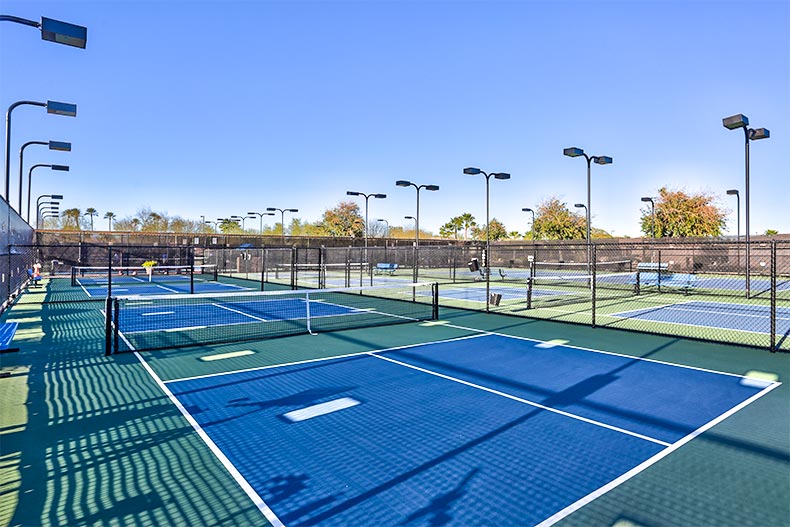 Pickleball is still one of the biggest sports for the active adult and there are several Phoenix, Arizona communities big on pickleball. Even if you pick a 55+ Phoenix community that isn't big on pickleball itself, you might want to choose a general area where pickleball is popular, with tournaments and events organized.
In Surprise, which is about 20 miles northwest of Phoenix, the Surprise Pickleball Association is a very active promoter of pickleball and has organized several tournaments in recent years. It also administers pickleball scholarship awards.
Here, then, are five Phoenix communities that are big on pickleball, which now has over 2.5 million players in the U.S. The communities are listed with the highest number of pickleball courts first.
Sun City Grand - Surprise
Sun City Grand is in Surprise and has been increasing its pickleball facilities for residents. It recently added ten new courts and voted in favor of turning three tennis courts into pickleball courts. This provides a total of 22 pickleball courts, and the community has also started hosting weekly reciprocal pickleball events.
Sun City Grand's community of 45+ active adults also has other fitness and sporting facilities, including four golf courses, two fitness centers, several indoor and outdoor pools, tennis courts, bocce courts, and hiking and biking trails.
PebbleCreek - Goodyear
PebbleCreek is in Goodyear, a suburb of Phoenix but also a city in its own right, about a 30-minute drive west of Downtown Phoenix. It was picked by 55places.com as one of the best communities for pickleball enthusiasts in the U.S.
This Robson community of 6,200 homes has 20 pickleball courts and an active pickleball club, which invites residents of all levels of ability to join in. Non-pickleball players are encouraged to try the game, with instruction and equipment provided.
The pickleball club also hosts social events and holds leagues and tournaments throughout the year. The Arizona climate is of course ideal for year-round pickleball playing, with about 300 sunny days a year.
PebbleCreek has numerous other sporting facilities for the residents of this 45+ gated community of active adults to enjoy. There are two par-72 golf courses, two fitness centers, several indoor and outdoor pools, seven tennis courts, 12 bocce courts, and a softball field.
Sun City West
Sun City West is about a 45-minute drive from Downtown Phoenix. This Del Webb community has 16,900 homes for the active adult aged 55+. With this many homes, it isn't surprising that the amenities here are first class, and they include 18 pickleball courts. There is also a pickleball club which residents can join.
For the sports-minded, Sun City West also offers nine golf courses, an Olympic-sized indoor pool and a number of other indoor and outdoor pools, 24 tennis courts, a basketball court, a softball field, and a quarter-mile outdoor walking track.
Robson Ranch - Eloy
Although Robson Ranch is in Eloy, which is an hour's drive south of Phoenix along Interstate-10, it's well worth considering as a community to choose for the keen pickleball player who wants to buy in the Phoenix area.
This gated community of 4,600 homes is for the active adult and with a low age restriction of 40+. It also has 16 pickleball courts and a keen pickleball club. The club organizes events and tournaments, daily games, open clinics, and lessons for any resident who wants them.
In addition to pickleball, there's a wealth of other sporting activities to choose from. Residents have their own 18-hole golf course, a fitness center, indoor and outdoor pools, four tennis courts, a softball field, bocce courts, fishing lakes, and hiking and biking trails.
Sun City Anthem at Merrill Ranch - Florence
Sun City Anthem at Merrill Ranch is in Florence, about an hour's drive from downtown Phoenix. It's a 55+ active adult community with 3,800 Del Webb homes as well as eight pickleball courts and a pickleball group.
The many sporting amenities here include an 18-hole golf course, a putting green, two indoor pools, two outdoor pools, an indoor walking track, hiking and biking trails, fishing lakes, tennis courts including eight lighted courts, indoor and outdoor basketball courts, sand volleyball courts, a rock-climbing wall, and fields for soccer, baseball, and softball.
Sun City Anthem may not be the largest of these five Phoenix communities that are big on pickleball, but it has the most impressive amenities for other sports, though Sun City Grand has the best pickleball facilities.