Miami is a city with its own energy. It's on the extreme southeastern tip of the Florida Peninsula, beckoning people to visit and stay with its warm coastal temperatures, its thriving nightlife, and its abundant recreation, entertainment, and shopping. Beaches. Restaurants. Concerts. Festivals. Miami has everything. 
People flock to Florida for the low taxes, the year-round golf, and the proximity to airports, cruise ships, and island destinations. People live in Miami specifically because they love the diversity, the cosmopolitan lifestyle, and the desire to enjoy everything that a historic and modern international city has to offer.  
Ready to join the thousands of people moving to Miami annually? Here's what you need to know before you arrive.
Retiring in Miami Pros and Cons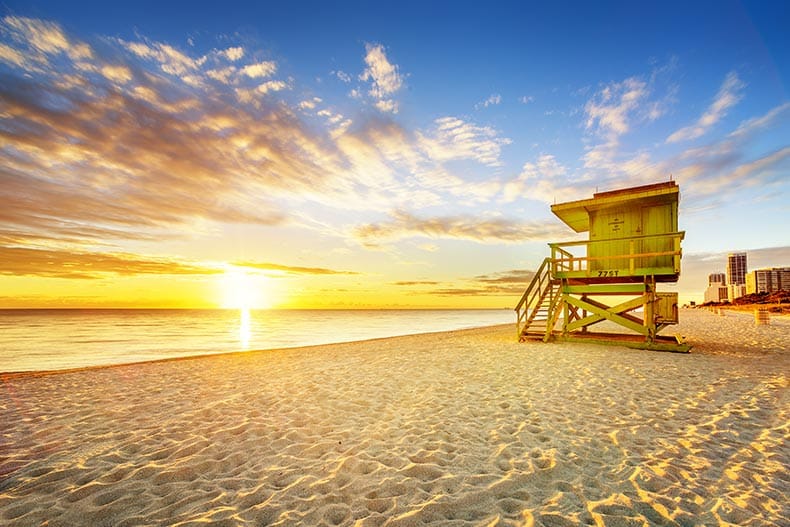 What's so great about moving to Miami and settling into one of the most important cultural cities in the world? Here are some of the things that most people love about living in Miami.
Miami has a beach scene, and it's not only South Beach that draws a crowd. There are some quieter, less crowded beaches around Miami, including spots like Key Biscayne and Bal Harbour Beach. There's a man-made atoll pool at Matheson Hammock Park, where swimmers can float around in a tidal pool resembling a lagoon. Living in Miami means always having access to the beach. If you love to swim, surf, snorkel, fish, boat, or sunbathe, you're in the right place. 
The warm winters and seabreeze summers are a major draw, especially for people moving to Miami from colder climates. There's no snow to shovel, and while you might need a light jacket or a fleece pullover now and then, you can leave the heavy coats, the snow boots, and the mittens behind.
It's pretty impossible to get bored in Miami. Fill a day visiting museums, shopping indoors or outdoors, enjoying live music and theatrical performances, exploring art galleries, or getting lost in a glamorous neighborhood like Coral Gables, where you'll find the University of Miami campus. Airboat tours and dinner cruises are available. Also, there's plenty of outdoor recreation for those who love to hike, fish, take wildlife photos, or go camping. 
Sports fans can cheer on the Florida Marlins, the Miami Dolphins, and the Miami Heat. There are over 45 golf courses in the city of Miami and throughout the surrounding Miami-Dade County.
Diverse Communities and Neighborhoods
Living in Miami is especially enjoyable for people who value diversity and culture. Being so close to the Caribbean and South America, Miami is proud of the influence it absorbs from Haitian, Cuban, and Dominican populations. Little Havana is a neighborhood with restaurants, farmers markets, bakeries, and rich historical markers. There's also Little Haiti, known for its Afro-Caribbean art galleries, global restaurants, indie music stores, and local bars.
Living in a diverse, dynamic city with a population of nearly 500.000 people comes with some drawbacks and challenges. There's nothing that can't be overcome or worked around, but if you're moving to Miami, prepare yourself for the traffic, the prices, and the constant tourism.
You'll need a car in Miami. Unlike most major cities in America, public transportation isn't as available here. There are bus routes and a metromover, but routes are limited. This creates a bit of a traffic situation in and around the city. There's a lot of congestion, and commuters in Miami spend an average of 36.4 minutes getting from Point A to Point B. That can feel pretty frustrating. 
The biggest problems usually occur on Interstate 95, South Dixie Highway, Brickell Boulevard, and US 1.
Rising Cost of Living in Miami
Living in Miami does require a healthy savings account or enough income to cover the higher expenses that residents often have to pay. The cost of living in Miami is more than 20% higher than the national average. An argument can be made that you get what you pay for.
Just prepare to pay a premium for housing, groceries, gas, and activities. Here's the good news: Miami is still less expensive than New York.
Ten million tourists visit Miami every year. When we include the cities in Greater Miami, that number jumps to between 16 million and 24 million, depending on the year.
You're bound to run into a few million of those vacationers when you live in Miami. 
This is good news for the local economy. Hotels, restaurants, shops, and other local businesses rely on tourism dollars year after year. For residents, it can get frustrating when you're trying to book a table at your favorite restaurant or a tee time at a new golf course. 
Prepare to share your city with visitors from all over the world.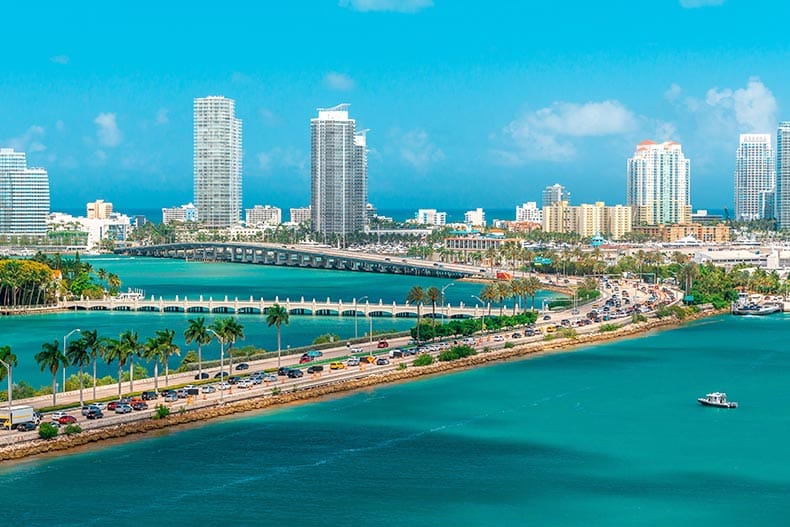 If you're going to retire to Miami, your favorite months will likely be December, January, and February. It gets hot the rest of the year. In July, August, and September, you might be a tad uncomfortable. The humidity is brutal. Luckily, plenty of places carry a seabreeze and every indoor establishment is air-conditioned. 
The rainy season generally runs from about June to October. And don't forget hurricane season. In Miami, the threat is real. From June 1 through November 30, everyone is hyper-vigilant about tropical weather that can impact the city from the Atlantic and the deep tropics. 
Average temperatures in the summer range from a high of 89 to 92 and a low of 76 to 77. In the winter, average highs are between 76 and 82 with average lows somewhere between 60 and 65.
While there's always rain to contend with in the summer, outdoor activities are year-round in Miami. You can expect to golf, go to the beach, play tennis, and enjoy al fresco dining whether it's May or December.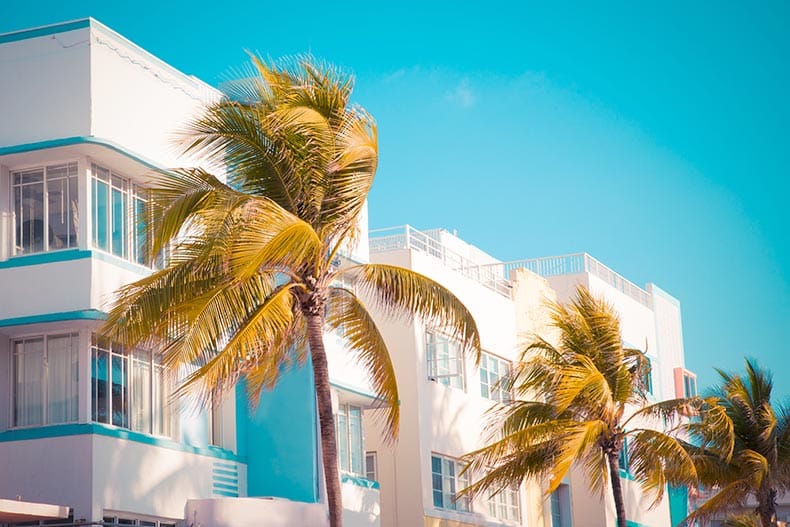 The cost of living may be higher in Miami, but the tax benefits of living in Florida are outstanding. There's no state income tax, so you're only paying federal taxes on your Social Security income and other sources of income. The sales tax is 7%.
Florida's average property tax rate is 0.98%, which falls just under the U.S. average of 1.08%. The average Florida homeowner pays $1,752 each year in property taxes, although the amount of property taxes you'll pay will ultimately depend on your property's value and whether your income provides for tax exemptions. Local taxes are collected annually, and discounts are provided when they're paid early. Installment plans and partial or full deferrals are also available to Miami homeowners.
Miami Retirement Income Taxes
With no state income tax, you'll save more of your retirement income when you're living in Miami. Social Security retirement benefits, pension income, and anything you're earning from an IRA or a 401(k) will be left untaxed at the state level. In Florida, there's also no estate or inheritance tax.
Miami Tax Exemptions for Seniors
Seniors have an opportunity to save money through the Homestead Exemption, which reduces the taxable value of your property by up to $50,000. To be eligible, a homeowner must own a qualified property, be at least 65 years old as of January 1 of the tax year, and have a household adjusted gross income that meets statutory limits.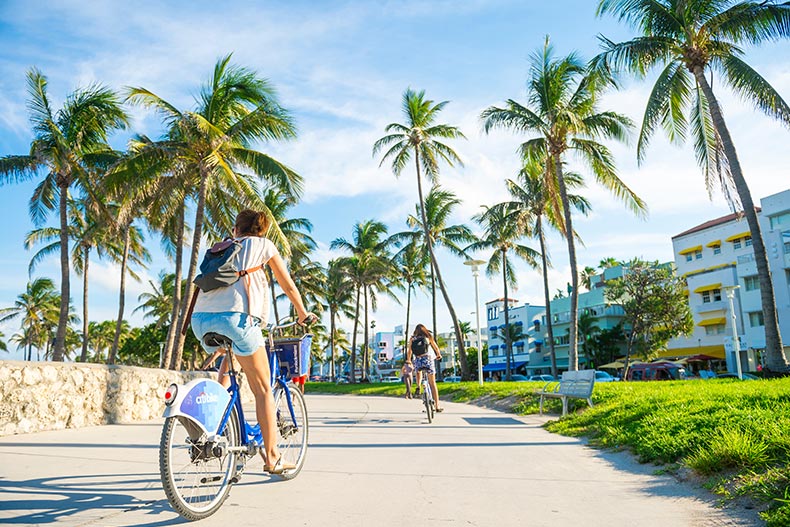 The University of Miami Health System is a network of physicians, hospitals, and medical centers that includes labs and imaging centers. It's a research and teaching hospital as well, attracting some of the best doctors, nurses, and staff to the facilities. There's also a VA hospital and a community health center in Miami Beach.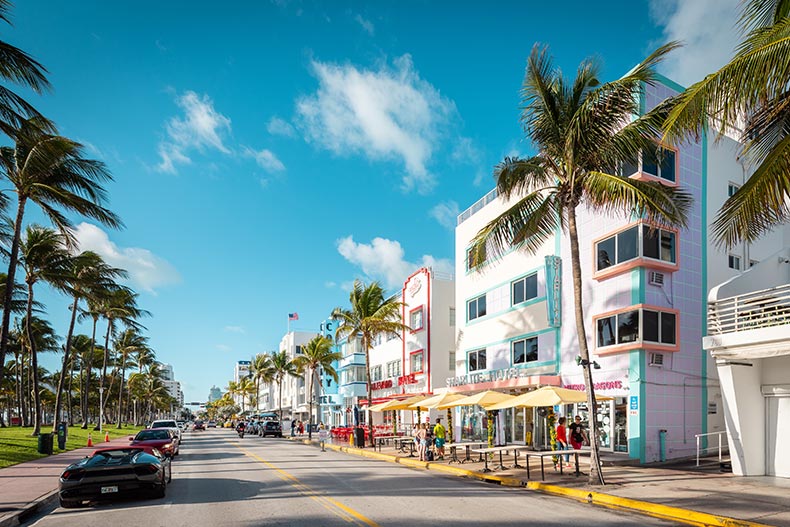 The city of Miami covers more than 50 square miles. There are a lot of options when it comes to deciding where to live in Miami. Some of the best 55+ communities are found in the city, near the beach, or in quieter suburban neighborhoods of Miami-Dade County.
In the city of Miami, you're just a few steps from the water and able to reach different neighborhoods in under half an hour. You'll be close to the airport, Coral Gables, Little Havana, and downtown attractions like Vizcaya Museum & Gardens, Wynwood Walls, and Miami Seaquarium. 
This is where to be if you want instant access to the best dining and shopping. You could find yourself in a walkable neighborhood with Latin-inspired bakeries and coffee shops as well as plenty of nightlife. 
When it's time to decide where to live, consider Star Lake Estates, a 55+ community of condominiums. There are amenities such as shuffleboard, a clubhouse, and an outdoor pool. Homes range from studios to two-bedroom, two-bathroom models with 1,360 square feet. 
Beach access is the whole point of living in Miami, so you'll want to buy a home near the beach. Stylish South Beach is a high-energy, always-active area, or you can choose a less crowded neighborhood like Coconut Grove, Mid Beach, and Bal Harbour.
Living in Miami Beach is great for waterfront activities. You'll have to expect more tourists and a lot of crowds. Traffic moves slowly, and parking is at a premium. Restaurants, shops, and bars are walkable.
Visit the Miami Beach Boardwalk or the Art Deco historic neighborhood. There are a number of public beaches and parks like Allison Park and Collins Park.
Living outside of the city is sometimes better. You're still a short drive away from all the action, but you can relax into a more residential area. There are still a lot of people in the suburbs; the population of Miami-Dade sits at 2.5 million. But, there's more space on the outskirts of downtown. Popular communities in Miami-Dade include Doral, Aventura, Coral Gables, Miami Gardens, and Hialeah. 
It's a little quieter in these areas, and homeowners have more space. Several beaches are still close, and shopping malls, golf courses, and restaurants are everywhere.
Costa del Sol is in Doral, close to Hialeah Park Racing and Casino. The gated community has a clubhouse, a pool, and tennis courts. It's also home to the Costa del Sol Golf Club, which offers an 18-hole public golf course, a driving range, putting greens with practice bunkers, a full-service pro shop, and a restaurant. Homes at Costa del Sol are townhomes with 1,120 to 2,190 square feet, two or three bedrooms, and two or three bathrooms. 
In Aventura, active adults moving to Miami might want to look at Biscaya, a 55+ condo community. Condo homes have 717 to 1,083 square feet, one or two bedrooms, and one to two-and-a-half bathrooms. The clubroom includes a fitness center, sauna, business center, and library. There's also an outdoor pool and patio.
Contact 55places.com to find your perfect community in the Miami area.