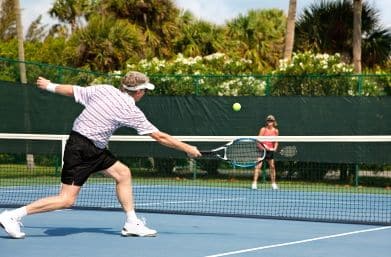 Active adult communities are known for boasting many amenities, including a variety of sports courts to support a range of outdoor fun. Pickleball, the new game on the block, is gaining popularity among many residents. However, some community tennis players worry that this new pastime will take away from their own time on the courts.
What is Pickleball?
Though the game was relatively unheard of just 10 years ago, pickleball is rapidly taking hold as a popular sport among older adults. According to the USA Pickleball Association (USAPA), pickleball is a fun game which is easy for beginners to learn, but also provides challenging competition for experienced players.
Pickleball is a relatively new game which some players describe as a combination of tennis and badminton. This ball-and-paddle game is played on a badminton-sized court where the net has been lowered to 34 inches at the center. Equipment includes wood or composite paddles, which are about twice the size of a pingpong paddle, and a plastic, perforated ball (much like a Whiffle ball).
Tennis vs. Pickleball
There are both similarities and differences between tennis and pickleball. Like tennis, pickleball can be played in games for singles or doubles. Scoring is similar in either game, as the serving side earns a point whenever the other side fails to return the shot.
Differences between tennis and pickleball include obvious ones, such as the size of the court and the style of both the balls and rackets/paddles. Play also differs in several ways. For example, serves must be underhand, the ball must "double bounce" before volleys, and there is a "no volley" zone which extends for seven feet on either side of the net.
Because pickleball uses a smaller court and underhand serves (which are easier on the shoulder), the game is a good fit for mature adults. Though it is easier to play than tennis, players are sure to get a good workout. A competitive game can be quite strenuous, providing healthy fun which is right in line with an active adult lifestyle.
Pickleball Controversies
Newer active adult communities often include pickleball courts in their design plans, and many older communities have converted some of their tennis courts to accommodate a growing number of pickleball players. However, the addition of pickleball has stirred controversy in some communities.
Tennis players in active adult communities are often unhappy to have their courts appropriated for pickleball use. By painting additional lines, communities can convert tennis courts to be shared between both sports. However, some tennis players find the extra lines distracting and would rather keep the courts to themselves.
Though tennis players do not like to lose any court time, many community boards feel that it is in all of the residents' best interests to add pickleball to their list of offered activities. Multi-use courts are often a good way to introduce the new game gradually.
Though it may take time for the change to be accepted by everyone, players of both sports will eventually see that there is room for both tennis and pickleball at successful active adult communities.