If you're looking for a 55+ community in Denver, Colorado, there are plenty to choose from, including some near water and with Rocky Mountain views. Some are close to Downtown Denver, some are close to Denver International Airport, and some have their own golf courses.
Denver is Colorado's largest city and capital. Its elevation close to the foothills of the Rocky Mountains gives it the nickname of the Mile High City. In 2016, it was designated the best place to live in the U.S. by the U.S. News and World Report.
Denver has a notoriously variable climate, with over 3,000 hours of sunshine a year. Snow can fall any time from late fall through to early spring, although days with heavy snow can be immediately followed by days that are warm and sunny. Temperatures can fall to well below freezing and rise to over 100 degrees in the summer.
Denver especially appeals to lovers of the great outdoors, as it's easy to get out of the city and quickly be in the Rocky Mountains enjoying hiking, biking, horse-riding, skiing, kayaking, and other outdoor activities. It's also very centrally located, so you can take a quick road trip north into Wyoming, south into New Mexico, east into Nebraska, or west into Utah.
Denver is also full of cultural attractions, with numerous museums, theaters, and festivals. It's known for its breweries, and it's home to the annual Great American Beer Festival. On the sporting side, it's one of only ten U.S. cities to have five major sports teams.
If this sounds like your ideal city for retirement, check out these 55+ communities in Denver, Colorado.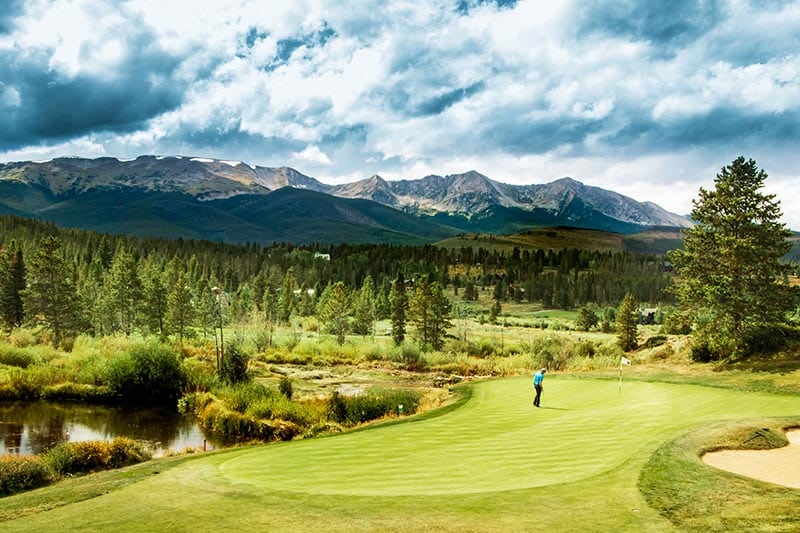 Windsor Gardens is a 55+ community on 143 acres. It's a 20-minute drive from Downtown Denver, but with other shopping, dining, and cultural activities only minutes away. It's made up of 2,689 attached homes and condos which were built between 1962 and 1973. There are 48 attached homes, while the condos are split between 84 four-story and 20 two-story buildings.
The homes at Windsor Gardens wind around the Emerald Greens Golf Club, a 9-hole, par-3 course with a putting green, a chipping green, a pro shop, and a practice area. It's a semi-private course which offers both resident and non-resident memberships.
The indoor amenities at Windsor Gardens itself include a 35,000-square-foot clubhouse, an auditorium, a ballroom with a stage, a library, a fitness center, an indoor pool and spa, an aerobics and dance studio, several studios for arts and crafts, and a woodworking shop. In addition to the golf course, outside facilities include a pool, a picnic pavilion, horseshoe pits, a community garden, hiking and biking trails, courts for bocce and shuffleboard, and RV parking.
The community has a number of clubs, groups, activities, and classes for residents to enjoy. These include clubs for various card games, a writers' group, photography, politics, a book club, a singles group, and a genealogy group.
The townhomes range from 1,512 to 1,710 square feet with a two-car garage, two-and-a-half bathrooms, an interior courtyard, a sundeck, and either two or three bedrooms plus a den. Condos come in ten models. The smallest is 720 square feet with one bedroom and one bathroom. There are also models with two bedrooms, two bedrooms and a den, three bedrooms, and three bedrooms plus a den. These last models provide up to 2,070 square feet.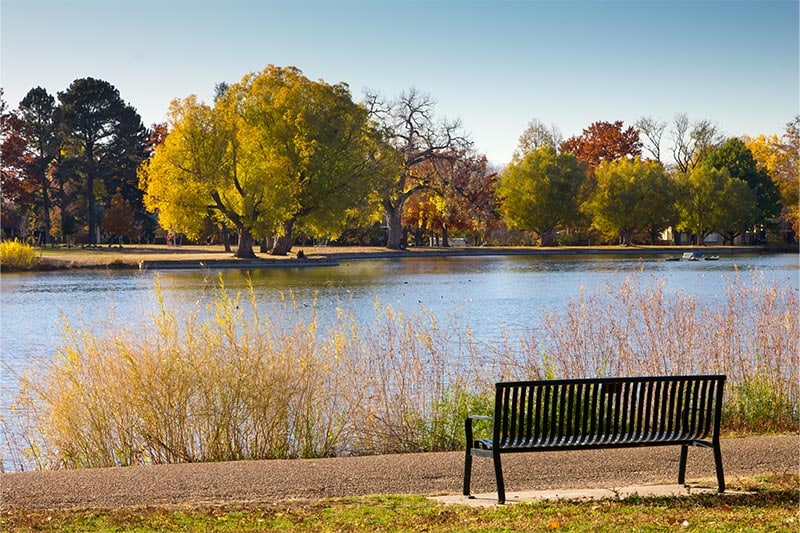 The Park Lane Condominiums is an active adult community for those attracted to city living. It's less than a ten-minute drive from Downtown Denver yet overlooks the 161-acre Washington Park with its sports facilities, flower gardens, hiking and biking trails, and Smith Lake. The community has no age-restriction, and the 358 condos are split between three 20-story buildings.
Residents at the Park Lane Condominiums enjoy the use of amenities. These include indoor and outdoor pools, a fitness center, a steam room/sauna, a billiards room, table tennis, a general games room, a library, tennis courts, and a community garden. Residents have also formed clubs for tennis, table tennis, and billiards.
The condos start at 768 square feet with the largest models being 2,531 square feet. They range from one to three bedrooms, one to three bathrooms, and all condos are allocated two parking places in private parking garages.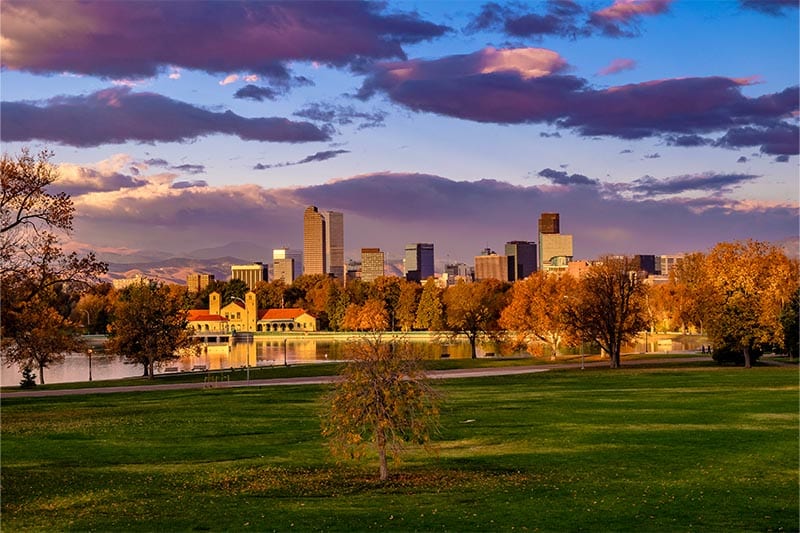 Stoney Brook is an active adult community with no age restriction, and it's a 20-minute drive from Downtown Denver. Facilities like shops, pharmacies, banks, restaurants, and hospitals are all close by, while Denver International Airport is a 30-minute drive away. The community comprises 282 attached homes.
Amenities at Stoney Brook include a clubhouse, an exercise room, a multipurpose room, an outdoor pool and patio, tennis courts, and scenic ponds. The residents have also formed a tennis club. Keen golfers will find several clubs within easy driving distance.
One reason people like this particular active adult community is the range of models available, which cover all budgets and space requirements. The smallest models have 1,278 square feet with two bedrooms and two bathrooms. Beyond that, there are three- and four-bedroom options, plus the largest models with five bedrooms, four bathrooms, and 4,582 square feet.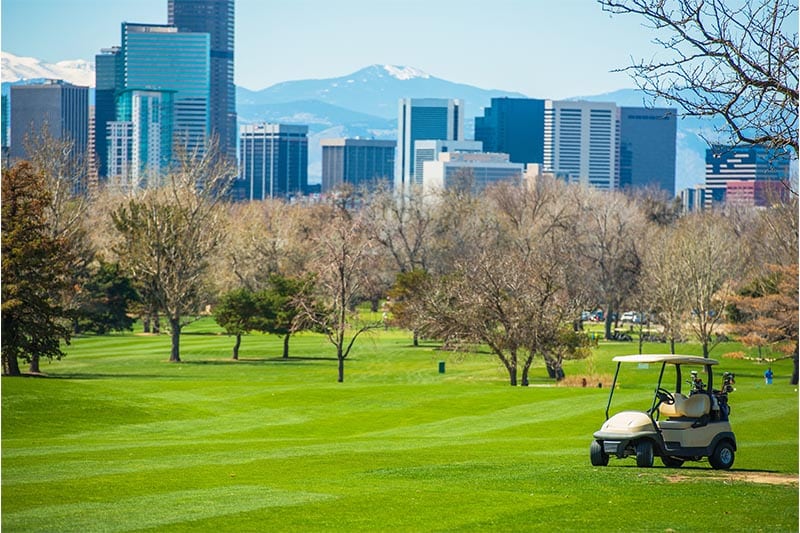 For the keen traveler, Fairway Villas at Green Valley Ranch is the 55+ community closest to Denver's international airport, with direct flights to destinations including Canada, Mexico, the UK, Germany, Iceland, and of course, all around the U.S. The airport is a little over a 15-minute drive away, while Downtown Denver is a 30-minute drive away.
The community is made up of 220 single-family homes which were built from 2011 to 2021. They're all Energy Star qualified, which means they use less energy and are therefore cheaper to run. As well as having the conveniences of city living all around, the community is also surrounded by wetland areas and ponds, attracting wildlife.
Golf lovers are especially attracted to Fairway Villas at Green Valley Ranch. The 18-hole Green Valley Ranch Golf Club is a par-72 course. It's the home of the Colorado Open Golf Championships, and it has views of the Rocky Mountains. There's also a 9-hole course, a pro shop, and a full-range practice facility, and residents of Fairway Villas can even order food from the Eagle's Nest restaurant. There's a direct path from the Fairway Villas clubhouse to the golf course clubhouse.
Aside from the golf club, the amenities at Fairway Villas include an indoor lap pool and spa, a coffee bar, fitness rooms, a hobby and games room, an outdoor pool, hiking and biking trails, an outdoor kitchen area with a dining terrace, and courts for pickleball and bocce. There are several clubs, groups, activities, and classes for residents to participate in, including a book club, Pilates classes, poker tournaments, salsa classes, and holiday parties.
There are seventeen models in this community. The smallest is a one-bedroom bungalow at 1,413 square feet. These also have a den, one-and-a-half bathrooms, and a two-car garage. There are also two-, three-, and four-bedroom models, and versions of all these with an additional den. The largest models are five-bedroom homes with 3,465 square feet, four bathrooms, and a two-car garage.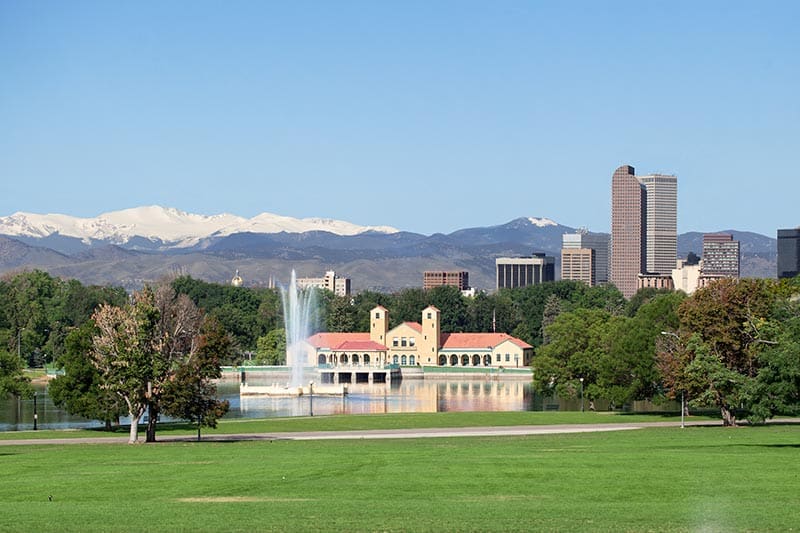 Overture 9th + CO is a 55+ Denver community with 207 apartment homes. It's an easy ten-minute drive due east of downtown, and a 30-minute drive from Denver International Airport. It's also only a five-minute drive to City Park, where you'll find Denver Zoo, the Denver Museum of Nature and Science, tennis courts, two lakes, and the City Park Golf Course.
Amenities include a movie theater, a fitness center, a coffee bar and bistro, a private dining room, a demonstration kitchen, a reading lounge and library, a billiards and games room, a heated pool, and a whirlpool spa. Residents enjoy a very active lifestyle with various clubs and groups like ancestry research, Zumba, art classes, a book club, cooking classes, day trips, a drama group, fitness classes, happy hours, movie nights, writing classes, yoga, and many more activities.
The smallest models are 519 square feet with a bedroom/living room/kitchen and one bathroom. Apartments then go up in size with options for one to two bedrooms, one to two bathrooms, and a den. The largest models are 1,335 square feet and have two-and-a-half bathrooms.