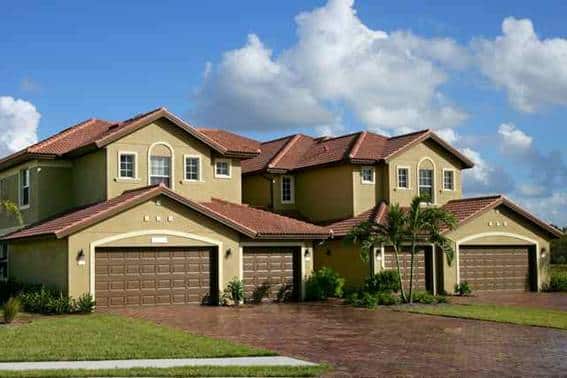 When choosing a new home many active adults opt for a single-story, low-maintenance home. Yet years of living in a detached single-family home may cause them to shy away from attached home options.
There are some perceived disadvantages, many of which are rooted in a fear of annoying neighbors. However, there are also enough advantages that can make an attached home an attractive living option.
The primary advantage of attached living lies in its general affordability. In many communities, an attached villa or duplex home can be the same size as a single-family model, but will usually be offered for a much lower price.
Attached Home Advantages
At Solivita in Poinciana, Florida, two-to-three-bedroom duplex homes range in size from 1,498 to 2,256 square feet. While the floor plans for two to three-bedroom single-family homes are comparable with sizes ranging from 1,275 to 2,983 square feet.
Low-maintenance living is another benefit of an attached home, as the structural exterior, lawn care, and snow removal is often the responsibility of the community. Single-family homes in active adult communities may also have these benefits, depending on the community.
Many empty nesters prefer a smaller home that requires less upkeep, and attached homes often fit the bill. Attached homes generally have little to no yard, which can be seen as an advantage or disadvantage. Apartment-style condominiums remove the need for yard care entirely, though first-floor units may have patios with space for flowerbeds and units on higher floors often have balconies where potted plants can grow. Attached villas, duplexes and townhomes may have their own yards or a shared courtyard space, depending on the building arrangement.
Attached Homes Concerns
The chief concern when it comes to attached homes is one of privacy. Potential buyers worry about disruptions from noisy neighbors and interference from nosy ones. However, recently built attached homes have well insulated shared walls that effectively soundproof each home. They also are designed to minimize spreading damage in the case of a fire. The layout of an attached home will further insulate each family, as the main entryways are often designed with privacy in mind.
In many constructions, the homes are separated by an attached garage, making the main home feel entirely separate. Neighbors are a fact of life in any community and are often part of the draw to an age-restricted, active adult lifestyle. Whether homes are attached or sitting on their own small home sites, there are advantages and disadvantages to having many neighbors living in close proximity.
From a security standpoint, it is often beneficial to have neighbors nearby. Residents can watch out for each other and help in the case of an emergency. While not all neighbors become fast friends, many do share some interests and enjoy socializing.
Many active adults who choose to purchase an attached home come to realize that it is not all that different than living in a single-family model. Particularly in attached homes designed with only one shared wall.
While privacy is a common concern, most neighbors understand and respect each other's boundaries. When relocating to an active adult community, do not let the habit of living in a single-family home keep you from exploring the attached home options, you may be pleasantly surprised.