If you're considering a home in one of the many wonderful 55+ communities in California, there may be no better way to narrow down your search than by the reviews. A community with rave reviews from residents who actually live and thrive there goes a long way in finding your dream community.
Check out the list below of the best-reviewed communities in California to help with your home search. (These communities received four or more five-star reviews by resident homeowners.)
High $200s – High $700s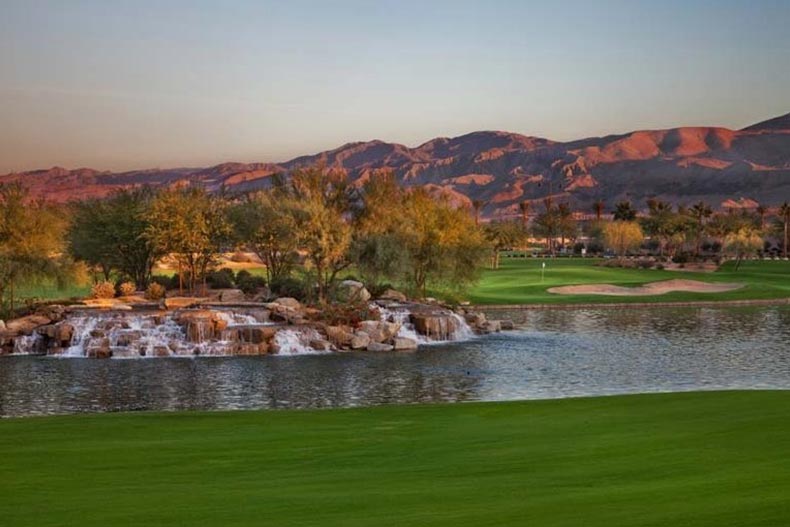 Located in the sunny and warm SoCal area of Coachella Valley, Sun City Shadow Hills is a beloved 55+ community built by renowned active-adult homebuilder Del Webb. This sprawling community is loved by its residents for its resort-like amenities, spacious single-family homes, beautiful grounds, friendly atmosphere, and low homeowners' association (HOA) fees.
Sun City Shadow Hills resident Jan A. says in her online review that she greatly enjoys living in the community and is thrilled with all it offers.
"We feel like we have found the perfect place. The grounds are beautiful, my husband loves the golf courses, both fitness and pool areas are outstanding, and we felt the value of the home prices was very attractive. We love to hike so are excited to join the hiking club. Our neighbors were so welcoming and friendly. We were invited for a wine and cheese party after only 3 days. In addition, having the Palm Springs and the beautiful Coachella Valley to explore for hiking, dining, shopping etc. made it a great choice for us."
Request more information about Sun City Shadow Hills.
Mid $200s – High $400s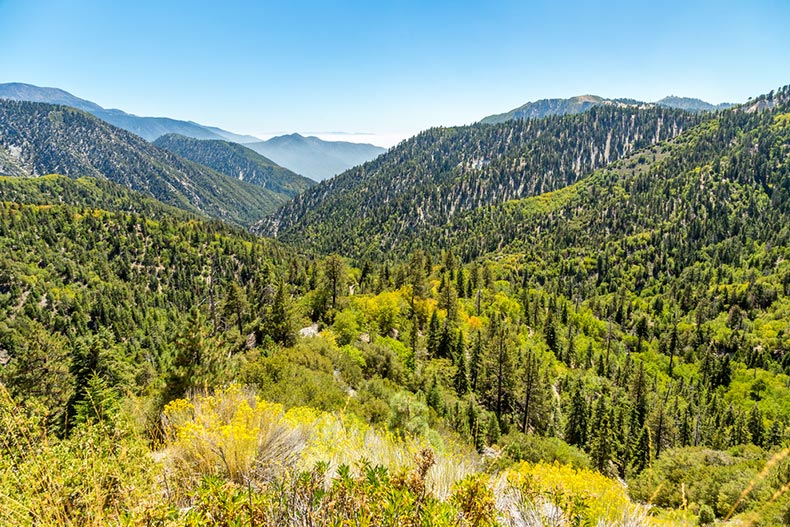 Four Seasons at Beaumont is a gated 55+ community in Beaumont, and it's extremely popular with active adults thanks to its terrific value, great amenities, and pleasant location in Southern California's Inland Empire.
With both attached and single-family homes for sale, this community offers buyers plenty of choices when it comes to home size, style, and price. With a ton of amenities as well as a full-time activities director, Four Seasons at Beaumont also offers plenty of activities and opportunities to meet new friends.
Resident C.M. writes:
"I've lived here about 5 months now & I love my home, the neighbors are great, very welcoming & so many clubs and activities! The grounds are beautiful, very well maintained & the staff is excellent & we even have a GREAT restaurant right in our Lodge. Three beautiful pools & gyms & even a movie theater, love, love, love it here!!"
Request more information about Four Seasons at Beaumont.
Low $300s – Mid $1Ms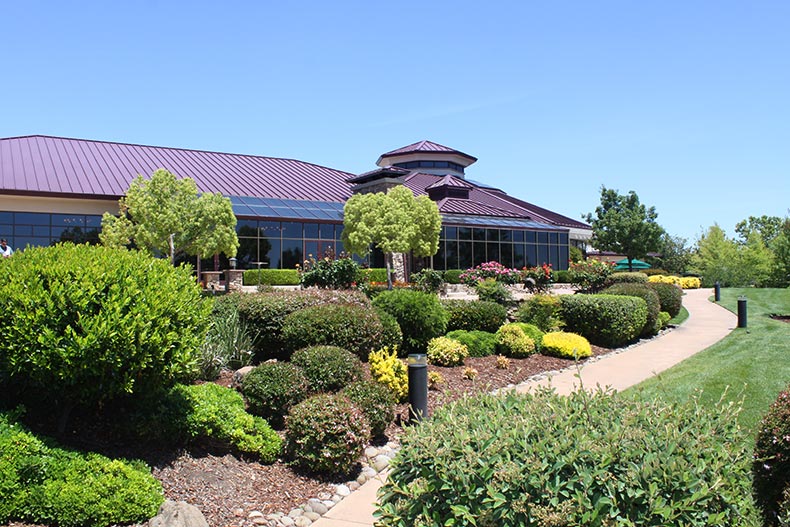 Another Del Webb favorite, Sun City Lincoln Hills is situated in the Sacramento suburb of Lincoln near Lake Tahoe, the Napa Valley, and San Francisco. This sprawling community offers attached and single-family homes as well as two 18-hole golf courses and an abundance of resort-like amenities.
Residents of Sun City Lincoln Hills rave about the weather, fun-filled social clubs and amenities, and idyllic location. In his five-star review, John K. writes:
"This place is fantastic! We moved in 4 years ago and haven't slowed down since. There are 80 sanctioned clubs. There is a summer concert series in the amphitheatre and always local and international trips organized. We are close to Tahoe, San Francisco, Napa, Yosemite, Monterrey, and Mendocino. There are classes and guest speakers almost weekly on a variety of topics. This is living the dream with reasonably good weather all year."
Request more information about Sun City Lincoln Hills.
Mid $300s – Low $600s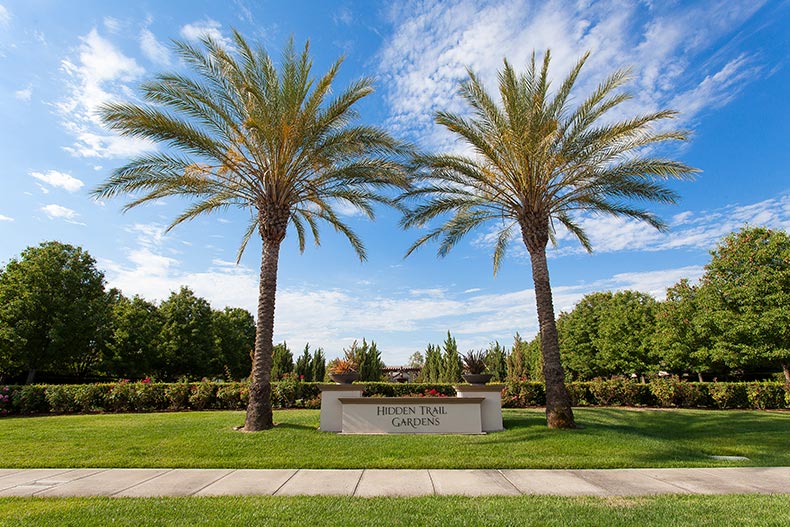 With a wide variety of home styles, from attached to single-family, Heritage Park offers plenty of options to homebuyers looking in the dynamic Sacramento area. Residents who call Heritage Park home love the variety of amenities, from the on-site restaurant and pub to the popular pickleball courts and ballroom. There's always a social activity, a friendly game, or a planned outing happening at this lively 55+ community.
In her glowing review of Heritage Park, Holly B. writes:
"We are extremely happy here, I guess most of all we love the sense of community the pervades Heritage Park. The possibilities for fun and connecting with others are endless! We also love the fact that we are only 7 minutes from downtown Sacramento, with such easy access to all of the restaurants, shopping and cultural events."
Request more information about Heritage Park.
Mid $300s – Low $1Ms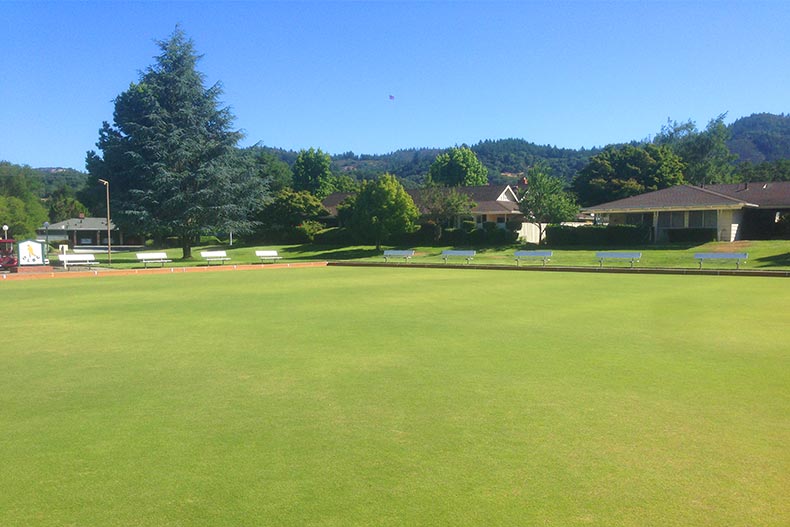 Nestled in the breathtaking Sonoma County wine country, Oakmont Village is beloved by its residents for its enviable location and wide variety of home styles and prices. Homebuyers here can choose from cozy attached bungalows to spacious single-family homes. The two 18-hole golf courses are another standout feature of this 55+ community.
Oakmont Village resident "Crumpy" says of living in the community:
"There are so many things to do: sports, clubs to join, music to hear, talks and lectures to attend, a library, computer and art rooms, and people to meet, as well as all the beautiful surroundings of nature, parks, wineries, mountains. Not far away are world renowned restaurants, concert halls, and international cinemas. It is hard to be bored. Inside the community, there is a business area including banks, exercise and medical facilities, beauty parlors, village market, and restaurants. We are truly lucky to live here."
Request more information about Oakmont Village.
Mid $200s – Mid $300s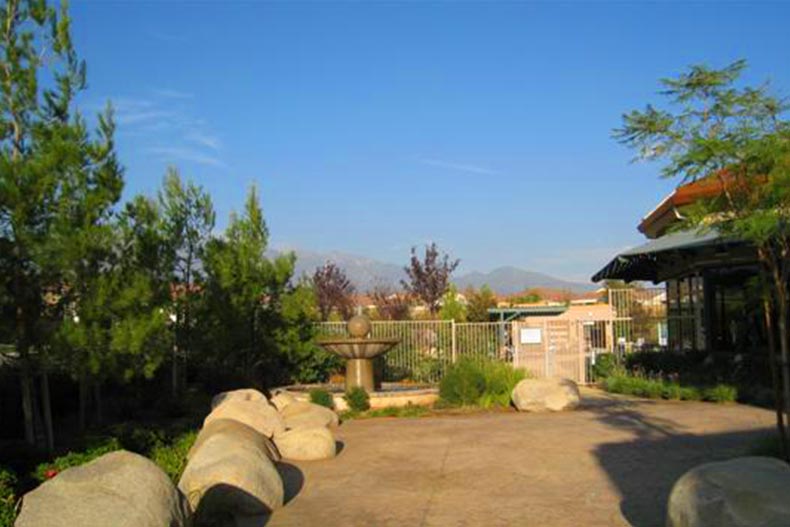 Another highly rated Beaumont community, Solera at Oak Valley Greens offers an attractive clubhouse, affordable homes, and a great location. This gated, mid-sized community is loved by its residents and offers single-family homes in three floor plans.
Homeowner Susan L. writes in her review:
"Charming community with friendly neighbors, great amenities and reasonably priced homes. It's also gated 24 hours so I feel very safe here. It's a good location, private and has everything I could want. There are lots of special clubs to join and events happening every week. My social calendar is always booked!"