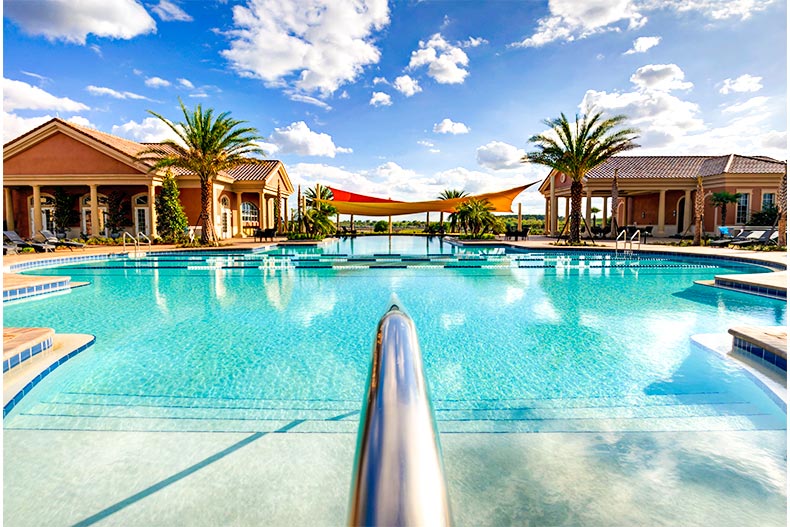 Trilogy by Shea Homes boasts 17 resort-style active adult communities designed with 55+ homebuyers in mind. With so many Trilogy age-restricted and active lifestyle communities across the country, homebuyers have many Trilogy homes to explore, each offering residents an amenity-rich lifestyle.
Many factors make Trilogy by Shea Homes a popular name in the active adult market, but one of the most notable is that homebuyers know what to expect from Trilogy communities. With resort-style amenities, world-class clubhouses, and even their own social network, Trilogy communities know how to cater to 55+ residents. If you're ready to learn more about Trilogy, keep reading to find out about the amenities, lifestyles, and communities offered by this premier 55+ builder.
The History of Trilogy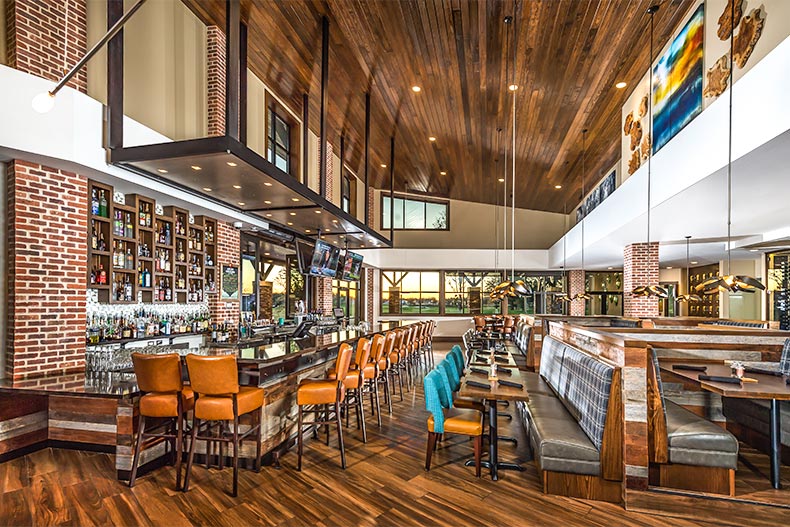 As one of the largest private homebuilders in the nation, Shea Homes has built more than 100,000 homes since its founding in 1968. The developer launched Trilogy by Shea Homes in 1999 to design a selection of 55+ and active lifestyle communities that offer resort-style living to active adult homebuyers. Trilogy has since become a leading 55+ active adult community brand with 17 communities across Arizona, California, Florida, North Carolina, Nevada, Virginia, and Washington.
Active adult homebuyers across the nation trust the Trilogy name to deliver resort-style communities with world-class amenities and luxurious homes. Trilogy has been awarded America's Most Trusted Active Adult Builder by Lifestory Research for six consecutive years from 2013 to 2018. Trilogy has also earned the highest rankings in active adult homebuyer customer satisfaction from a J.D. Power and Associates study.
According to Shea Homes, Trilogy communities provide residents with an enriched lifestyle through opportunities to explore new interests, achieve wellness, and connect to a vibrant social life. Shea Homes explains, "We believe that life is a celebration, so we build Trilogy 55+ and resort communities so you can do the things you love, try the things you're curious about, and live every day to its fullest."
Trilogy's Resort-Style Amenities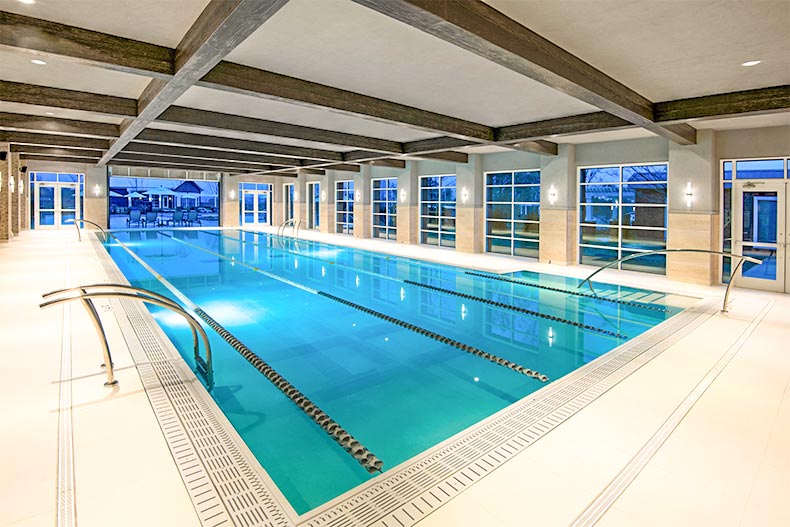 Trilogy at Lake Norman's indoor lap pool is a scene from a resort.
Every Trilogy community offers a similar variety of resort-style amenities and social activities, but each community also includes unique features. Some of the impressive standard amenities include walking, hiking, and biking trails, sports courts, tennis and pickleball courts, resort-style indoor and outdoor pools, and state-of-the-art fitness centers.
Popular features at many Trilogy communities are the sports lounges, also called man caves. The sports lounges serve as relaxing sports escapes where residents (men and women!) can gather to watch games on flat-screen TVs and play billiards, darts, shuffleboard, and poker.
Trilogy communities feature luxurious clubhouses that serve as the center of community activity and the hub for amenities, social gatherings, and special events. The 57,000-square-foot Magnolia House at Trilogy Orlando in Florida represents a top-of-the-line offering that even includes its own restaurants.
At Trilogy at Lake Frederick in Virginia, the lakeside Shenandoah Club complex includes two buildings for a total of 36,000 square feet of recreation and amenity space. By designing such grand clubhouses, Trilogy aims to unite neighbors into a community that can enjoy social gatherings and lifestyle clubs.
Several Trilogy communities include their own golf courses such as the 18-hole Tom-Lehman designed course at Trilogy at Encanterra in Arizona and the 30 total holes at Trilogy at Monarch Dunes in California.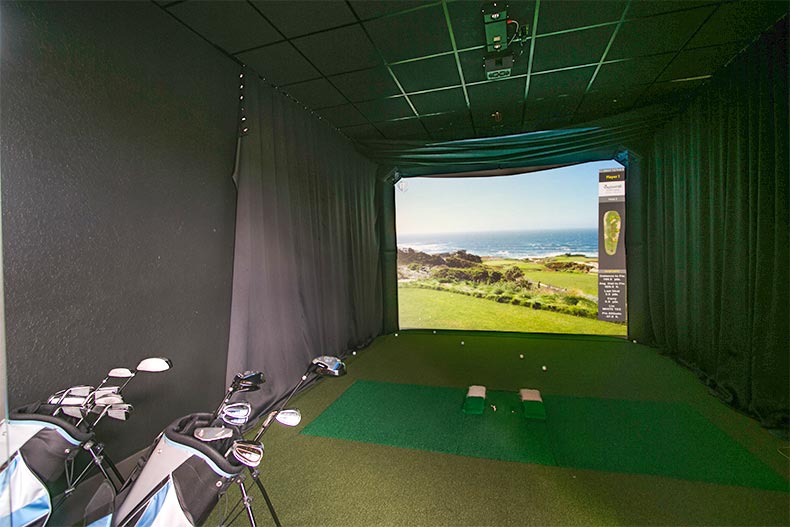 For those Trilogy communities without golf courses, homeowners still have a chance to work on their swing.
Some Trilogy communities without golf courses offer the next best thing: full-scale golf simulators. Residents can find these at Trilogy at The Polo Club in California, Trilogy at Tehaleh in Washington, Trilogy Orlando in Florida, and Trilogy at Lake Frederick in Virginia. A golf simulator not only allows golfers to practice their swing and stance, but players receive real-time analysis of their form, technique, and ball flight data.
Trilogy Lifestyle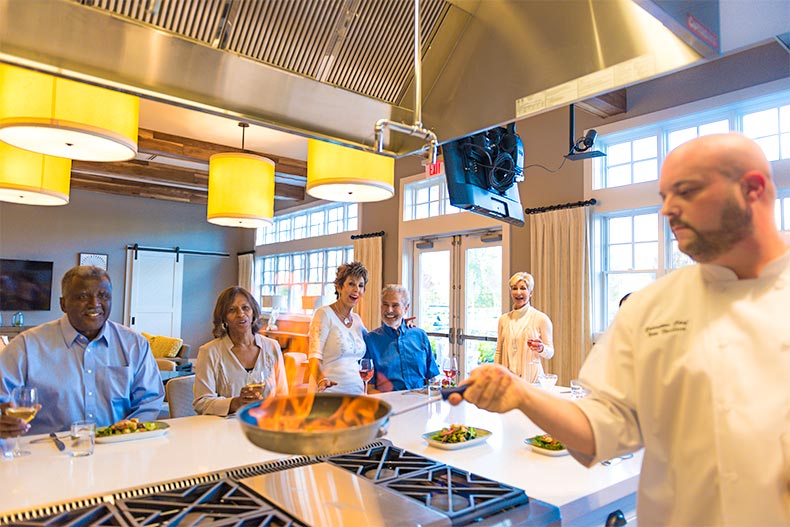 Residents of Trilogy communities have every opportunity to live an active physical and social life. Trilogy homeowners have exclusive access to a social networking platform called MyTrilogyLife.com. Residents can log on to see upcoming community events and things to do. A Daily Digest shares a rundown of all the activities, classes, events, and news important for that day.
Trilogy residents can even connect to the entire network of Trilogy homebuyers, extending the potential for friendships across the nation. The developer created a cross-community travel program called Explore 360 that plans luxurious vacations coordinated by a national lifestyle director. One recent excursion to Italy sold out in just 18 hours.
Other past popular destinations have included trips to national parks, the Galapagos, and a European cruise. Club Connect is an integrated, multi-community platform that allows residents to share video content. This includes culinary classes, education seminars, club meetings, and Explore 360 experiences.
All of the lifestyle activities, social clubs, and events at Trilogy communities are planned and developed by hospitality-trained staff. Residents always have access to a well-trained team to find new classes, explore new hobbies, and connect with like-minded neighbors.
Trilogy Communities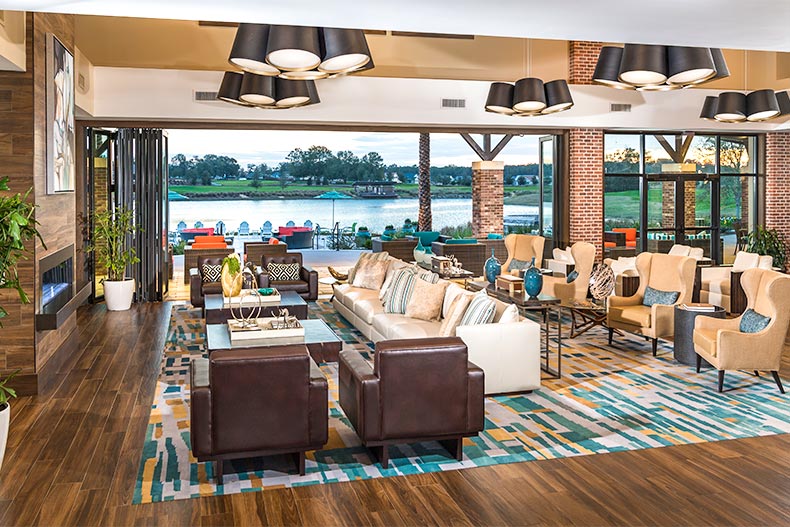 All 17 Trilogy communities across the country have been designed with 55+ homebuyers in mind, but each neighborhood has its own unique style and amenities. Check out what each Trilogy community has to offer active adult homebuyers.
California
With 6 Trilogy communities across the state, California contains the most opportunities for homebuyers to live the Trilogy lifestyle. Residents of Trilogy at Monarch Dunes in Nipomo enjoy luxurious outdoor areas, including a sculpture garden and 77 acres of vineyards while living just 15 minutes from the coast.
Also surrounded by vineyards and olive groves, Trilogy at the Vineyards in Brentwood features a 38,000 square-foot clubhouse that includes three swimming pools, a full-service spa, and a gourmet restaurant.
The active lifestyle community Rice Ranch in Orcutt includes four miles of walking and biking trails that weave throughout this Santa Barbara County community. Trilogy at Rio Vista boasts two clubhouses with a combined 34,000 square feet of amenity space that includes indoor and outdoor swimming pools, a barbecue area, and cozy seating areas with fireplaces.
The gated active lifestyle community Trilogy at The Polo Club in Indio features 19 parks and green spaces as well as a scenic pond. In the Bay Area, Trilogy broke ground on Barcelona in 2018 and currently offers brand new homes for sale.
Arizona
Arizona is home to four Trilogy communities that make the most of life in this popular retirement destination. Trilogy at Encanterra, a 55+ age-restricted enclave within a master-planned community in San Tan Valley, offers country-club style amenities such as a 60,000 square-foot clubhouse and an 18-hole championship golf course.
Trilogy at Vistancia in Peoria is another age-restricted neighborhood within a master-planned community that has its own 35,00-square-foot clubhouse. Trilogy at Wickenburg Ranch offers golf-club living in an active lifestyle community with 2,000 planned homes upon completion.
In Rio Verde, residents of Trilogy at Verde River can dine at the community's three restaurants and visit its on-site retail store, The Outfitter, for all the equipment they need to enjoy outdoor recreation.
Florida
In the Sunshine State, Ocala Preserve features two clubhouses: The Tack House and the 17,000 square-foot Oak House that includes a restaurant and bar, full-service salon, and a concierge.
Trilogy Orlando in Groveland boasts the 57,000-square-foot Magnolia House clubhouse that houses the Athletic Club, Artisan Studio, Crow's Nest sports lounge, and more.
Washington
Shea Homes at Jubilee is an age-restricted community in Lacey with outdoor amenities such as courts for tennis, bocce, and basketball, plus an elaborate walking trail system with views of Mt. Rainier.
Residents of Trilogy at Tehaleh in Bonney Lake can enjoy the community's own Seven Summits Lodge clubhouse as well as the master-planned Tehaleh community's clubhouse, called The Post.
North Carolina
Trilogy Lake Norman in the Charlotte area includes a 30,000 square-foot clubhouse as well as miles of scenic walking and biking trails just down the road from the recreation opportunities of Lake Norman.
Nevada
Trilogy by Shea Homes broke ground on Trilogy at Summerlin in 2017, an age-restricted community that plans to include just 354 attached homes for affordable living near Las Vegas upon completion.
Virginia
Trilogy at Lake Frederick, situated on 900 scenic acres next to a sparkling lake beside the Blue Ridge Mountains, allows active adults to get outdoors with opportunities for fishing, paddleboarding, and kayaking in the lake.