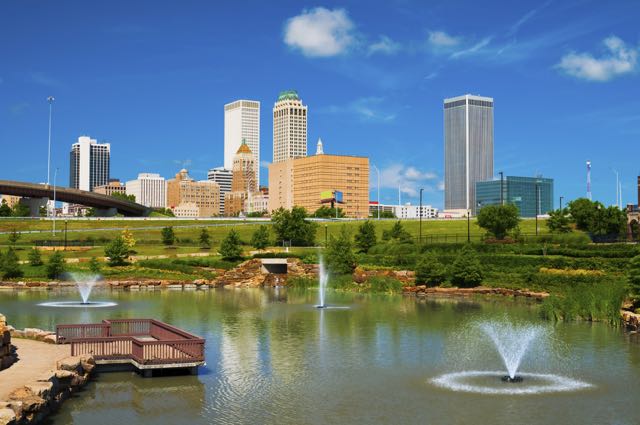 While Oklahoma is largely rural, active adults can find all the fun of city living in downtown Tulsa. This thriving city offers all the expected urban attractions, such as charming shopping districts, great restaurants, and diverse cultural entertainment. Tulsa also features casinos, wineries, sports venues, golf courses, museums and much more.
Location
Set in Eastern Oklahoma, between the Ozarks and the Great Plains, Tulsa grew up on either side of the Arkansas River. The city features beautiful art deco architecture and sleek modern buildings, as well as lovely parks and natural areas. Tulsa is also about 90 minutes northeast of Oklahoma City and just two hours west of Fayetteville, Arkansas.
Climate
The Tulsa area has a temperate climate with hot summers and mild winters. During the humid summer months, daytime temperatures are often in the mid-90s and may climb to over 100 degrees. While winters are much cooler, they are still comfortable with daytime highs typically in the high 40s.
Things To Do
Within Tulsa's urban center, locals and visitors can enjoy many of the attractions commonly found in large cities. The city's live performing arts centers offer concerts, plays, and Broadway shows, as well as performances by the acclaimed Tulsa Ballet and Tulsa Opera. Tulsa also impresses visitors with world-class museums, such as the Philbrook Museum of Art and the Gilcrease Museum.
There are three major casinos in Tulsa which offer all the thrill of Vegas-style gaming: the Hard Rock Hotel & Casino, Osage Casino and River Spirit Casino. In addition to gambling, these casinos feature live entertainment and gourmet dining.
Animal and nature lovers can enjoy a trip to the Tulsa Zoo, located within the 2,800-acre Mohawk Park, or explore the impressive Oklahoma Aquarium. For golf enthusiasts, Tulsa includes 19 public courses, as well as several private golf clubs, and is home to the renowned Southern Hills Country Club. The area also features local wineries and seasonal farmers' markets.
Shopping districts throughout Tulsa highlight many styles, from eclectic charm to famous brands. Many boutiques and off-beat shops can be found in the historic Cherry Street and Brookside Districts, while Woodland Hills Mall boasts over 1 million square feet of retail space spread across more than 165 stores.
Events and Festivals
Many Tulsa attractions are open year-round, but the city also supports many seasonal festivals and special events. USA Today has ranked Tulsa's Oktoberfest as one of the top-10 German celebrations in North America. Other annual events include Tulsa International Mayfest, SCOTFEST, and the Tulsa Greek Festival. Whether planning a vacation or looking for a place to retire, the Tulsa area offers exciting attractions, a temperate climate and plenty of scenic charm. Outside of the city center, active adults can also find some lovely 55+ communities, such as Hyde Park at Tulsa Hills.
Plan your visit to experience this American city for yourself.