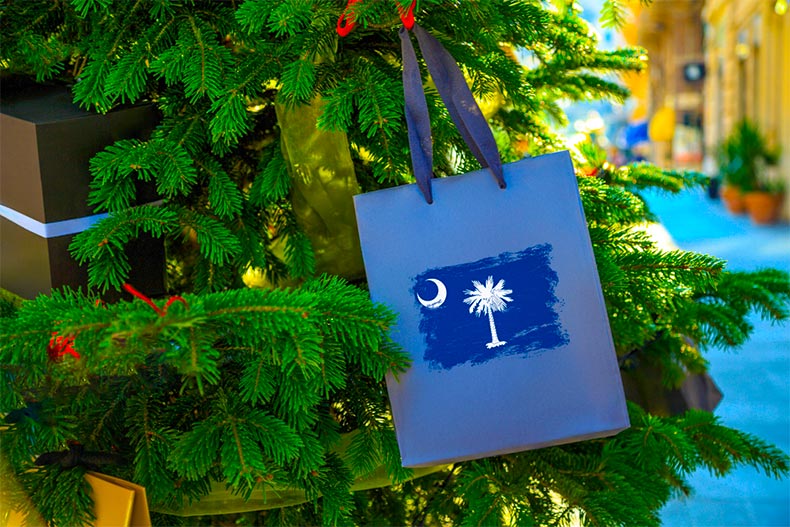 Myrtle Beach has so much to offer residents during the holiday season—from candle-lit gardens and Santa's villages to elaborate shows, everyone can get in the holiday spirit here. Here are four activities that are sure to make Christmas a little more bright this year.
Brookgreen Gardens Night of A Thousand Candles
Named Best Christmas Lights in South Carolina by Travel + Leisure magazine, Brookgreen Gardens' Night of A Thousand Candles is one of the most unique holiday activities in Myrtle Beach. From Thursday, December 20 to Saturday, December 22 guests can enjoy the soft glow of 4,500 hand-lit candles, as well as plenty of twinkle lights while strolling through the garden's paths.
There will also be live holiday music and carolers on site, plus, a heated dining tent with options like snow crab legs, Lowcountry shrimp and grits, a barbecue platter, and grilled mahi-mahi on the menu. Tickets must be purchased before arrival and start at $25 for adults who are non-members, and $12 for children who are not members of the garden. The event is held rain or shine. Festivities start at 3 p.m. and go through 10 p.m.
Carolina Opry Christmas Show
See the Carolina Opry Theater's transformation into a winter wonderland for the 33 annual Carolina Opry Christmas Special, which features live music and comedy performances, as well as several dance numbers, all centered around the holiday season.
The theater features plenty of festive decor with more than 35 Christmas trees, 75 wreaths, and five miles of tree lighting wire. Professional photographers are also on-site to take pictures in front of the opry's centerpiece—a 30-foot tree with 25,000 twinkle lights—which will provide the perfect background for a holiday-themed family photo. Tickets start at $42.95.
Ripley's Aquarium Festival of Trees
Now through Monday, December 31, Ripley's Aquarium gets into the holiday spirit with its Festival of Trees, with more than 100 trees placed throughout the aquarium among the exhibits. Each of the trees is uniquely decorated, with 50 of the trees designed to represent each state with themes like a Mardi Gras colored tree for New Orleans.
As an added bonus, guests can enjoy breakfast with Santa on select dates. The Festival of Trees is included in aquarium admission, which starts at $29.99 for an adult, $19.99 for children ages 6-11, and $9.99 for children ages 2-5.
The Great Christmas Light Show
Christmas lights take over the North Myrtle Beach Park & Sports Complex during The Great Christmas Light Show, a drive-through light show featuring two million lights, 500 different light displays, and animated figures spread over 1.5 miles.
At the end of the drive, visitors can stop by Santa's Village to enjoy holiday treats, including s'mores and hot chocolate. Additionally, there will be a petting zoo, ice skating, Santa Express Train Ride for an up-close look at the lights, and a 40-foot inflatable slide to tub down. Admission is $15 per vehicle with up to 15 guests.