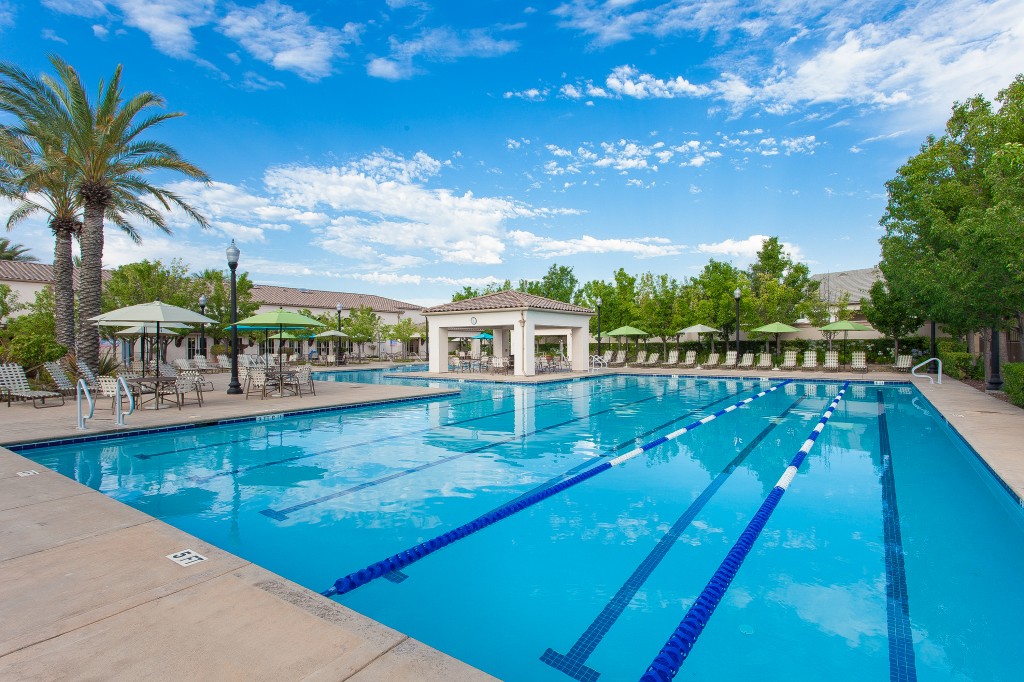 Finding the perfect 55+ community is really a question of lifestyle. The right location and home are integral in narrowing down the search, but community amenities have some incredible benefits that can create the retirement of your dreams. After all, an active lifestyle is hard to accomplish when you stay at home all the time.
In a recent study of potential active adult homebuyers, access to a clubhouse and other amenities ranked 3rd in factors determining their interest in purchasing in a community (behind a low-maintenance lifestyle and scenic areas, respectively). Here we take a look at why amenities are so important in 55+ communities.
Creates a Sense of Community
Having a common area for neighbors to come together, whether it's a clubhouse or a park area, creates an area for spontaneous or planned social interactions. This is especially important for newcomers to the community in order to avoid "new town blues," when new residents feel isolated and lonely after moving away from friends and family. The only cure is to get out and meet people.
Social interaction is not only a complement to a community, but is actually important for your health. The World Health Organization actually includes social well-being in its definition of health. "New town blues" is not only an inconvenience, but it can actually be detrimental to your overall health, and community amenities are perfect for avoiding that. Amenities also help to solidify those friendships because you'll not only be interacting but also doing something together, whether it's a fitness or woodworking class.
Rekindles a Long Lost Passion
Having plenty of amenities stirs the imagination. The community's facilities could include spaces for activities and sports you once enjoyed. Loved playing tennis but never lived near a court? Now you can have one in your own community. Uniquely presented amenities can also spark an interest that was long dormant. If you like playing chess but loathe the thought of sitting at a table for hours, then an outdoor chess set, like the one at Lake Ashton, just might be enough to inspire you to pick it back up.
Although downsizing your home comes with significant benefits, you might have to sacrifice hobby space in order to fit comfortably. You most likely had to axe the billiards table or the woodworking shop when you moved but, since the clubhouse is essentially an extension of your home, if it offers a woodworking shop then you can downsize without sacrificing your favorite pastime.
…Or Finds You a New One
Having plenty of amenities also encourages exploration into new hobbies and interests. Homeowners generally find that when they pay into a monthly fee that maintains certain amenities, they want to get their money's worth.
You may have never thought about playing bocce ball or a game of poker, but having designated courts and card tables at your disposal just might be the inspiration you need to pick it up as a hobby. Amenities encourage constant exploration of new activities.
Keeps You in Shape
Fitness centers are becoming so ubiquitous in active adult communities that they're nearly a requirement now. Whether it's a modest exercise room or elaborate gymnasium, having an on-site fitness center gives you no more excuses for skipping on a workout. Access to new machines encourages you to change up your routine as well.
Additional amenities also encourage fitness by allowing for more exercise options. Tennis, pickleball, and basketball courts not only help you break a sweat, but they are also a terrific way to meet other residents and make new friends.
It Makes Your Home More Valuable
The 55+ community market is considered to be more stable than the general housing market. With more and more retirees taking the plunge into active adult living, your home, for the most part, can be considered a rather sound investment.
Research has shown that easy access to amenities can actually increase your home's value. According to a recent study, being within 1,500 feet of natural areas – common in 55+ communities – can increase a home's value by an average of $10,648 than comparable properties farther away. As for golfing, the perpetual retirement favorite, being near a course will raise your property's value by $8,849.