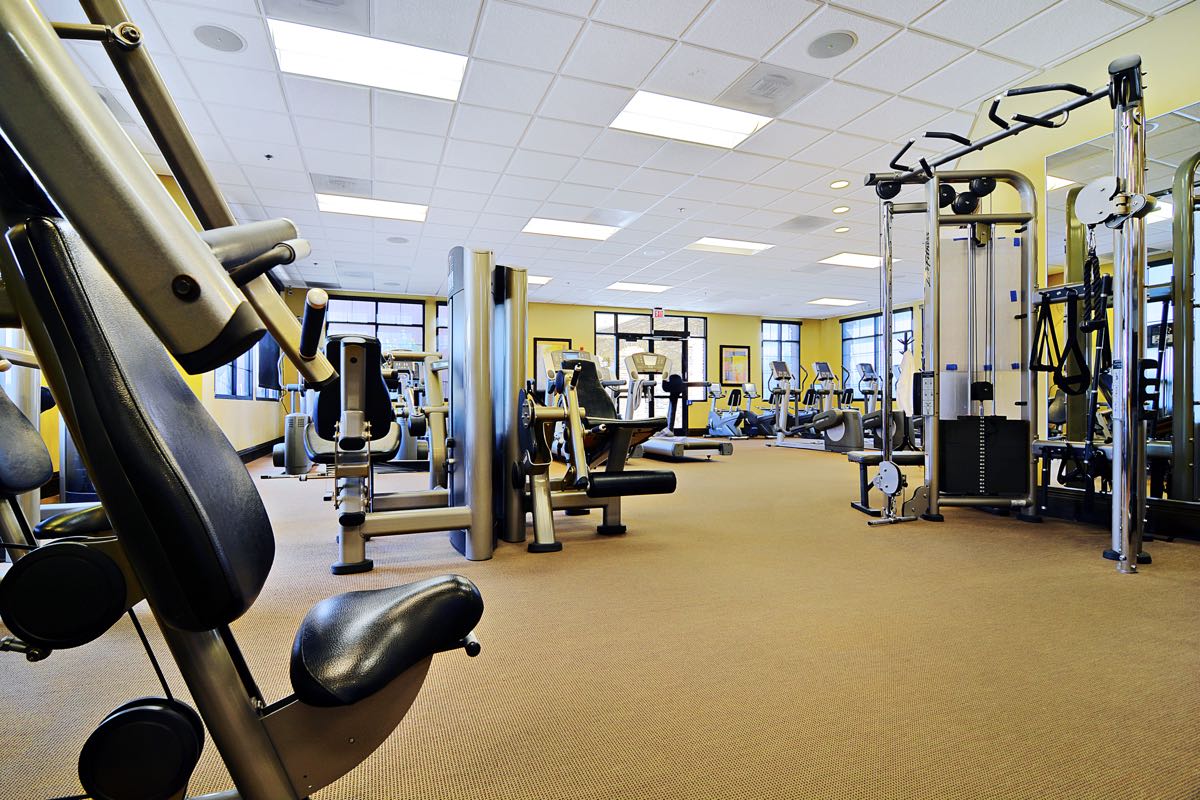 Boomers who are devoted to their health and fitness will want to maintain their routine throughout retirement. That's why so many active adult communities are designed to support an active lifestyle. Some of the best active adult developments provide extravagant clubhouses that feature state-of-the-art fitness centers, indoor and outdoor pools, aerobics and dance studios, and multiple sports courts so residents can remain physically fit without having to travel far from their home.
In addition to the superb facilities found inside the clubhouse, residents can also take their fitness regimen outdoors by utilizing walking and biking trails, scenic lakes, and parks and natural spaces. The best part about living in these vibrant and lively environments is that they cater to health enthusiasts at every level, from novices to fitness gurus. So if you want to lift weights, play tennis, do yoga, or swim a few laps, the options for staying fit are endless when you live in one of these active adult neighborhoods. Check out our list of the eight best communities for fitness fans.
Premier builder Del Webb is known for offering luxurious home designs as well as lavish amenities in all of their active adult communities and Sun City Peachtree in Griffin, GA is no different. This age-restricted community appeals to all fitness fanatics because of the beautiful Club Peachtree. This 45,000 square-foot facility provides a state-of-the-art fitness center, indoor pool and spa, indoor walking track, aerobics and dance studio, and locker rooms.
Residents enjoy the outdoors while staying fit by swimming some laps in the outdoor pool or playing a competitive game of pickleball, basketball, volleyball, tennis, or softball. If they want to take it easy but remain active, they can also play a casual game of bocce or take a leisurely stroll along the neighborhood's trails. And with more than a dozen clubs, classes, and activities like yoga, Zumba, water aerobics, walking group, ballroom dancing, and cardio mix, residents can switch up their workout routine any day of the week.
Anthem Ranch is an age-restricted community in Broomfield, CO, and is situated between Boulder and Denver. Active adults love the numerous options for physical activity and outdoor recreation found in Anthem Ranch's clubhouse. The Aspen Lodge is a 30,000 square-foot clubhouse that has plenty of areas where residents can stay fit indoors and outdoors.
The state-of-the-art fitness center has all the cardio and strength-training equipment residents could want or need. Homeowners take advantage of the aerobics and dance studio to get their body moving by taking a Zumba or yoga class. The indoor walking track or indoor lap pool and spa are great for adding more variety to an exercise routine. A therapy room is available onsite to help residents relax and ease their muscles after an invigorating workout.
Outdoors, residents also have more options to stay healthy including swimming in the resort-style pool, playing tennis, pickleball, shuffleboard, or horseshoes, and trekking along the 48 miles of walking and biking trails throughout the neighborhood.
This luxurious active lifestyle community in Central California has an award-winning clubhouse with all of the amenities needed to lead a healthy and exciting lifestyle. Residents have access to the Monarch Club, which is a 31,000 square-foot amenity complex that features a state-of-the-art fitness center, aerobics and dance studio, spa, outdoor pool, four tennis courts, bocce ball court, and plenty of park space. Homeowners never have a dull moment in this thriving environment where activities and classes like tai chi, yoga, Zumba, Pilates, hiking group, and circuit training are offered throughout the week.
Developed by Robson Communities, PebbleCreek in Goodyear, Arizona provides the ultimate in active adult living. This 40+ community has a 40,000 square-foot Eagle's Nest Country Club as well as the Tuscany Sports & Aquatic Complex, which are the central hub of physical activity and social recreation. Retirees maintain a healthy exercise regimen thanks to a state-of-the-art fitness center, indoor and outdoor pools, aerobics and dance studio, multiple sports courts, and miles of walking and biking trails. PebbleCreek also brings together like-minded adults who have a passion for health and fitness by offering popular groups and activities like dance and tap classes, hiking club, senior softball league, and line dancing.
This 667-acre 55+ community in Las Vegas, Nevada, provides residents with a rich lineup of amenities so they can stay active and social. The centerpiece of active living in Siena is the 16,000 square-foot Siena Health & Fitness Center. Here, homeowners have everything they could want or need for their workout needs. It has an indoor lap pool and spa, state-of-the-art fitness center, aerobics and dance studio, as well as a sauna and steam room, massage room, full-service spa, and locker rooms. Outdoors, residents can workout in the pool or challenge neighbors to a game on the tennis, pickleball, or bocce ball courts. And if that's not enough, golfers can visit the 18-hole Siena Golf Course or the 39,000 square-foot Community Center where residents can dance in the grand ballroom.
Retirees with a passion for fitness-related activities and programs flock to Trilogy Orlando in Groveland, Florida. This active adult community provides more than a dozen clubs, groups, and classes that cater to health-oriented adults such as a daily walking club, aqua fit, aqua Zumba, bike club, morning exercisers, women's circuit training class, Wii bowling, and boot camp. Residents have no problems maintaining their fitness levels thanks to the luxurious Magnolia House. This 57,000 square-foot clubhouse features an athletic club, indoor lap pool, aerobics and dance studio, locker rooms, grand ballroom, outdoor lap and resort-style pool, and multiple sports courts. The neighborhood also has plenty of walking and biking trails that can add more cardio to workouts along with some fresh air and sunshine.
Canal Walk is an active and social age-restricted development in Somerset, New Jersey. A 32,000 square-foot clubhouse provides all of the amenities residents need to have an active and healthy lifestyle. The spacious state-of-the-art fitness center has all of the space and equipment required for an invigorating workout. The saunas and steam rooms are perfect for relaxing after an intense Zumba, fit ball, or Pilates class. The indoor pool is ideal for swimming laps or joining an aquacise or water aerobics class.
Residents who like to sweat and burn calories outdoors can go for a swim in the outdoor pool or play a game on the tennis or bocce ball courts. And if you're a runner, jogger, or just a walker, the meandering walking and biking trails can also help you reach new fitness goals at your own pace.
Sun City Texas by Del Webb is a beautiful 55+ community in Central Texas that attracts health-focused retirees from across the country because of its world-class amenities. The Village Center Amenity Complex and Cowan Creek Amenity Center provide an active and healthy environment for residents to establish a new fitness regimen or enhance their physical activity. These clubhouses offer state-of-the-art fitness centers, indoor lap pools, multiple outdoor pools, aerobics and dance studios, indoor walking tracks, numerous sports courts and fields, and plenty of walking and biking trails. Fitness fans love the community's calendar of activities and classes, which include aqua fit, country line dancing, cyclists, low-impact workout, shape and tone club, Zumba, and slim down workouts. With many options to choose from, it's no wonder why Sun City Texas is a hit with the active adult crowd.