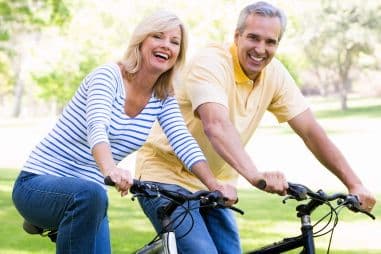 The Difference Between the Two
When some people first hear the term "active adult community," they imagine some common misconceptions. Active adult communities are often confused with elderly care or senior living when in reality they are more like country clubs or living at a resort.
Although active adult communities are geared toward older residents, and often have a specific age-restriction, they are very different from retirement homes. Active adult communities promote an active social life, but they are not a collection of group homes. They may be close to excellent medical facilities, but they do not offer assisted living.
In many ways, active adult communities are like any other master planned community. They offer varied housing options including condos, attached villas or townhomes, and single-family homes. They have community amenities like swimming pools, recreation centers, tennis courts, and golf courses. Their biggest difference is that residents may be restricted to child-free households which have at least one resident who is over the age of 55, or whatever the community's own age restriction may be.
Retirement Homes
In contrast, retirement homes are designed for elderly or disabled residents who can no longer live independently. Retirement homes or retirement communities provide some level of care, or various levels of care to accommodate different residents. They are likely to have a group dining hall or meal plan, and on-site medical staff.
They may be called retirement communities, senior living communities, continuing care facilities, assisted living facilities, or a number of other euphemisms for a retirement home, but they are not active adult communities. Some people consider active adult communities to be a step between general, open-age communities and a retirement home, but that is not entirely accurate. Homebuyers who choose to live in an active adult community may stay there until they one day move to a retirement home — but those years could easily span decades.
The residents who choose to live within active adult communities have moved beyond raising their own children and are simply interested in living among other adults who are in the same phase of life. Today, more than ever, adults in their fifties, sixties, and seventies enjoy an active lifestyle, whether they are retired or still working full or part-time jobs.
Active adult communities come in many different sizes and styles. The smallest may be neighborhoods with less than 100 homes, yet sprawling developments could include well over 10,000 residences. The largest active adult communities include Country Club or resort-style living with golf courses, sports courts, state-of-the-art fitness centers, swimming pools, art studios, bike trails, and much more.
Because active adult community residents are either childless or have already raised their families, they have more time to pursue their own interests. That might include joining a variety of social clubs, becoming involved within the community's governance or taking classes at a local learning center. If you have mistakenly assumed that active adult communities were synonymous with retirement homes, you aren't alone. But now that you know the difference, it might be a great time to check out the exciting amenities available at many active adult communities throughout the country.