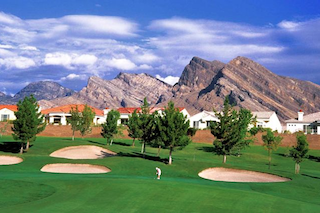 For active adults, Nevada is a popular retirement destination. The Silver State has a dry climate with plenty of sunshine, affordable housing, and a low tax burden. Yet choosing where to live in Nevada is a bit more challenging. Should you bet the house on the bustle of Las Vegas or the cool calm of Reno?
Both Reno and Las Vegas are tourist spots where you can gamble at casinos and enjoy the thriving nightlife. Yet, for most people, their differences far outweigh their similarities. Reno has more of a small town feel, while Las Vegas is a city that never sleeps. They have different climates and different attractions.
Climate
Reno, known as "The Biggest Little City in the World," is located in the northwestern part of Nevada. It is about 15 minutes from the California border, less than an hour from Lake Tahoe and about seven hours northwest of Las Vegas. Reno is just east of the Sierra Nevada at an elevation of 4,400 feet above sea level.
The area has a steppe climate, with hot summers and cold winters. During the peak of summer, average daytime highs are in the low 90s, though temperatures can climb over 100 degrees. Winter days typically range in the mid-40s, with occasional snowfall.
Set in the Mojave Desert, Las Vegas has a subtropical desert climate which is much hotter than the Reno area. Summer days average in the high 90s or low 100s, with a record high of 117 degrees. Winters are cooler, with days typically in the high-50s, although snowfall is rare. Las Vegas sits in a basin surrounded by mountains on each side. The city is in the southern portion of the state, near the Arizona and California borders. It is about four hours from both the Grand Canyon, in Arizona, and the California coast in Los Angeles.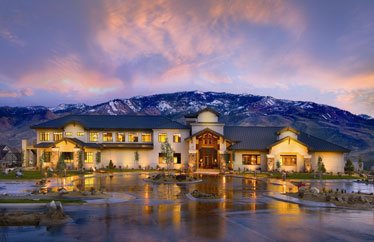 Sierra Canyon in Reno is a premier 55+ community offering world-class amenities and finely crafted homes.
Attractions
Beyond casinos and nightlife, each area has its own local attractions. In the Las Vegas area, residents can shop along the Las Vegas Strip, at The Boulevard Mall or at The Galleria Mall in nearby Henderson. The area is dotted with challenging golf courses and the Lake Mead Recreation Area is only an hour away. Reno also features several golf courses, as well as nearby ski resorts, shopping malls, and restaurants. Both areas have quality healthcare facilities and nearby airports.
Visiting vacationers and relocating retirees alike often find that Reno is a more affordable option than Las Vegas. Retirees who relocate to the Las Vegas area frequently choose communities set a little outside the excitement of the Las Vegas Strip.
Popular nearby destinations include Henderson and North Las Vegas. However, there are also several popular active adult communities with a Las Vegas address. Reno is home to many affordable neighborhoods, as well as Del Webb's impressive Sierra Canyon community.
When considering a move to Nevada, spend some time visiting both Las Vegas and Reno. Each area offers its own appealing attractions and an overall environment that will appeal to different active adult retirees.