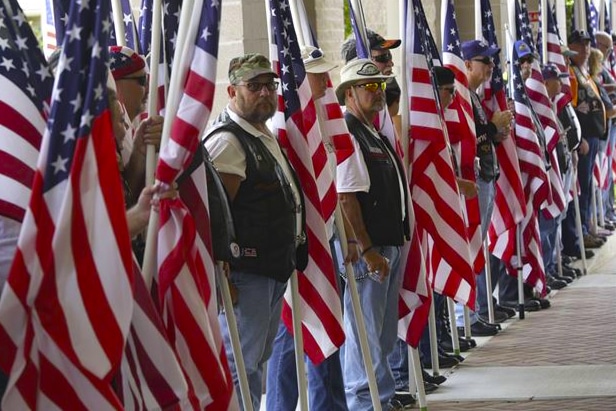 One of the major appeals about active adult communities is the exciting lifestyle and numerous clubs and activities available that cater to many interests. One of those popular special interest groups are veterans clubs. Many 55+ communities have veterans clubs, which bring retired military personnel together to support and engage with others who share a similar background within a fun and friendly setting.
Some communities also offer a variety of veterans clubs that can accommodate spouses as well as general groups that are open to all residents who want to learn more about military history. In honor of Memorial Day, we've gathered some of the active adult communities that feature veterans clubs for their residents to enjoy. Check them out below!
This 55+ community in Melbourne, Florida was designed to accommodate military retirees as well as a limited number of non-military retirees. Indian River Colony Club provides residents with a country club lifestyle thanks to its world-class amenities, including a beautiful 18-hole, par-72 private golf course and golf practice facilities.
When homeowners aren't spending their time socializing at the clubhouse and getting to know their neighbors who have served in different branches of the military, they can gather in more than a dozen clubs and activities, including veterans club, military history forum, and military wives' club.
Retired vets looking for a friendly setting where they can join a veterans club have plenty of options to choose from in Sun City Grand in Surprise, Arizona. This 45+ community has more than a dozen activities, clubs, classes, and events that cater to veterans. Residents of Sun City Grand can join clubs like the American Legion that hosts social hours for all veterans as well as active duty personnel.
They can become members of the Military Order of the Purple Heart, which is open to any veteran wounded in combat. They can also join the Military Order of the World Wars that hosts breakfast meetings in the nearby community of Sun Grove Resort Village in Peoria. Homeowners can also participate in the Vietnam Veterans of America club that welcomes all veterans of the Vietnam era.
Lago Vista is a beautiful active adult community situated on more than 350 acres in southwest suburban Lockport, Illinois. Residents enjoy a vibrant and socially engaging lifestyle thanks to the community's 21,000 square-foot Club Lago.
This scenic clubhouse overlooks the lakes and ponds of the community and features plenty of social spaces where clubs and special interest groups can meet. Retirees with a military background can join the veterans club or veterans breakfast where they can mingle with other retired military personnel and share stories of their time serving their country.
Socializing with fellow veterans is easy at Casta del Sol in Mission Viejo, California. This age-restricted community offers more than a dozen clubs, activities, and special groups that cater to many lifestyles and interests. Retirees can join the military veterans club where they can get to know neighbors who have similar military backgrounds.
Residents can also hang out at the various social spaces provided at Casta del Sol's two clubhouses. Each clubhouse has its own recreation center, meeting rooms, catering kitchen, and recreational facilities that are sure to provide plenty of active and social engagement for all residents to enjoy.
Leisure Knoll in Ocean County is an established 55+ community in Southern New Jersey. This 1,626-home community features a great lineup of amenities and activities that cater to a wide selection of interests. Among the many clubs and events held at Leisure Knoll is the a veterans club. Homeowners can meet new people and build lifelong friendships while sharing similar interests.
Del Webb's Sun City Roseville in Northern California is brimming with quality-built homes, resort-style amenities, and a vibrant social environment. Residents can participate in a long list of activities and events that accommodate a variety of interests. Residents can join the veterans club to mingle with other retirees who share a similar background. In addition to participating in fun clubs, homeowners can also attend seminars, lectures, or go on day trips with fellow retired vets.