Retirees are moving to the Tucson area for many reasons. Arizona has long been a popular place to retire, and it was the home of the first purpose-built 55+ community in the U.S. Tucson is the state's second-biggest city after Phoenix. Many prefer its more manageable size, with a population of about a million in the greater metro area compared to almost five million in Phoenix.
The 350 days of sunshine each year make Tucson attractive to people with an active outdoor lifestyle, whether that be golf, tennis, pickleball, or hiking in the dramatic desert scenery. However, there are both pros and cons when moving to Tucson, and it's important to take those into account.
Retiring in Tucson Pros and Cons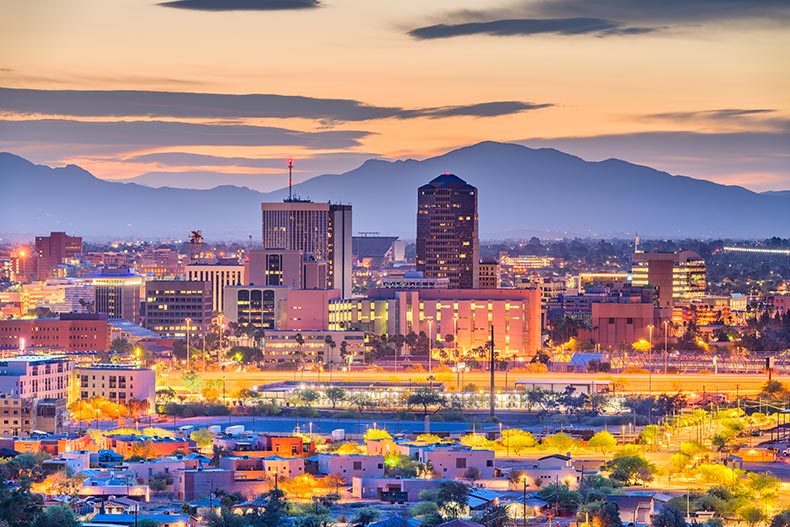 The Climate – Tucson has all those sunny days, and it's also at a higher elevation than Phoenix, making it appealingly cooler in summer.
The Great Outdoors – Tucson is surrounded by mountains and desert, creating endless opportunities for hiking, biking, or horseriding in that hard-to-beat climate.
The Culture – Tucson is only an hour's drive from the Mexican border, and Hispanic culture is a big part of the city's mix, alongside Native American and Old West influences. It was also the first U.S. city to be named by UNESCO as a world-leading City of Gastronomy.
The Climate – The climate has its downside too. During the scorching hot summers, you'll need to get your outdoor chores done early and then ramp up the AC.
The Critters – Snakes and scorpions have no respect for gated communities. Even in the city, you need to keep a watchful eye (and ear) out for these sometimes deadly neighbors.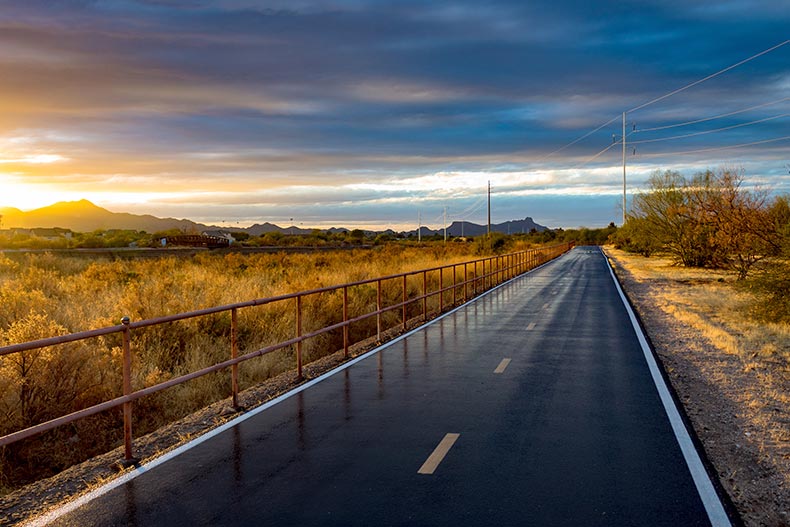 Tucson is at an elevation of almost 2,400 feet, so it's slightly cooler than Phoenix, which is just over 1,000 feet. In June and July (the hottest months), the average temperature in Tucson is 86-88 degrees, while in December/January it averages about 53 degrees.
Tucson definitely has four seasons, although the differences aren't as noticeable as in many other parts of the country. From May to September, there can be days of well over 100 degrees. July-September/October brings the monsoon season. Rainfall averages 1-2″ per month, but it comes in short tropical-style downpours. Winter will bring a few sub-zero nights, but temperatures warm up during the day.
Those 350 sunny days make Tucson one of the sunniest cities in the U.S. This means outdoor pursuits such as golf, pickleball, tennis, swimming, hiking, biking, and horseback riding can be enjoyed throughout the year.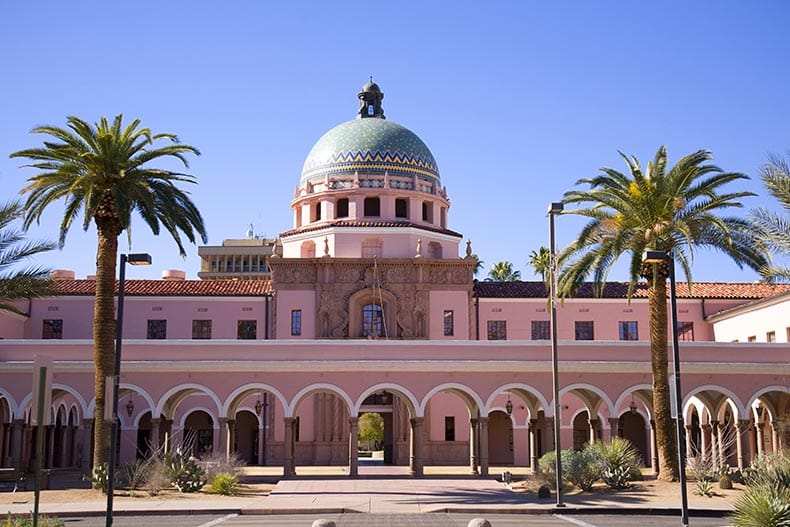 There are several tax districts within the Tucson city boundaries, and there can be considerable difference in taxes paid. The average tax rate is 8.7%, made up of 5.6% Arizona state sales tax, 2.6% Tucson sales tax, and 0.5% Pima County sales tax (by far the largest county). However, if you live in South Tucson, the total jumps to 11.1%, with most other areas being around that 8.7% figure.
The average property tax in Arizona is 0.66%, which is lower than the average U.S. property tax of about 1.1%. Tucson is in Pima County, and here, the property tax is 0.81%.
Tucson Retirement Income Taxes
Social Security retirement benefits are not taxed in Tucson (or in Arizona generally) unless they come from an out-of-state government pension. Other forms of retirement income are taxed, although tax rates are lower than in other popular retirement states. There are also tax benefits for retired military personnel.
Tucson Tax Exemptions for Seniors
The state of Arizona does offer some tax benefits for seniors, if you're thinking of moving to Tucson to retire. There is no inheritance tax, making it attractive to people with families. Also, there's no tax on Social Security retirement benefits provided they don't come from out-of-state. It's therefore vital you move to Tucson before claiming any such benefits.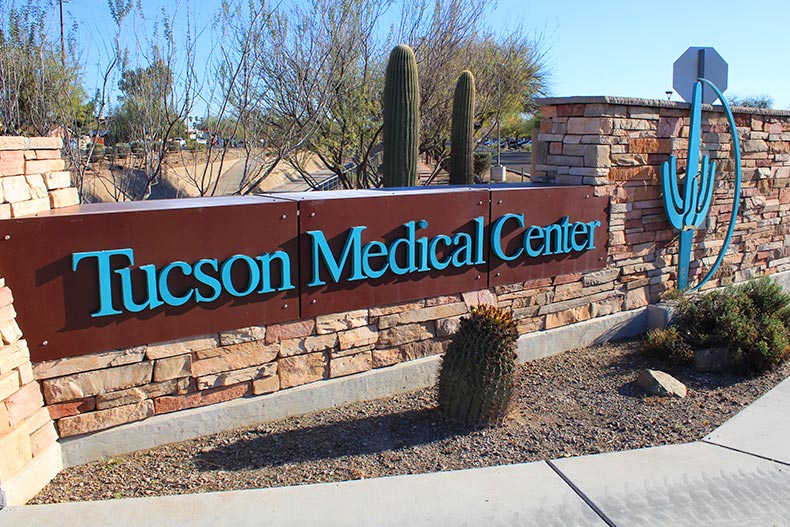 Due to the fact that the city does attract large numbers of retirees, Tucson supports excellent medical facilities. Some health care support companies are among the city's biggest employers. Among the best-ranked nationwide are TMC Healthcare, the Northwest Medical Center, and two Banner-University Medical Centers.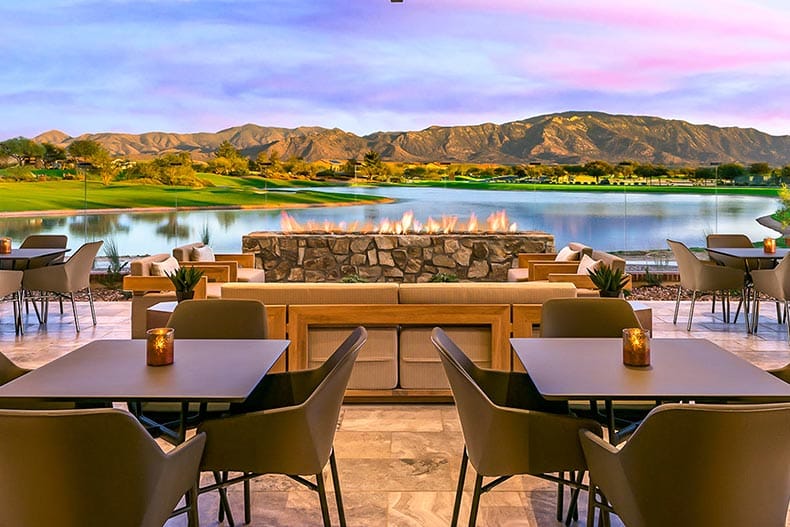 Tucson is a comparatively small city, so most of its recognizable neighborhoods tend to be small too and not really relevant if you're looking at moving to a Tucson active adult community. Here, the question to ask is whether you want to live in the city, north of the city, or south of the city.
To the north of the city, check out the towns of Marana, Oro Valley, and Oracle. With the city to the south, mountains to the east, and a great deal of open land to the north, all three offer lots of variety but without the bustle and traffic of the city.
These towns offer stores, banks, and other necessities for day-to-day living while still being close to the city as well as the varying Arizona desert and mountain scenery.
At 9,159 feet, Mount Lemmon is the highest peak in the Santa Catalina Mountains (to the south and east of both Oracle and Oro Valley). Marana is closer to Interstate-10 (I-10), and it's only a 90-minute drive from Phoenix and its international airport.
Recommended 55+ Communities in the Area
Saddlebrooke Ranch is an active adult gated community with a 40+ age restriction. It's a 15-minute drive from the center of Oracle and 40 minutes from Downtown Tucson. This Robson Community comprises 1,500 single-family homes.
The community has many amenities, including the 18-hole championship Saddlebrooke Ranch Golf Club with its pro shop and driving range. Sports lovers also have the use of 24 pickleball courts and tennis courts. Other facilities include a fitness center, a billiards room, a ballroom, an indoor lap pool, and several dining options. There's also a Creative Arts and Technology Center which has studios for many arts and crafts plus a computer lab.
If you're moving to Tucson because you want to live an active life, Saddlebrooke Ranch has numerous clubs and activities available including basket weaving, a bicycling group, a dining out club, fitness classes, and clubs for various arts, crafts, and sports.
Models start at 1,404 square feet with two bedrooms, two bathrooms, and a two-car garage. Beyond that, there are many different models, the largest being 2,615 square feet with four bedrooms, two-and-a-half to three-and-a-half bathrooms, and a two-and-a-half-car garage.
Sun City Oro Valley is in Oro Valley, a 12-minute drive due north of the center of town with its many facilities. It's a Del Webb 55+ active adult community comprised of 2,488 attached and single-family homes. Downtown Tucson is a 30-minute drive due south.
Amenities here include an 18-hole golf course with a driving range and its own cafe. There are also horseshoe pits, a basketball court, eight tennis courts, two outdoor pools, a mini golf course, and courts for bocce and racquetball. Indoor facilities include a billiards room, art studio, photography studio, dance studio, auditorium, lounge and coffee room, and a library. In addition, the Artisan Center provides studios for stained glass, sewing, woodworking, lapidary, silversmithing, and ceramics.
Residents can enjoy many lifestyle activities, from astronomy to wood carving, by way of dancing groups, arts and crafts groups, card and board games, hiking, sports groups, gardening, a singles club, and even a rock 'n' roll club.
Models start at 1,035 square feet, and these have two bedrooms, two bathrooms, and a two-car garage. The largest models have 2,665 square feet with three bedrooms, a den, three bathrooms, and a three-and-a-half-car garage.
There are fewer communities south of Tucson, but the area appeals to people who want to be closer to the airport or who will be driving east along I-10 heading towards Texas and beyond.
The active adult communities here are smaller and appeal more to people who are happy to do their own thing but enjoy some of the community spirit and facilities as well. The communities here are closer than the Norther Tucson communities to attractions like the Saguaro National Park East, the Rincon Mountain Wilderness, the Colossal Cave Mountain Park, and the old west town of Tombstone.
Recommended 55+ Communities in the Area
Del Webb at Rancho del Lago is a 55+ gated lifestyle community for the active adult in Vail. It's a 20-minute drive from the center of Vail and a 35-minute drive southeast of Downtown Tucson. It's comprised of 585 single-family homes.
Amenities here include an 18-hole golf course, an 18-hole putting green, two outdoor pools, and courts for pickleball, tennis, bocce, and racquetball. Indoor facilities include a fitness center, a ballroom, a library, billiards, and an aerobics and dance studio.
Residents enjoy an active lifestyle with clubs and classes for such things as cooking, dancing, exercise, gardening, hiking, movie nights, and yoga.
Models start at 1,212 square feet with two bedrooms, two bathrooms, and a two-car garage. The largest models offer 2,571 square feet with three bedrooms, a den, two-and-a-half bathrooms, and a two-car garage.
Altura is a gated 55+ lifestyle community with 240 attached and single-family homes. It's in the attractive Rincon Valley, a 35-minute drive southeast of Downtown Tucson.
Amenities include a clubhouse, a fitness center, a restaurant, an outdoor pool, hiking trails, and a lighted tennis court. Lifestyle activities include several language groups, art classes, Monday movie nights, yoga, and weekly lectures.
Models start at 934 square feet with one bedroom, one bathroom, and a one-car garage. The largest homes are 2,675 square feet with three bedrooms, two-and-a-half bathrooms, and a two-car garage.
The closest communities to Tucson's downtown are as little as a ten-minute drive away. Downtown Tucson has museums, theaters, cinemas, historic buildings, and a wide range of bars and restaurants.
People who choose to retire in Tucson and live in the city appreciate the fact that it's also easy to get out into nature. Tucson hasn't turned into a mass of urban sprawl, like many cities.
As well as the attractions of downtown, Tucson also has two national parks within its boundaries: Saguaro National Parks East and West. Other outdoor attractions include the Arizona-Sonora Desert Museum and hikes in the Santa Catalina Mountains.
Casitas de Castilian is a lifestyle community with a 55+ age restriction and made up of 116 attached homes. It's a 10-minute drive due north of Downtown Tucson and with facilities for day-to-day needs right on the doorstep. Amenities include a clubhouse, two outdoor pools, and a tennis court. Residents join in various activities such as holiday parties, potlucks, a book club, and regular get-togethers for breakfast, lunch, and dinner.