Recreational vehicle (RV) owners understand that getting to their destinations is half the fun, and it can also be less expensive than air travel. Although RV travel is now becoming more popular with millennials, many active adults have enjoyed this lifestyle for years.
One of the main benefits of RV travel is being able to really connect with your surroundings. Pulling over to snap some pictures or grab a snack whenever you feel like it is not an option on planes, trains, or bus tours, and the panoramic views from the front seat can be breathtaking. Overnight accommodations at state parks and designated RV "resorts" often average around $30 to $50, which is much less than a budget hotel.
If you own an RV or are thinking about buying one, it's essential to have somewhere to keep it parked, especially since many 55+ RV owners only use their vehicles during certain seasons. Active adult home seekers who own RVs will do themselves a great favor by searching for communities with accommodating parking facilities.
Here are four communities in New Jersey that offer RV storage and parking.
Low $300s – High $400s
Also reasonably priced, Four Seasons at Lakewood is a gated community built from 1994 to 1999 by developer K. Hovnanian. It has 1,319 attached and single-family resale homes in desirable Ocean County. Within the neighborhood, there are 308 homes, including condos and villas. Floor plans range from 1,176 to 2,134 square feet with one to three bedrooms, two bathrooms, and attached one- or two-car garages. Upgrades may include dens, patios, breakfast nooks, decks, and more, depending on the model.
Aside from a large RV parking lot, the long list of amenities includes an indoor pool and sauna, a fitness center, activity rooms, a theater, and a ballroom. Outside, there's a well-maintained outdoor pool and patio, a 9-hole golf course, tennis, bocce, shuffleboard, and scenic nature trails. RV travel is easy for homeowners since the Garden State Parkway is just minutes away.
Request more information about Four Seasons at Lakewood.
Mid $200s – Mid $400s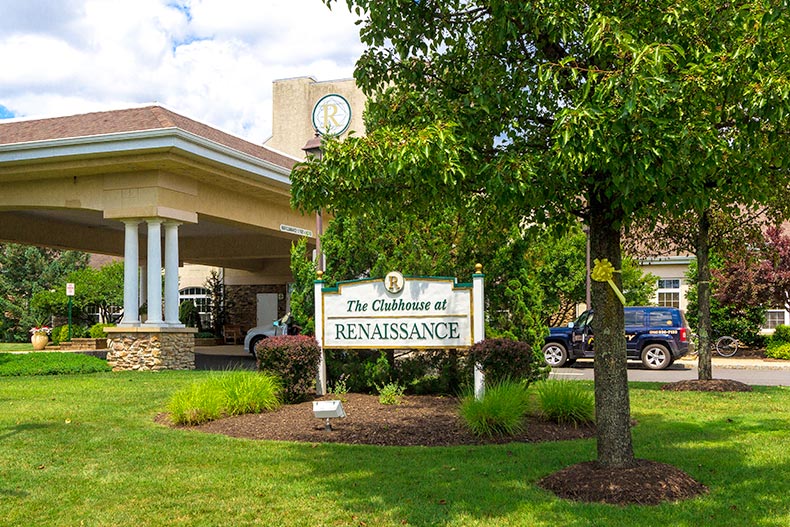 Also located in Ocean County, Renaissance at Manchester is a gated 55+ community built between 1997 and 2007 by Carlton Homes and Centex Homes. The property has 1,904 single-family homes in 11 models. These range from 1,522 to 2,256 square feet with one or two bedrooms, two bathrooms, and two-car garages. Upgrades may include expansive master suites, dens, and patios.
Renaissance at Manchester's 30,000-square-foot clubhouse has a modern fitness center, an indoor pool, saunas, activity rooms, and a cafe. Outdoors, there is an 18-hole golf course, shuffleboard, pickleball, bocce, tennis, a children's playground, and, of course, RV parking. Nearby campgrounds like Cedar Creek in Toms River are very welcoming to RV owners and their families, and major highways including the Garden State Parkway, Route 70, and Route 9 are also a short drive away.
Request more information about Renaissance at Manchester.
High $200s – Mid $300s
As one of North Jersey's only RV-friendly active adult communities, Brookfield Estates is also quite affordable for Warren County. This gated community holds 274 single-family resale homes built from 1999 to 2002. These mid-sized residences range from 1,281 to 1,920 square feet with two or three bedrooms, two or three bathrooms, and attached two-car garages. Some of the homes feature hardwood floors, three-season rooms, and side-load garages.
A private clubhouse includes activity rooms, a catering kitchen, a ballroom, an exercise room, a sauna, an outdoor pool, tennis, horseshoes, and a putting green. Brookfield has parking accommodations for both RVs and boats. Belvidere butts up to the Delaware River, so crossing over into Pennsylvania is easy via the Riverton-Belvidere Bridge, which goes into Riverton, PA. The closest major highway to Brookfield is Route 46, but Routes 31 and 202 are also in the area.
Request more information about Brookfield Estates.
Below $100k – Mid $400s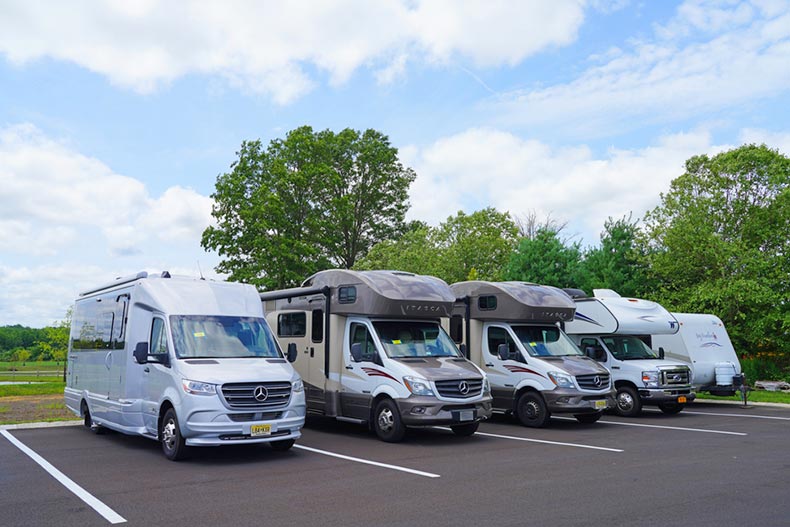 As one of New Jersey's largest active adult communities, Rossmoor Village consists of 2,303 condo, attached, and single-family resale homes in a wide range of price points. Built from 1965 to 1991, this gated community has plenty of choices for home styles, recreation, and amenities. There are over 40 condo floor plans, ranging from 590 up to over 2,529 square feet, with one or two bedrooms, one to two-and-a-half bathrooms, and garages or carport parking. Homeowners' association (HOA) fees vary and cover lawn care, snow and trash removal, plus basic cable, water, and sewer costs.
Rossmoor's clubhouse has a fitness center, an aerobics studio, activity and craft rooms, an outdoor pool, tennis courts, RV parking, and its very own championship 18-hole golf course. RV owners will appreciate the fact that this community is just two minutes away from Exit 8A of the New Jersey Turnpike, which provides access to all of the region's main thoroughfares.