10 minute read
Are you ready to hit the road when you retire? See national parks that feel worlds apart. Visit spots that mark monumental moments in our nation's history. Eat at restaurants you have always dreamed of having reservations. The RV life allows you to travel across the country and experience it in all of its diverse beauty.
Renting or owning an RV gives you the freedom to explore the country and live a low-maintenance lifestyle in retirement. But you do need to do some planning for your trips. Where will you park your RV in between your journeys?
These 55+ communities in New Jersey come with RV parking, offering you a good home base while you plan your next road trip adventure.
High $100ks – Mid $300ks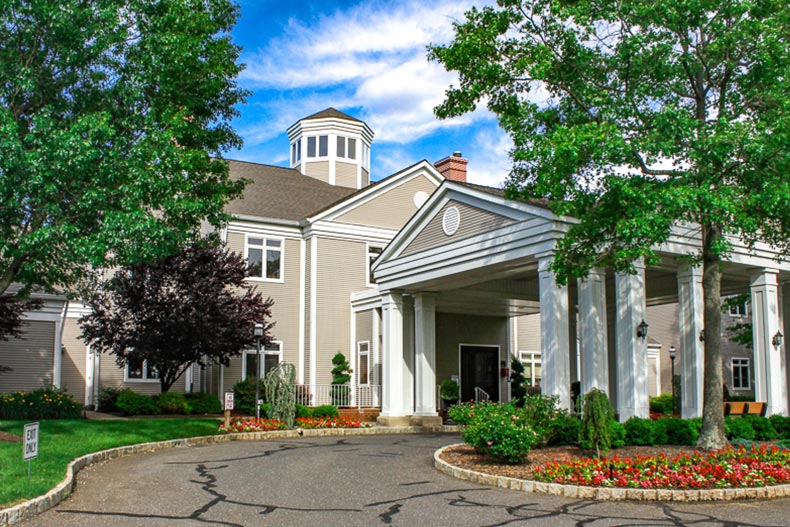 Whittingham is an affordable 55+ community with approximately 400 homes in varying styles. Its Monroe location puts residents within easy reach of many nearby cities. You'll be about an hour from New York City and Pennsylvania and just half an hour from Atlantic City.
Homes and Amenities
Whittingham has condos, townhomes, and single-family homes. The condos offer 1,200 to 1,400 square feet, and the single-family homes offer 1,140 to 1,280 square feet. The community's townhomes are the roomiest option with floor plans ranging from 1,680 to 1,930 square feet.
When you're parked at Whittingham, you can take advantage of the community's plentiful amenities. The community has a 30,000-square-foot clubhouse with a library, billiards room, exercise room, and restaurant. You can also indulge in a little resort luxury right at home with the community's indoor pool, spa, and sauna. When warm weather arrives, you can enjoy all of the outdoor activities the community has to offer. Hit the links on a nine-hole golf course. Practice your backhand on the tennis courts. Take a dip in the outdoor swimming pool.
RV Parking Rules
The Whittingham Homeowners Association has specific rules about RV parking. Community residents can park their RVs, but they'll need to secure a long-term parking permit. You'll need to supply proof of insurance and registration. Your designated parking space will cost $50 per month, and you'll need to apply annually.
Mid $300ks – Low $500ks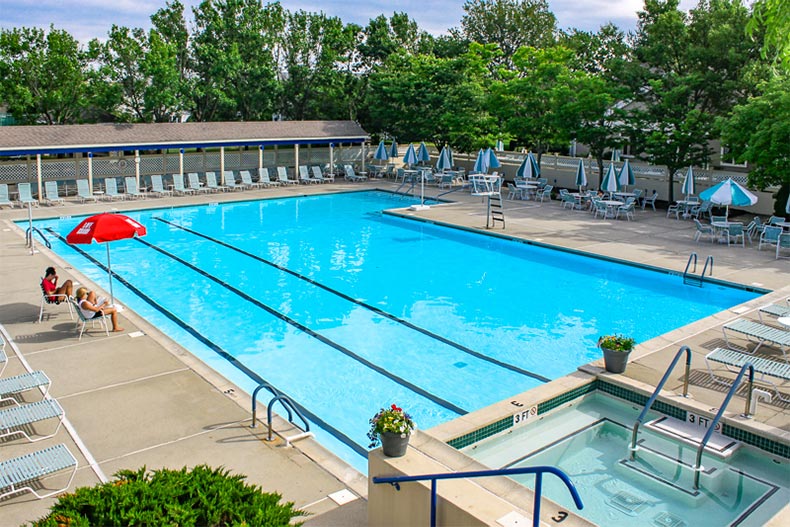 Greenbriar at Whittingham is adjacent to the Whittingham community. These two sister communities share many of the same amenities, including the clubhouse. But two separate homeowners associations oversee each respective community.
Homes and Amenities
Greenbriar is the larger of the two communities with more than 1,000 attached and single-family homes. The homes in this 55+ community were built between 1995 and 2001. Greenbriar's attached duplexes come in various models starting at 1,672 square feet and going up to 2,540 square feet. The single-family homes offer 1,751 to 2,639 square feet.
When you're enjoying your time at Greenbriar, you'll have your choice of activities. Join one of the clubs offered by the community. Take up an exercise routine in the fitness center, or find a tennis partner and take advantage of the community courts. You can also enjoy a swim in the indoor or outdoor pool. Greenbriar also has game rooms, arts and crafts rooms, and trailers for walking and biking.
RV Parking Rules
Greenbriar at Whittingham's community association requires any commercial vehicles, including campers and mobile homes, to be parked in specifically designated areas.
Mid $200ks – Mid $400ks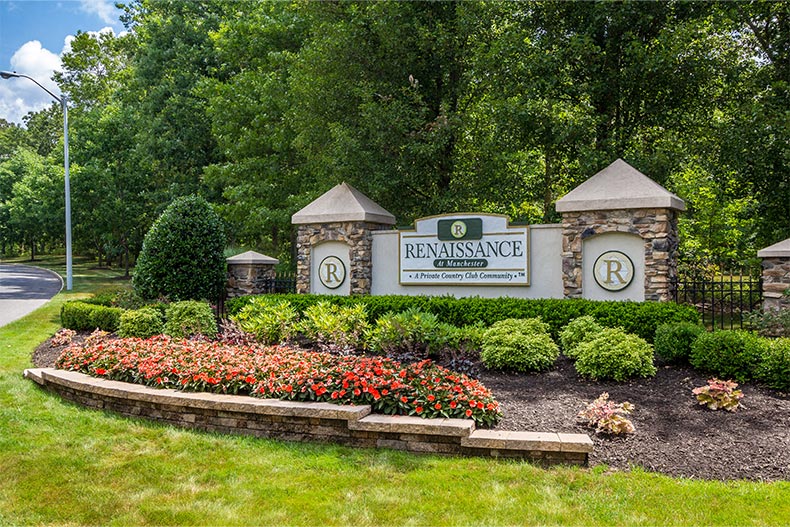 If you're looking for RV storage in New Jersey, Renaissance at Manchester is a strong contender for your home base. This 55+ community is located in Ocean County, New Jersey. It offers a relatively secluded location while offering easy access to shopping, dining, and health care services. Renaissance at Manchester is located between Philadelphia and New York City, making it easy for residents to enjoy everything offered by these two major cities.
Homes and Amenities
Renaissance at Manchester is a sizable community with nearly 2,000 homes. After spending time out on the road in your RV, you might appreciate the opportunity to spread out a little in one of this community's single-family homes. The homes come in 11 different floor plans. You'll find options running from 1,522 to 2,256 square feet. Also, you'll find features like an open design, large kitchens, and elegant master suites.
The community's lifestyle director ensures that residents will never want for activities. Join your neighbors for bingo and card games. You can join a club that caters to your interests, whether that be cooking, reading, music, gardening, or woodworking. Renaissance at Manchester also has a 30,000-square-foot clubhouse with a fitness center, sauna, and pool. You can also lose yourself in the books at the clubhouse library or get out onto the dance floor in the ballroom.
If you've missed getting out on the course during your RV travels, you'll always look forward to coming home to Renaissance at Manchester. The community is home to an 18-hole golf course. If golf isn't your sport, the community also has tennis courts, basketball courts, horseshoe pits, and courts for bocce ball and shuffleboard.
RV Parking Rules
If you want to store your RV, you'll need to get in touch with the Renaissance at Manchester property management office. The community has a large area for RV parking.
Mid $100ks – Mid $300ks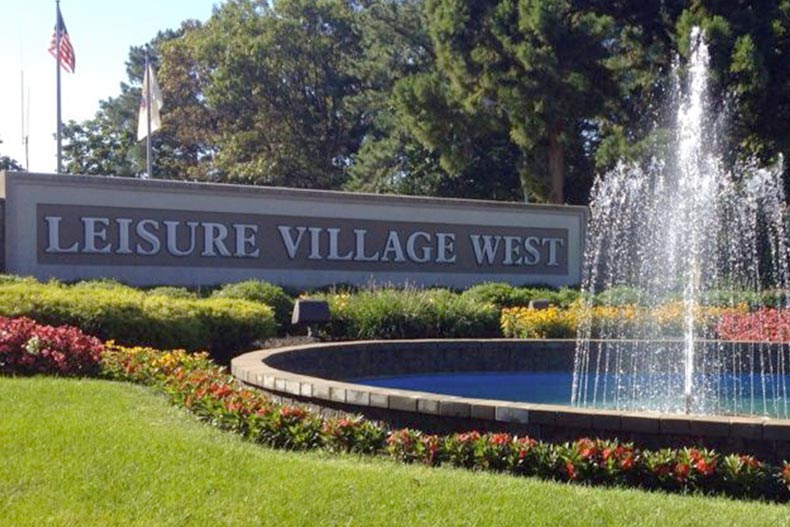 Leisure Village West is conveniently located near Baltimore, New York, and Philadelphia. If you want to spend the day in a big city, you won't have to go far. But you'll also find plenty to love about Manchester. The community puts plenty of grocery stores, shops, restaurants, and health care providers within easy reach.
Homes and Amenities
This gated 55+ community has a total of 2,692 homes, which were built between 1972 and 1993. This expansive collection of attached homes has more than 20 floor plans. If you're looking to downsize, there are cozy homes of 737 square feet. If you want more space when you aren't out on the road, you can find homes as large as 2,013 square feet.
Leisure Village West lives up to its name with plenty of amenities to enjoy across its 825 acres. The 55+ community has two nine-hole golf courses, a big draw for anyone who loves to take their clubs out for a swing. Sports enthusiasts can also take advantage of the bocce ball courts, pickleball courts, shuffleboard courts, and tennis courts. When you're done playing, you can relax in the outdoor pool and spa.
If you're looking for community engagement, Leisure Village West does not disappoint. It has more than 50 clubs. Enjoy spending time with people who share your love of a lifelong hobby or discover a new activity. The community has a chess club, a bowling league, a book club, a camera club, and more. If gardening is your passion, you'll be delighted by a climate-controlled greenhouse.
RV Parking Rules
New Jersey RV storage is easy at Leisure Village. Residents can secure an assigned parking space for their RV. If you want to snag a spot, you'll need to get in touch with the community's association office. When you're away from the community, your association fee will cover landscaping and other outdoor maintenance.
Low $300ks – Low $400ks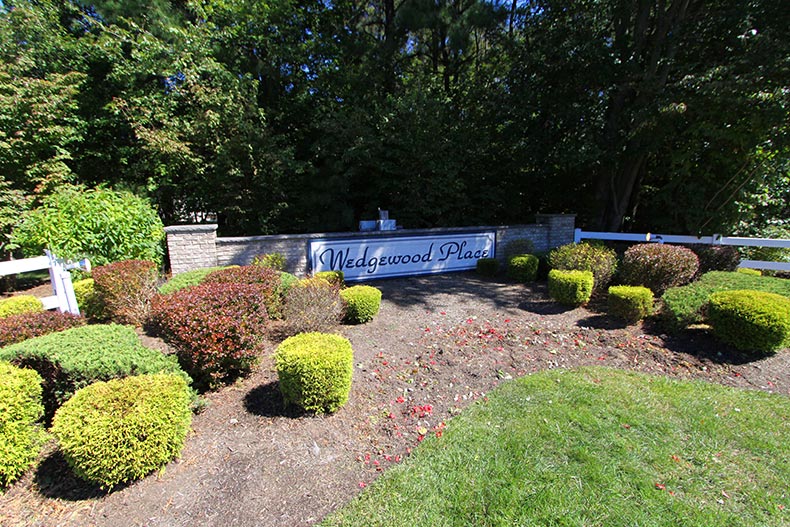 Brick Township is a historic New Jersey locale, and the small, intimate community of Wedgewood Place feels right at home here. Residents have easy access to a regional hospital, local restaurants, and plenty of shopping. Wedgewood Place isn't far from the Jersey Shore, which also means you'll have access to plenty of waterfront attractions. You can also catch a train or drive to New York City to take a bite out of the Big Apple.
Homes and Amenities
This 55+ community only has 145 homes, giving it a tight-knit neighborhood feel. The single-family homes in Wedgewood Place were built between 1999 and 2003. You'll find floor plans that start at 1,581 square feet and go up to 1,625 square feet. Each home has a driveway and an attached garage. Keep an eye out for features like spacious kitchens with granite countertops and expanded patios.
What do you look for when touring a 55+ community? Amenities are on the top of the list for many homebuyers. Wedgewood Place has a clubhouse that draws residents interested in connecting with one another and pursuing their hobbies. If you want to get to know your neighbors, join one of the many clubs active in the Wedgewood Place community. Share your RV adventures at a travel club meeting. Show off your strike at the bowling club. Get creative at art club. The community also has men's and women's groups.
RV Parking Rules
Wedgewood Place has a designated parking lot for RVs. If you want to secure a spot in this lot, you'll need to talk to the community's board of trustees. While you're out on the road, your Wedgewood Place association fees will cover lawn care, a sprinkler system, and snow removal.
Low $200ks – High $400ks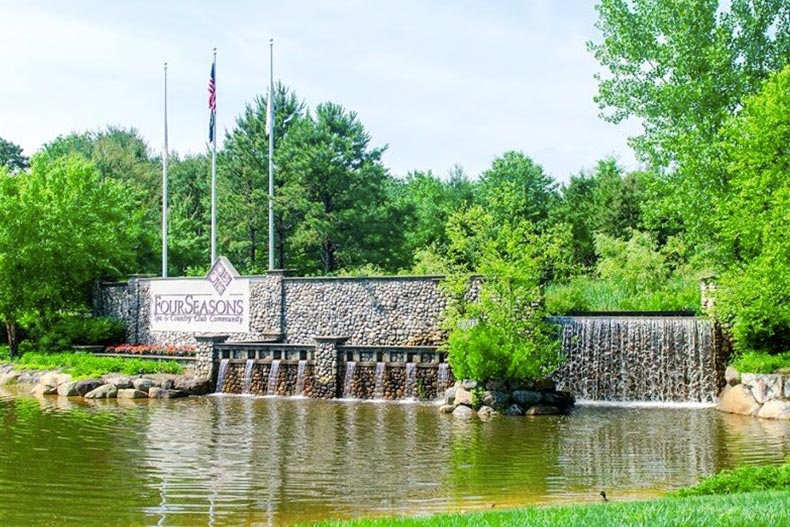 Four Seasons at Lakewood is a gated 55+ community. Its location in Lakewood gives residents convenient access to nearby cities. The Garden State Parkway is just two miles away, giving you your pick of fun weekend getaways. You can make it to Atlantic City in about an hour. Philadelphia and New York are about 90 minutes away. But you don't have to go far from home to find a plethora of shopping and dining options. You're also only 20 minutes away from the beach.
Homes and Amenities
This community has 1,319 homes. The majority of the homes are single-family style, but Four Seasons at Lakewood does have 308 attached homes. Single-family homes start at 1,306 square feet and go up to 2,134 square feet. You can choose from floor plans that have one to three bedrooms. Homes come with one- or two-car garages. The community's attached condos and villas come with floor plans of 1,176 to 1,512 square feet.
Four Seasons at Lakewood offers homeowners a relaxed, resort-style way of life. A clubhouse serves as the heart of social life and activities in the community. You can take advantage of the fitness center and indoor or outdoor swimming pool when you want to get in a workout. When you want to relax, the clubhouse has a sauna. If you like some friendly competition, you can get out on the community's courts to play tennis, shuffleboard, or bocce. You can also strike up a game in the card and billiards room.
If you aren't a sports fan, there are still plenty of social activities to explore. The full-time activities director at Four Seasons at Lakewood makes sure residents have plenty of options. You can join clubs for dancing, MahJongg, yoga, and more. The community also has organized day and weekend trips if you get the itch to do a little bit of traveling.
While there are plenty of ways for Four Seasons at Lakewood residents to stay active, you'll also have the opportunity to slow down. Spend an afternoon playing a leisurely nine holes on the community's golf course. Take a walk down along the community path and take in the beautiful scenery. Get lost in a book at the clubhouse library.
RV Parking Rules
The management office has an area designated for parking and storing recreational vehicles. If you want to grab a spot, you'll need to obtain permission and pay an annual fee.
We Can Help You With Your Home Search!
If retirement communities with RV garages are your dream, we're here to help. Contact 55places.com today, and we'll help you find the perfect community to accommodate you and your RV!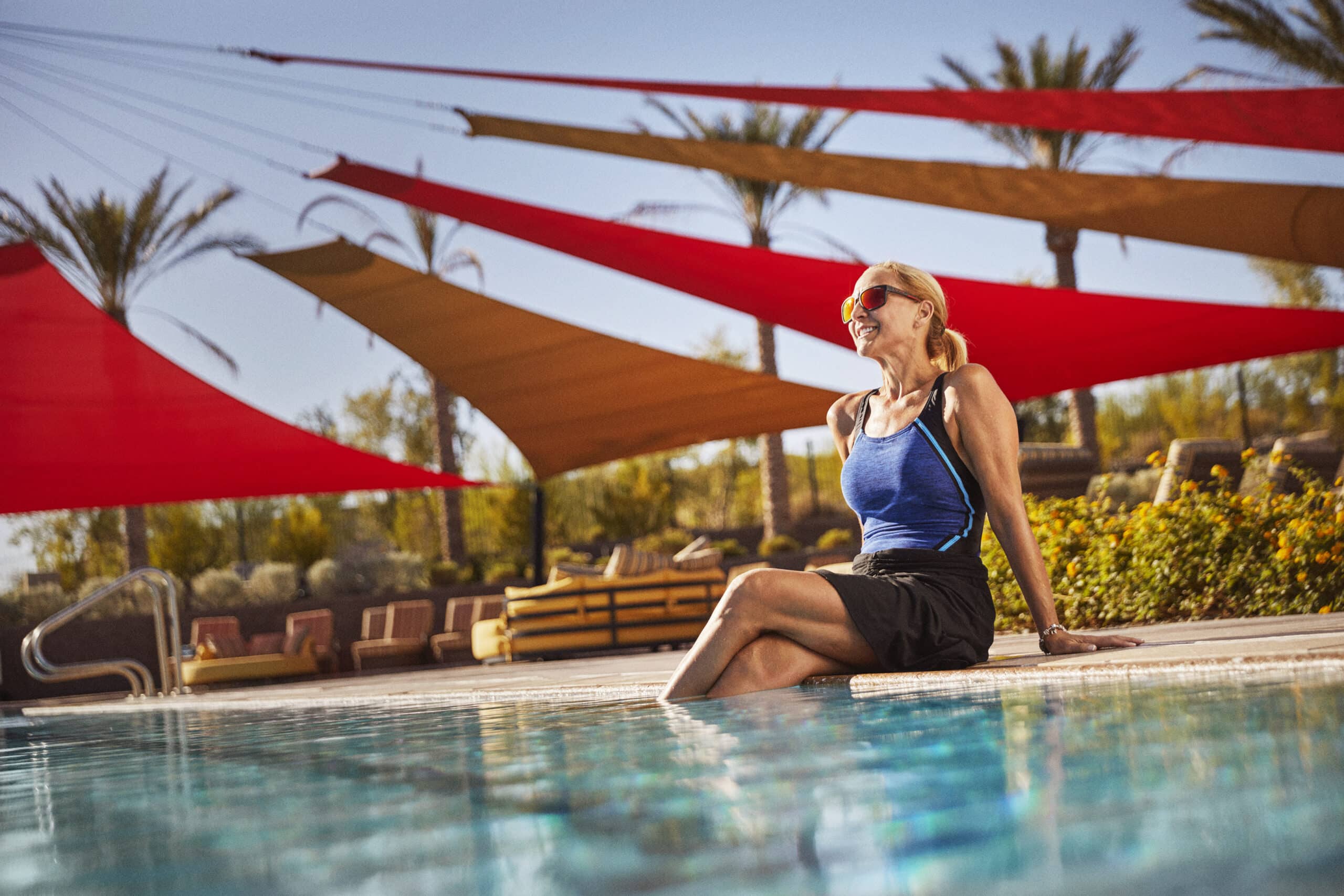 Discover what's next.
To learn more information or connect with a real estate expert, contact us today.