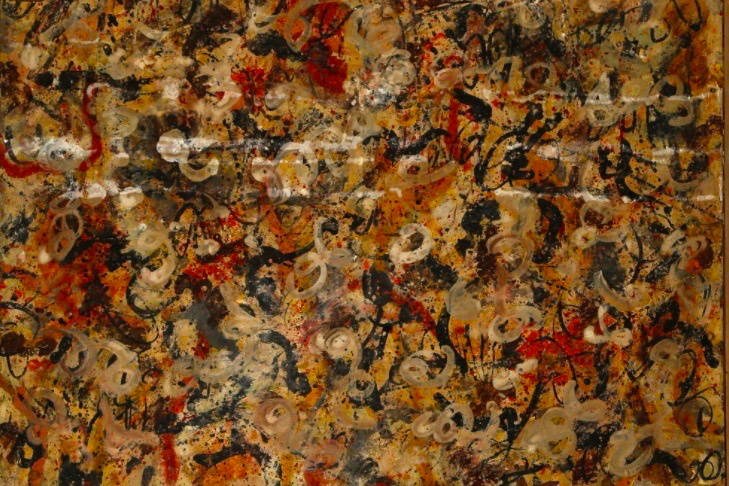 A rare Jackson Pollock painting was found in the garage of a Sun City Arizona home last year and will be going up for auction on Tuesday, June 20 at J. Levine Auction & Appraisal in Scottsdale, AZ. The paining was discovered in January 2016 by auctioneer Josh Levine, who was called in to appraise sports memorabilia but stumbled upon the rare Jackson Pollock painting among the many contents of the estate.
"Interestingly, this estate first came to our attention when we were contacted to take a look at a signed 1992 L.A. Lakers poster," Josh Levine, owner and CEO of J. Levine Auction & Appraisal, told KTAR News. "We ended up signing a contract to auction the contents of the estate, and that's when we found many of the paintings stored away."
The painting was found in the estate of Gordon Cosgriff, a resident of Sun City Arizona, and it was previously owned by his half-sister Jenifer Cosgriff, who was known to have socialized with popular East Coast artists, including Jackson Pollock. The painting was passed down to Gordon after she passed and remained stored among other paintings and items in his garage.
Levine spent nearly 18 months and tens of thousands of dollars researching and authenticating the forensics and ownership history of the painting. He hired a private investigative team and a forensic expert to help him determine if this painting was an original Pollock.
"Based on their work and findings, I believe this painting was one of Pollock's missing gouaches in his catalogue raisonné or from the period of 1945 to 1949," Levine said. The abstract, untitled gouache painting measures 22 ½ x 32 inches and a forensic report states that the painting dates back to the mid-twentieth century.
"The forensic report really just reaffirmed what I already believed to be true based on the provenance," Levine said. "I've spent hundreds of hours researching how this Pollock could end up here in Arizona, and I am confident that this is an original Pollock."