Sun City and Sun City Grand may only be about 10 miles apart in the Greater Phoenix Area of Central Arizona, but why choose one community over another? They're both non-gated Del Webb communities for active adults, but there are several important differences between the two. Let's compare some of the most notable factors.
Size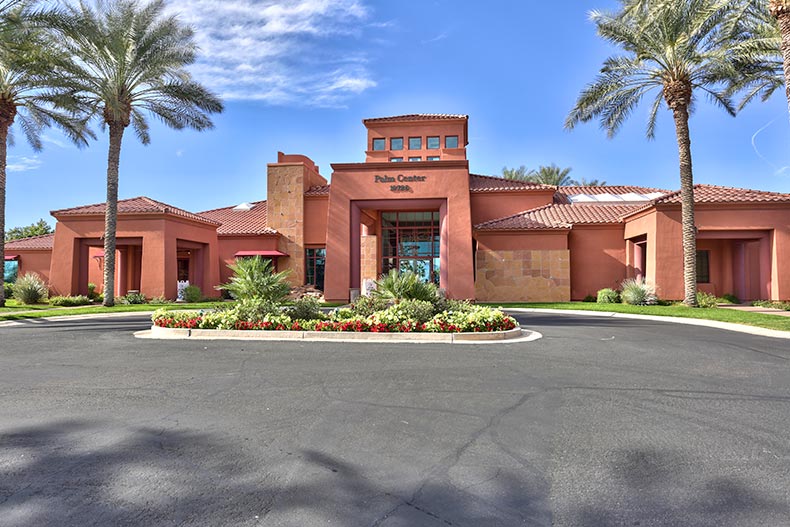 Sun City was the first 55+ active adult community in the U.S. when it was built, with work starting in 1960. With 27,492 condo, attached, and single-family homes, it remains the largest such community in Arizona.
Sun City Grand is better for active adults seeking a smaller community. Construction here began in 1996, and today, it has 9,802 homes, which are also a mix of condo, attached, and single-family homes. Given that Sun City is almost three times the size of Sun City Grand, residents can expect more homes for sale, but both communities have a lot to offer when it comes to amenities and activities.
Price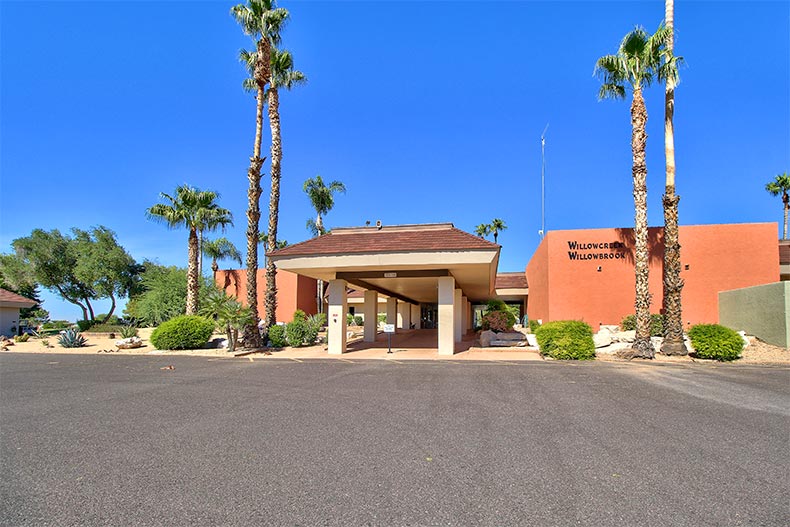 With a far greater number of homes, buyers can expect a wider choice of homes available at Sun City at any one time compared to Sun City Grand. Prices also start lower at Sun City, with smaller condos and attached homes starting at under $100k. At the upper end of the market, luxury homes command prices in the low $600s.
In contrast, the most affordable homes in Sun City Grand are in the high $100s, and prices can go up to the low $1Ms. If your budget for buying a home in Arizona is under $400k, then either community will have options, but there are far more to choose from in Sun City. If your budget is $100k and under, then Sun City is where to look.
Models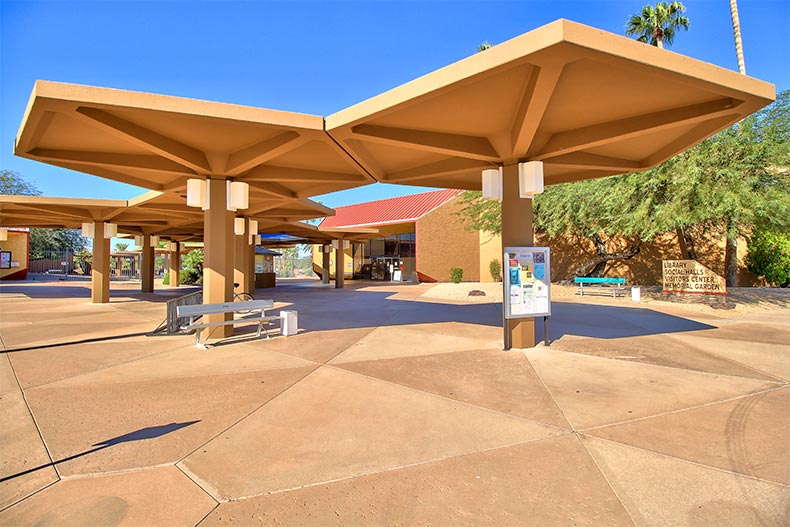 Model size usually goes hand in hand with home prices. If you're looking to downsize, you want a low-maintenance home, or you're just looking to be a snowbird in an inexpensive winter vacation home, both communities have options, but Sun City has a wider selection.
The smallest homes at Sun City are studio apartments of 635 square feet with one bathroom and either a carport or one-car garage. The largest homes offer 2,137 square feet with two bedrooms, a den, two bathrooms, and a two-car garage.
Sun City Grand offers condos as small as 427 square feet with one bedroom, one bathroom, and a one-car garage. These do, however, fetch higher prices than the slightly larger apartments in Sun City. If it's space you're looking for, then Sun City Grand wins easily. It has far larger models than Sun City, going up to 3,388 square feet for the Windsor models. These homes have three bedrooms, a den, two-and-a-half bathrooms, and a two-and-a-half-car garage.
Location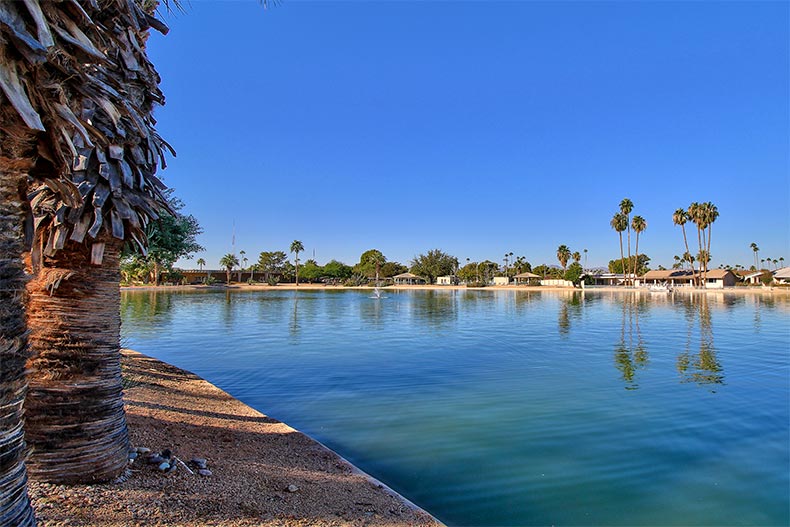 There's little to choose between when it comes to location as the two communities are so close to one another, but there are subtle differences. Both are in the extreme northwest of the Greater Phoenix area, with easy access to both city attractions and the great outdoors. In that respect, Sun City Grand is on the very edge of the desert, a 5-minute drive away, while for Sun City residents it's a 20-minute drive.
Sun City Grand is a 5-minute drive from the heart of Surprise, a city of almost 150,000 people, while Sun City is a 5-minute drive from the city of Peoria, with a population of about 175,000. From Sun City, you can be in Downtown Phoenix in thirty minutes, while it's an extra five minutes from Sun City Grand but straight down the freeway. These aren't huge differences, but they might influence your decision.
Amenities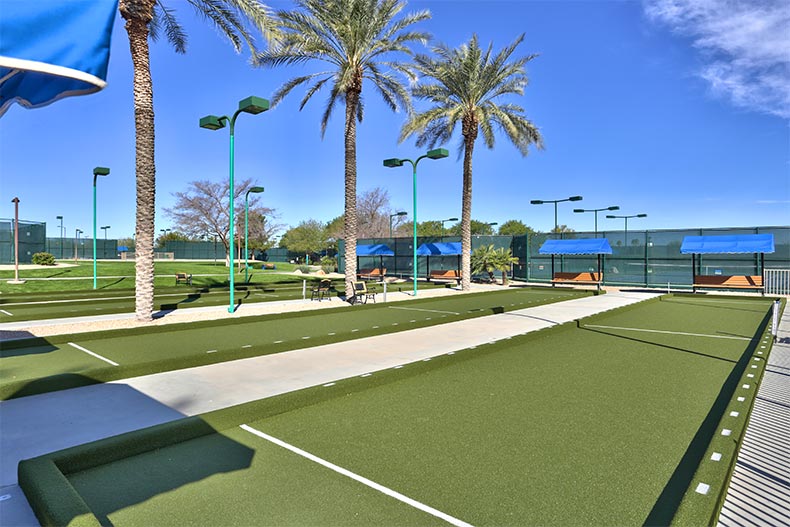 Both communities are large enough to qualify as towns in their own right, but because of its sheer size, Sun City has a few more amenities to offer. If you're a keen golfer, for example, it has 11 courses compared to only four at Sun City Grand. Sun City also has 30 churches, a synagogue, its own hospital, two libraries, a performing arts theater, an outdoor amphitheater that attracts big-name acts, and two fishing lakes.
But Sun City Grand is no slouch when it comes to an active lifestyle. It's still a large, active adult community with more amenities than most. As well as the four golf courses, the amenities include five recreation centers, two fitness centers, five indoor and outdoor pools, three spas, an outdoor amphitheater, a softball field, and courts for tennis, pickleball, and bocce.
Lifestyle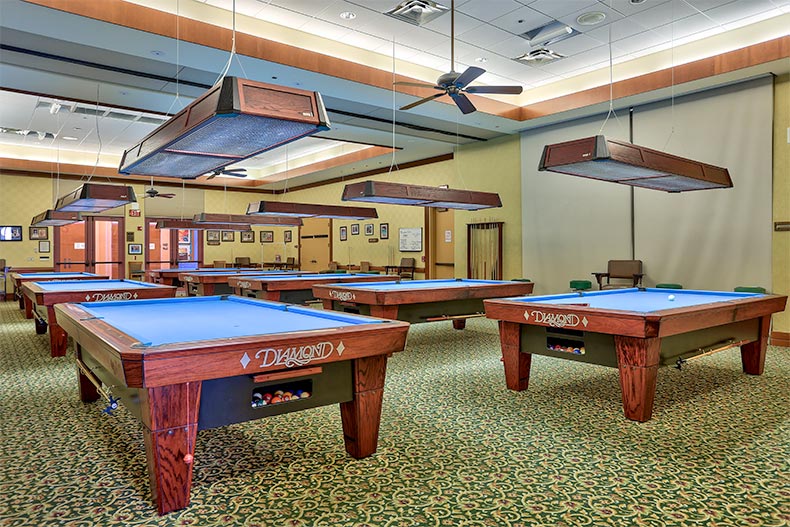 In both communities, residents enjoy a very active lifestyle, with numerous clubs, classes, groups, and activities to take advantage of. If a particular pastime is a passion for you or you want to learn a particular skill, then it would be worth checking the lists of available options in both places to see if there's an active society or group for you.
However, despite its smaller size, there are enough activities at Sun City Grand to make most other communities jealous. There are 800+ aqua aerobics classes, 5000+ group fitness classes, 45 chartered clubs + special interest groups, and 600 classes offered annually within this community. That's not to say there aren't plenty of activities in Sun City, but if you're looking for variety, Sun City Grand may be the way to go.
Request more information about Sun City.