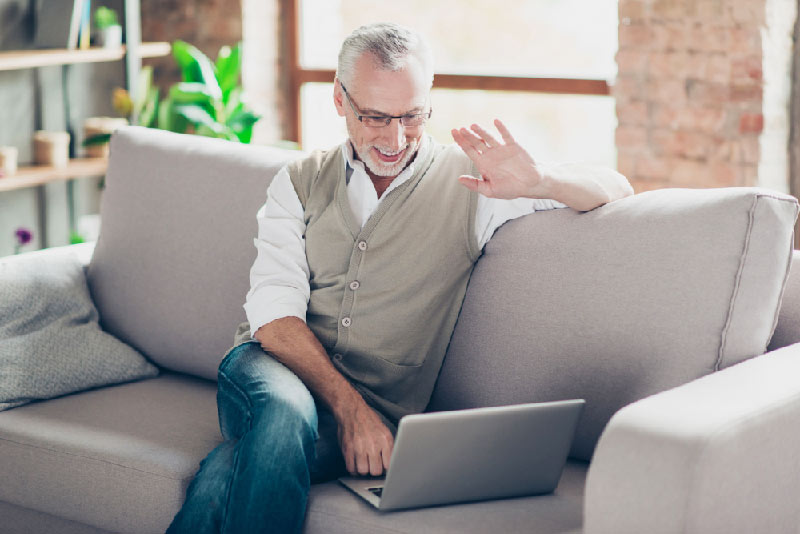 Richard and Frayda Kerstein have relocated to sunny Florida, yet they have found new ways to easily stay in touch with their children and grandchildren back in Massachusetts. Like many relocated retirees, the Kersteins take advantage of today's communication technologies to breach the physical distance separating them from family and friends.
At one time, retiring across the country meant sacrificing frequent communication with your children. Today, communication technologies, such as those listed below, give couples like the Kersteins the freedom to retire to their dream locations and still stay involved in their family's lives.
1. Email
Many relocated retirees enjoy the convenience of sending messages, pictures, and other file attachments via email. Popular, free online email providers include Yahoo! Mail, and Gmail by Google. By using an online email provider, you can check your email when you are traveling away from home.
Pros: Email allows you to take your time writing as much as you would like, then send the message instantly. You no longer need to wait several days to receive photographs in the regular mail.
Cons: Email message attachments can contain viruses. You may also receive "spam" (junk mail). Never open attachments from strangers and ensure that your computer has up-to-date virus protection software.
2. Cell Phones and Text Messaging
Cell phones have become commonplace for many retirees. Though most opt for simple cell phones, extras such as text messaging are catching on as well. As the Kersteins note, "We like texting because it's quiet and private for when you're in a group of people or in public."
Pros: Many billing plans offer free calling to family members, though limitations may apply. Cell phones are small, portable and make it easy to be reached wherever you go.
Cons: There may be limitations on "free minutes" and extra fees for features such as text messaging. Be sure you understand your billing plan and find out how you can track your usage during the month instead of being surprised when the bill comes.
3. Video Calls
The Kersteins use many technologies to stay in touch, but Skype's video chat is their favorite. "We can see our children and grandchildren, and they can see us. This relieves a lot of personal angst about being far away from family and relieves feelings of separation. And our young grandchildren will know who we are when we do see them in person." Over years, many alternatives to Skype have become popular, including FaceTime, Duo, Google Hangouts, and WeChat.
Pros: Skype video calls are free. All you need is a webcam and a computer with an Internet connection. Skype also offers a videophone device for those who want to make video calls without a computer. (Videophone does need an Internet connection.)
Cons: Skype is easy to use, but setup may be a little intimidating for those who are uncomfortable with computer technology.
4. Facebook
Baby Boomers are among the fastest growing Facebook demographic. This social networking site lets you connect with friends and family, stay in touch with quick status updates, post and view pictures, and even play games together.
Pros: Facebook is free. It is easy to create an account and find contacts. Customizable privacy settings let you control who sees each section of your profile and who can find you when searching Facebook.
Cons: For some people, choosing to accept or decline "friend requests" can be difficult. Facebook carries the same risks as other social sites. Do not give out personal information (such as your home address) and be careful when meeting new people online. Facebook has also been embroiled in several controversies over the years, including giving out data to comapanies and advertisers.
Retirees today enjoy the freedom that these technologies bring to their lives. While nothing can replace the hugs and kisses shared in person, today's technologies make it possible for families to stay closely involved in each other's lives in between visits.