Across the country, master-planned communities (MPCs) offer their residents access to community services, everyday conveniences, and active lifestyle opportunities within their neighborhoods. In addition to resort-style recreational amenities, these large-scale communities often include commercial amenities, such as town centers, restaurants, shops, and entertainment venues. Master-planned communities also provide a sense of community for their residents.
Most master-planned communities consist of several neighborhoods, which can feature different home styles, floor plans, and amenities, and some even have age-restricted communities. Active adults who live in age-restricted communities within larger master-planned communities can reap the benefits of a 55+ lifestyle with their own private amenities as well as access to everything found within the master-planned development.
For many discerning homebuyers, an age-restricted community within a master-planned community is the best of both worlds. If you want to explore this option further, keep reading to discover the 10 best-selling master-planned communities of 2020 with 55+ communities according to data provided by RCLCO.
1. The Villages, FL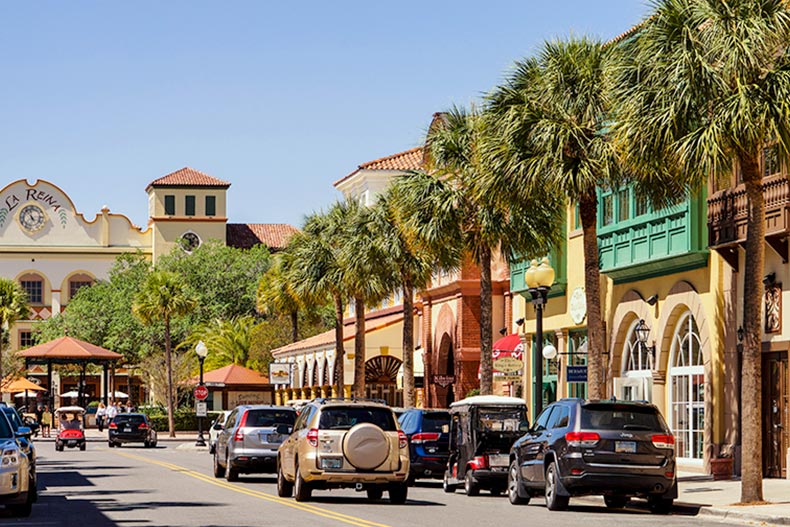 The best-selling master-planned community of 2020 is, in fact, an age-restricted community: The Villages in Central Florida. As most active adults know, The Villages has earned a reputation as one of the most well-known, highly regarded, and largest active adult communities in the nation—and it shows.
Spanning more than 20,000 acres and three zip codes, The Villages will include at least 70,000 households upon completion. The Villages fills the vast area with world-class amenities, including dozens of recreation centers, outdoor pools, and state-of-the-art fitness centers as well as hundreds of athletic courts. Residents can reach all of the amenities with more than 100 miles of golf cart-legal streets.
As a self-sustaining town, The Villages defines what a master-planned community should offer. In addition to three town centers, the community includes retail establishments, healthcare centers, post offices, banks, restaurants, retail establishments, and more. Residents can even access nine worship centers, an equestrian center, and a lifelong learning center within their community.
The resort-style amenities and full social calendar support an active physical and social lifestyle for residents. The Villages also appeals to many active adults for its variety of floor plans. Interested homebuyers can browse a range of home styles, including single-family, attached, and manufactured homes. The location in Central Florida also puts residents near Ocala, Orlando, and Leesburg International Airport.
2. Lakewood Ranch, FL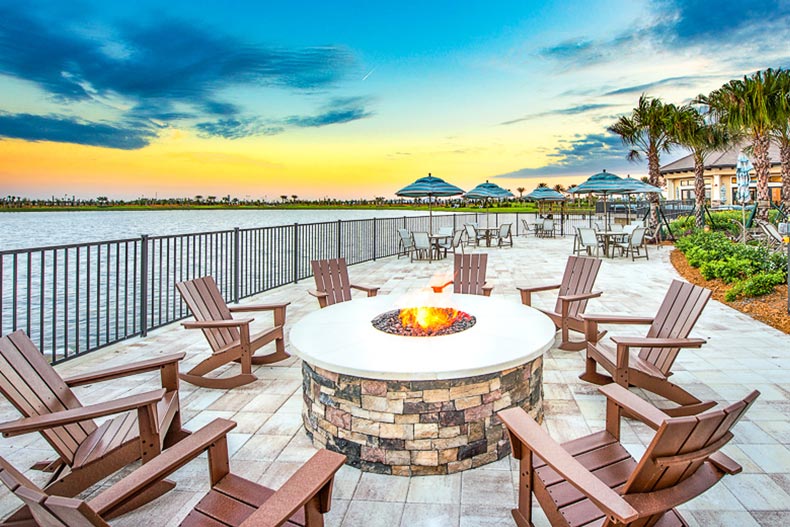 Active adults searching for a 55+ community in a master-planned community near Florida's Gulf Coast should explore Lakewood Ranch. This 31,000-acre development spans Manatee and Sarasota Counties in Southwest Florida, a popular retirement destination. The desirable location provides residents with access to Sarasota, Bradenton, Tampa, and the Gulf of Mexico.
At Lakewood Ranch, residents can participate in a full social calendar of activities, social events, and clubs, and enjoy resort-style amenities. The community is home to the Sarasota Polo Club, Lakewood Ranch Golf & Country Club, and Premier Sports Campus. Most neighborhoods have their own lifestyle directors, so residents can participate in larger events and small-group activities, supporting a diverse social lifestyle.
Throughout the development, residents can access several shopping districts. The three main areas of activity center around Main Street, The Green, and Waterside Place, which house more than 200 shops and eateries. The community includes boutique shops, international eateries, movie theaters, grocery stores, town centers, salons, and performance venues.
55+ Communities in Lakewood Ranch:
3. Summerlin – Las Vegas, NV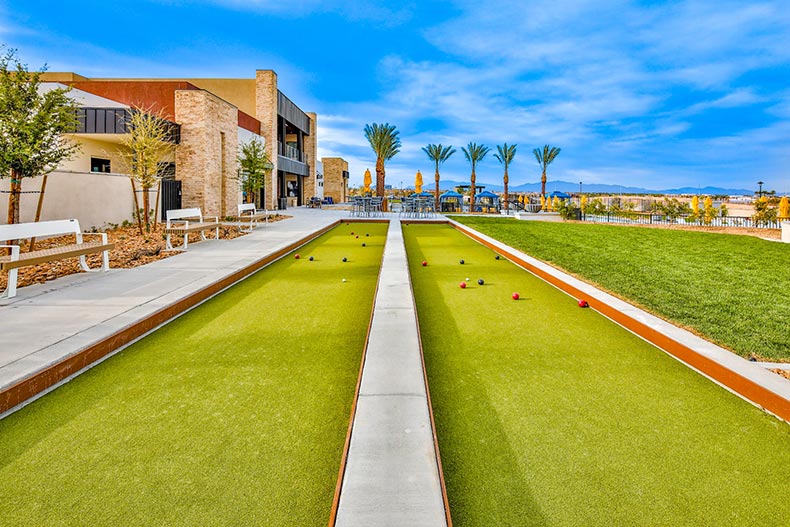 Located within 10 miles of downtown Las Vegas, Summerlin is a master-planned community in the Entertainment Capital of the World that offers some of the best 55+ living in the country. The 22,500-acre development consists of 30 neighborhoods, including four age-restricted communities, which provide many options and home styles for interested homebuyers to consider.
With nearby world-class attractions that include the Las Vegas Strip and Red Rock Canyon National Conservation Area, Summerlin residents have no shortage of entertainment options and outdoor recreation opportunities in the surrounding area. The development also features its own town area with shops, restaurants, and services, as well as several golf courses like TPC Las Vegas, ensuring that homeowners can stay close to home to have a good time.
The master-planned Summerlin development also offers a full calendar of social events and activities, approximately 150 miles of paved walking paths, and several resorts and casinos to enjoy. Sports fans in the community can appreciate their close proximity to the Las Vegas Ballpark as well as City National Arena, home of the NHL's Vegas Golden Knights.
55+ Communities in Summerlin:
4. Wellen Park (West Villages) – Venice, FL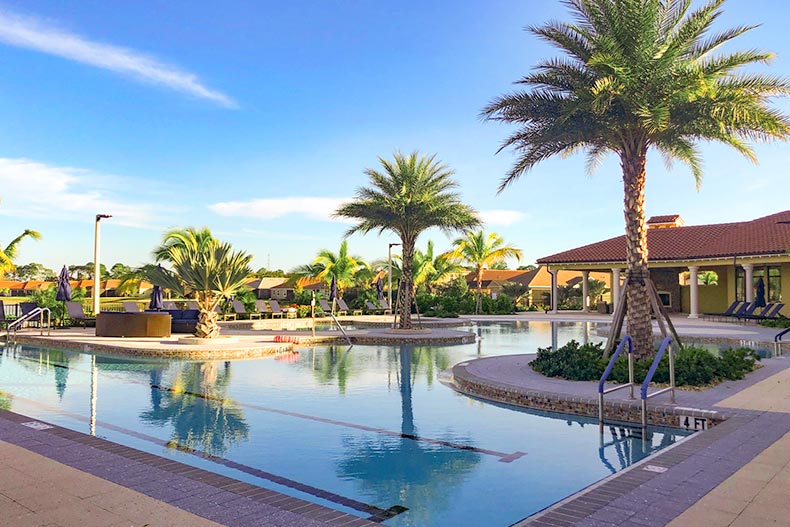 Wellen Park (formerly known as West Villages) is a 12,000-acre master-planned community located on Florida's Gulf Coast in Venice. The desirable location in Sarasota County provides access to numerous beaches, entertainment venues, and world-class 55+ communities.
The perks of living in Wellen Park are many, thanks to the development's rich cultural atmosphere and high quality of living. The nearby area includes plenty of shopping, dining, entertainment, and country clubs to enjoy as well as unique attractions like CoolToday Park, the Spring Training facility for the MLB's Atlanta Braves.
A wealth of parks and natural areas surround Wellen Park, such as Myakka River State Park and Myakka State Forest. Residents can reach metropolitan areas like Sarasota within 25 miles and Sarasota-Bradenton International Airport within 35 miles. Less than 10 miles away, the scenic shoreline along the Gulf of Mexico beckons for a day at the beach.
In addition to being a world-class golf destination, Wellen Park has also earned a reputation as a cultural hub, with multiple music venues, art galleries, and theatres that produce year-round entertainment. From farmers markets to concerts, residents can always find something to do within the community. The many neighborhoods offer interested residents the choice of almost any home type, and the community's close proximity to natural areas and local attractions make it a desirable destination.
55+ Communities in Wellen Park:
5. Daybreak – South Jordan, UT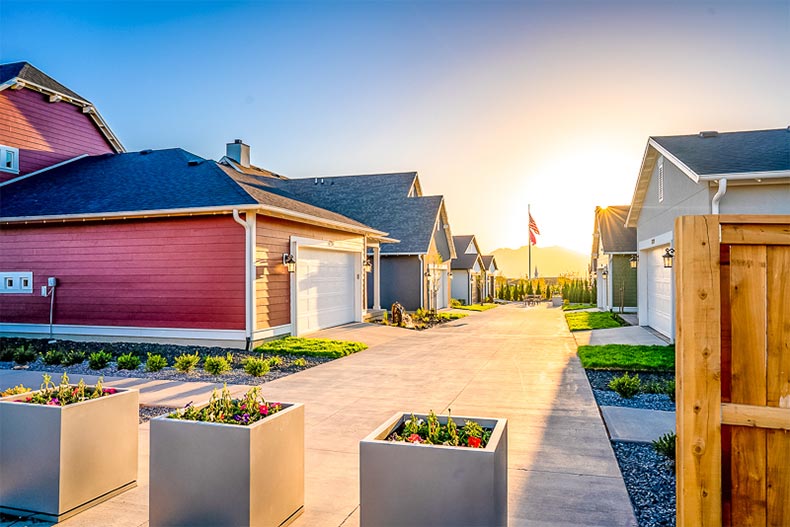 The master-planned Daybreak development is located in South Jordan, Utah, about 20 miles south of Salt Lake City. The community has been intentionally designed with the day-to-day life of residents in mind, providing almost every creature comfort necessary to live a full and active life.
The community has a team of lifestyle directors committed to offering Daybreak residents a social calendar packed full of events and activities. A continuous schedule of events allows residents to stay physically and socially active, and murals and sculptures fill the streets and nature trails with artistic flair.
In addition to Daybreak's proximity to nearby mountains, deserts, Great Salt Lake State Park, and Bear River Migratory Bird Refuge, the community includes about three dozen parks of its own. The trails in the community connect these parks and surround the 67-acre Oquirrh Lake. Those who enjoy outdoor recreation and love spending time outside can appreciate what Daybreak has to offer.
The town center of Daybreak serves as the heart of the community, with everything from coffee shops to bakeries to shopping centers. Additional services within the community include University of Utah Health South Jordan Health Center, grocery shops, and churches. The community also features several stops along the UTA TRAX rail system, allowing residents to travel conveniently to Salt Lake City and the surrounding area.
55+ Communities in Daybreak:
6. Nocatee – Ponte Vedra, FL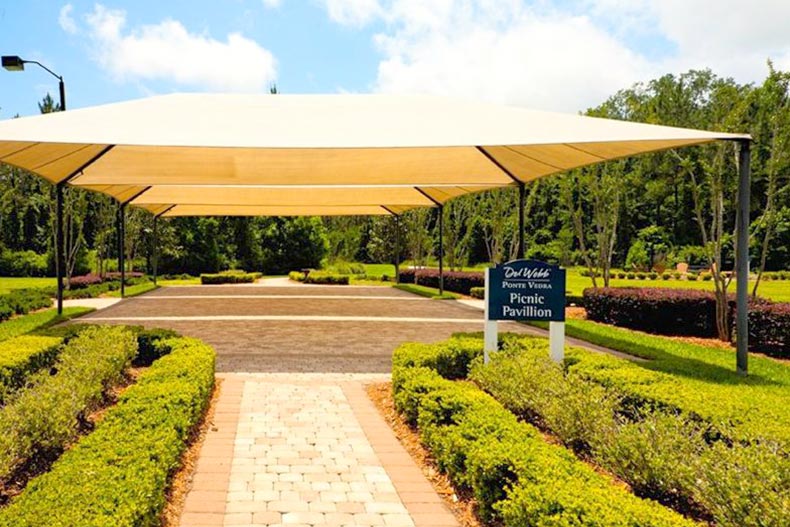 For many active adults, Northeast Florida offers some of the best landscapes and beaches in the Sunshine State. The master-planned Nocatee community takes full advantage of the area's desirable location and weather while promoting a luxury resort-style lifestyle.
Outdoor recreation plays an important part in the active lifestyles of many Nocatee residents. With access to lakes, nature preserves, intracoastal rivers, the Atlantic Ocean, and recreational parks, homeowners in Nocatee can enjoy the very best that the First Coast has to offer in regards to natural areas. Active adults who want to spend their days at the beach can visit miles of shoreline along the Atlantic Coast within ten miles.
The metropolitan areas in and around Nocatee also provide an abundance of activities and destinations. Residents can reach the attractions of Jacksonville and St. Augustine within 30 minutes. When active adults want to stay closer to home, the community's amenities hold up to those of the big city. With a constant schedule of social events and amenities that include restaurants, shops, and entertainment venues, residents don't have to travel too far to have a good time.
55+ Communities in Nocatee:
7. Cadence – Henderson, NV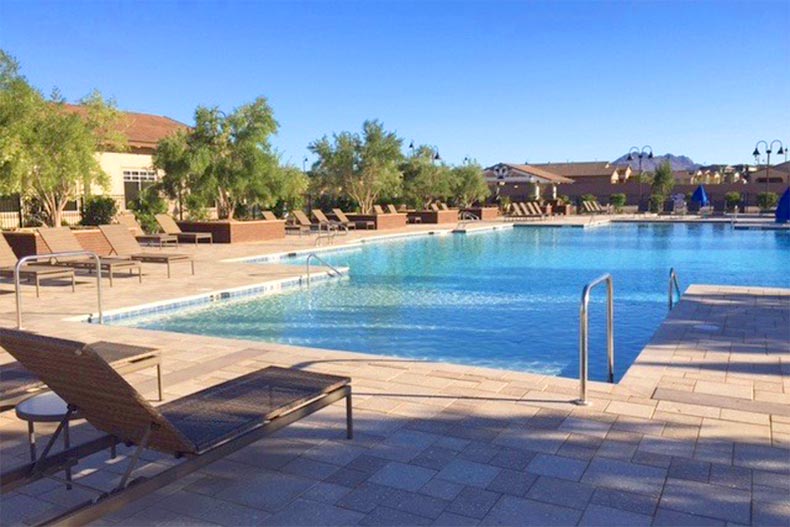 Located about 20 miles southeast of the Las Vegas strip, Cadence is a master-planned community in Henderson that has something for everyone, including active adults who want to live in an age-restricted neighborhood. The 2,200-acre community offers everyday conveniences like shopping, entertainment, and nature as well as sought-after features like world-class amenities and diverse home styles and floor plans.
The resort-style lifestyle at Cadence surrounds residents with plenty of things to do. Nearby shopping centers feature The District at Green Valley Ranch, which consists of more than 80 shops, as well as The Galleria at Sunset. Residents can enjoy one of the community's eclectic restaurants and then catch a movie at the local theatre.
Cadence also boasts a 50-acre Central Park, which hosts activities, provides walking paths, and even has free WiFi. Homeowners who want to enjoy the outdoors in the surrounding area can visit Lake Mead National Recreation Area, which encompasses 1.5 million acres, as well as nearby nature preserves like Henderson Bird Viewing Preserve and Clark County Wetlands Park.
Cadence's proximity to Las Vegas is also worth highlighting, as residents can reach nearly every form of entertainment imaginable within 30 minutes, including casinos, museums, concert venues, resorts, and other world-class attractions. Many residents can also reach McCarran International Airport within 20 minutes, ideal for those who love to travel.
The 55+ community located in Cadence is Heritage at Cadence.
8. Verrado – Buckeye, AZ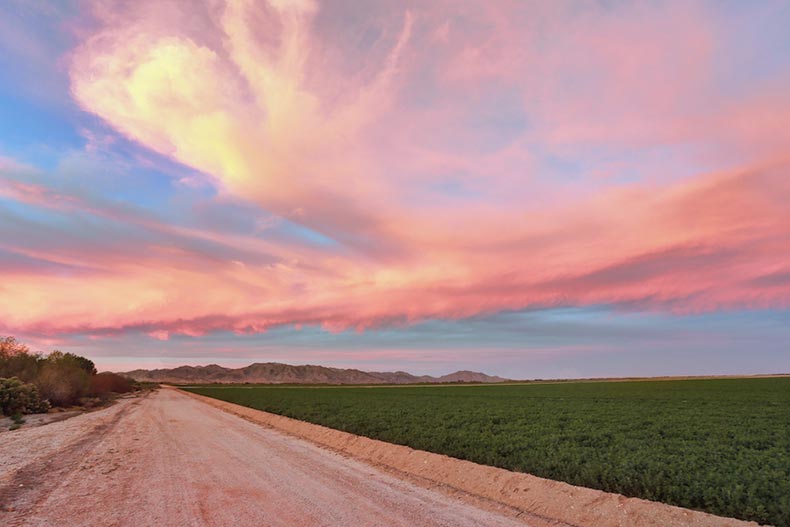 Verrado, a master-planned community located less than 30 miles west of Phoenix, captures many of the best benefits of living in the Grand Canyon state. This development, situated at the base of the scenic White Tank Mountain, embraces the friendliness and comfort of a small town while including many of the luxuries of a resort.
The community hosts several fairs and holiday festivals throughout the year that bring neighbors together, including the weekend-long "Founder's Day" celebration that brings in big musical names to perform. Verrado's walkable Main Street has all the shopping and restaurants needed for a fun and relaxing day out on the town.
It's easy to spend time outdoors at Verrado thanks to more than 21 miles of walking and biking trails and more than 70 neighborhood parks. The community puts an emphasis on surrounding residents with natural spaces, ensuring that each home is located within two blocks from the nearest neighborhood park. When residents want to visit spacious expanses of nature, they can head to nearby White Tank Mountain Regional Park, Lake Pleasant Regional Park, and Tonto National Forest.
The world-class city of Phoenix provides many attractions and entertainment to residents of Verrado. When a relaxing day close to home sounds more appealing than a trip to the city, Verrado includes several spas and yoga studios.
The 55+ neighborhood located in Verrado is Victory at Verrado.
9. Eastmark – Mesa, AZ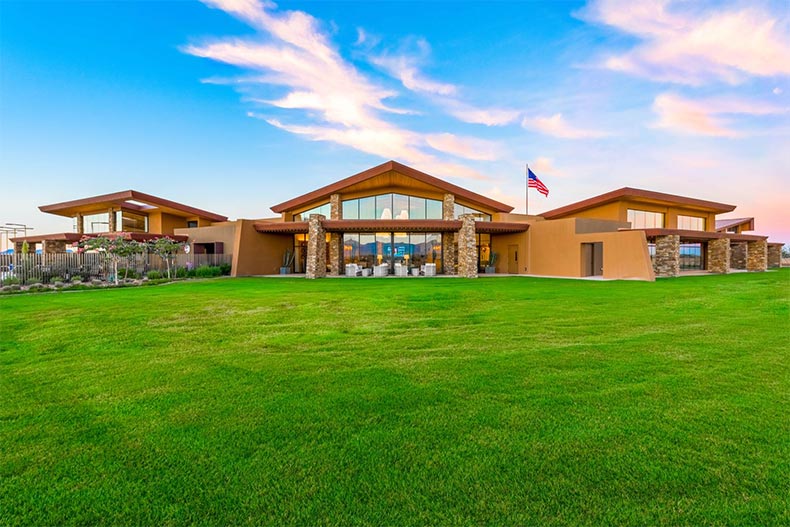 At just over a 30-minute drive from Phoenix is Eastmark, an inviting and exciting master-planned community in Mesa, Arizona. This community reserves a spot as one of the best-selling master-planned communities in Arizona for a reason—or rather, for many reasons.
At the center of Eastmark's social scene is The Mark, an establishment that's part visitor center and part community center. The Mark features a hangout space with multiple board and table games, and there are gathering spaces used to host a wide variety of social gatherings, games, and events. Outside of The Mark is a resort-style pool that's more than 4,000-square-feet of fun as well as a kiddie pool.
The 100+ events and holiday celebrations hosted in Eastmark each year represent just the start of the enjoyment that can be experienced on a daily basis in the community. The Eastmark Great Park is a large greenspace with trails, an event pavilion, splash pad, playground, and a diner. If the Eastmark Great Park wasn't enough, there are also at least 40 other neighborhood parks that residents can enjoy as well as Usery Mountain and San Tan Mountain regional parks.
The 55+ neighborhood located in Eastmark is Encore at Eastmark.
10. Viera, FL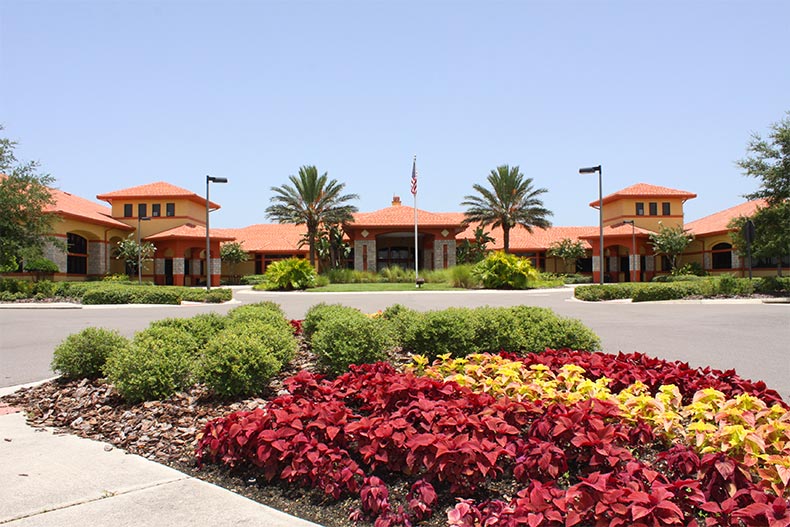 The Atlantic Coast of Florida has long been a destination for snowbirds and retirees for many reasons, including the beaches, nature preserves, and desirably warm weather. One of the best-selling master-planned communities along the Space Coast, Viera connects residents to the best that the area has to offer and more.
One of the most impressive aspects of Viera is its commitment to conservation, which provides residents with ample outdoor spaces to explore and enjoy. These natural spaces include Viera Wilderness Park, which has 5,200 acres of conservation area, and Ritch Grissom Memorial Wetlands, which is home to an abundance of wildlife. The community also contains Viera Regional Park, a greenspace often used for social gatherings, sports, and recreation.
Residents looking for fun in town can visit The Avenue Viera, a shopping center with a variety of nationwide chains, local stores, restaurants, and entertainment. Viera also hosts a wide range of events, such as fun runs, golf tournaments, festivals, and concerts.
On top of all that Viera has to offer, residents also have the advantage of a location near world-class beaches that provide limitless fun in the sun, such as Cocoa Beach, Sebastian Inlet State Park, and Pelican Beach Park.
The 55+ community located in Viera is Heritage Isle.