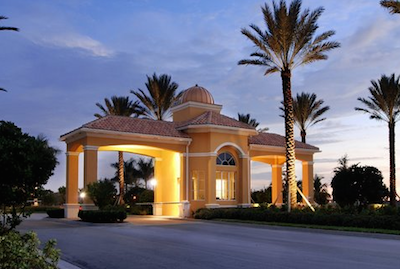 While not all active adult communities are gated, those that are have some additional perks which appeal to older homebuyers.
Community gates can add privacy, security and a sense of community, among many other notable benefits. Here are 10 perks to consider when looking at gated active adult communities.
1. Privacy
Gates and walls enclosing an active adult community give it an added sense of privacy. People who live outside the community are unlikely to be let in unless they are approved guests, contractors or other service providers.
2. Security
While crime can still occur in gated communities, the gates do provide added security. Gates can deter criminals, especially if they are manned by guards or monitored with security cameras. This can be a particular perk for snowbirds or those living alone.
3. Exclusivity
Active adult communities typically offer a wide range of indoor and outdoor amenities. While any community can restrict clubhouse access to residents only, gated communities help keep outsiders from accessing the grounds and other outdoor amenities. Secure gates also give residents the added appeal of being part of an exclusive community.
4. Less traffic
Limiting access to the community also leads to less traffic passing through the neighborhood. This means less road noise, less cars parked along the streets and easier driving for residents. Gated communities may also limit the hours that contractors can enter, further lessening the traffic.
5. Few solicitors
Many cities have laws that require permits for solicitors, but that often doesn't stop people without permits from going door-to-door. Gated communities make it harder, if not impossible, for solicitors to get in. This can be a big relief for residents who do not want to be bothered by door-to-door salesmen or other disturbances.
6. Quiet setting
Because gated communities restrict access from outsiders, they typically offer a more tranquil setting. They are often designed to highlight this tranquility with picturesque scenery, water features and lush landscaping. This environment is often appealing to active adults who want a quiet place to enjoy their retirement years.
7. Sense of community
Along with a sense of exclusivity, gated communities can bring a stronger sense of community. Neighbors often ban together through social clubs, parties and other community events. These activities may be planned through the central social calendar or arranged more casually by groups of neighbors.
8. Property value
Gated communities tend to be designed with upscale homes and elegant amenities. The added amenities and increased privacy, along with a sense of exclusivity, can help homes hold onto high property values. This may make them a better investment for active adult retirees.
9. Location
While gated communities have their own exclusive, on-site amenities, they also tend to be placed in popular locations near many attractions. Whether they are built in suburbs, cities or resort towns, gated active adult communities are often near retail centers, restaurants and other entertainments.
10. Community rules
For some homebuyers, strict rules and strong homeowners' association governance can be more of a detracting factor. Yet, others like community rules because they ensure homes and yards are maintained, and they regulate behavior in common areas. Gated active adult communities may not be the ideal choice for every active adult, but many love the added perks they offer.