Out with the old, and in with the new construction! If you're looking for new homes for sale in Washington, D.C., there are some excellent 55+ properties worth looking at in nearby Maryland and Virginia. D.C. is of course Our Nation's Capital, but you don't have to be into politics to enjoy living in the surrounding areas. The Baltimore-D.C. Metro Area, the Virginia-D.C. Metro Area, and other regions in both states offer everything that active adults want, like opportunities to enjoy the great outdoors, performance venues, cultural sites, restaurants, dog parks, and more.
Some of these 55+ communities are closer to the fast-paced action of the Downtown D.C. area while others are further out. The surrounding area also has excellent health care, with top Maryland providers like Johns Hopkins Hospital and University of Maryland Health Center in Baltimore and Luminis Health Anne Arundel Medical Center in Annapolis. In Virginia, you have Inova Fairfax, Inova Fair Oaks, plus Virginia Hospital Center in Arlington. Washington D.C. hospitals include George Washington University Hospital, MedStar, and Sibley Memorial.
Now that you know that this part of the country has new construction homes, a wide array of rewarding activities, and top medical centers, the real work begins—choosing a 55+ community that suits your needs. You can find some wonderful new homes for sale in Washington, D.C. Here are five of our favorite communities, and you can read through to compare their locations, prices, and features.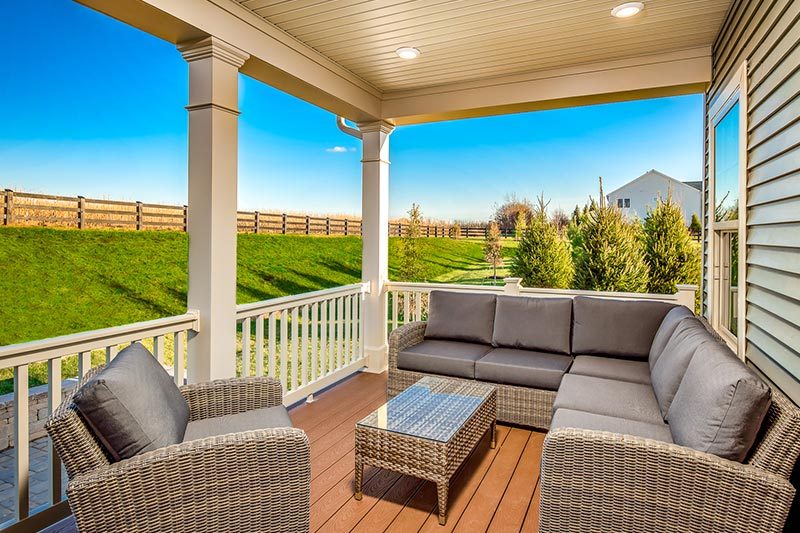 This buzz-worthy 55+ neighborhood broke ground in 2019. Plans call for 565 luxury condo, attached, and single-family homes with floor plans ranging from 1,766 to 4,271 square feet. It's located in Frederick County, a little over an hour north of D.C. and near the charming city of Frederick.
The Woodlands' condo model is 1,719+ square feet with two bedrooms and bathrooms, and a one-car garage. There are two attached home (villa) floor plans at 1,773 and 2,293 square feet with three bedrooms, two-and-a-half to three-and-a-half bathrooms, and two-car garages. Woodland's elegant single-family homes range from 1,766 to 2,670 square feet, with two to five bedrooms, two to four bathrooms, and two-car garages.
Look for features like open floor plans, expansive first-floor master suites, Wi-Fi enabled garage doors, gourmet kitchens, and covered porches in these desirable, modern floor plans. There's also a homeowners' association (HOA) that charges reasonable fees to cover lawn care, trash pickup, snow removal, and common area maintenance, leaving you more time to spend on more enjoyable activities.
The Woodlands at Urbana also offers a private clubhouse with a fitness center, club room, and outdoor pool. There's also an open-air pavilion, pickleball and bocce ball courts, a garden and potting shed, and a dog park on the grounds. Residents can enjoy rewarding group activities like swim aerobics, yoga, sports competitions, and the famous Bourbon Club. And if you're a golfer, there are two highly rated courses nearby: Worthington Manor and P.B. Dye Golf Club.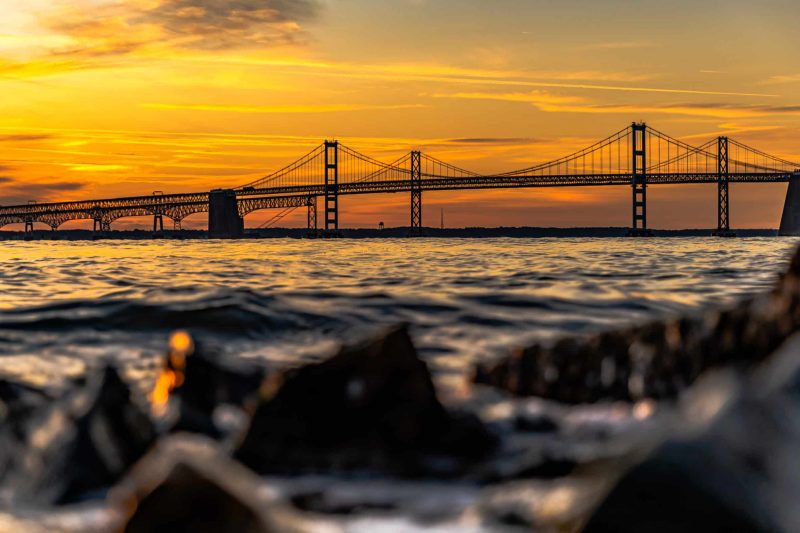 Also in Maryland but located to the east about halfway between D.C. and Baltimore, Two Rivers will have 800 attached and single-family homes when work is completed by its five builders. The attached homes by Classic Group range from 1,614 to 1,803 square feet with two to five bedrooms, two- or two-and-a-half bathrooms, and attached one-car garages. Comstock Homes' attached villas are sized from 2,050 to 2,346 square feet with three to four bedrooms, basements, two-and-a-half to three-and-a-half baths, and attached two car garages.
Winchester Homes is also building attached models here, and these range from 2,226 to 2,993 square feet, with two to four bedrooms, two-and-a-half to four baths, and two-car garages. If your heart is set on a single-family home, you're in luck because Brookfield Residential, Ryan Homes, NV Homes, and Winchester Homes are also building these kinds of new homes at Two Rivers as well.
There's a wealth of resident amenities at Two Rivers, starting with the 15,000-square-foot Founders Club building. Here, you'll find a fitness center, indoor and outdoor pools, gathering rooms, and a catering kitchen. This is where groups meet to play Scrabble and Mahjong, take water aerobics classes, and play tennis and pickleball. Additional outdoor perks include a dog park, a community garden, scenic ponds, and an even lawn.
Two Rivers is in Anne Arundel County. It's about 45 minutes away from Annapolis, and it's even closer to Patuxent River Park.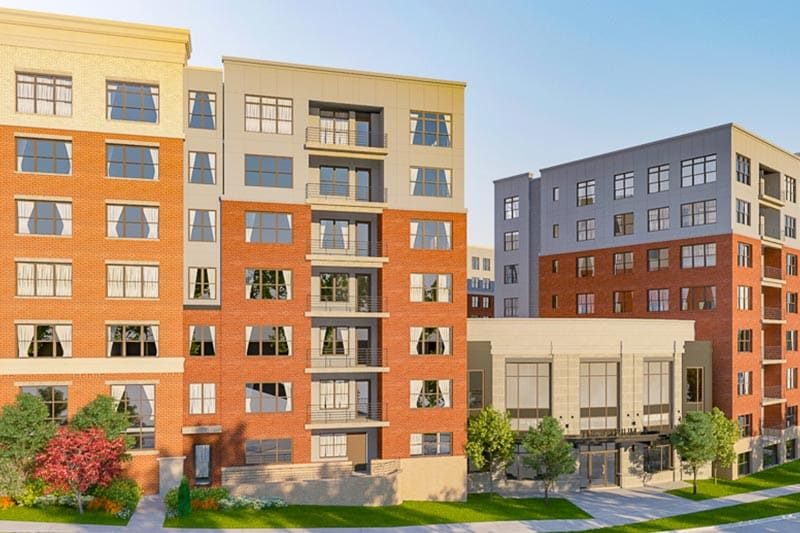 Located just 16 miles west of D.C. in Norther Virginia's Fairfax County, The Atrium at MetroWest is a perfect condo community with new homes for sale near Washington, D.C. This is a Pulte Homes project, and it's slated to have 206 luxury units that will all be housed in six-story, elevator-equipped buildings.
The condos offer 1,171 square feet with two bedrooms, two baths, and spacious owners' suites with en-suite bathrooms. Some have optional private covered balconies as well. Upgrades include granite countertops, ceramic tile backsplashes, frameless shower enclosures, engineered hardwood flooring, and LED recessed lighting. The Atrium's HOA provides for trash and snow removal, common area maintenance, water, and sewer.
Plans are also underway for a private clubhouse that will have meeting rooms, an indoor pool, and a fitness center. There will also be an outdoor courtyard, a grilling area, plus walking and biking trails. This 55+ community is also right by a Metro station and the Providence Community center, and it's close to grocery stores, pharmacies, and a great selection of restaurants. Nearby points of interest include the Army-Navy Country Club and Gateway Regional Park.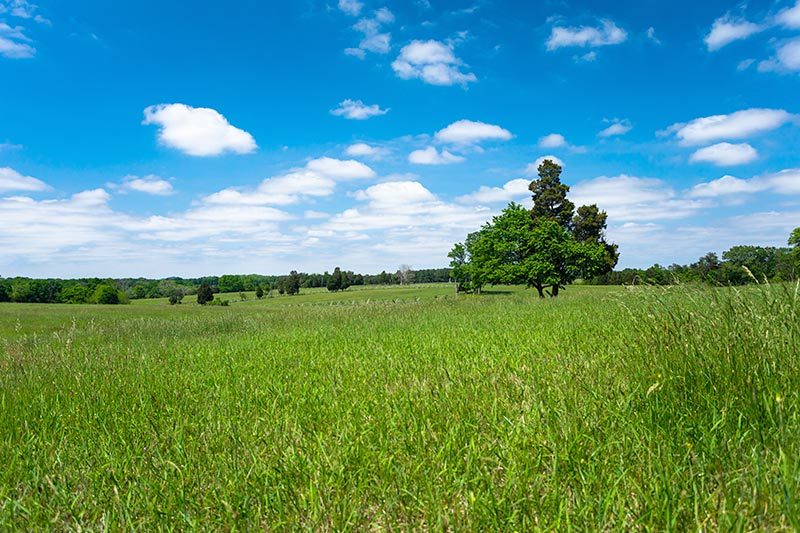 Also in Northern Virginia, Carter's Mill is a Del Webb 55+ community with new construction homes in Washington D.C. (Actually, it's about 50 miles west of the city in Prince William County.)
The builder broke ground in 2020, with plans for a total of 480 attached and single-family homes. Their Villas attached models are sized at 1,373 and 1,518 square feet with two to four bedrooms and bathrooms and one-car garages.
There are a large number of single-family floor plans as well, and these range from 1,336 to 1,822 square feet with two to five bedrooms, two to four bathrooms, and two-car garages. Like other Del Webb 55+ communities, Carter's Mill will have its own HOA once things are up and running.
This new active adult neighborhood will also have a 14,000-square-foot clubhouse, featuring indoor and outdoor pools, a game room, a fitness studio, and a craft room. Del Webb communities also have Lifestyle Directors who organize classes and groups for residents, plus activities like shopping trips, happy hours, and visits to area attractions. This exceptional 55+ community is also close to Arlington and Alexandria, Bull Run Golf Club, and shopping at the Haymarket Village Center.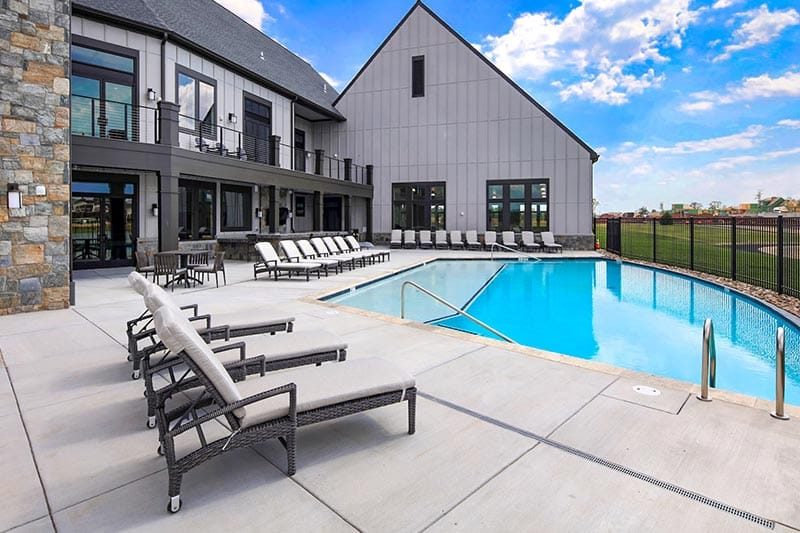 Our fifth active adult community with new homes for sale near Washington, D.C. is Birchwood at Brambleton, which is an hour west of Downtown D.C. in Loudon County. It's part of a master-planned community, and the dwellings are being built by Van Metre, Winchester Homes, and Miller & Smith. There will be a total of 1,502 new and resale homes with a grand total of 42 floor plans.
The smallest condo model is 1,032 square feet with two bedrooms and two bathrooms. The largest model offers 2,993 square feet with three to four bedrooms, two-and-a-half to four bathrooms, and an attached two-car garage. Some of the homes for sale at Birchwood also have granite counter tops, stainless steel appliances, custom-built patios, and two master suites. The HOA fee provides for lawn care, trash and snow removal, common area maintenance, internet, and cable TV.
Birchwood at Brambleton's clubhouse serves as the community's social hub, with indoor and outdoor pools, sports courts, a theater, a crafts studio, and a golf simulator. The impressive grounds also offer a public access fishing pier, a children's playground, and indoor/outdoor bars. Some of the most popular activities and events here include book clubs, game nights, weekly potlucks, and water aerobics.
This property is less than 15 minutes away from Dulles Airport and close to greenspaces like Ellanor C. Lawrence Park and Ashburn Park.