Year after year, the southern states attract retirees from all over the country who seek milder weather, laid-back lifestyles, and the warmth of southern hospitality. Two of the largest Southeastern cities are Nashville, TN and Charlotte, NC. While these cities share pleasant climates, big-city entertainment, and historic charm, each offers plenty of unique features to consider.
In Nashville, the world-renowned Music City, active adults can enjoy an abundance of nightlife, concerts, and performances as well as regular events, festivals, and activities. Charlotte also offers plenty to do, see, and enjoy, along with a more affordable cost of living. When comparing a retirement in Charlotte vs. Nashville, active adults should think beyond climate, location, and cost of living and into the type of lifestyle they want to live.
Take a closer look at the similarities and differences between the retirement destinations of Nashville and Charlotte to help you decide which city best meets your needs.
Geography and Population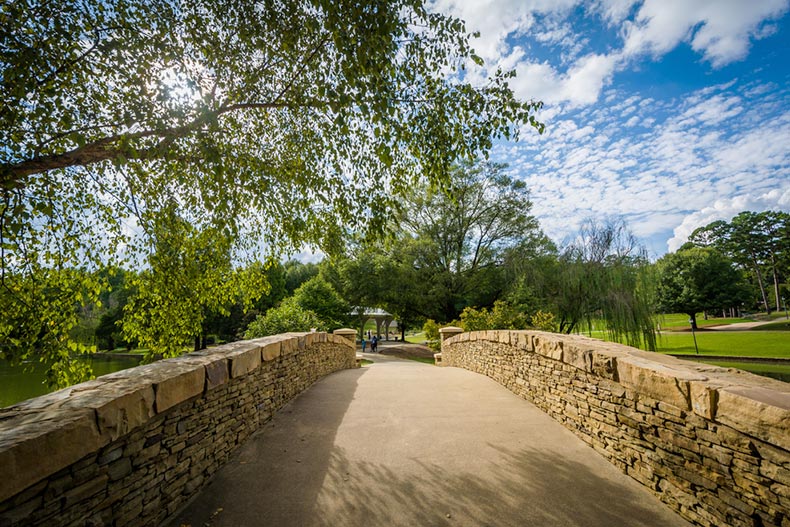 Both Nashville and Charlotte are located in the Southeastern United States, and contrary to popular belief, neither city is technically located in the "deep south." But with Nashville in Middle Tennessee and Charlotte in Central North Carolina, these cities are just over 400 miles apart and located nearly lateral to each other on the map.
Although the city of Nashville spans 526 square miles, nearly double the 297 square miles of Charlotte, the North Carolina destination has a much larger population. Charlotte includes approximately 925,290 residents compared to Nashville's 682,262, according to World Population Review.
Both cities are surrounded by other metropolitan areas and suburbs where people live and work. For Nashville, nearby towns include Franklin, Mt. Juliet, Murfreesboro, Goodlettsville, and Hermitage. Charlotte neighbors smaller cities such as Gastonia, Mooresville, Concord, and Wesley Chapel.
A major river runs adjacent to each city, with the Cumberland River in Nashville and the Catawba River in Charlotte. Thanks to its location near the Appalachian Mountains, Charlotte shares in the region's hills and abundance of parks and nature.
Charlotte is also much closer to the ocean, located about 3.5 hours from the Atlantic Coast. Nashville has its fair share of rolling hills, despite its lack of proximity to mountains. Residents of both areas can enjoy lush forests and ample wildlife.
Climate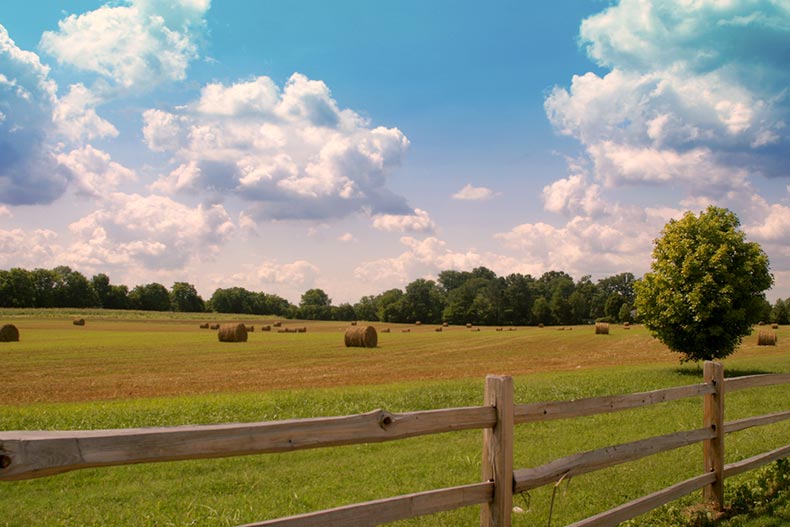 Even though these cities are more than 400 miles apart, their similar latitudes on the map lead to very similar climates. Both Charlotte and Nashville experience all four seasons with mild winters and minimal snowfall. The four-seasons weather allows active adults to participate in a variety of outdoor activities throughout the year.
According to WeatherSpark, the average high and average low temperatures in the warmer months are identical for both cities, with average highs of 89 degrees and lows of 71 degrees in the summer. The average temperatures in the colder months vary slightly, with Nashville at an average low of 32 degrees and Charlotte at an average low of 34 degrees.
Residents of both cities can expect hot and humid summers, surrounded by plenty of weeks of pleasant, milder weather. The warm weather lends itself to outdoor recreation, such as exploring the Little Sugar Creek Greenway in Charlotte or spending a day out on the lake in J. Percy Priest Lake in Nashville. Boating, fishing, and kayaking are popular outdoor activities in each state, along with walking and biking along trails and greenways.
Although winters can reach below-freezing temperatures in both cities, each location is far enough south to avoid the harsh snowstorms of the north. Nashville only receives an average of 1.7 inches of snow each year, and Charlotte typically only receives 2.8 inches.
Since both cities have top-of-the-line international airports, active adults can travel to tropical weather at their leisure. Residents of Charlotte can also drive to the Atlantic Coast within three-and-a-half hours, compared to an eight-hour drive to the Gulf Coast for Nashville residents.
Cost of Living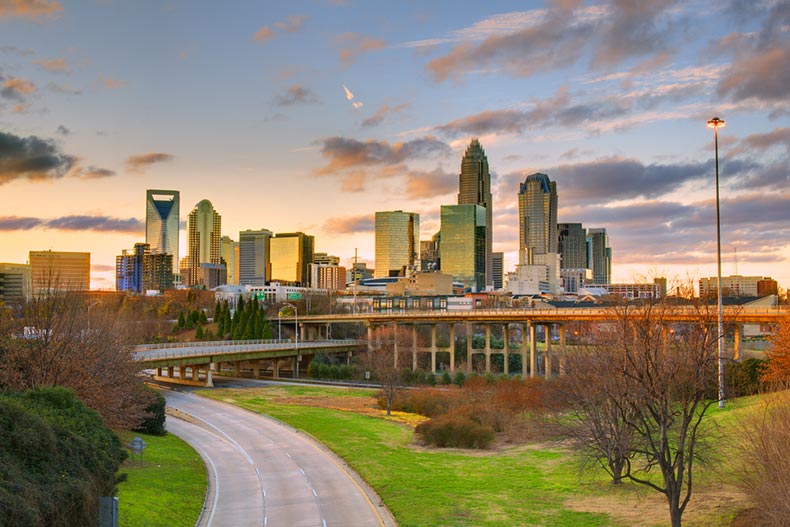 Both Nashville and Charlotte have seen an increase in the cost of living in recent years as the real estate market has exploded, but Nashville has seen the most drastic increases. The average cost of a home in Nashville has skyrocketed to $405,000. Charlotte's average home cost is more modest at around $355,000, despite similar increases in recent times.
While the cost of living is similar in both cities, Nashville tends to see higher expenses than Charlotte. Nashville's cost of living is 1.4% higher than the national average, while Charlotte's cost of living is 1.1% lower than the national average, according to BestPlaces.
Housing, grocery, utility, and transportation costs are generally slightly higher in Nashville than in Charlotte. Active adults on a budget need to consider these general expenses, as well as their housing budget, to determine which city balances affordability with their ideal lifestyle.
Each state also has different tax rates to consider. The state of Tennessee has no state income tax, which reduces tax burdens for retirees with Social Security and other retirement income. Tennessee does have a base state sales tax rate of 7%, which increases to 9.25% in Nashville.
The sales tax in Charlotte is 7.25%, an increase from the base state sales tax rate of 4.25% in North Carolina. Retirees should also know that North Carolina applies a state income tax of 5.75%, though retired residents of both TN and NC can seek additional tax breaks with the guidance of a trusted financial advisor.
Culture and Entertainment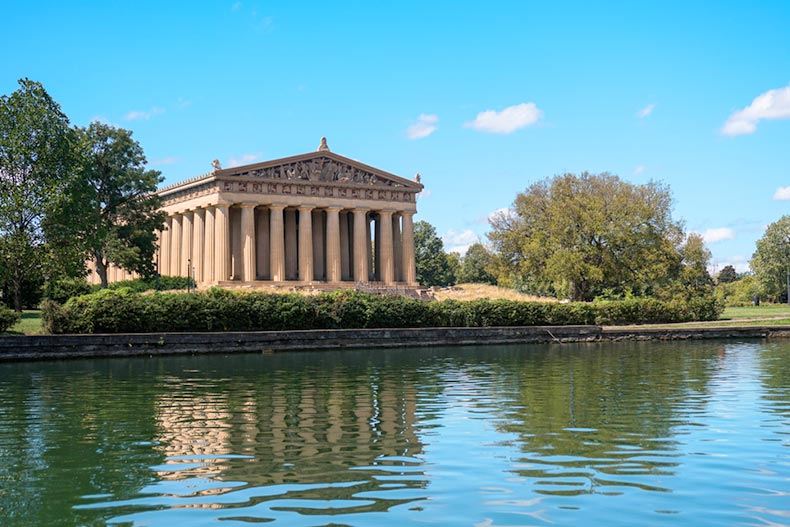 What To Do in Nashville
Nashville carries the proud titles of both Music City and the Country Music Capital of the World, and for good reason. Broadway Street and the surrounding downtown area is packed with bars, restaurants, and performance venues that showcase live music every day, which has created a world-class nightlife scene.
While country music is prominent in Nashville, the city is home to many more genres of music playing at the dozens of venues that call Nashville home. Some of the most well-known theaters in Nashville include the Ryman Auditorium and the Grand Ole Opry.
The timeless Grand Ole Opry theater is located next to the Opry Mills Mall, a massive shopping complex that could easily take a whole day to explore. Additional shopping in the area includes the upscale Green Hills Mall as well as downtown shopping districts like The Gulch. Popular attractions in Nashville include the Frist Art Museum, the Parthenon, the Country Music Hall of Fame, and the Nashville Zoo at Grassmere.
The city of Nashville also contains many sizable greenspaces and parks for residents looking to get outside, including Percy Warner Park, Shelby Bottoms Nature Center & Greenway, and nearby J. Percy Priest Reservoir for aquatic fun.
What To Do in Charlotte
Charlotte is nicknamed the Queen City because it was named after Queen Charlotte, the wife of the English King George III. If this fact tells you anything, it's that Charlotte is an old city, founded in 1768 and full of history. The city's storied past can be explored in the many nearby museums, including The Charlotte Museum of History and the Levine Museum of the New South. More modern installations can be found in institutions like the Bechtler Museum of Modern Art, NASCAR Hall of Fame, and the Mint Museum Uptown.
There are several stadiums and sports venues in Charlotte, like Bank of America Stadium (home of the NFL's Carolina Panthers) and Truist Field (home of minor league baseball's Charlotte Knights). Like Nashville, Charlotte also contains multiple performing arts theaters and musical venues, such as the Carolina Theatre, the Belk Theater at Blumenthal Performing Arts Center, and the Neighborhood Theatre.
Many parks and greenspaces dot the city, and the nearby Catawba River, Mountain Island Lake, and Lake Norman offer easy outdoor getaways throughout the year. Within 90 minutes, residents can also escape to the nearby Appalachian Mountains and an abundance of scenic hiking trails. For locals looking to find entertainment indoors, there are several hip shopping centers in the heart of downtown Charlotte, like Epicentre, Atherton Mill, and SouthPark Mall.
Health Care and Education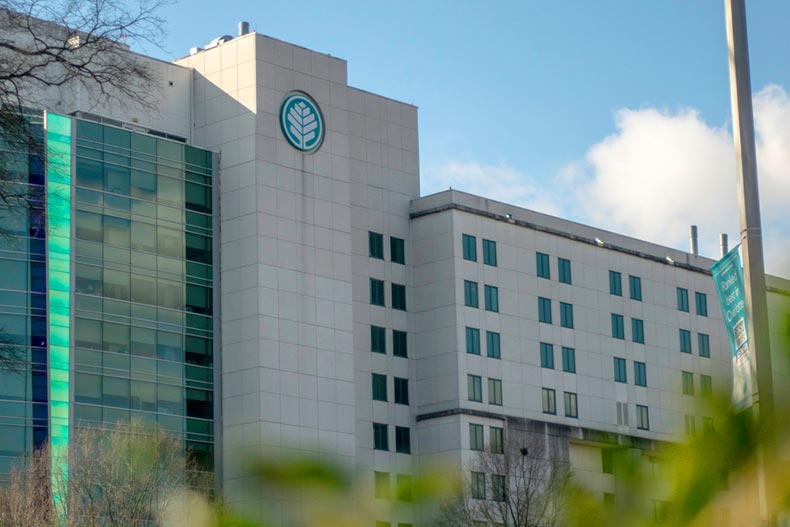 In both Charlotte and Nashville, residents can expect to find highly reviewed hospitals and medical centers that offer a wide range of services.
Nashville is home to institutions such as TriStar Centennial Medical Center, Ascension St. Thomas Hospital, and the award-winning Vanderbilt University Medical Center. Vanderbilt also includes the Ingram Cancer Center for world-class cancer treatments and care.
In Charlotte, top options for health care include Novant Health Presbytarian Medical Center and Atrium Health Carolinas Medical Center, which was voted best hospital in the region by the U.S. News & World Report. Atrium Health Levine Center Institute is one of many cancer treatment centers in the city.
There's also an assortment of large colleges in both cities, Nashville has Belmont University, Vanderbilt University, and Lipscomb University. Charlotte has the University of North Carolina, Queens University, and Johnson C. Smith University.
55+ Communities in Charlotte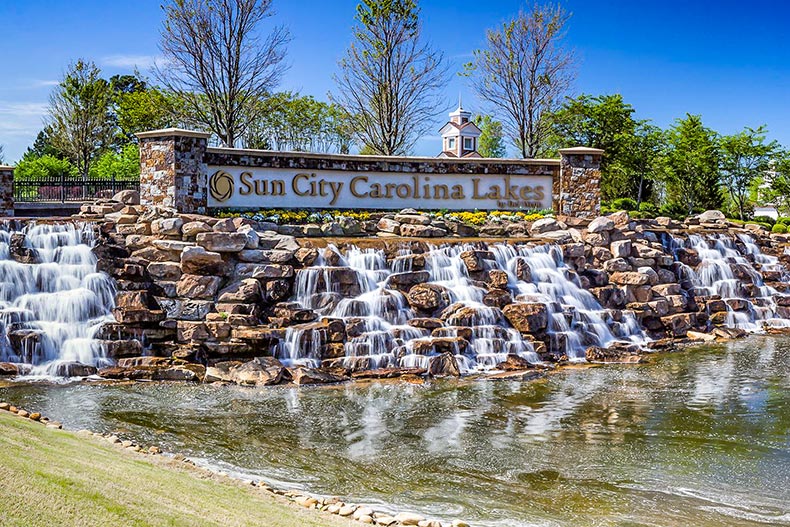 High $300s – Low $600s
Cresswind Charlotte, which sits on 370 scenic acres of North Carolina woodlands, offers active adults a quiet retreat from the city just 30 minutes east of downtown Charlotte. The 55+ community, which began construction in 2016, will consist of 850 single-family homes total. Cresswind Charlotte boasts a resort-style lifestyle and world-class amenities, such as an 18,000-square-foot clubhouse and a social calendar coordinated by a full-time lifestyle activities director.
Request more information about Cresswind Charlotte.
Mid $300s – Mid $800s
Located just 15 minutes from downtown Charlotte, The Vineyards on Lake Wylie also impresses as one of the largest lakefront communities within reach of the city, with 430 single-family and attached homes. Residents can take full advantage of the lakefront lifestyle with abundant amenities, such as the community's docks on Lake Wylie. The floor plans for D. R. Horton, designed for first-floor living, boasts desirable features like open-concept layouts.
Request more information about The Vineyards on Lake Wylie.
Mid $200s – Mid $600s
With 3,160 single-family and attached homes, Sun City Carolina Lakes is the largest 55+ community in the Fort Mills-Charlotte area, just 25 miles south of Charlotte. The resort-style Del Webb community offers a low-maintenance lifestyle, world-class amenities, sought-after floor plans, and a full social calendar with more than 150 clubs, organizations, and activities.
Request more information about Sun City Carolina Lakes.
Low $300s – High $700s
Trilogy Lake Norman includes 1,100 single-family homes and a non-stop calendar of events and activities thanks to a full-time lifestyle director. Residents find themselves within a 30-minute drive of downtown Charlotte, so they can easily visit the city when they're not enjoying the resort-style amenities. There are many floor plans of all different sizes and prices across multiple home collections, ensuring that interested homebuyers can find the right home for them at Trilogy Lake Norman.
Request more information about Trilogy Lake Norman.
55+ Communities in Nashville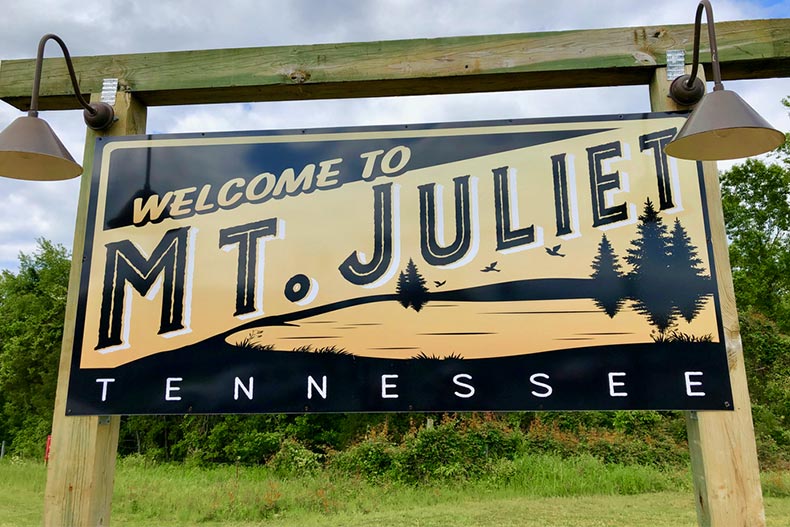 Mid $300s – High $600s
Del Webb Lake Providence in Mt. Juliet offers thoughtfully designed homes and low-maintenance lifestyles to residents, all within 20 minutes of downtown Nashville. The gated 55+ community consists of 1,029 single-family and attached homes and enjoys a location adjacent to a 15-acre lake. Residents enjoy dozens of clubs and activities, along with resort-style amenities such as a 24,000-square-foot clubhouse, a state-of-the-art fitness center, and 5 miles of scenic walking and biking trails.
Request more information about Del Webb Lake Providence.
Mid $300s – Mid $400s
Just 20 miles east of Nashville in Lebanon, active adults can find StoneBridge, an active lifestyle community that includes 800 single-family and attached homes. Homeowners of the attached homes and townhouses enjoy a low-maintenance lifestyle thanks to a homeowners' association that covers exterior home maintenance and lawn care. Amenities at StoneBridge include a clubhouse and an outdoor pool with a spa.
Request more information about StoneBridge.
Mid $300s – Low $400s
The Preserve at Belle Pointe is an up-and-coming 55+ community just 35 minutes outside of Nashville. Construction began in 2021, and the community plans to offer active adults the opportunity to own one of 1,000 brand-new single-family or attached homes just outside of Music City. The Preserve at Belle Pointe will feature sought-after amenities like a clubhouse, a fitness center, and a resort-style pool.
Request more information about The Preserve at Belle Pointe.
Low $300s – Mid $500s
The exclusive 55+ community of Parkhaven began construction in 2020 and will consist of 110 single-family homes upon completion. Residents of Parkhaven will enjoy a low-maintenance lifestyle and amenities to keep homeowners entertained when they're not out exploring Nashville. Active adults searching for a brand-new home in a smaller, quieter neighborhood within 20 minutes of the heart of downtown Nashville will find plenty of opportunities at Parkhaven.