Fort Myers perhaps represents the best of Florida, with its sparkling Gulf of Mexico beaches, championship golf courses, fishing charters, and growing opportunities for shopping, art, culture, and fine dining. It also doesn't have the traffic, commercialism, and overcrowding that affect a lot of coastal cities in the Sunshine State. Plus, nature lovers and sports fans need not travel far for beautiful preserves and MLB training sites.
Fort Myers has recently been named one of the best places in the U.S. to retire, and the more active adults get to know about this comfortable coastal city, the more they understand why. The area offers a low cost of living and a high quality of life. Taxes are lower than in other parts of the U.S. and even in the sizzling hot real estate market, Fort Myers homes are reasonably priced. Buyers who may feel priced out of Florida's Atlantic coast communities will find lower price tags here.
Take a closer look at this region of Southwest Florida and explore some of the best 55+ communities in Fort Myers homes.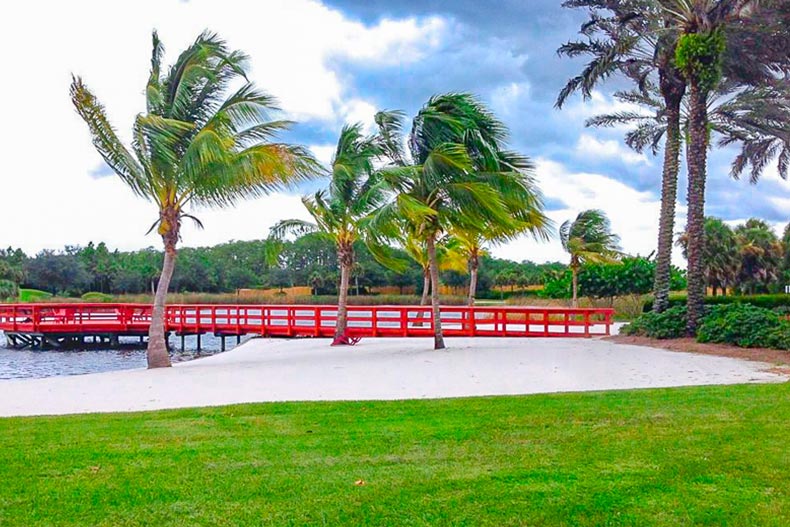 Pelican Preserve is a popular community sought-after for its myriad of amenities, attractive homes for sale, and of course the Pelican Preserve Golf Club. Here, players have access to 27 holes of golf as well as a dedicated clubhouse with a pro shop, fitness center, spa, and restaurant. Additional amenities in the community include another clubhouse and fitness center as well as a private beach area, juice bar, pickleball and tennis courts. One of the more unique features is the 38-acre nature preserve that features a butterfly garden. 
There's always something to do at Pelican Preserve, whether homeowners are looking for a card game, a movie night, or a brunch. Residents can also expect pool parties, tennis tournaments, and fishing derbies. 
Pelican Preserve features a variety of home types and floor plans. A number of resale models can be found in condo, attached villa, and single-family styles. Chateaus, cottages, villas, classic homes, and estate homes all have a selection of models ranging from 1,078 to 3,093 square feet, with two to four bedrooms and two or three bathrooms. Condos are housed in mid-rise buildings with elevators and balconies. Units range from 1,229 to 1,450 square feet with two or three bedrooms and two bathrooms.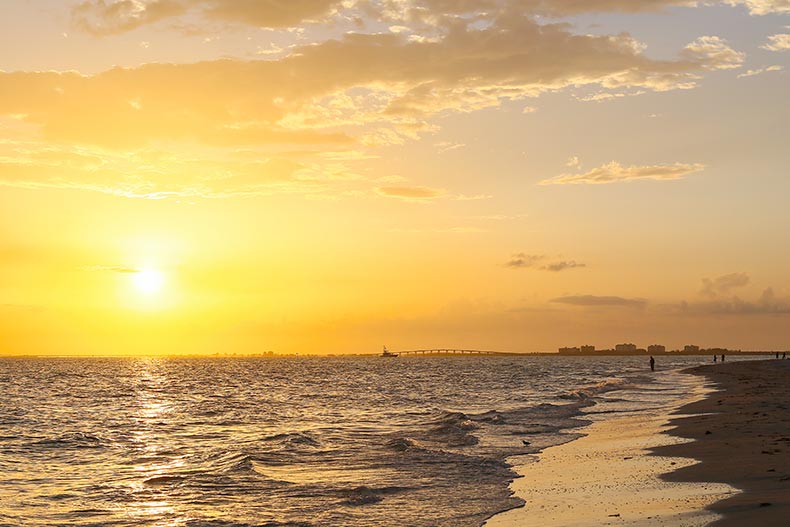 Homebuyers looking for low-maintenance living in a scenic setting should take a look at Seven Lakes. While the lakes and well-landscaped setting are certainly a draw, the best part of living here might be the free golf. Residents have complete access to the executive course and putting green. Other unique amenities include Seven Lakes University, where residents can take classes or attend lectures. Homeowners can also visit The Tee Room, an on-site restaurant, and a clubhouse called The Pavilion, which includes card rooms, a library, a woodworking shop, gathering spaces, and a fitness center. Private bus service into downtown Fort Myers is available to residents, which makes it easy to leave the car at home while running errands or having fun.
Condos and attached villas are reasonably priced and many have recently updated models. Condos are available in buildings that have three to five floors and elevators. These homes have 700 to 1,600 square feet with one or two-bedrooms. Attached villas are also found throughout the community, in 10 different models. These homes are 1,175 to 1,600 square feet with two bedrooms, two bathrooms, and an attached one-car garage.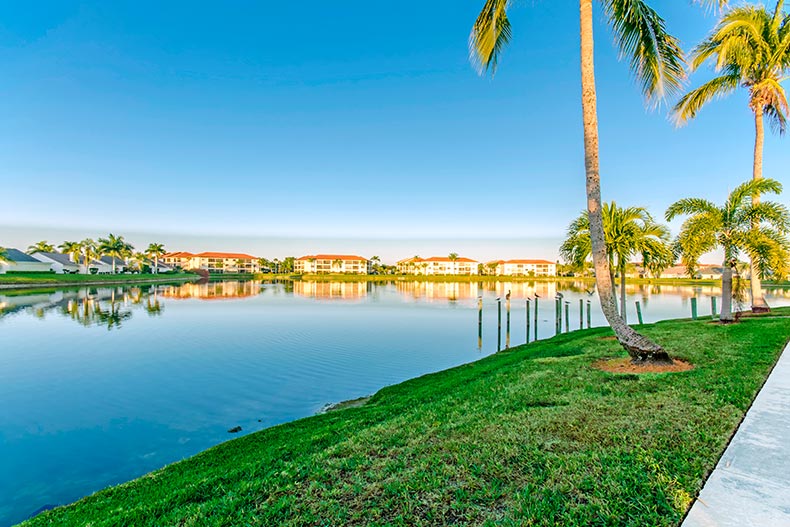 Cinnamon Cove is a gated 55+ community that is particularly attractive to buyers because of its three lakes and fishing pier. Additional amenities include a clubhouse with a fitness center, billiards rooms, and meeting spaces. Outside, there's a pool and a spa as well as tennis courts, pickleball courts, bocce courts, and shuffleboard courts. Fitness classes and water aerobics are popular activities, with many more dotting the calendar.
Condos at Cinnamon Cove are available in three two-bedroom, two-bathroom models. They range from 931 to 1,057 square feet and include a one-car garage. Attached villas start at 1,087 square feet and offer two bedrooms, two bathrooms, and an attached one or two-car garage. For buyers interested in single-family homes, the community offers two floor plans at 1,356 square feet with two bedrooms, two bathrooms, open floor plans, and an attached two-car garage. 
There are a dozen distinct neighborhoods within Cinnamon Cove, and while most of them are 55+, some have no age restrictions at all, making it a great option for cross-generational families.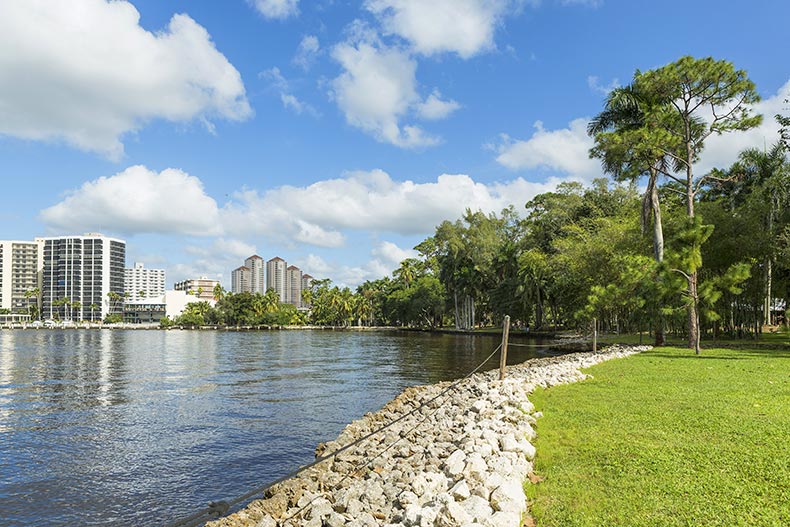 Love lighthouses? All the streets at Heritage Cove are named after famous lighthouses. New residents may find themselves living on Plum Island, Point Judith, or Castle Hill. 
This 55+ community in Fort Myers is gated and private, with single-family homes, villas, and condos nestled into a leafy, residential area that feels like a park. Condos are in four-story buildings and have 1,232 to 1,408 square feet with two bedrooms and two bathrooms. Attached villas are also available, starting at 1,250 square feet. Most models have three bedrooms, two bathrooms, and an attached two-car garage. Single-family homes have two or three bedrooms and two bathrooms, with attached two-car garages and models from 1,485 to 1,685 square feet.
Amenities include a clubhouse and recreation center, and the community regularly holds social gatherings. Neighbors are fond of getting together for ice cream socials, potlucks, and bingo. There are also dance classes and aerobics classes as well as a poker club and groups that get together for swimming and tennis.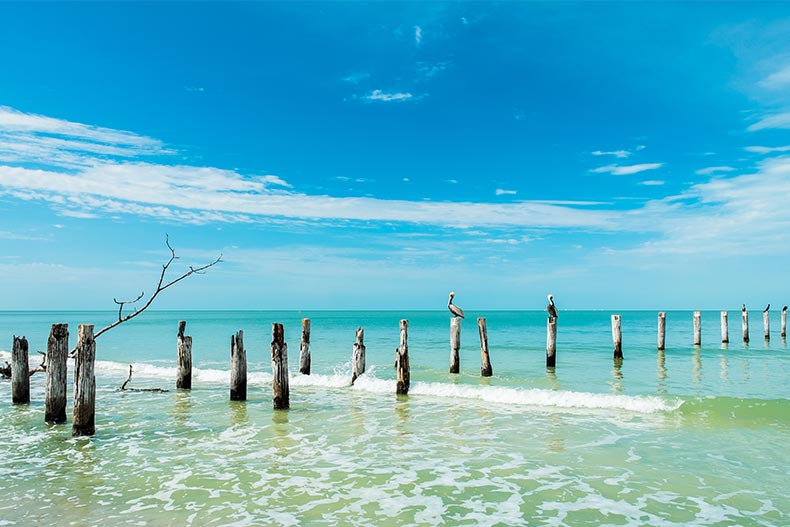 Active adults looking for an affordable Fort Myers 55+ community will want to check out Pine Ridge at Fort Myers. The gated neighborhood offers homes for sale in several different models. Condos are in low-rise buildings with 960 to 1,400 square feet. Spacious floor plans include two or three bedrooms and two bathrooms with balconies or patios. The attached villas have 1,000 to 1,468 square feet. These homes are in two and three-bedroom models, with two bathrooms and an attached one-car garage. A few single-family homes can also be found, with 1,200 square feet, two bedrooms, and an attached one-car garage. 
Amenities abound at Pine Ridge at Fort Myers. There's a clubhouse with a catering kitchen and two multipurpose rooms, which serve as meeting spaces and gathering spots. Outdoors, homeowners can take advantage of a pool and whirlpool spa right outside the clubhouse, with plenty of sunny patio space and seating. Residents can also play shuffleboard, tennis, and bocce or visit the picnic area, the 20-acre lake, and plenty of paths for walking and trails for biking. Community parties and craft nights are some of the events that take place here, and residents also get together for potlucks and pool parties.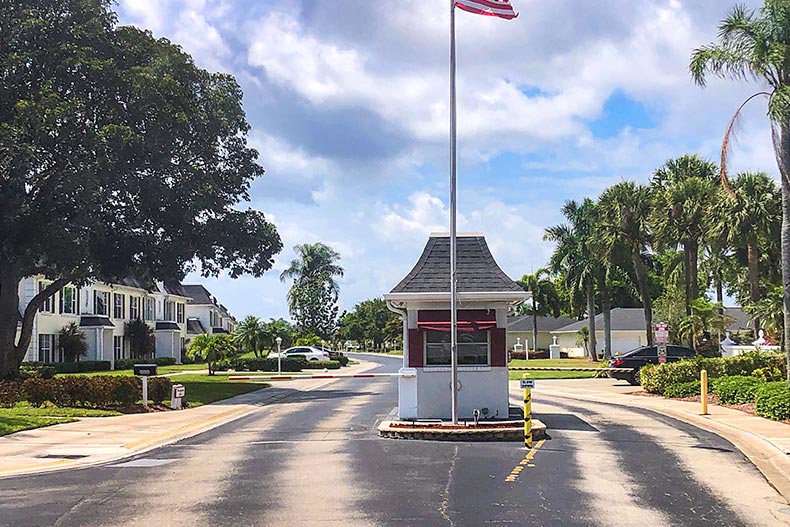 With 351 homes, Brandywine is an intimate 55+ community in Fort Myers where residents can really get to know their neighbors. Homeowners enjoy working and socializing together over unique amenities like the Remembrance Garden, where members of the community's garden club and a group of volunteers got together to plant native flowers and plants. Butterflies gather in the garden, as do photographers, looking for the perfect scenic shot.  
There's also a clubhouse with a fitness center, library, and game room. Outside, residents relax around the pool, play pickleball, tennis, and shuffleboard, and stroll along the walking trails. 
Condos and attached villas are available in spacious floor plans. The villas have 1,700 to 2,500 square feet, two bedrooms, two bathrooms, a flex space that can be used as a den or an office, and an attached two-car garage. The low-rise condos are 1,464 square feet with two bedrooms, two bathrooms, and an attached one-car garage.