Many retirees seek out those amenities when finding their next home in one of the many Del Webb communities across the country.
But this builder offers much more to homebuyers than some of the best amenities around. For many active adults, the floor plans designed with 55+ active adults in mind help make it easier to decide that a Del Webb community is the right choice for them.
What's more, the thoughtfully designed floor plans provide an ideal opportunity for active adults to age in place so they can enjoy the homes and communities of their dreams for years to come. Here's a closer look at some of the well-designed features and benefits of Del Webb floor plans.
Inspired Designs
Del Webb aims to build homes that allow residents to age in place. Similar to finding a "forever home," the concept of aging in place means that homebuyers find the home and the community they want to stay in as long as possible. Homes that continue to meet residents' needs as those needs change help make aging in place possible.
Inspired Designs by Del Webb allows aging in place to happen. These constructions support homebuyers who want to customize their homes to their exact needs and preferences while anticipating features that might become increasingly useful over time. Some of these thoughtful designs include first-floor master suites, accessible storage, well-designed kitchens, and smart technology.
Luxury Master Suites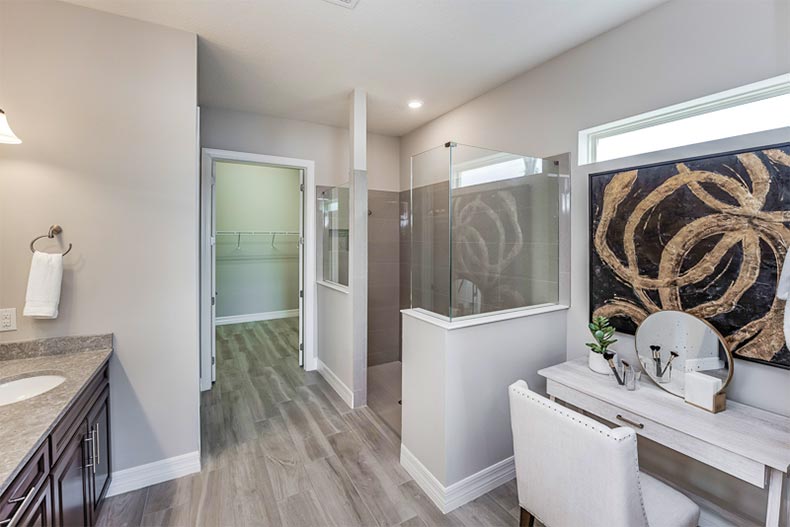 Although many Del Webb home models follow ranch-style floor plans, some of the models offer a second story or loft space. Both one-level and two-level floor plans are designed for first-floor living, which means homeowners enjoy their luxury master suites on the main level.
The masters often feature ensuite bathrooms with spa-like touches, such as rainfall showerheads or benches. Some of the European-style master bathrooms include separate bathtubs and showers as well as dual vanities. Many master suites have one or two walk-in closets.
For added convenience and functionality, the laundry space is often located adjacent to the master suite. The laundry areas also boast plenty of built-in storage and room for folding and sorting clothing.
Some Del Webb floor plans offer a unique opportunity for a master suite with a mini master. The mini master adds a second bedroom space, which allows adults on separate sleep schedules to both get a good night's rest. It can also be used as a spacious sitting room or private owner's retreat from the rest of the house.
Accessible Storage
Even homebuyers who want to downsize can still appreciate that Del Webb floor plans offer plenty of storage. Many home models include a variety of thoughtful features that provide accessible storage space throughout the home.
Many floor plans offer versatile loft rooms for additional space and flexibility. The convertible space creates an ideal area for family and other guests to stay. It can also be used as an extra sitting room.
Most attic spaces feature fixed stairs, which add accessibility and convenience. The fixed stairs allow for safer access to the storage space, which makes taking items out of storage easier. Some attics also follow walk-in designs for more room to walk around.
There's also abundant storage throughout the home, with walk-in closets located in several ideal locations. Many garages also provide ample space.
Additionally, many homebuyers desire open concept floor plans because these layouts encourage conversation and allow for entertaining. Open layouts also create plenty of space for residents and their guests to move around.
Functional Kitchens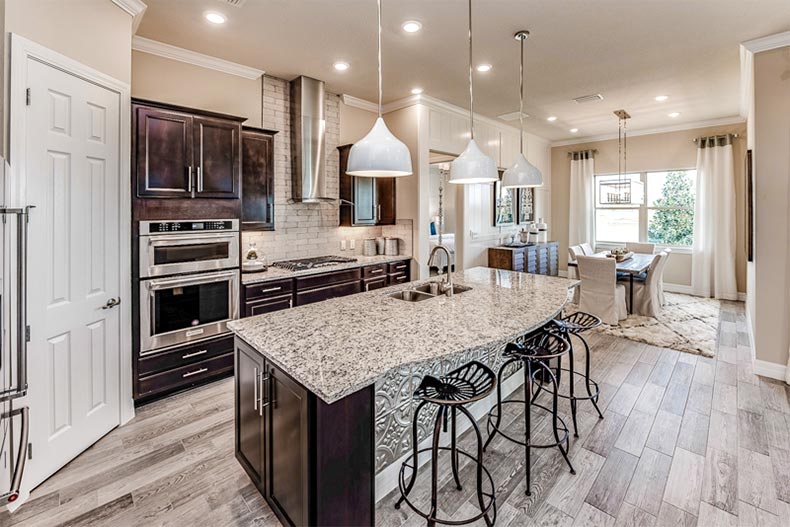 Some of Del Webb's most inspired designs can be found throughout the kitchen. These design features cater to the needs and preferences of active adult homebuyers.
Multi-level countertops and surfaces encourage conversation and create an inviting space for family and friends to gather. It also creates additional preparation space.
Many kitchens feature raised dishwashers positioned higher off the ground than traditional layouts. Raised dishwashers can be used without stooping or bending over, which makes loading and unloading much easier.
Similarly, built-in lowered microwaves are located at eye level. This convenient height means that residents won't have to reach to use it. Self-closing drawers add an additionally luxurious and modern touch.
Smart Home Features
Active adults who want their homes integrated with the latest technology also have plenty of options available from Del Webb. In fact, every Del Webb home comes standard with a Smart Home base that includes superior WiFi coverage and premium wiring that allows greater bandwidth and connectivity across devices throughout the home.
The smart technology features only extend from there, as homebuyers can choose from a variety of upgrades and options to customize their smart home. The upgrade package, which bundles all of the most popular smart home options, includes voice control, climate control, automatic front door locks, and garage controls.
Residents can use their smart devices (such as phones or tablets) to lock the doors, open and close the garage door, adjust the temperature, and use other systems. It all comes with Del Webb's white glove service for professional installation.
Homeowners can also choose from a menu of a-la-carte options to customize with the features they want most. Some of these luxury upgrades include sound and music systems and home theater wiring. Additional features include USB Outlets, smart switches, and a system of automatic door locks.
Del Webb 55+ Communities
Del Webb's network of 55+ communities extends across the country, including Florida, North Carolina, South Carolina, Texas, Nevada, New Jersey, Arizona, Tennessee, New Mexico, Georgia, Virginia, Connecticut, Indiana, and Michigan. Here's a highlight of just a few of Del Webb's newer 55+ communities with desirable floor plans still available as new construction homes.
Del Webb Naples in Ave Maria, Florida recently added new home models to its extensive lineup of floor plans. Slated to include 2,000 single-family and attached homes upon completion, interested homebuyers can still build new construction single-family homes in the Estate, Classic, and Garden series, as well as one attached home model.
Located in Northeast Florida, Del Webb Ponte Vedra in Ponte Vedra plans to include 1,988 single-family, attached, and condominium homes. The floor plans currently available as new constructions include the Garden, Classic, and Estate homes.
The most spacious homes available, the Estate homes range from 2,315 to 2,611 square feet. Many of these floor plans feature lanais for indoor/outdoor living, open floor plans for entertaining, and spacious owner's retreats.
Del Webb Sweetgrass in Richmond, Texas will include 1,500 single-family homes upon completion. Most of the home models are still available as new construction homes that range from 1,109 to 2,587 square feet.
Currently under construction about an hour northeast of Las Vegas, Sun City Mesquite in Mesquite, Nevada offers a desert retreat within easy reach of the Sin City. The single-family home models range from 1,241 to 3,116 square feet, so homebuyers can choose the layout that best suits their needs.
Del Webb Rancho Mirage in Southern California's Palm Springs area is a newer 55+ community that began construction in 2018. Upon completion, this community will feature 1,000 single-family homes with customizable floor plans that range from 1,438 to 2,726 square feet.