As the capital of Georgia, Atlanta embodies the charm and culture of the American South. Also known as The Big Peach, The ATL, and the City in a Forest, the location of Atlanta puts the city in the northern region of the state, surrounded by greenspaces, lakes, and historic sites.
Atlanta offers a prime choice for retirement for a number of reasons; its scenic location, affordability, and pleasant climate among them. However, many call Atlanta home for reasons that go beyond the superficial. The city brims with natural beauty and kind people as well as many places to explore and things to do.
We have compiled a guide for active adults who might want to ask themselves, "should I move to Atlanta?" Keep reading to discover what attracts so many active adults to the city and why it's an ideal locale for retirees.
Retiring to Atlanta: Pros and Cons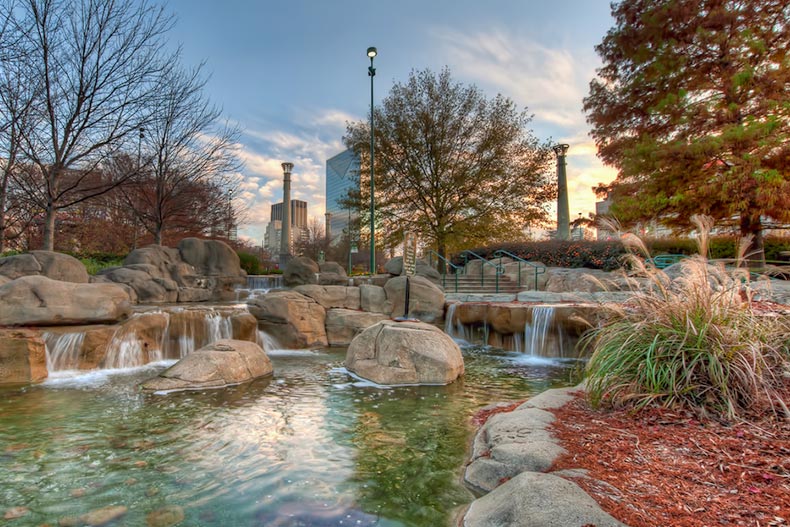 PROS
A booming metropolis: Atlanta is considered by many as "The Capital of The South" due to its central location and rich culture. The possibilities for entertainment are abundant, with expansive shopping centers, world-class restaurants, cultural attractions, museums, and top-notch entertainment nearly every night of the week.
Warm weather: The amiable climate attracts many retirees thinking about moving to Atlanta. The colder months of the year stay pleasant with low snowfall and average temperatures that rarely dip below freezing. Active adults in Atlanta seldom worry about icy roads or frozen pipes.
Southern hospitality: The weather isn't the only thing that's warm in Atlanta, as the people there exemplify the famous hospitality of the south. The whole of Georgia was voted the state with the most southern hospitality, according to a 2017 poll from Patch. With polite denizens and soulful food, Atlanta will make newcomers feel right at home.
Affordability: With a hefty tax exemption on retirement income, active adults are able to save their money and spend it on new experiences or a good home. Property taxes are lower than the national average, and retirees will find that Atlanta is a cost-efficient place to live.
CONS
Atlanta Climate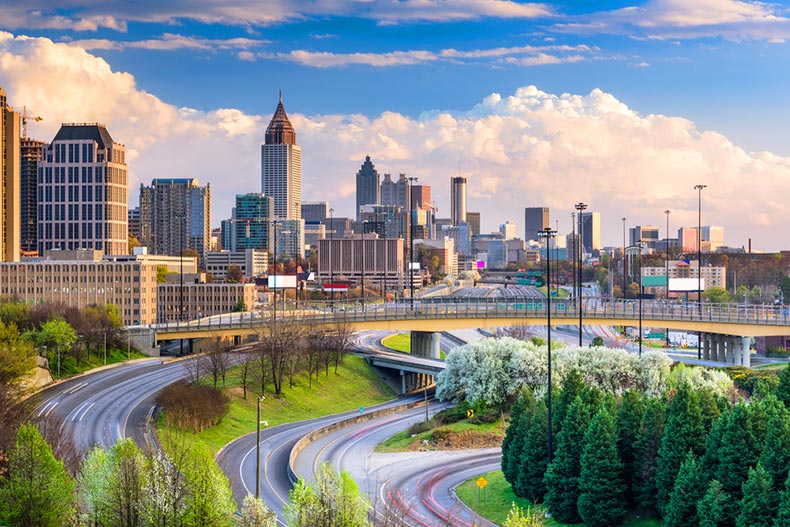 Active adults moving to Atlanta should know that the climate there is similar to many other southern cities with humid, muggy summers and mild winters. With manageable weather in the colder months, residents of the ATL can spend time outdoors year-round.
According to WeatherSpark, the warmer months in Atlanta last from the end of May until September with average highs over 81 degrees. January, the coldest month in the year has an average high of 53 degrees and a low of 35 degrees. January is also the month most likely to receive snow, but the average snowfall for the month is only about 1.2 inches.
A typical summer day in Atlanta is hot and humid, while the spring and fall days see more temperate weather. Rainfall is expected year-round with February being the wettest month.
The annually warm weather allows for outdoor fun every month of the year. Popular outdoor activities for Atlantans include visiting the numerous parks and greenspaces around town, including Stone Mountain, which offers scenic views of the city. There are several lakes and rivers nearby to cool off in, including Lake Lanier, Lake Allatoona, and the Chattahoochee River. For more fun in a more metropolitan setting, residents can soak in the soak at a local farmers market or explore the shopping that Downtown Atlanta has to offer.
Atlanta Taxes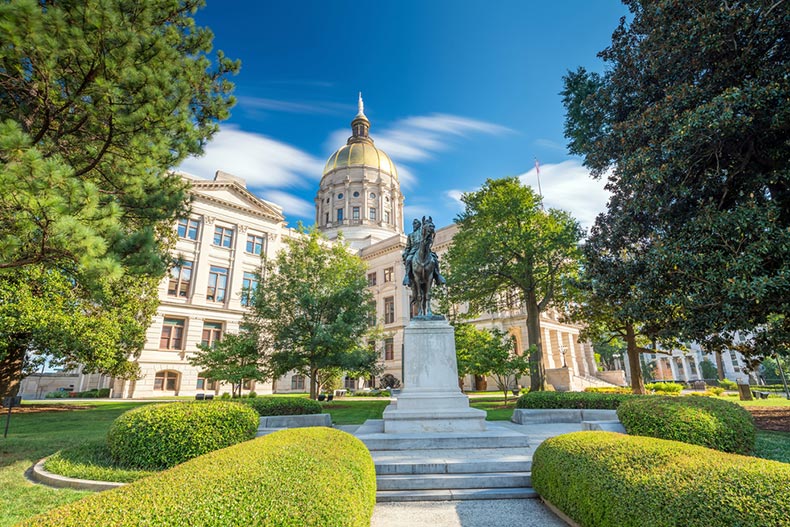 Atlanta's tax rates are among the most appealing in the nation, especially for retirees. Although the Georgia sales tax is 4.0% and local taxes bring that up to 8.9% in Atlanta, there are still many factors that make the city affordable. The city's tax-friendliness towards retirees allows for active adults to plan their finances and get the most out of their money.
Atlanta Property Taxes
According to SmartAsset, the average effective tax rate is 1.00%, which is higher than the state average of 0.87%. However, it's still lower than the national average of 1.07%. In Georgia, the median real estate tax payment is around $1,771, which is approximately $800 less than the national average. As an added bonus, 62+ active adult homeowners can benefit from property tax exemptions, and seniors are eligible for double homestead exemptions.
Atlanta Retirement Income Taxes
Full-year and part-year residents of Georgia must pay state income taxes. However, there are many tax credits and exemptions available, including standard deductions. The state does not collect capital gains tax or taxes on inheritance, estates, or social security benefits, which helps protect active adults' assets.
Atlanta Tax Exemptions for Seniors
Seniors in Atlanta gain the benefits of major tax exemptions implemented by the state of Georgia. One exemption allows up to $65,000 in pension and investment income to be shielded from income tax collection for 65+ single retirees. If said retiree is married, then up to $130,000 of those funds are protected. Those 62 to 64 also get a break, with up to $35,000 in retirement funds exempt from state income taxes and up to $4,000 in other wages.
Atlanta Health Care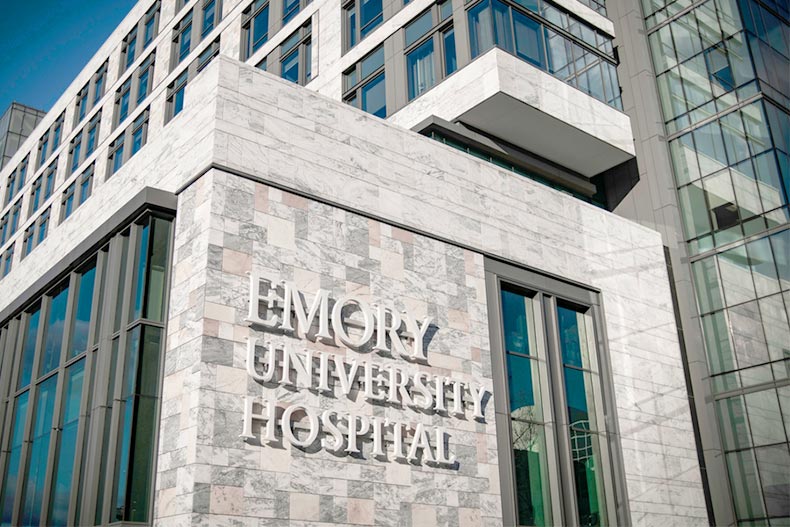 Retirees in Atlanta can find no shortage of world-class health care and hospitals for a wide range of medical needs. One such institution is Emory University Hospital with a central campus located on the northeast side of the downtown area. According to U.S. News and Health, this accredited hospital is ranked nationally in five adult specialties and is ranked number one for best regional hospital. Emory contains specialized services through its award-winning departments, such as The Winship Cancer Institute and The Emory Transplant Center.
Another reliable medical center in Atlanta is Northside Hospital. The sizable hospital offers 621 beds, 3,000 physicians, and more than 12,000 employees, according to their website. Northside is nationally ranked by U.S. News and Health as well and provides a wide range of services. Their cardiovascular department has leading experts and cutting-edge equipment and the Northside Hospital Cancer Institute also offers advanced treatment solutions.
Where to Live in Atlanta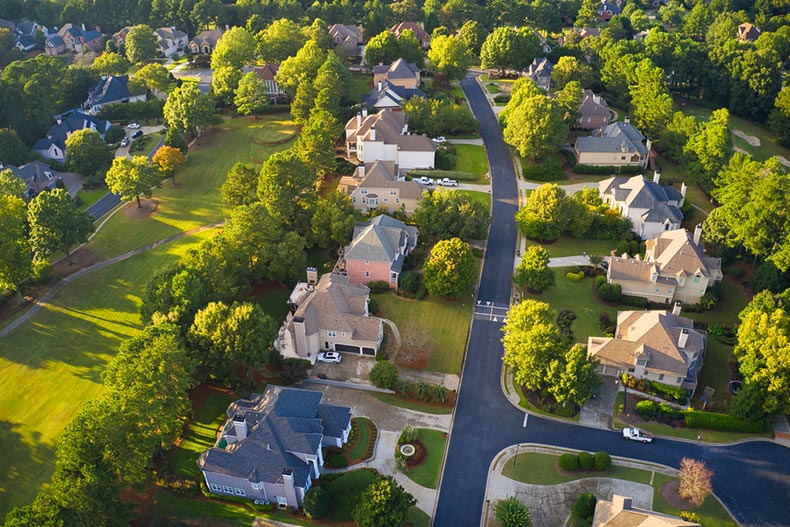 Atlanta is surrounded by several mid-sized cities and suburbs, lush natural areas, and numerous age-restricted active adult communities. Find out which regions you find attractive near The Big Peach.
Marietta
Located in Cobb County just 30 minutes northwest of Atlanta, Marietta is a city filled with history, entertainment, and affordable real estate. The western border of the city is comprised of the Kennesaw Mountain National Battlefield Park, and residents can easily hop on Interstate 75 to reach Atlanta or beyond.
The city maintains a small-town feel despite having a population of around 60,000. Downtown Marietta is quaint and walkable with numerous shops and restaurants to explore. Opportunities to get outside and explore natural areas or play golf are abundant in the region.
Marietta harbors a rich culture of history through its museums, like the Marietta History Center, Marietta Cobb Museum of Art, and the Kennesaw Mountain National Battlefield Park. Residents can also visit local attractions like Six Flags White Water or the Chattahoochee Nature Center which has gardens and animals to visit.
There are several exclusive 55+ communities in and near Marietta, most of which have under 100 homes. Some of the communities offer opportunities for new single-family homes, such as Longleaf Battle Park, McGinnis Farm, 1825 Stileboro, and Mount Calvary. Other nearby communities only have resale homes, such as Grove Park, Edenton, and Village Green at East Cobb.
Alpharetta
With a population of around 57,000, Alpharetta is a good-sized satellite city located approximately 35 minutes north of Atlanta. Known as the "Technology City of the South," it's home to many tech-focused businesses and an abundance of things to do. Many people who want to live close to Atlanta in a smaller city find their home in Alpharetta.
Life in Alpharetta is as simple or as busy as its residents want to make it. Those looking to relax can take a spa day at one of the city's wide array of spas and wellness centers, or they can spend the day outside at greenspaces like the Alpha Loop Connection.
Downtown Alpharetta has a small-town feel while also providing plenty of entertainment for its residents. There are 25 unique shops as well as over 30 restaurants to choose from and a chuck-full calendar of events and festivals year-round. Alpharetta also boasts a busy scene for live music, with venues like Ameris Bank Amphitheater and weekly music in a plaza downtown.
There are two 55+ communities in Alpharetta and many within a short drive of the city. One of those communities is The Orchards at Sweetapple, which includes 92 attached homes and a low-maintenance lifestyle. The other age-restricted community in Alpharetta is Orchards of Windwards with 96 attached homes.
Cumming
Cumming is located far enough away from downtown Atlanta for residents to lead a peaceful life while still being close enough to enjoy everything the more metropolitan areas have to offer. Active adults in Cummin can reach the capital within 45 minutes when traffic is minimal.
The city offers much of what makes the South a great place to live. Residents enjoy a vibrant lifestyle within a culture rich with history, entertainment, and natural beauty. Among the many aspects to enjoy about Cumming are the city's many shops, restaurants, and conveniences.
One attraction in Cumming is the Cumming Fairgrounds which hosts events like travel shows, weekly food truck events, and the annual Cumming Fair and Festival. Cumming also borders Lake Lanier which provides tons of fun on the water going boating, fishing, and swimming.
Thirteen 55+ communities call Cumming home, including The Orchards of Brannon Oak Farm, Herrington, The Orchards of Central Park, Brookhaven at Lanier Ridge, and more. Retirees moving to Cumming have options, whether they want a new or resale home, a single-family home, or one that's attached.
Ready to Make the Move? 55places Can Help.
To discover more exciting 55+ communities in Atlanta, we invite you to contact us at 800-928-2055 or visit 55places.com. Our experienced team of real estate experts will guide you through the top options in your area and help you make a seamless transition from your current home to a 55+ community. We look forward to helping you make your next move the best one yet!