When it comes to an Illinois retirement, some active adults may have been planning it for a long time, while others might need a little more information before deciding that it's right for them. Fortunately, Northern Illinois offers a diverse range of lifestyles, activities, and active adult communities for almost any retirement need.
If you're thinking about moving to Chicago to find your next active adult community, there are several factors to consider when making your decision. Start here, and explore some of the most important things to know before retiring in Illinois.
Retiring in Illinois Pros and Cons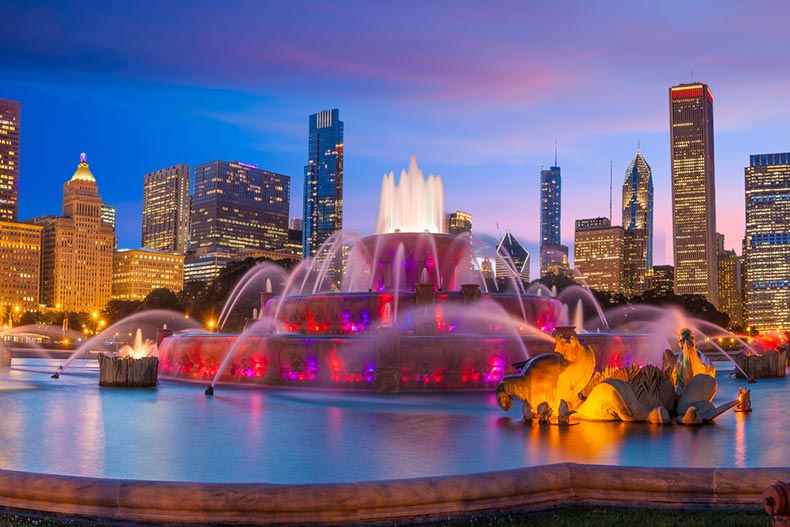 Pros
Proximity to Chicago. The Northern Illinois area provides convenient access to Chicago, the third-largest city in the United States by population. Residents can take a day trip to Chicago whenever they like, whether driving on the accessible network of interstates or riding on the Metra commuter railroad.
Abundant outdoor recreation. An obvious benefit of a Northern Illinois retirement is Lake Michigan, which offers some of the best freshwater boating, fishing, swimming, and watersports in the world. But in addition to this lake and the Chicago River, the entire region features extensive networks of smaller lakes, rivers, and tributaries. There are also expansive state parks, forests, and prairie preserves with walking and biking trails.
A Midwestern location. Even active adults who retire in the Midwest can still enjoy some of the country's most popular retirement destinations. The central location of Northern Illinois allows residents and snowbirds to travel to any coast. Illinois retirees can spend winters in Florida, Texas, or anywhere they like while still calling The Prairie State home.
Cons
An unpredictable climate. From a polar vortex one year to a heatwave the next, Illinois residents experience a four-seasons climate that can follow extreme weather patterns. Retirees have to prepare themselves to handle all types of weather and the lifestyle that comes with them.
Higher-than-average taxes. Most people hesitate to call Illinois a tax-friendly state because residents face some of the highest property taxes in the country as well as high income taxes. However, 65+ active adults can receive some relief from taxes with certain benefits and exemptions. Residents can also live more affordably in the surrounding suburbs of Northern Illinois rather than in Chicago.
A Midwestern location. Even though many active adults choose to retire in Illinois, others may wish for a more resort-style retirement near the beaches of Florida or the deserts of Arizona. This means that most residents need to fly or drive long distances to enjoy coastal vacations, which can sometimes make vacations more expensive and time-consuming.
Illinois Climate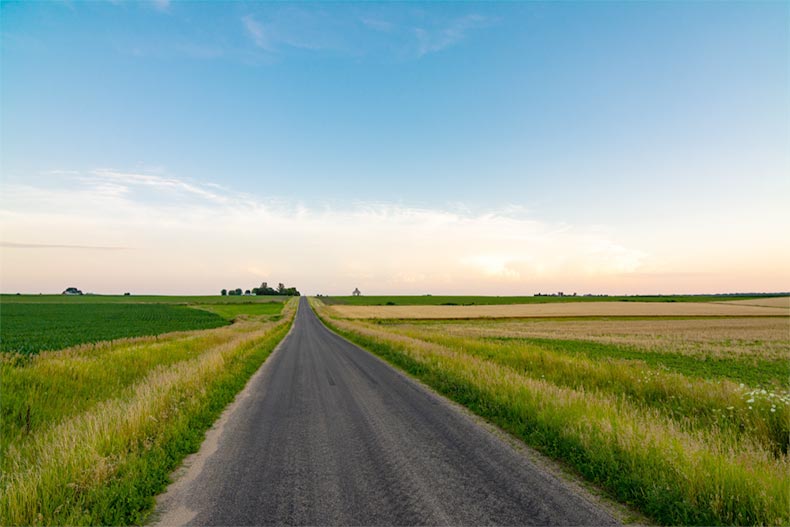 When it comes to Illinois weather, residents can experience it all. This Midwestern state follows a humid continental climate pattern, which means it has four distinctive seasons. Residents typically experience hot, humid summers and cold winters.
The summer months are typically the hottest of the year, with average highs in the low 80s. However, the winter months typically average just above freezing temperatures. Many residents prefer the most temperate months of the year, around May and September, where high temperatures average in the low 70s.
Retirees in Northern Illinois may have to prepare for nearly every type of weather or temperature, but this does come with a benefit. Residents of the state can enjoy all types of outdoor recreation, from swimming in the summer to skiing in the winter.
Illinois Taxes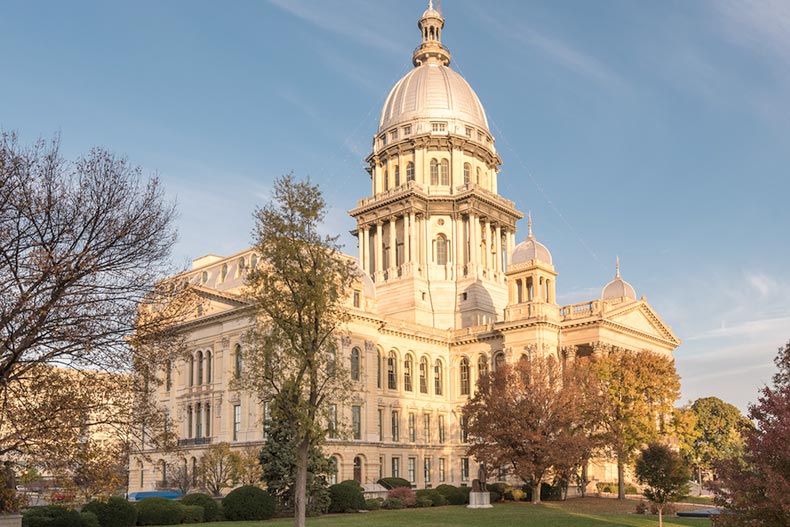 Active adults who want to retire in Illinois should understand that the state's retirement taxes come with both positives and negatives. Retirees can certainly take advantage of some tax benefits, but Illinois doesn't generally have a reputation as a tax-friendly state. Keep reading to learn more about retirement taxes in Illinois.
Illinois Property Taxes
According to SmartAsset, Homeowners in Illinois face some of the highest property taxes in the nation, with a statewide average effective tax rate of 2.16 percent. This rate is nearly double the national average. Residents pay an average of approximately $4,527 annually. Only New Jersey has higher property taxes than Illinois, with a rate of 2.42 percent.
Despite these relatively high property taxes, many 65+ residents can take advantage of certain property tax exemptions. These exemptions, such as the Senior Citizens Homestead Exemption, are explained in detail below.
Illinois Retirement Income Taxes
The state of Illinois might tax income at 4.95 percent, but it also exempts almost all retirement income from taxes. Tax-free retirement income includes Social Security benefits, military benefits, public and private pensions, and retirement savings accounts such as a 401(k) or IRA.
Illinois Tax Exemptions for Seniors
Residents who understand the tax system in the Prairie State can also take advantage of several tax exemptions to save money and lower their cost of living. Here are some of the tax exemptions available to senior residents.
General Homestead Exemption. Active adults with their primary residence in Illinois qualify for a general homestead exemption of up to $10,000. This exemption, which reduces the taxable value of the property, helps alleviate property taxes. These benefits generally range from $6,000 to $7,000 but can increase to $10,000 in Cook County.
Senior Citizens Homestead Exemption. This exemption allows 65+ Illinois residents to apply for as much as an $8,000 exemption to their home. Residents of many counties must reapply for the exemption every tax year.
Senior Citizens Assessment Freeze Homestead Exemption. Illinois retirees who are 65+ and have a total household income of less than $65,000 can qualify for an assessment freeze. As soon as residents qualify for the exemption, they can freeze their property's equalized assessed value. This prevents taxes from increasing.
Illinois Health Care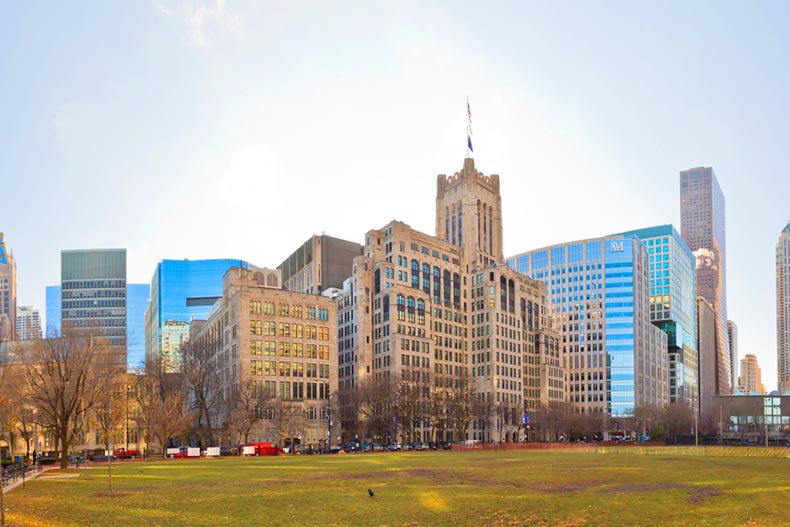 Thanks to the high concentration of world-renowned universities near Chicago, the area also boasts some of the state's best health care. Northern Illinois retirees have access to over 90 hospitals throughout the area as well as medical clinics and treatment centers.
According to U.S. News and World Report, many of the best hospitals in Northern Illinois are located in Chicago. These include Northwestern Memorial Hospital, University of Chicago Medical Center, Rush University Medical Center, and Loyola University Medical Center. The suburbs also include top hospitals such as NCH Northwest Community Hospital, Advocate Christ Medical Center, Advocate Lutheran Medical Center, and the AMITA health care network.
The best hospital in the state, Northwestern Memorial Hospital, ranks nationally in 12 specialties, including geriatrics, cardiology and heart surgery, neurology and neurosurgery, and cancer. It also scores highly for overall patient satisfaction and willingness to recommend the hospital to others.
Where to Live in Illinois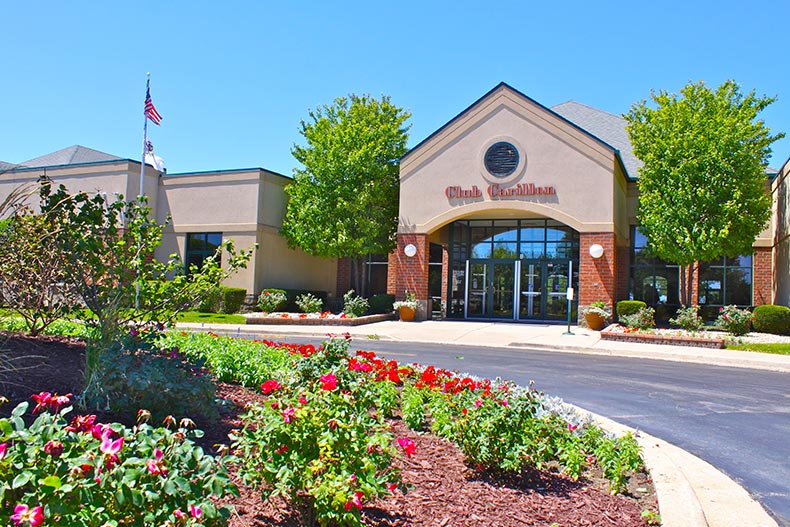 Whether moving to Chicago from Central or Southern Illinois or relocating from another state, active adults have plenty of choices when it comes to deciding where to live. Each distinct region comes with its own unique benefits, but the entire region shares the advantages of proximity to Chicago and affordability.
Here are three major areas to consider for an Illinois retirement.
Northwest Suburbs of Chicago
Approximately 40 miles from downtown Chicago, the northwest suburbs include towns such as Elgin, Schaumburg, Carol Stream, and Algonquin. Residents of this area enjoy convenient access to the Milwaukee District/West (MD-W) Metra Line, O'Hare International Airport, and the shores of Lake Michigan.
The abundant outdoor recreation in the area features the Fox River tributary, a lake and river system ideal for boating, fishing, and watersports. Some of the popular golf courses include Randall Oaks Golf Club, Bridges of Poplar Creek Country Club, and Twin Lakes Golf Course. Local attractions in the area feature Grand Victoria Casino, Atcher Island Water Park, Woodfield Mall, and Spring Valley Nature Center and Heritage Farm.
One of the most popular 55+ communities in Northern Illinois, Sun City Huntley, allows retirees to live in a resort-style community in the Northwest suburbs. This luxury 55+ community boasts amenities such as the largest clubhouse in the state, a restaurant, and a golf course. The Del Webb floor plans allow residents to find the home that best suits their needs.
The area includes several additional active adult communities, including the gated age-restricted communities Carillon at Cambridge Lakes and Edgewater. There are also active lifestyle communities without age restrictions, such as Lake Barrington Shores, which still boast affordable homes for sale and desirable amenities.
Western Suburbs of Chicago
For active adults who want to live in an affordable community that allows for easy transportation throughout the area, the Western suburbs connect residents to the best the area has to offer. Only about 40 miles from the heart of downtown Chicago, the area includes towns like Aurora, Naperville, and Oak Brook.
In particular, Naperville stands out to potential homebuyers for its many accolades and awards. It has been previously named one of the country's coolest suburbs as well as one of the best places to live and raise a family. Naperville has one of the best public library systems in the nation and a rich local historic district.
The region as a whole features plenty of attractions that range from the Morton Arboretum to the Chicago Premium Outlets. Residents can spend a day enjoying Blackberry Farm, North Aurora Island Park, Raging Waves Water Park, or Hollywood Casino Aurora.
Potential homebuyers can choose from age-restricted communities such as Carillon Club in Naperville, a gated 55+ community with 778 single-family, attached, and condominium homes. The same builder also created Carillon at Stonegate, which includes 336 single-family homes.
Southwest Suburbs of Chicago
With the Midway International Airport and the Rock Island District (RI) Metra line, residents of Chicago's Southwest suburbs can travel to vacation destinations and The Windy City with ease. Towns such as Joliet, Plainfield, and Bolingbrook attract retirees who want to settle down near family in the area.
Whether traveling on the Metra or driving on Interstates 80 and 57, active adults can reach the south side of Chicago within an hour. This makes it convenient to visit some of the city's best attractions, including the Field Museum, Adler Planetarium, and the Shedd Aquarium, as well as beaches and harbors along Lake Michigan.
But when retirees want to stay closer to home, they can enjoy Hollywood Casino, Chicagoland Speedway, Odyssey Fun World, and the Old Joliet Prison. Some of the best places to stay active outdoors include Channahon State Park, Lake Renwick Heron Rookery Nature Preserve, Matthiessen State Park, and Midewin National Tallgrass Prairie.
When it comes to finding the right community, residents of Carillon in Plainfield can enjoy the area from the comfort and convenience of a resort-style 55+ community. The amenities include a 32,000-square-foot clubhouse, a 27-hole golf course, and a restaurant. With over 2,000 single-family, attached, and condominium homes, retirees can find affordable homes for sale.
The variety of active adult communities also includes Carillon Lakes, which consists of 1,113 single-family and attached homes. There are also smaller mid-sized communities, such as Grand Haven in Romeoville, which includes 677 single-family and attached homes. For those who want to live in a Del Webb 55+ community, Shorewood Glen boasts extensive amenities and a full lineup of social activities.