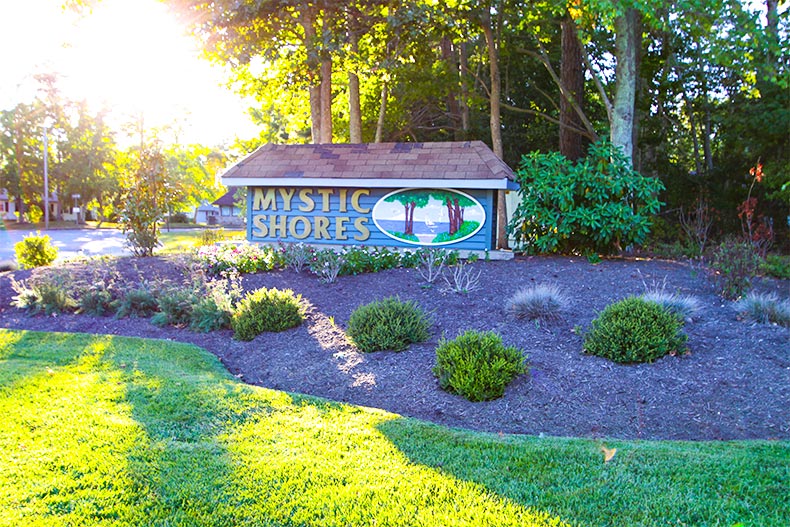 The facts speak for themselves. New Jersey is the most densely populated state in the country, and its property taxes are through the roof. Yet even though these are hard to swallow, the Garden State is one of the best places in the country for active adults to live.
Income levels are high, there are endless miles of shoreline, awesome farmers markets, drivability to Philadelphia, New York City and Baltimore, and oh yes, those Jersey diners, many of which are open 24/7. You can afford to live in NJ, especially in some of these 55+ communities with homes under $150K.
Crestwood Village 5 - Whiting
$150k or less can buy happiness in Crestwood Village 5, a well-established community of 1,114 attached and single-family homes built from 1977 to 1980. The floor plans range from 1,800 square feet of living space with one or two bedrooms, one to two baths, and either an attached one-car garage or assigned parking spot.
The community clubhouse, Hilltop Hall, has a card room, ballroom, and a multi-purpose room. There are also bocce and shuffleboard courts, and a community bus for trips outside the community. Crestwood is ideally situated about 11 miles west of Toms River, in between pristine Crossley Preserve and Brendan T. Byrne State Forest. Whiting is also only 30 minutes from Seaside Park, and there are numerous shopping, dining, and entertainment options all around.
Mystic Shores - Little Egg Harbor
Like Crestwood Village 5, Mystic Shores is also in sought-after Ocean County. It was established from 1975 to 1994 and has 365 attached and single-family residences. There are 12 models sized from 930 to 1,760 square feet with two bedrooms, one to two bathrooms, and one-car garages. Some models have dens and Florida rooms, while a homeowners' association fee provides for lawn care and snow removal.
The 11,000 square-foot clubhouse keeps everyone busy with a fitness center, activity rooms, and game rooms. Mystic Shores also has an outdoor pool, bocce ball, horseshoes, nature trails, and charming ponds and lakes on the property. Mystic Shores also has close to 20 different clubs and classes. Nearby beach towns include Long Beach Island and Atlantic City.
The Renaissance Club - Mt. Laurel
The Renaissance Club has 500 condo and attached homes in the leafy suburb of Mount Laurel. Its location in Burlington County means the community is only two miles from the NJ Turnpike, 20 minutes from Philly, and across the street from a grocery store. The cozy condos range from 900 to 1,000 square feet with one or two bedrooms, one or two baths, and assigned parking. The attached Villas range from 1,100 to 1,200 square feet with two bedrooms, one or two baths, and assigned parking.
There is a private clubhouse, outdoor pool and patio, tennis, and bocce for homeowners here to enjoy. Nearby Route 38 is packed with restaurants and shopping destinations like the Cherry Hill Mall.
Carriage Park at Lawrence - Lawrenceville
The farther north you travel in New Jersey, the harder it is to find inexpensive active adult communities. Carriage Park at Lawrence is a real find, an affordable, 55+ community less than 10 miles from Princeton, in desirable Mercer County.
It includes 210 condos that are sized from approximately 723 to 1,540 square feet. There are 16 models starting with a studio, while others have one or two bedrooms and bathrooms. Some have balconies, granite counters, and basement storage. Carriage Park's long list of amenities includes a 7,100 square-foot private clubhouse with an exercise room, activity rooms, an outdoor pool, nature trails, bocce ball, shuffleboard, horseshoes, and a handsome gazebo.
Leisuretowne - Southampton Township
Leisuretowne is an affordable and sizable active adult community of 2,255 attached and single-family homes. The single-story townhomes range from 1,000 to over 2,300 square feet and have two bedrooms, one bathroom, and a garage. There are 11 single-family floor plans from 867 to 1,714 square feet with two bedrooms, one to two bathrooms, and garages. Some have front porches and dens.
A homeowners' association fee covers lawn care, maintenance, snow removal, and a community bus service. Leisuretowne has over 25 social groups and classes mostly hosted at the two clubhouses. Other amenities include a pool, tennis courts, a driving range, and lakes on the grounds.