Active adults who have decided that Fort Myers, Florida is the place to be when they buy their next home will have plenty of options. Fort Myers homes for sale can be found near the beach, on a golf course, and even within a gated community where there are bountiful opportunities for socializing, physical fitness, and learning new things.
Two of the most popular lifestyle communities in Fort Myers are Pelican Preserve and The Plantation. Both of these communities are well-located and they have single-family homes and attached villas available. Pelican Preserve is for 55+ residents only. The Plantation, on the other hand, does not have any age restrictions. The Plantation is also a bit smaller, with a total of 1,100 homes available as new construction or resale. Pelican Preserve is a master-planned community offering 2,500 homes on a resale basis.
Which to choose? Let's take a look at where the similarities and differences can be found.
Pelican Preserve and The Plantation Golf Courses
Both communities include golf courses. At Pelican Preserve, it's a 27-hole course and a separate clubhouse for members. The golf clubhouse, which includes more than 24,000 square feet, offers a large pro shop, a modern fitness center, a whirlpool spa, and access to a full dining room, ballroom, and bar. Spoonbills Restaurant can also be found at the Pelican Preserve Golf Club, as well as a day spa.
Homeowners can buy a golf or a social membership at The Plantation Golf & Country Club. There, residents have access to a championship 18-hole golf course, which was designed by Hurdzan-Fry. There's also a driving range, a restaurant, and lots of extra outdoor space.
Homes for Sale in Fort Myers, FL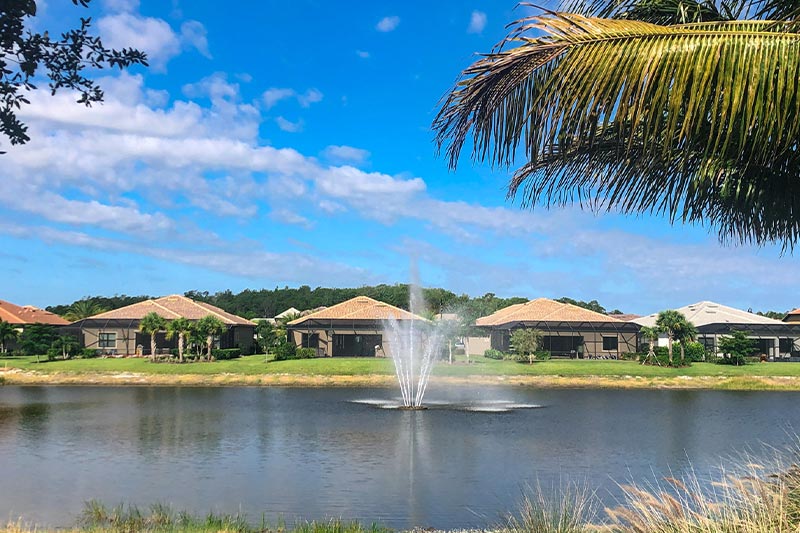 Buyers looking for a condo will likely appreciate the homes available at Pelican Preserve. The Chateau Collection has nine condo home models, ranging from 1,229 to 1,450 square feet. Located in a mid-rise building, most floor plans have two bedrooms and two bathrooms. Some also include a den or office. Pelican Preserve also offers carriage homes, which are attached, two-story townhomes. They are available in two models, with 1,710 or 2,376 square feet. Homes have three bedrooms, two bathrooms, and an attached two-car garage.
For single-family homes and attached villas, either community will have what buyers are looking for. The Plantation has two villa floor plans, six models in their Carriage Home Collection, and over 30 types of single-family homes. Buyers can also select new construction at The Plantation, while Pelican Preserve will only have resale, move-in ready homes.
Community Activities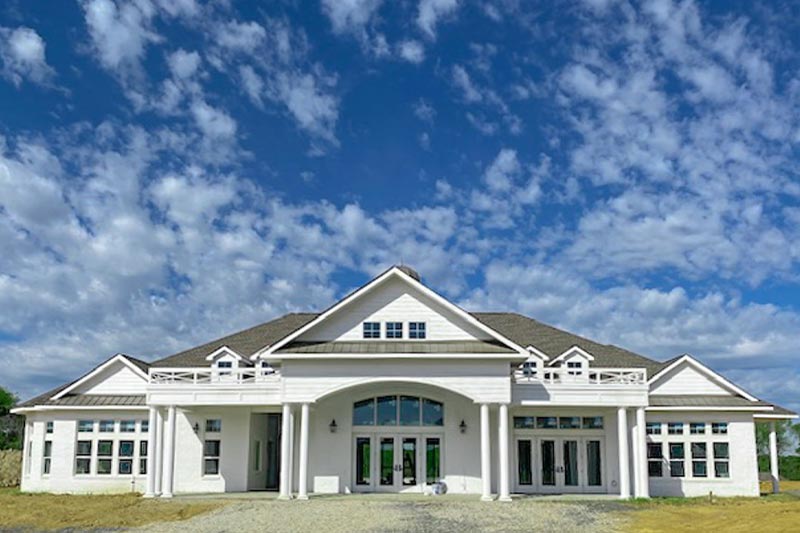 Both communities have an impressive list of clubs, classes, and social activities available to residents. At The Plantation, homeowners can enjoy a book club, fishing club, and travel club. There's a bible study group, a men's poker night, and a group that gets together to sew and knit. Zumba and yoga classes are regularly held and there are also group painting classes. There's a lifestyle director on staff to help with special events and community parties.
At Pelican Preserve, there's a lifestyle director and amenity managers. Residents are likely to take dance or exercise classes, organize movie nights and nature walks, and join clubs that focus on basketball, pickleball, and painting.
Amenities
Each community also has its own long list of amenities. At Pelican Preserve, the Plaza del Sol clubhouse includes a fitness center, steam rooms, sauna, indoor walking track, and indoor pool. There's an art studio, a hobby shop, a computer room, and a movie theater that seats 100 people. Outside, residents enjoy tennis, swimming pools, a volleyball court, softball field, and a sandy beach. There's a fishing pier and a 38-acre nature preserve that includes a boardwalk and butterfly garden.
The Plantation has Somerset Hall and Bridgetown Hall, with each amenity center reflecting the neighborhood in which it's located. Residents enjoy an activity center with a fitness center, locker rooms, tennis, libraries, and outdoor pools and spas. Bridgetown Hall has basketball courts and Somerset Hall has massage rooms.
Pelican Preserve homes are priced from the high $200s to the high $600s. The Plantation homes are priced from the mid $300s to the mid $900s.