For many retirees, leaving a full-time job means fully enjoying hobbies, family, and a more relaxed pace. Many also want to retire to a place that encourages a healthy, active lifestyle. Across the country, active adult communities provide residents with social opportunities and amenities that enable residents to live healthier lives. This, combined with good weather and access to quality health care, results in some of the best places to retire for your health.
Here are some of the healthiest places to retire.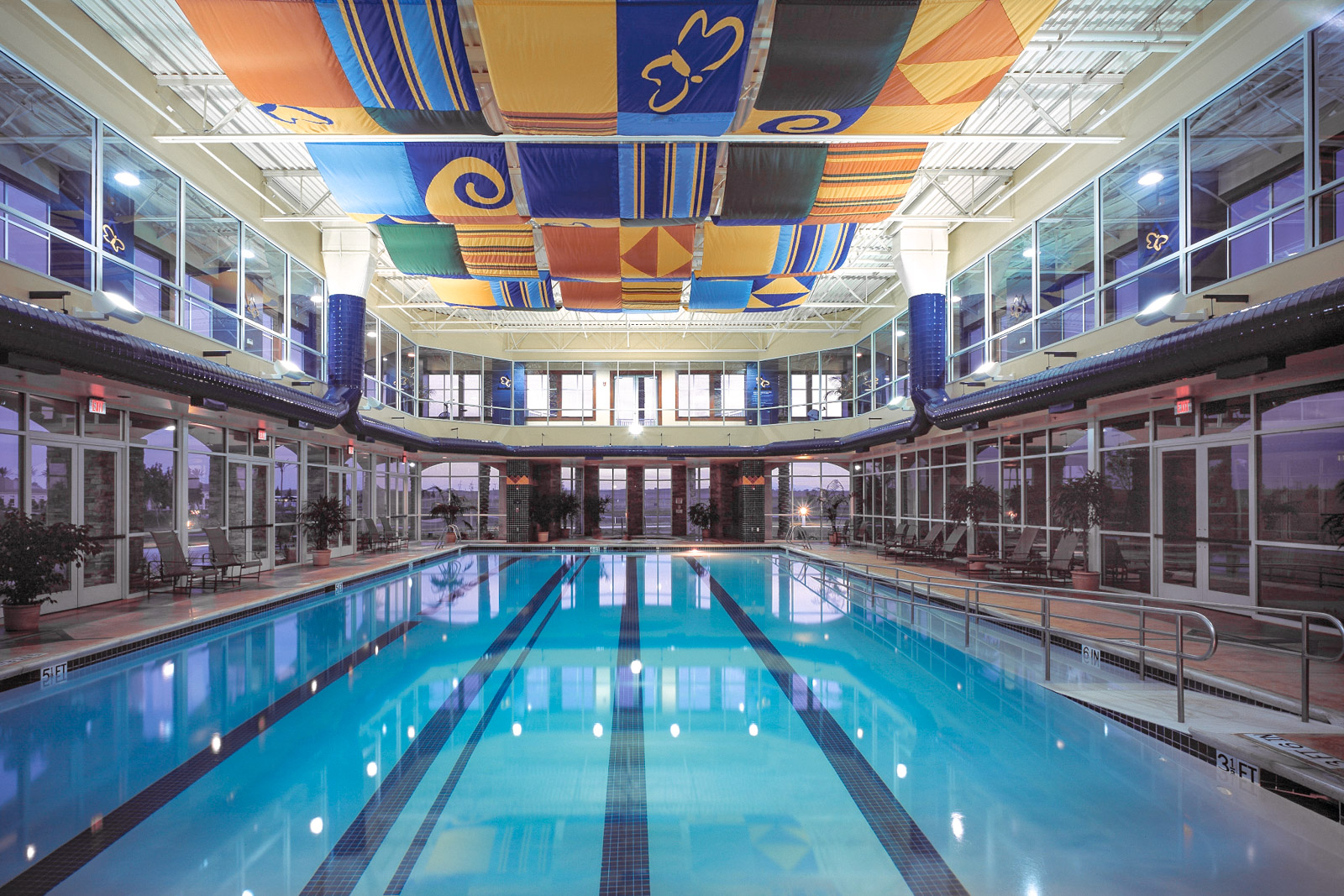 California rates as one of the healthiest states, with low mortality, obesity, and smoking rates as well as access to quality healthcare. For retirees, what might be especially important is that the state offers sunshine, nice weather year-round, and great get-aways that are not far from home.
California also boasts many top-quality hospitals. Each year, U.S. News and World Report (USN) ranks the best hospitals in the country and in each state. These rankings are based on sixteen complex specialties, like cardiology and orthopedics, as well as procedures like heart bypass and hip and knee replacement. The top twenty hospitals that receive the highest scores make the "Honor Roll" list.
California offers many honor roll hospitals including the UCLA Medical Center, Cedars-Sinai Medical Center, and Keck Hospital of USC in Los Angeles as well as the UCSF Medical Center and Stanford Health Care-Stanford Hospital in the Bay Area. Here are three communities in California that support healthy retirement living.
Low $300s – Mid $600s
Located in the Bay Area, Trilogy at Rio Vista offers adults over 55 a beautiful community with easy access to outdoor opportunities in Northern California including skiing, hiking, and boating. Within the 3,000 home community, residents can enjoy amenities including an Olympic-size indoor pool, a fitness center with an indoor walking track, bocce ball and tennis courts, and an 18-hole golf course. The indoor and outdoor social areas also provide residents with space to enjoy clubs, classes, and activities. Single-family, two-bedroom homes start in the mid $300s.
Request more information about Trilogy at Rio Vista here.
Mid $400s – Mid $1Ms
Located in San Jose, The Villages Golf and Country Club makes an active lifestyle a part of everyday life for residents. This well-established community of about 2,500 homes offers over 100 clubs and organizations in addition to classes offered at the four clubhouses. Residents can swim indoors or outdoors, play a round of golf or a game of tennis, garden, ride horses, and hike in the natural spaces of the community.
Located just ten minutes from Downtown San Jose, residents can take in all Silicon Valley has to offer. The attached, single-family, and condominium homes start in the mid $400s.
Request more information about The Villages Golf & Country Club here.
Mid $400s – Mid $1Ms
Los Angeles is home to a handful of mostly smaller active adult communities, including New Horizons South Bay. This community of 600 homes is just a few miles from the beach. The clubhouse and community amenities include two outdoor pools, shuffleboard and tennis courts, a 9-hole golf course, and a fitness center. Prospective homebuyers can find condominium homes starting in the mid $400s.
Request more information about New Horizons South Bay here.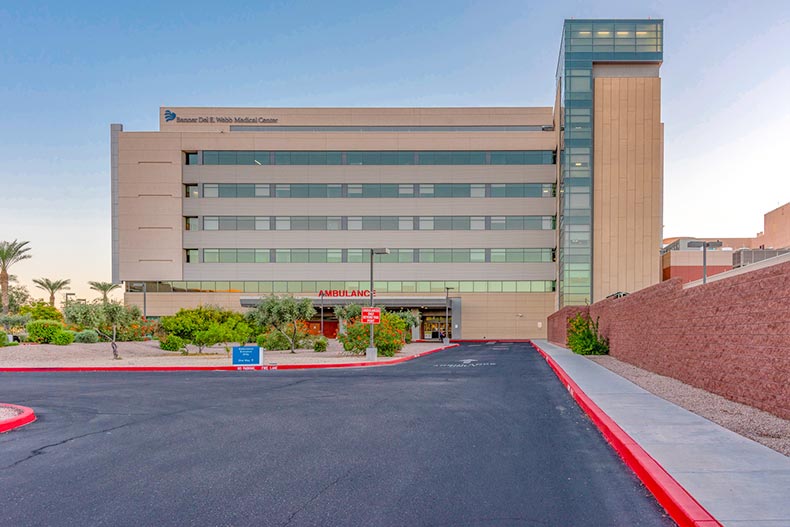 While Arizona doesn't rank as one of the healthiest states overall, it's a popular retirement location because of its nice weather, low humidity, and low cost of living. The more than 300 days of sunny weather, desert landscapes with hiking and biking opportunities, and many golf courses make Phoenix an especially popular location for retirees.
The Mayo Clinic-Phoenix is also on USN's honor roll for best hospitals. The hospital was high performing in specialties important as adults age, including orthopedics, cardiology, and pulmonology. Two Sun City communities by builder Del Webb offer active lifestyle communities for a healthy retirement.
Below $100k – High $800s
Sun City is the first 55+ community in the country, and it offers residents a myriad of ways to stay social and active with a low cost of living. The community provides tennis courts, fitness centers, mini-golf courses, pools, bowling alleys, and 11 golf courses across multiple recreation centers and clubhouses.
The over 27,000 homes almost make up their own city and range from compact condos under $100k to single-family homes in the high $800s. The Banner Boswell Medical Center and Curahealth Hospital Northwest Phoenix are also located in Sun City.
Request more information about Sun City here.
Low $100s – High $600s
Located just a few minutes west of Sun City, Sun City West is another resort-style community modeled after the successful original. Although not quite as large as Sun City, it still provides four recreation centers with seven golf courses, outdoor and indoor pools, tennis courts, dance studios, an outdoor walking track, and fitness centers.
Sun City West is also home to the Banner Del E. Webb Medical Center, which specializes in cardiology, orthopedics, and stroke care. Sun City West is also affordable, with homes starting in the low $100s.
Request more information about Sun City West here.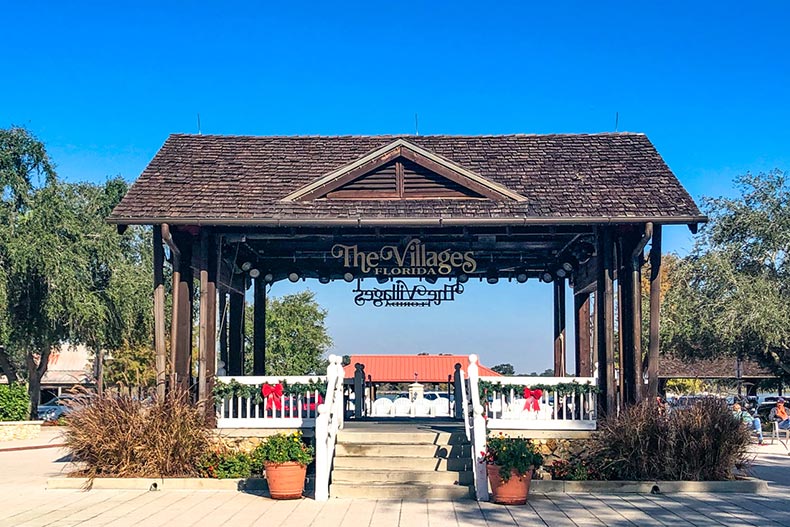 Florida is another popular retirement state. With sunny weather and beaches, favorable tax laws for retirees, and affordable living opportunities, generations of retirees have made their way to the Sunshine State. Florida has also been ranked as one of the best places to retire because of its access to quality health care.
While no hospitals in Florida make the top twenty USN Honor Roll, the state has many nationally-ranked and high-performing hospitals including AdventHealth Orlando, University of Florida Health Shands Hospital in Gainesville, Mayo Clinic-Jacksonville, and Tampa General Hospital.
Mid $100s – High $1Ms
Located between Orlando and Gainesville, The Villages is the largest 55+ community in Florida with 70,000 homes. As its own town, The Villages has grocery stores, golf cart driving trails, and health care centers. With 35 recreation centers, 41 golf courses, over 80 outdoor pools, and miles of walking trails, residents don't have to leave the area to stay active. Connecting with neighbors is also easy, with hundreds of groups, classes, and activities for residents.
Request more information about The Villages here.
Low $200s – Mid $400s
Homebuyers looking for a healthy lifestyle can consider the new homes at Twin Lakes. In this lake-front community, residents can enjoy scenic walks, fishing, and boating. There's also a resort-style outdoor pool and patio with views of the lake. Residents can stay healthy and active on tennis, pickleball, bocce ball, and basketball courts.
The VA Medical Center is just 20 minutes away, while AdventHealth in Orlando is 45 minutes away. Located in the Orlando-Kissimmee area, Twin Lakes will have 2,000 attached and single-family homes when complete. Prospective homebuyers can custom-build a new home starting in the low $200s.
Request more information about Twin Lakes here.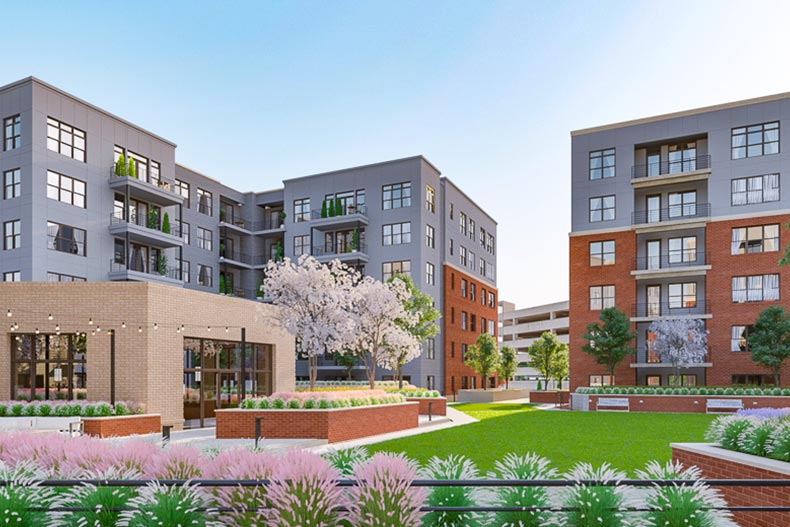 Virginia isn't thought of as a typical retirement state. However, the University of Virginia reports that retirement-age residents have increased in many parts of the state as people seek mild climates with easy access to the amenities of the East Coast.
Virginia also offers many in-state recreation opportunities, including the beaches of the Atlantic Coast, the wineries and historical sites of the Shenandoah Valley, and the mountains and lakes in the Blue Ridge. With the hospitals in the Washington, D.C. region and the Hampton Roads region as well as the academic research hospitals at the University of Virginia and the Virginia Commonwealth University, active adults in Virginia also have many great places to visit for quality healthcare.
Mid $200s – High $400s
Located in the Norfolk, Virginia area, The Villages at West Neck offers an intimate condominium community just minutes from Virginia Beach. Residents can enjoy the outdoor pool and patio, the fitness center, and the outdoor social spaces.
At the center of the community is an 18-hole Arnold Palmer golf course, but even those who aren't golfers can enjoy the scenic ponds and greenspaces around the community. Residents can also take part in aerobics, exercise, and dance classes as well as other social gatherings and events scheduled by the community. The condominium and single-family homes start in the mid $200s.
Request more information about The Villages at West Neck here.
Mid $400s – Low $600s
For prospective homebuyers looking for an active urban lifestyle, the communities in Northern Virginia can provide resort-style amenities near the cultural happenings of Washington, D.C. The Atrium at Metro West is a new condominium community developed by Pulte Homes in Fairfax.
Located next to the D.C. Metro, this community allows residents can move easily through the whole metro area. Within the community, residents can swim in the indoor pool, take part in yoga and aerobics classes, and workout in the exercise center. The community is close to Inova Fairfax Medical Campus, one of the top-ranked hospitals in the state.
Request more information about The Atrium at MetroWest here.