Many active adult homebuyers use 55places to stay informed about recent developments in 55+ real estate as well as active adult lifestyle trends. But did you know that 55places can also help you sell your home?
Active adults across the country can work with 55places to put their homes on the market before they make their next move into an active adult or active lifestyle community. The 55places national Partner Agent Program pairs homeowners with real estate experts to sell homes quickly and efficiently, connecting your home listing to a vast number of home seekers across the nation.
We put together this comprehensive guide to selling your home on 55places to explain the process in more detail and answer some commonly asked questions. Keep reading to learn more about how to sell your home on 55places.
Find a Listing Agent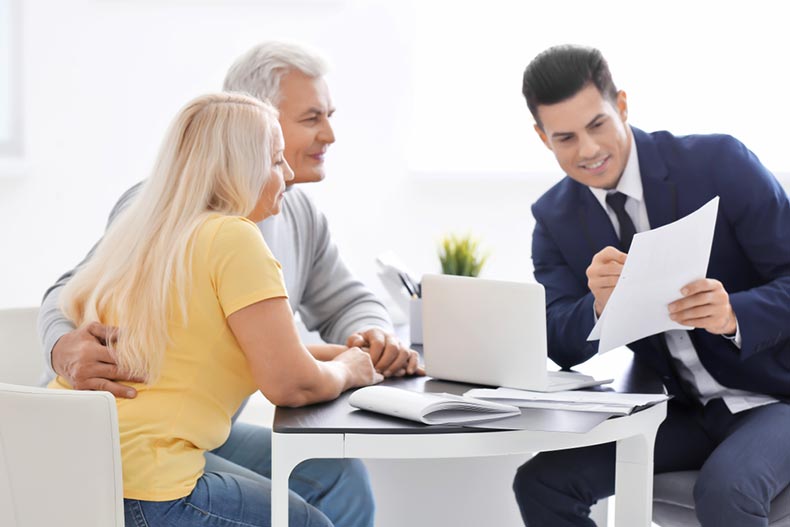 For most homeowners, selling your home begins with finding the right listing agent. Partnering with an experienced and trustworthy agent who will work hard to sell your home can make the selling process much easier. A good real estate agent brings their knowledge of market trends, home evaluation, and negotiation to the table in order to sell your home as quickly as possible for the best price.
One great strategy for finding a reliable listing agent begins with conducting your own research and comparing the reputations of local real estate agencies. Check out local listings and ask friends and neighbors for recommendations to point you in the right direction. Once you find an agent who you think will be a good fit for your needs and goals, ask them the right questions about their experiences to help you solidify your decision.
Time and money aren't everything when it comes to selling a home as the process can be extremely stressful and confusing. The right listing agent will help you stay organized and on track to sell your home in the desired time frame while remaining supportive and encouraging.
Kevin Ward, a New Jersey 55places Real Estate Expert, says:
"The process begins with me truly understanding what's important to you. What are your wants, what are your needs, how many bedrooms—basic stuff like that… So we go through those things and then I also help you, the potential homebuyer, understand the process. Every state can be a little bit different in the process where you get from the beginning to the closing table… That relieves a lot of stress. Just understanding what we do first, second, third helps you to feel more comfortable with the process."
Figure Out Your Home's Value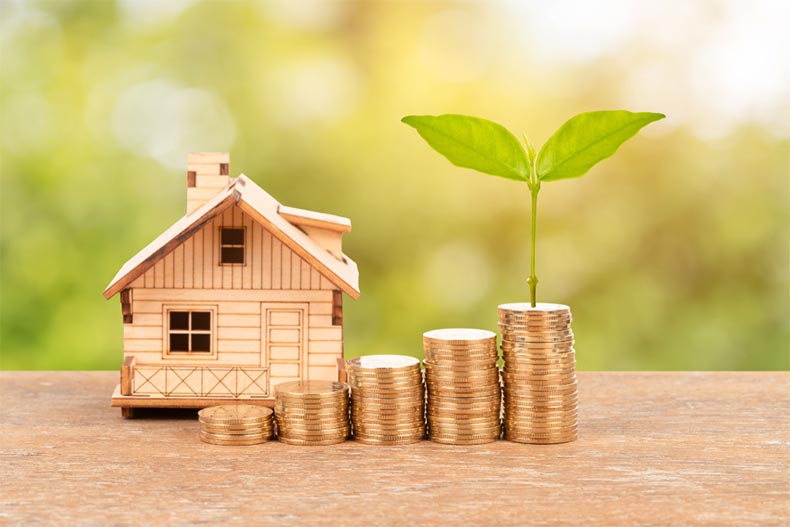 Next, homeowners work together with a real estate expert to determine the home's value. The value of a home depends on many factors, including (but not limited to) the condition of the home, the size of the property, the location, and the state of the local real estate market. A home's value doesn't exclusively depend on whether or not it's in good shape, but rather, how the home compares to similar homes for sale in the nearby area. Depending on how many homes are for sale in the area, the local market may lean more in the favor of the buyer or the seller.
With that being said, sellers have many tools at their disposal to help them figure out their home's value. In addition to their listing agent's expertise, one tool is the automatic valuation model (AVM), an online tool offered by many sources that helps homeowners determine a ballpark estimate of their home's value without having to get up from the couch.
With any AVM, the idea of a ballpark estimate is key. An AVM is not a substitute for a home evaluation conducted by an experienced real estate agent or home appraiser. Agents can take many more factors into account when determining the initial listing price of a home. However, tools such as the AVM can help prepare homeowners to have these conversations and plan for their future.
Make Major Upgrades, If Needed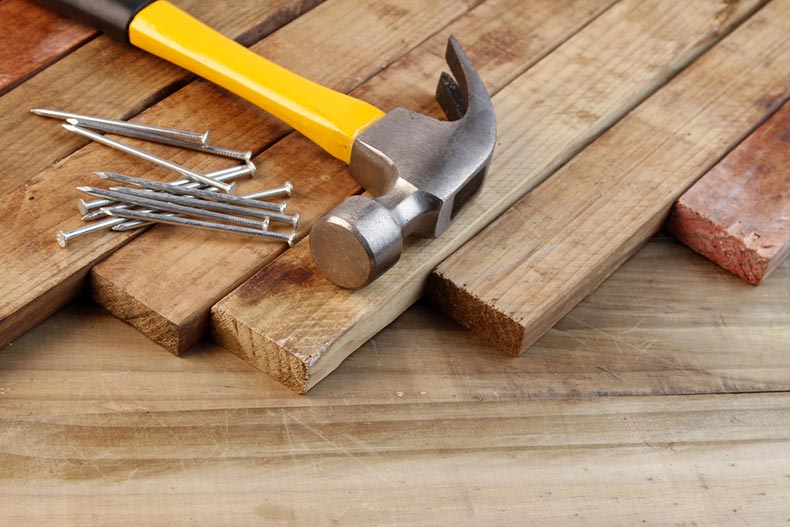 Major upgrades and renovations can be timely and costly, but the benefits of completing these projects can mean good things when you're ready to list your home. Sellers may be able to increase the value of their home with cosmetic repairs or major upgrades. While big projects aren't always recommended, if you've chosen to do one, like install a new sump pump or fix a fence, now is the time to do it.
Upgrades and improvements often increase the value of a home by a significant amount, so it's a good idea to complete these projects before putting your home on the market if you have the means to do so. However, if you want to sell as quickly as possible, repairs and renovations can sometimes figure into negotiating a selling price with a potential buyer who may be willing to complete the projects after they move in. An experienced listing agent should be able to give you the best advice on whether or not to complete major upgrades.
Make Small Upgrades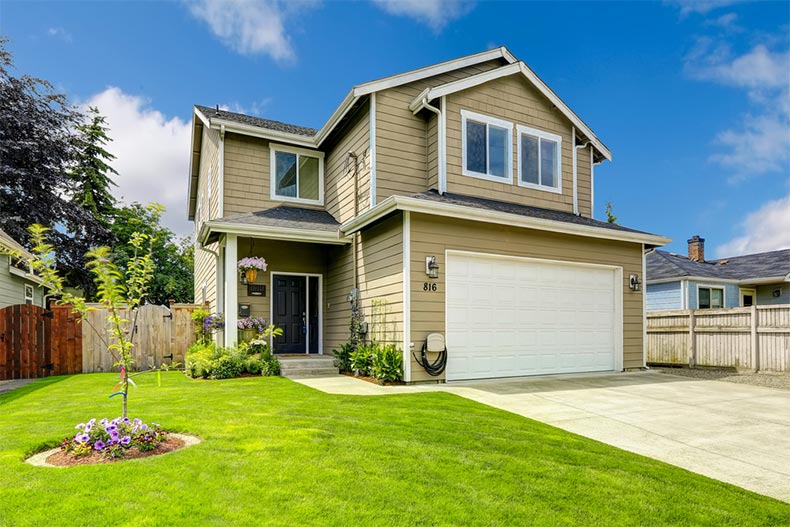 There are many small and mostly inexpensive upgrades that can increase the chances of attracting interested homebuyers. Good curb appeal and landscaping, for example, are effective ways to interest buyers by making a positive first impression. Adding flowers and shrubs to the front of your home, spreading out new mulch, and manicuring your lawn are all great ways of boosting curb appeal.
Inside, make sure to organize, declutter, and refresh any room in the house to create a cleaner and more customizable atmosphere for potential homebuyers. When making cosmetic and ornamental upgrades, keep in mind that these updates should make your home somewhere that any buyer would love to live in. Small tasks such as updating lighting fixtures, adding a backsplash in the kitchen or bathroom, and rolling a neutral coat of paint onto the walls can help buyers see themselves in your home.
Staging your home is one of the most important and valuable steps to take when listing your home, taking listing photographs, and hosting open houses. Essentials of staging a home include thoroughly cleaning and making the space look bright and welcoming. Some sellers even hire professional staging companies who bring in temporary furnishings to maximize the positive attributes of the home.
Devise a Marketing Plan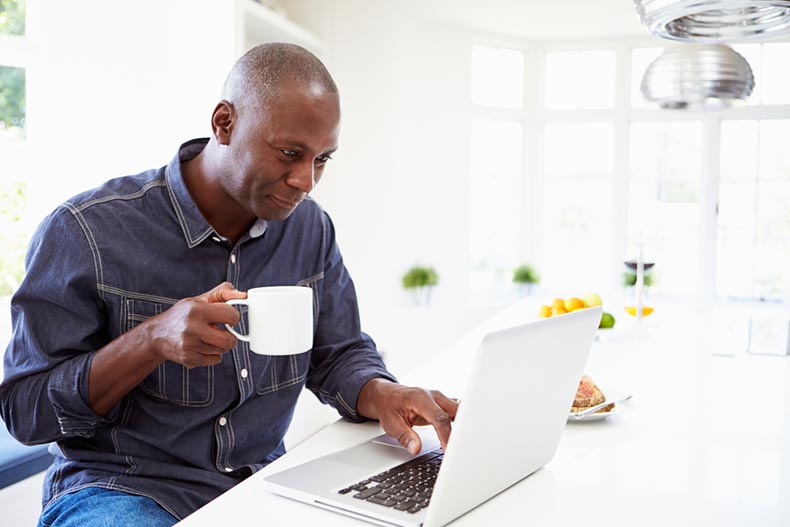 A homeowner should work closely with their agent to figure out the best ways to market their home. Real estate agents can tailor a marketing plan to the homeowners' needs, goals, and preferences, such as time concerns or bottom lines.
Marketing plans can include a combination of home selling strategies to reach as many potential buyers as possible. Some strategies might include hosting an open house, working with your agent's professional photographer, or running a pay-per-click online advertising campaign. Agents can also post the listing to the MLS, or multiple listing service, which adds your home to the results of various home search websites.
Receive An Offer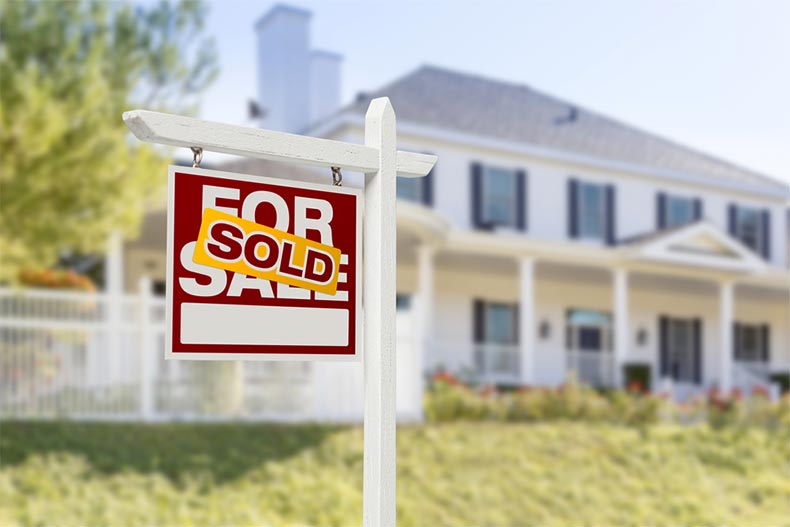 Then, you receive an offer (or a few) on your home, which often brings a breath of relief. However, once you get your first offer (or several offers), don't be afraid to negotiate with interested buyers toward what you think is the right price.
With the help of your listing agent, you can negotiate the offer price up, according to many factors. Buyers and sellers can also negotiate renovations, repairs, and even move-in dates. During negotiations, make sure to remain encouraged about the possibility of selling your home. It may take a few offers or different buyers to find the right arrangement, but a good deal makes everyone happy.
The Escrow Period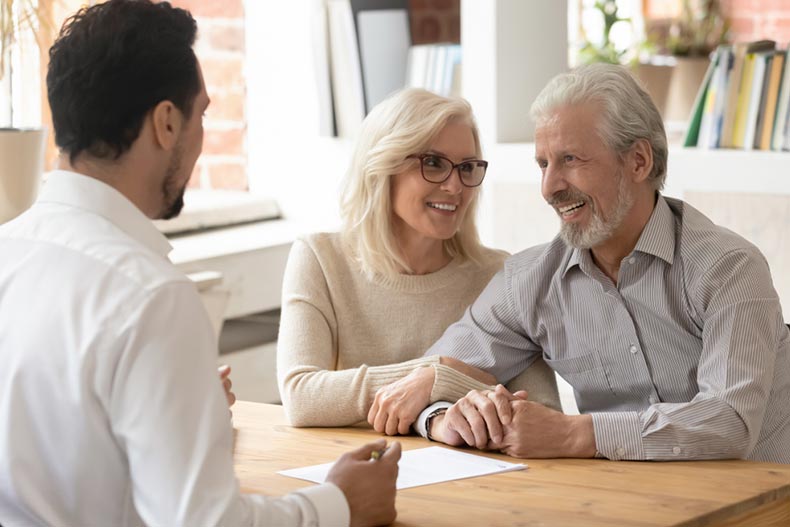 After receiving and agreeing to an offer, sellers and buyers sign a contract detailing the amount to be paid and any changes to the home that need to be made before the new owners move in. The escrow period refers to the span of time between signing this contract and closing. It can last anywhere between two weeks and 60 days, depending on the needs of both parties. This period often includes a home appraisal and a home inspection.
During the escrow period, the mortgage lender of the buyers may hire a home appraiser to come and inspect the home and establish that the selling price is appropriate and fair for the home. A home appraisal involves the appraiser inspecting the inside and outside of the home as well as comparing the home to other recently sold homes in the area. Sometimes, the appraiser may value the home below the price that the buyer and seller have agreed upon, which may momentarily suspend the agreement. If this happens, sellers can get the opinion of a second appraiser.
Similarly, the buyers may hire a home inspector to visit the property. A home inspection focuses on checking the condition of the home with a fine-tooth comb, including the interior, exterior, and property. The results of a home inspection may lead to additional negotiations between buyers and sellers, but sellers can attend the home inspection with their listing agent to gain a good understanding of any factors that may need to be considered.
The escrow period may feel stressful for active adults trying to sell their homes as they tie up loose ends and make plans for the future. If you've already moved out of town during this period, it may feel difficult to coordinate everything that needs to happen.
However, an experienced real estate agent can facilitate this process for active adults. Barbara Green, a North Carolina 55places Real Estate Expert, explains:
"There's many other things that your agent can do for you, especially if you're from out of town. We organize inspections, we're your eyes and ears, we take video, we take photographs, we are licensed in the states we are selling in."
Pack for Downsizing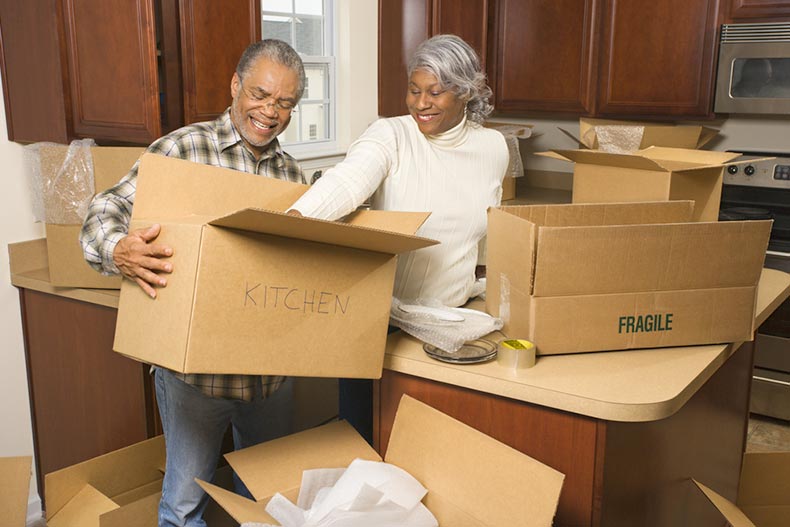 Downsizing allows active adults to pack up and move on to a new home without bringing along any extra baggage—literally. Active adults who move into active lifestyle communities often leave outsized homes and seek smaller and more efficient homes. Then, as they prepare to move, they decide what they can live without in their new home and lifestyle.
"There is joy in the downsizing process. What starts out as an overwhelming prospect can actually end up being a very joyful and positive experience," says Kate Grondin, a downsizing expert and Vice President of Business Development at WayForth.
As you prepare to downsize, focus on reducing clutter and eliminating any furniture, clothes, and other items that you won't need moving forward. Some items may be easy to let go, while others may hold personal importance and memories. Donating a sentimental item might make the downsizing process easier because you know that someone else will put it to good use, and it's important to remember that the item you're letting go of is just an item, and the memories it holds will always be with you.
Grondin advises:
"Storytelling is a very, very important part of the letting go process, especially for sentimental items. If you know that someone else understands what an item means to you, then it's gonna be easier for you to let it go. Storytelling accomplishes this. So a tip that goes with this is to downsize with a friend."
At the end of the day, the downsizing process can make you feel less weighed down by your possessions and allow you to take a deep breath and move forward to a more clutter-free life. Having fewer possessions means having less to pack, move, and unpack, and downsizing undoubtedly benefits your future self.
Closing Checklist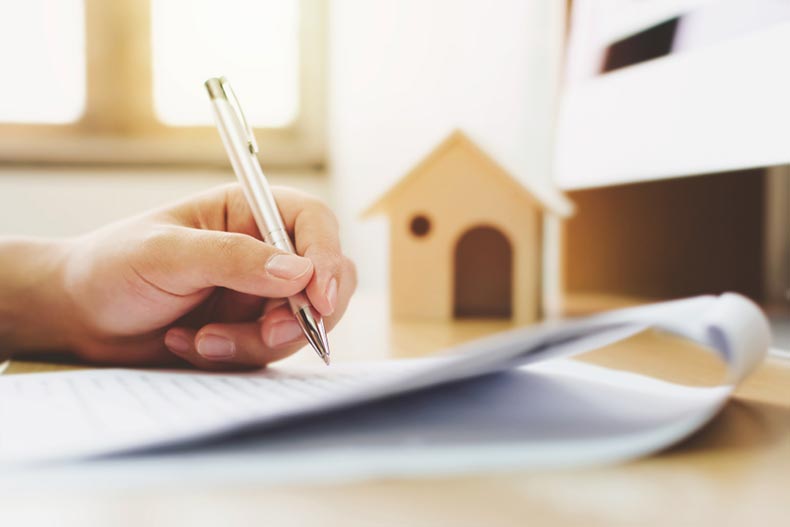 Once you and the buyer have decided on an agreement and it's time to close, there are still a few tasks to go through before you walk out the door for the last time.
Final Walk-Through: The final walk-through is an opportunity for both parties to make sure that the conditions they agreed upon in the closing documents, including any repairs and renovations, have been met. Make sure to check all the systems of the home as well as the outside of the home.
Clean: To prepare your home for the new owners, thoroughly clean your home from top to bottom. You wouldn't want to move into a dirty home, so leave yours the way you would want it to be. A thorough clean is also a great chance to go through possessions, including items in your attic, closet, garage, or basement storage.
Turn Off Utilities: Call the utility companies and cancel your homeowners' insurance policy in order to prevent being charged after the new owners move in. Shut off the water via the main control valves to prevent any accidental flooding while the home is vacant. At the same time, you can set up utilities at your new home.
Gather Materials for New Owners: Make sure to gather all keys, appliance manuals, garage door openers, inspection certificates, closing documents, etc., in an easy-to-find place for the new owners.
Moving Notice: Notify your friends, family, neighbors, subscriptions, and the post office of your change of address.
One Last Look: Take one last look through your home to ensure that everything is shut off, no items are forgotten, and all exterior doors and windows are locked. Time to move onward and upward.
Sell Your Home With 55places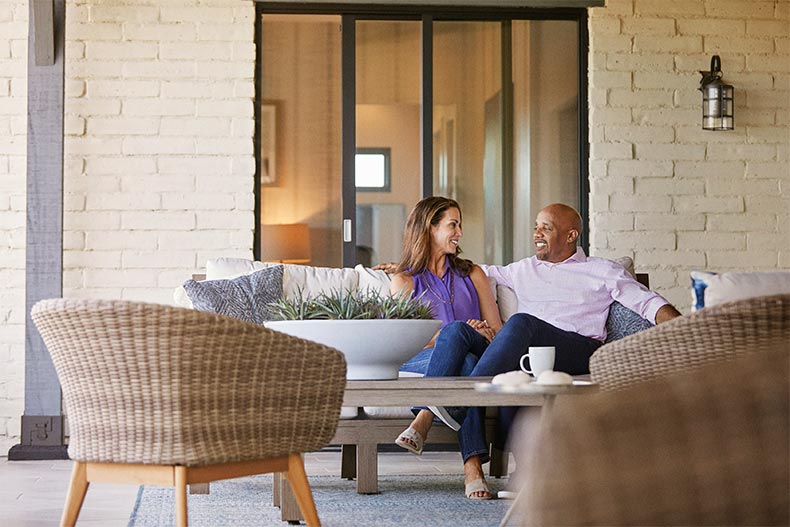 The path to selling your home is a long one that has many important stepping stones along the way. However, active adults can navigate this process with efficiency and ease by selling their home with 55places and reaping all of the benefits that come with working with a 55places real estate expert.
Selling your home with 55places means having the support of an experienced real estate expert in the national Partner Agent program to support you at every step of the way. Our agents specialize in working with 55+ homeowners to help with the entire home selling and homebuying process, from listing to selling and every milestone in between.
Your 55places real estate expert can help you sell your home as quickly as possible for the best price. From competitive market analysis to listing through an MLS, our agents can connect your home listing to the largest number of homebuyers because they receive inquiries from across the country every day. Most importantly, our agents provide their experience and expertise to work with you to help you reach your goals.
As Florida 55places Real Estate Expert Nicky Martz says, "In general, there's a hat for every head and because we know people's opportunities, we can help fit that right hat."