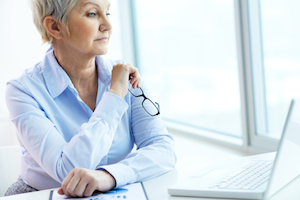 Starting a new business is a challenging undertaking at any age, yet older entrepreneurs bring their own skills and challenges to the table. There are several things to consider if you're thinking about starting a business during your retirement years.
1. Be confident
After 50, adults often worry that their age may make it harder to compete in the job market full of energetic new graduates and 30-somethings in their prime. Instead of looking at your age as a challenge, see the value in your years of experience. Showing confidence in yourself will encourage others to be confident in you.
2. Consider your experience
When planning your business, think about all your experiences, even those outside of your previous career. You may be able to tap into experience you gained while volunteering at your children's school, organizing social events or handling your day-to-day household needs.
3. Review your finances and expenses
Starting up a business takes some upfront expenses and it may be awhile before you see a steady profit. Weigh your risks carefully and don't invest more than you can afford to lose. Be careful about drawing too much money from your retirement nest egg.
4. Plan for the long hours
While your retirement years may give you the time to start a second career, it may take long, hard hours to get a new business off the ground. Plan for the effort by considering how many hours you can reasonably work and how many people you may need to hire to help you out.
5. Identify your market
No matter what kind of business you are starting, it's important that you identify your potential customers. Think about what products or services you can supply and how you will reach your biggest clients.
6. Line up your contacts
Networking is key to having a successful business. Think about the people you have met over the years, through friends, family, past jobs and former schools. These contacts may help you find mentors, accountants and other professionals who can help your business grow.
7. Set up your support system
Having a strong support system can be an important asset while starting up your business. Let your friends and family members in on your business plans. Let them share in your successes and your challenges, and be willing to listen to constructive advice and feedback.
8. Continue your education
Starting your business may be easier if you take some time to continue your education. Look for classes that will provide you with professional certifications and help you build your expertise.
9. Sign up for social media
Facebook, Twitter and other social media platforms are great ways to find customers and spread the word about your new business. Create a professional online image and always be aware of how your posts may affect your reputation.
10. Think about the future
Having a long-term plan can help you make the right decisions in the early days of starting your business. Where do you see your business heading? How might you expand your business down the line? You can start a successful business at any age, but your retirement years can be the perfect time to follow your dream.