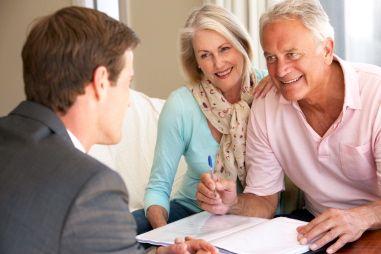 Baby Boomers are not rookies when it comes to house hunting because they probably bought their first home years ago. Just because they have experience in the homebuying process doesn't mean they can't make mistakes along the way this time around. House hunting during retirement may mean they need to look out for different things as opposed to when they were house hunting in their early 20s and 30s.
The house hunting process may have changed as well as their lifestyle choices. It's important for Baby Boomers to plan ahead and prepare to age in place so they can grow comfortably in their new home. Here we list five mistakes retirees should avoid while house hunting.
Not having a plan – Retirees should have an aging-in-place plan that meets their home and lifestyle preferences. If they don't have a plan about what they want in their home to enjoy their Golden Years then it will become a task for someone else to make those decisions for them. They should ask themselves what they want in their home and community in order to live comfortably without needing too much assistance from others.

Not looking for specific home features – Many homes don't have the right features that retirees may need in the long run that allow them to safely age in place. Active adults should look for no-step entries, single-floor layouts, wide doorways and hallways, elevated electric sockets, ample indoor and outdoor lighting, rocker light switches, and nonslip surfaces in bathtubs and showers.

Not choosing the right location - Location is an important part of the house hunting process. Depending on their personal preference, Baby Boomers should look for an area that meets items on their wish list. Do they want to be in a quiet suburban community, close to family, in a better climate, or in an urban neighborhood with easy access to public transportation and medical facilities? Some of these resources may impact their decision on where to buy a home as well as their quality of life.  Active adults should choose a location that is based on what they want to have nearby such as family, social centers, restaurants and stores, community organizations, hospitals and clinics, continuing education programs, or faith-based institutions.

Not checking your credit report and score – Just because retirees may have experience buying a home that doesn't mean they can forget about having good credit during their retirement. It's always important to get a copy of your credit report to ensure everything is accurate and in good standing. This will prepare you for any bumps in the road as well as help you get preapproved for a mortgage with a lower interest rate.

Not having a long-term budget – Some retirees are better at saving money than others, but no matter what it's important to have a long-term budget in case there are any hidden costs and unexpected fees that may come up during the home-buying process or inspection. Just because you have factored in how much you can afford each month for the mortgage doesn't mean you have enough saved in case the furnace stops working or the roof collapses. You may have to pay more out of pocket to hire movers or a professional to handle repairs around the house that sometimes can add up and hurt your bank account. And because retirees are already living on a fixed income, it's even more important for them to know what their money is going towards.