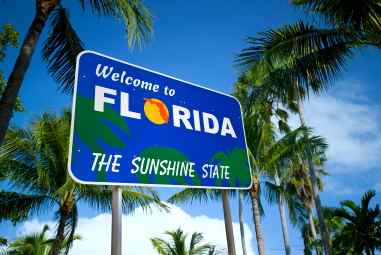 Florida and Arizona often top the list when it comes to retirement destinations. Both states offer warm climates, amenity-rich communities, and beautiful homes. But what features set these two states apart? If both are appealing, how do you know which destination is right for you?
Hotter Climates
Both Arizona and Florida offer hot summers and mild winters, but there are distinct differences in these two climates. Arizona is a more arid, desert location. Temperatures across the state vary, particularly with changes in elevation, and the northern parts of the state even feature mountain ski resorts.
The semi-tropical climate in Florida is much more humid, with particularly rainy periods. Those who love the water can't beat the Florida coastline with beaches that stretch along both the Atlantic Ocean and the Gulf of Mexico.
Plenty of Outdoor Recreation
When it comes to recreation, both states have plenty to offer. Retirees will find world-class golf courses in both Florida and Arizona, but the number of sunny days each year give Arizona golfers a bit of an edge.
Florida's outdoor recreations are likely to be water-based activities as the state boasts a remarkable number of rivers and lakes in addition to its miles of sandy coastline. Urban attractions, like shopping, dining, and live performances, are also available in both states. These do depend on where you live in the state and Florida's more dense population has led to more cities spread throughout the state.
Generally speaking, Arizona has a few urban centers, like Phoenix and Tucson, with large stretches of open space outside of the cities. Florida has a mix of cities, suburbs and small towns, with some nature preserves and wetlands nestled in between.
Abundant Active Adult Communities
Retiring homebuyers who want to live in an age-restricted community will certainly have many options in either state. Phoenix, Arizona was home to the first modern active adult community, Sun City, and many developers have followed suit.
Florida has since outpaced Arizona with around double the active adult communities. There are differences in the types of active adult communities available as well. Arizona has more extra-large communities (more than 5,000 homes), but Florida is home to the largest, The Villages, which has over 56,000 homes. Though both states have communities of all sizes, Florida probably wins out in overall community diversity.
A Similar Cost of Living
Depending on where you live in either state, you may be able to find relatively similar home prices in both Arizona and Florida. As of December 2011, median home prices were around $120,000 in Florida and $127,100 in Arizona. Active adult communities in both states have single-family homes priced anywhere from the low-$100s to over $1 million.
Both Florida and Arizona are also considered to be tax-friendly for retirees. Arizona has no tax on Social Security benefits and there are exemptions for some retirement income, yet Florida wins with no state income tax at all. When it comes to property tax, Arizona residents have no state tax and are only responsible for local taxes. Florida does have property tax, but residents may be eligible for a homestead exemption if the property is their main residence.
So Which Is Right for You?
When it comes to comparing Arizona and Florida, it really comes down to what you want in a retirement destination. Both states offer climates, attractions, home prices, and tax laws which are appealing to retirees. The choice of an arid desert or a tropical coastal home is one of personal preference.
If you truly aren't sure which is more appealing, spend some time vacationing in both states. Plan your visits during different times of the year and gather some firsthand experiences before choosing your ideal retirement home.