Residents at the most anticipated 55+ community in Florida will also want to save some time for beach days. When the urge hits to pack the sunscreen and put on a swimsuit, there are several beaches in the area worthy of your attention. It won't take long to find your favorite, but while you're still considering all of your options, check out our list of the best beaches near the new Latitude Margaritaville Watersound.
The Classic Beach: Panama City Beach
When you think of Florida beaches, you probably imagine white sand and blue water with chair rentals, lifeguards, and people enjoying the surf. You'll find exactly that at Panama City Beach.
Located along the northern Gulf of Mexico and about 40 minutes from Watersound, Panama City Beach is your most popular local seaside destination and offers a lot more than saltwater and sunbathing. Pier Park is right off the water, and it has all the beach shops, souvenir stands, and restaurants you can imagine. In addition to specialty boutiques and stores selling saltwater taffy and inflatables, you'll find major retailers like Target, Old Navy, and Dillard's.
After a day of making sandcastles, people watching, or floating around in the warm water, you're likely to be hungry. Good news: There's a Margaritaville restaurant in Panama City Beach, and it'll remind you of home back at Watersound. For something a little different, try The Back Porch, known for its oysters and seafood. Pier Park at Panama City Beach has events all year long, and it's worth the drive from Watersound to enjoy the fun.
The Natural Beach: St. Andrews State Park
At St. Andrews State Park, migratory birds and butterflies stop by twice every year during their seasonal flights. The state park is about half an hour from Watersound, and there's more than a mile of shoreline that's ideal for swimming, fishing, and snorkeling. Visitors can also enjoy nature trails, wildlife watching, and if you're especially outdoorsy, camping. There's also cycling, paddling, scuba diving, and surfing.
While you're at St. Andrews, take the opportunity to visit another local beach that's only accessible by boat. Shell Island has sugar-like sand, and it's completely remote and unspoiled by commercial activity of any kind. Catch a shuttle boat and bring a picnic for the day, or just spend an hour swimming and exploring.
The Artsy Beach: Santa Rosa Beach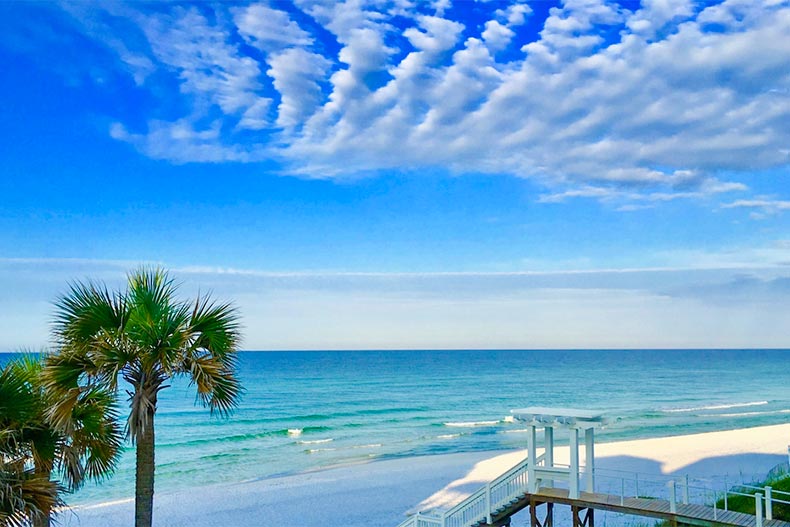 As soon as you get a glimpse of the water at Santa Rosa Beach, you'll know why this part of north Florida is called the Emerald Coast. From your home at Latitude Margaritaville Watersound, take Highway 98 northwest until you hit Route 393, at which point you can just head south towards the water.
The strip of waterfront road that's home to restaurants, shops, and beach parking is called 30A. There's plenty of available parking because not a lot of tourists have discovered this enclave, and it's not a long walk from the road to water. Beach rentals are available, and you can find everything from a simple lounge chair and umbrella to a complete cabana-style set-up. The water is sparkling green, and from your spot on the sand, you can watch kayakers and paddle boarders navigate the gentle surf.
Luxury Florida real estate can be found along the coast in Santa Rosa Beach, but the best part of this little coastal community is its art scene, which is best enjoyed at Gulf Place. There, you'll find galleries promoting the work of local artists, outdoor concerts featuring local musicians, and other ongoing events.
The Closest Beach: Rosemary Beach
Simply head south from your Watersound home and you'll run straight into Rosemary Beach. Feel free to rent an umbrella and a beach chair and settle in for a relaxing day of warm water and soothing sun. The sand at Rosemary Beach is famous for being softer and finer than the sand you might find on the Atlantic Coast or even further down Florida's Gulf Coast. Let your feet sink in and enjoy the fact that your new home is less than half an hour from this public beach.
The pace at this beach is a little slower, and the vibe is a bit more laid-back. But, if you need a break from the water or you're looking for something to do before you drive back to Watersound, there are still shops and restaurants and bars to enjoy. Restaurant Paradis is a great place to enjoy a crisp glass of wine or fresh seafood. For something a little sweeter, La Crema Tapas & Chocolate has fabulous desserts.
The Historic Beach: Grayton Beach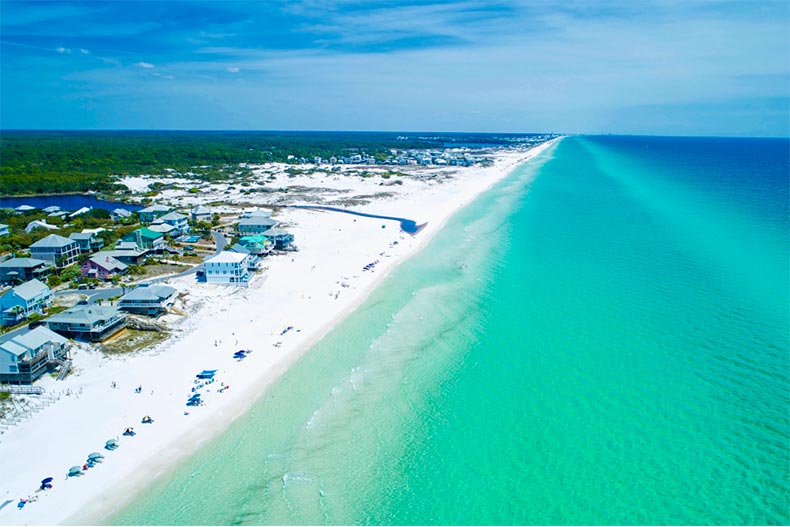 Active adults who like a little history with their beachcombing are in luck. As a resident of Latitude Margaritaville Watersound, you'll be close to Grayton Beach, which is historically significant because of the former Coast Guard base that was temporarily housed in the village during World War II.
When the war ended, the armed services moved out, without leaving much of a mark. Before being settled, the area was all cattle ranches and wild hogs. Now, Grayton Beach remains fairly uninhabited and relatively small because it's nestled inside and bordered by the state park system.
While enjoying the beach and exploring the state park, it's a good idea to check out some of the hiking trails. They pass through scrub oaks, huge magnolias, and coastal dunes. Biking trails pass through forests that feature salt-twisted trees, and there are boat launches and fishing piers. Paddleboarding is extremely popular at this beach.