Bradenton, Florida is one of those under-the-radar cities that's easy to miss, especially when so much attention is focused on neighbors like Sarasota to the south and Tampa to the north. Located on the Manatee River and on the shores of the Gulf of Mexico, Bradenton is right off Interstate 75. Residents enjoy a warm year-round climate, outstanding local beaches and golf courses, and plenty of shopping, hiking, dining, art, and culture.
In some neighborhoods, the architecture leaves people feeling like they've stepped into the 1920s and 1930s when industrialists from northern cities fled to Florida for sunshine and warmth. The last census revealed a population of around 55,698 people, and those numbers are growing.
Let's take a look at why Bradenton is becoming such a hotspot for active adults who value great weather, a lower cost of living, and lots of recreation and amenities.
What We Love About Bradenton, Florida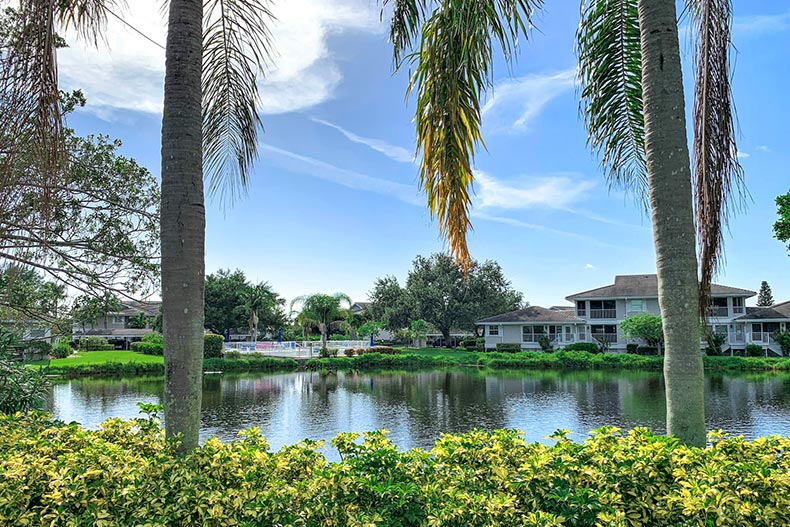 The interstate is a fine way to arrive and depart, but US-41, locally known as the Tamiami Trail (because it was once the only road between Tampa and Miami), is even more fun. Drivers will pass some great parks, seafood restaurants, and roadside shops and attractions such as the original Tervis Store and the Marietta Museum of Art and Whimsy.
Speaking of art, there's a lot of it in these parts. The Bradenton Village of the Arts is a community of working artists and all their shops, galleries, and cottages. Art Walks are held most weekends, where there's food, live music, and other forms of entertainment. There's also the Bishop Museum of Science and Nature as well as De Soto National Monument, where there's tons of history and Native American culture to be explored. Locals love to show off the remains of Braden Castle, which was in much better shape in the 1840s.
Outdoor enthusiasts can enjoy boating, hiking, fishing, and camping in locations like Anna Maria Island, Long Boat Key, and Cortez Beach. Perico Preserve is an excellent place for walking, and it's common to catch a glimpse of wintering ducks in the wetlands and marshes. Golfers tee off at River Run Golf Links, which has a great view of the Braden River, or the links at Bradenton Country Club.
The Pittsburgh Pirates have a spring training facility in Bradenton, allowing residents to attend practices and games. The team is part of the Grapefruit League, which means games are played against The New York Yankees, Boston Red Sox, Tampa Bay Rays, Minnesota Twins, and Toronto Blue Jays. Professional sports fans have an easy trip to Tampa to watch the Lightning play hockey or the Tampa Bay Buccaneers host football games at the impressive Raymond James Stadium.
Housing is in high demand in Bradenton, and a number of 55+ communities draw plenty of new residents every year, thanks to their stunning floor plans, ideal locations, resort-style amenities, and reasonable price tags.
Here are six of the best places to look for homes for sale in Bradenton.
High $200s – Mid $400s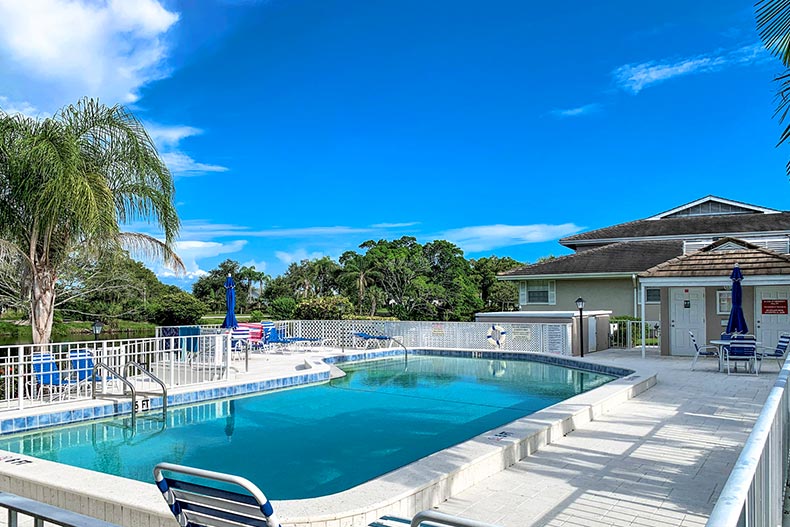 Hoping for mornings along Palma Sola Bay, with water views and serene walking trails? Consider Perico Bay Club, a gated 55+ community that's known for its cozy collection of amenities and activities. Each neighborhood has its own pool, patio, and spa. There's also a community clubhouse, a catering kitchen and gathering space, a fitness center, tennis courts, shuffleboard courts, and pickleball courts. Homeowners enjoy a kayak launch and a fishing pier.
Poker tournaments, trivia nights, and music classes are some of the group activities that take place here. Residents are also known to get together for brunches and holiday parties.
Perico Bay Club has 422 attached villa and condo homes. Models offer 1,039 to 2,029 square feet, with two or three bedrooms and two bathrooms. Some of the villas include attached one or two-car garages. Buyers love the open floor plans, options for single-story living, and select upgrades and updates such as tile floors, granite counters, and stainless appliances.
Request more information about Perico Bay Club.
Below $100k – Mid $100s
Low-maintenance living is available at Burgundy Condominiums, a 55+ community of low-rise condo homes. Homes in two-story buildings have 660 to 1,086 square feet, one or two bedrooms, and one or two bathrooms. Ample parking is available right outside the buildings. Some homes have enclosed porches and others have balconies. Open floor plans have been updated since the original 1970s construction, and some homes have ceramic tile and fresh counters.
Amenities include a clubhouse with a multipurpose room as well as an outdoor pool with plenty of seating on the patio. There's shuffleboard and a barbecue area. With only 287 homes total, getting to know the neighbors is easy for homeowners looking for new friends and social opportunities.
The beaches aren't far from Burgundy Condominiums, and residents will enjoy reaching Siesta Key and Anna Maria Island in a matter of minutes.
Request more information about Burgundy Condominiums.
Low $300s – High $400s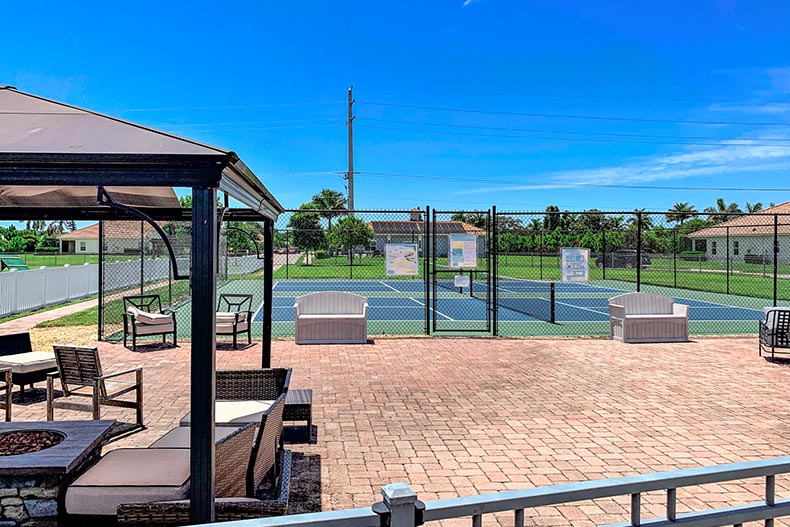 For new construction homes for sale in Bradenton, Mirabella is the place to be. This gated 55+ community of 160 attached homes offers four models with two or three bedrooms. Floor plans range from 1,524 to 1,764 square feet. Open floor plans are available in all homes as well as attached two-car garages, spacious master suites with double vanities, and covered lanais with a view of the outdoor space.
A full-time Activities Director is on-site to help residents organize events, classes, and club activities. Some of the more popular activities include water aerobics, parties, and group outings to shops, restaurants, and concerts.
Amenities include a clubhouse, meeting room, exercise room, and movie theater. The outdoor pool includes a patio and a spa, and residents can take their pets to the dog park. Pickleball courts are available for recreational or competitive play. Walking and biking around the neighborhood is a pleasure, with several ponds, paths, and parks throughout the community.
Request more information about Mirabella.
High $100s – Low $300s
Both single-family homes and attached homes are available at Garden Lakes Village, a gated 55+ community that's close to everything in the city, including RiverWalk and the Arts Village. Single-family homes have two to four bedrooms, two bathrooms, and an attached two-car garage. Models have between 1,531 and 2,149 square feet. Buyers looking for an attached home will find open floor plans with 1,531 to 2,100 square feet, two or three bedrooms, two bathrooms, and an attached two-car garage.
The outdoor deck off the clubhouse overlooking a lake is perhaps the most eye-catching amenity at Garden Lakes Village. The clubhouse is a gathering spot for residents who come together for parties, potlucks, and activities. There's a card room, a library, a demonstration kitchen, a bar, a billiards room, and a multipurpose space.
Off the outdoor deck are shuffleboard courts, pickleball courts, and tennis courts. Homeowners who enjoy jogging, biking, and walking will find a scenic and well-landscaped neighborhood to enjoy those pursuits.
Request more information about Garden Lakes Village.
Low $100s – High $100s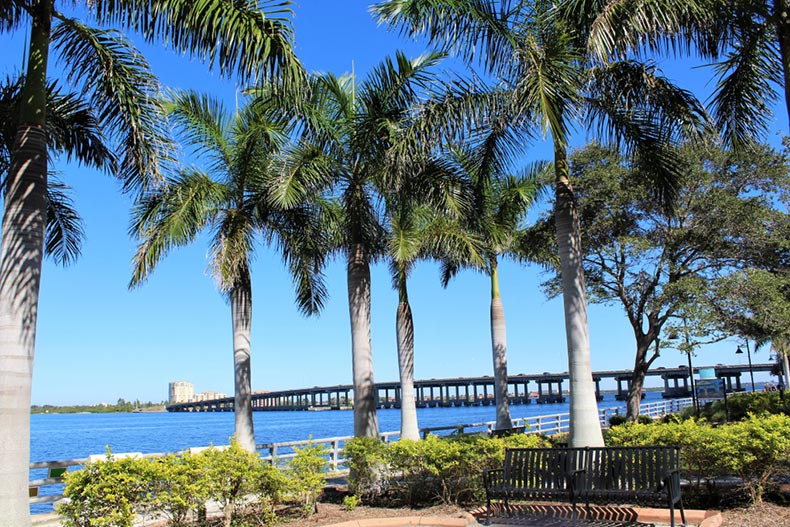 Affordably priced Manatee River living is available at Glory Gardens at Christian Retreat. This gated 55+ condominium community offers easy access to the river and even provides residents with canoes to enjoy the water. Its location on the eastern end of Bradenton puts it within half an hour of Tampa and St. Petersburg.
Condos offer 1,232 to 1,552 square feet. Models have two or three bedrooms and two bathrooms with open floor plans, gourmet kitchens, and upgrades such as stainless appliances. Outdoor space is typically a private deck or a covered lanai. Homebuyers who may plan to live in Bradenton part-time will be pleased to find there are furnished homes available as well.
Amenities include a heated pool, shuffleboard courts, and tennis. The landscaping throughout the community is lush and tropical, with fountains, waterways, and plenty of shade thanks to native trees. Residents enjoy long walks, bike rides, and outdoor gatherings.
Request more information about Glory Gardens at Christian Retreat.
Low $100s – High $100s
Priced right and offering a low-maintenance lifestyle, Cortez Villas Condominiums is a 55+ community that offers social opportunities as well as amenities, activities, and an easy drive to some of Bradenton's best beaches, restaurants, and art galleries. Homes include all the space and privacy of a single-family residence without the lawn care, maintenance, and upkeep, which is taken care of by an active homeowner's association (HOA).
Single-story living is provided in floor plans ranging from 1,015 to 1,272 square feet. Homes have two bedrooms and one to two bathrooms. There's carport parking outside. Patio space, open floor plans, and eat-in kitchens with ample storage are some of the best features in these condos.
At the community clubhouse, homeowners enjoy a fitness center, a card room, billiards space, and a library. The outdoor pool includes sunshine and seating on the surrounding patio, and there are also shuffleboard courts.