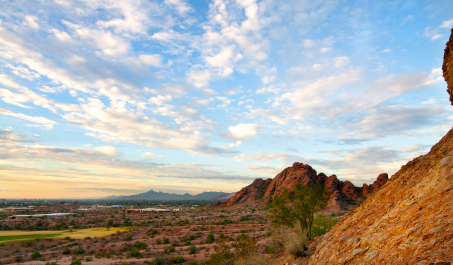 Located about 20 miles east of Phoenix, Arizona, Mesa is a desert hot spot for retiring active adults. This bustling city has a population near 500,000, making it the third-largest city in the state, after Phoenix and Tucson. Mesa also has a rich cultural history, friendly neighborhoods, and plenty of attractions that appeal to active adult visitors and residents alike.
Here's why many active adults who love the Phoenix area decide to retire in one of the renowned active adult communities of Mesa.
Rich History
The City of Mesa was founded in 1878 and incorporated in 1883. But long before it became a city, the area was home to prehistoric people, known as the Hohokam, who built an extensive canal system to bring water to the desert region. With hundreds of miles of irrigation canals, this ancient Native American wonder is considered a regional marvel.
A Thriving City
Over the years since it was first incorporated, Mesa has grown into a thriving city that is home to a diverse mix of young adults, families and older retirees. Mesa sits at an elevation of 1,255 feet and neighbors other well-known Phoenix suburbs, such as Scottsdale and Tempe to the east, and Gilbert and Chandler to the south.
Ideal Climate
With its desert climate, Mesa is a good destination for retirees who enjoy plenty of hot, sunny days. Summer days average temperatures in the low 90s, but can easily climb to over 100 degrees. Winters are mild and comfortable with days typically in the high 60s, while winter nights in December and January can fall to the low 40s.
Plenty to See and Do
Mesa offers plenty of indoor and outdoor recreations that appeal to active adults. Those who enjoy cultural attractions will love the Mesa Art Center. Built in 2005, this spacious facility provides live theater, concerts, art exhibits, and art classes. Residents can also learn more about the region at the Arizona Museum of Natural History and the Mesa Historical Museum.
Interesting outdoor recreations include Saguaro Lake Trail Rides in the nearby Tonto National Forest, Salt River tubing, and the Desert Belle boat tour of Saguaro Lake.
The Mesa area, like the rest of Phoenix, is a golfer's paradise. There are several private, semi-private, and public courses throughout the area. A few popular clubs include the Alta Mesa Golf Club, Las Sendas Golf Club, Red Mountain Ranch Country Club, Fiesta Lakes Golf Club, Riverview Golf Course, and Augusta Ranch Golf Club.
Mesa also offers residents and visitors plenty of shopping and dining opportunities. Historic Downtown Mesa features independently owned shops and a variety of special events. Big-name stores and local boutiques are available at retail centers like the Fiesta Mall and Superstition Springs Center.
Affordable Active Adult Communities
When it comes to active adult communities, the Mesa area has several age-restricted developments. 55+ homebuyers will find friendly neighbors and resort-style living at mid-sized communities like Sunland Springs Village and Sunland Village East. Those who prefer a smaller, more intimate community can also seek out a neighborhood like Verde Groves, which offers just 210 homes in a private, gated setting.